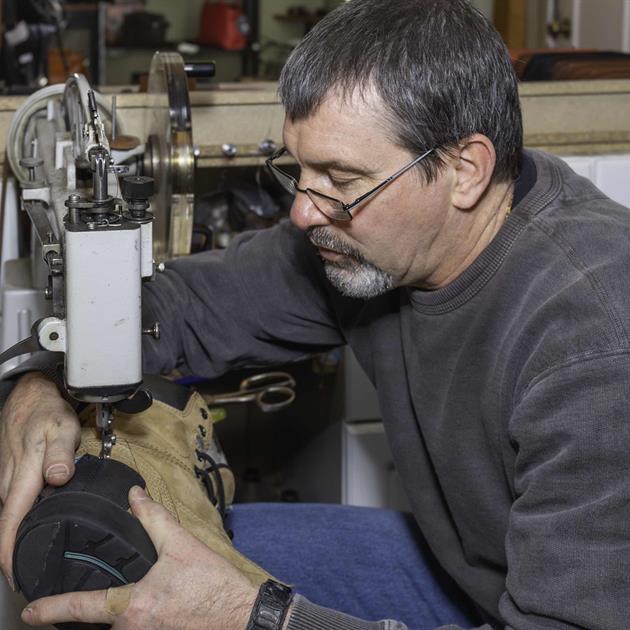 A TALENT FOR CREATING DURABILITY AND FUNCTIONALITY
Article by Meghan Smith / Photography by Tomasz Szumski

The sign on the building may say "shoe repair" but Brian Shelly's business goes far beyond just that. From boots to belts, purses to hockey gloves, and goalie pads to tonneau covers, if the item can fit on Shelly's sewing machine, there's a high probability he can and will find a way to repair it.
Shelly began his trade in shoe repair and leatherwork at the age of 13, working with his second cousin, after school and on weekends in his hometown of Perth. The work kept him busy through high school but in summers, he would visit his father in Muskoka. When he finished his carpentry program at Algonquin College, he permanently relocated to Bracebridge.
"I've always loved it, here, and always knew I was going to move up once I was ready," says Shelly. "In the 90s, work in carpentry was scarce and I had a young family. I needed to find something else to do."
Shelly stopped into the shop and met with the previous owner, who was looking for support. He wanted to have time away from the shop and wanted to open a second store in Orillia. Shelly started working two days a week and soon after, he took over operating the Bracebridge location.
When Shelly purchased the shoe repair shop in June of 1999, he had already been operating the storefront for seven years. The most common repair he completes now is gluing but the business when Shelly first became involved was focussed on men's dress shoes and ladies' lifts for pumps.
"You don't see much of that at all anymore," comments Shelly. "I hear so often 'but I spent $100 on that pair of shoes.' In 1979, I could get you a top-of-the-line pair of men's Dack's for $99.95. If you do the math, with inflation, you should be spending about $500 for a pair of decent shoes today. It's a different market now."
For everything from cars to appliances to clothing, "they don't make things the way they used to" is an adage heard throughout the western world. For Shelly, the saying hits home.
"In my father's generation, every small town had a shoe repair but there's not many of us left anymore," explains Shelly. "It's difficult in this business. You can't give someone a manual and throw them in a store like this. It takes a lot of training to understand what you're trying to do and properly operate the machinery."
The key to many projects is whether or not the item will fit on a treadle sewing machine – a machine operated with a foot pedal, much like an electric sewing machine but bigger. A treadle is operated by pressing down on its pedal with one or both feet, causing a rocking motion. Treadles were once used extensively in creating clothing and textiles, powering spinning wheels, looms and sewing machines.
"My general rule of thumb is to bring it in and let me see it," says Shelly. "If I can see it, I'll know if I can do anything for you or not."
Shelly's skill goes over and above repairs, and incorporates crafting items from scratch, such as axe head covers, knife sheaths and half chaps for motorcyclists or equestrians. Custom leatherwork and specialty projects require a more significant investment of time. Shelly spent several weeks through the winter working with inlays to create a custom pair of half chaps with red flame inlays to match his motorcycle, of course.
"Any time I'm making things like the half chaps or fixing boots or things, I'm using the treadle," says Shelly. "It gives me the control and the power I need to get through the leather. But it's slow and it takes time. A custom project takes a while. Once you have a pattern created, it makes it easier but it takes a long time to get them right."
Large and difficult projects do not stop Shelly from doing his utmost to provide the best customer service, and an exceptional product. Of particular note was re-lining the pockets of an old pool table with leather. Having to bend the leather, a tough leather in order to withstand the pool balls slamming against it, made the project particularly difficult.
"I like taking something that doesn't look very good when it comes in and fixing it," shares Shelly. "I like making it look good and having people get more time out of it. But one project can take the time to look after 10 other projects, depending on what they are. I have what I call my February projects that I simply will not do until I can concentrate on them. If I'm rushed, I won't do a good job."
Selecting materials for a repair or custom project are just as significant as what tools will be used. While leather is available in various weights and finishes, Shel­ly­ prefers to work with cow hides as they are stronger and more economical. Shelly's preference does not preclude his work with different mat-erials. However, when clients make special requests, he asks for them to bring him the material and he will complete the work.
"I'm pretty picky about what I bring in," comments Shelly. "But if they bring the material to me, they're selecting the product they want and we can work from there. They still get to be the creative director and get what they've imagined."
In Bracebridge, a young man in a wheelchair could not stop the material bags, hanging on his wheelchair, from being damaged. They simply could not hold up to their use. Shelly crafted leather ones instead to last longer and provide better functionality for the young man.
"That's pretty satisfying when a project comes together well," shares Shelly.
Shelly's passion is creating items that are durable and will continue to work for the person who needs them.