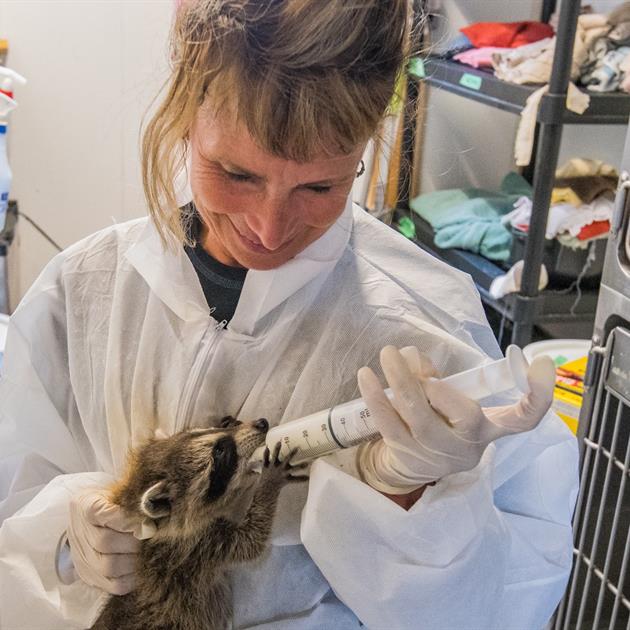 BECAUSE THEY CARE – WILDLIFE REHABILITATION IN THE WILDS OF MUSKOKA
Article by Dawn Huddlestone / Photography by Andy Zeltkalns
Aspen Valley Wildlife Sanctuary, which inhabits 470 acres of Muskoka wilderness near Rosseau, has been providing care to injured and orphaned wildlife for more than 40 years. It started as the passion of one woman – Audrey Tournay – whose legacy has been carried on and expanded upon by a dedicated group of directors, staff and volunteers.
Spring and summer, from about mid-April to the end of August, are a busy time at the sanctuary. Many of the approximately 800 animals they take in annually arrive during that time. That's up from about 300 animals a little less than a decade ago, but managing director Howard Smith says the increased volume is more an indication of the sanctuary's improved ability to take in and care for them than a surge in the number of animals needing care.
"There's still far more need than people providing a service," says Smith, who credits improvements to the sanctuary's facilities and access to a local wildlife veterinarian as part of the reason they've been taking in more animals. "(Wildlife rehabilitation) is very labour intensive and it's usually privately funded, so that makes it difficult for people to get into it in a very big way."
In the summer, there are about 16 volunteers who live at the sanctuary in a hostel-like setting, a number that drops to three or four in the winter months. They come from all over the world – Belgium, Denmark, Indonesia, Australia – to provide care for the animals. Most are students or interns working to gain experience for future careers, though not many are likely to work in a setting like Aspen Valley.
"Paid jobs in wildlife rehabilitation are not very common, because often they are like ourselves where it's a charity based on individual donations," notes Smith. "We don't get any government funding."
The sanctuary also has year-round staff: Smith, who was a biologist with the Ministry of Natural Resources and Forestry (MNRF) for about 40 years and who joined Aspen Valley after retirement and "sort of went from a five day a week job to an eight day a week job," Jan Kingshott who is director of animal care, Mike Cardy who handles the property's maintenance needs, and Elaine Kingshott who runs the office. They're a small team with a big job, one that requires some serious dedication.
Part of what makes Aspen Valley so unique is its size. Many wildlife rehabilitation centres operate on much smaller properties. But the sanctuary only uses a portion of its 470 acres, so it's in the enviable position of having room to grow as resources become available. While Smith says it would be ideal for their services to not be required at all, the number of animals they see indicates the need is not going to go away any time soon.
If you take one of the guided tours around the sanctuary's outdoor enclosures, the animals you'll see are residents. Most have come from poor situations in other places, like a zoo that closed down and had to find homes for the animals in its care. But there are also a handful of injured animals that were treated by the sanctuary that couldn't be released. Staff had to request special permission to keep them – the MNRF usually prohibits the keeping of rehabilitated animals, says Smith.
One of the exceptions was an old fox that Smith captured in Algonquin Park. He'd been part of a family that was habituated to humans – they were often fed and frequently photographed. He had a broken leg – perhaps from being hit by a car, mange and rotting teeth, thanks to the treats he'd been fed by people.
Despite being conditioned to the presence of humans and despite the broken leg, it took Smith about five weeks to catch him, by which time the break had started to heal. He was limping but still able to function, and due to his advanced age – he was 12 years old – the vet didn't want to risk surgery. So they treated the mange, removed some teeth and started pain medication for his arthritis.
With the MNRF's blessing, he became a resident for the sanctuary's education program and was moved to a large natural enclosure where he could hunt for his own meals, supplemented by food provided by the sanctuary, to live out the remainder of his days.
There's also a resident moose which arrived as a calf from another rehab facility that wasn't able to care for her broken leg. With the need to change her cast every three weeks during treatment – a task that had to be done at the veterinary college in Guelph – Aspen Valley staff had to drive her back and forth, logging thousands of kilometres in the process. But due to her injury, she developed arthritis in one of her hind legs and couldn't be released. She now acts as a surrogate for other calves who arrive at the sanctuary and need companionship until they can be put back into the wild.
The number of resident animals at Aspen Valley pales in comparison to those it rehabilitates. And while the sanctuary's success rate is high, not every case has a happy ending. Moose are difficult to raise because they are prone to bacterial infections from the umbilical cord and they require constant care – in the wild they would spend all of their time with their mother. Deer with broken legs can't be confined for the length of time required for them to heal – they develop a stress-related condition called myopathy that is often fatal.
Those that the sanctuary can help are kept as isolated from human activity as possible, in enclosures and cages far from public eyes where recuperating animals spend their days until they are well enough to be released.
Aspen Valley has developed a reputation for its work with aquatic mammals; beavers, in particular. Orphaned beavers require lengthy care – they don't leave their colonies in the wild until after their second year. At the sanctuary, they spend the first winter indoors during which the water in their tanks has to be changed daily. In the second year, they live in outdoor ponds where they can build lodges and forage, plus sanctuary staff provide them with browse – small aspen or maple branches that they can feed on and that help to keep their teeth sharpened.
Other animals that are treated at the sanctuary include smaller mammals like squirrels and raccoons, and the larger bobcats, lynx, wolves and bears. They don't have the facilities to care for birds, reptiles and amphibians, but will treat them if they can be released right away.
It's an ongoing task to keep the animals adequately housed. The sanctuary's original enclosures were built using wood posts which began to rot over time. They've needed to be replaced with steel and chain-link fencing, which is a significant cost, notes Smith, although the sanctuary was helped tremendously by Fowler Construction which donated the security fencing used during the 2010 G8 Summit held in Huntsville.
This past winter, staff worked on a new, larger enclosure for the resident lynx and bobcat. They have plans to enhance their bear enclosure and need to build a new wolf enclosure. They also need to build a shop and add an intake building for arriving animals, as well as expand their office space.
"There is always ongoing construction to try to get things more efficient and also give us the capability of expanding (space for the animals)," says Smith.
He adds after the enclosures have been improved as much as possible, staff will turn their attention more to tourism and marketing opportunities. There are about 18 kilometres of trails on the property surrounding the resident enclosures that could both be a destination on their own, as well as help to educate people about the species they might see – and may not ever have a chance to see in the wild – as they hike by. Guided site tours, now available year-round by appointment, will still be an option.
"Once you see the animals, that makes a difference to just reading about them," says Smith.
Staff are also considering wolf howls, similar to those conducted in Algonquin Park.
"Our wolves and coyotes howl frequently and pretty much on demand," says Smith. "We are in a valley situation and you get some pretty impressive vocalizations."
And, in everything they do, the sanctuary encourages donations to help with their efforts.
Fowler Construction continues to be a helpful sponsor including donating the use of equipment and staff to help move injured animals, like the time they brought an excavator to a spot along Aspdin Road to help, with the aid of straps and chains, carefully lift a moose with a broken leg.
Pet Science provides dog food and Leadbetters provides meat for the animals to consume. A Huntsville-area couple donated a new truck and UTV, and another local resident has provided funds to build a barn for orphaned moose calves.
Smaller donations are always welcome, too. Many people donate linens – a constant need when caring for animals – and sometimes maintenance-related items like tools, lumber or fencing that they no longer need. The sanctuary publishes a wish list on its website of all the items it will gratefully accept.
And there is always, always a need for funds to support the care of both the sanctuary residents and animals in rehabilitation. The sanctuary's donors and sponsors "are generally concerned about animals, as intelligent beings, and they don't want to see something sitting at the side of the road hurt and being left alone," says Smith. "I think that generally people who are concerned about animals are also concerned about the environment, and that all figures into how we treat the earth.
"Most of the animals we treat are injured or orphaned as the result of human activity. It's our responsibility to at least give them a chance again."
It was Mahatma Gandhi who said that the greatness of a nation can be judged by the way its animals are treated. If that sentiment is applied, on a much smaller scale, to Aspen Valley Wildlife Sanctuary, it is a great place indeed.