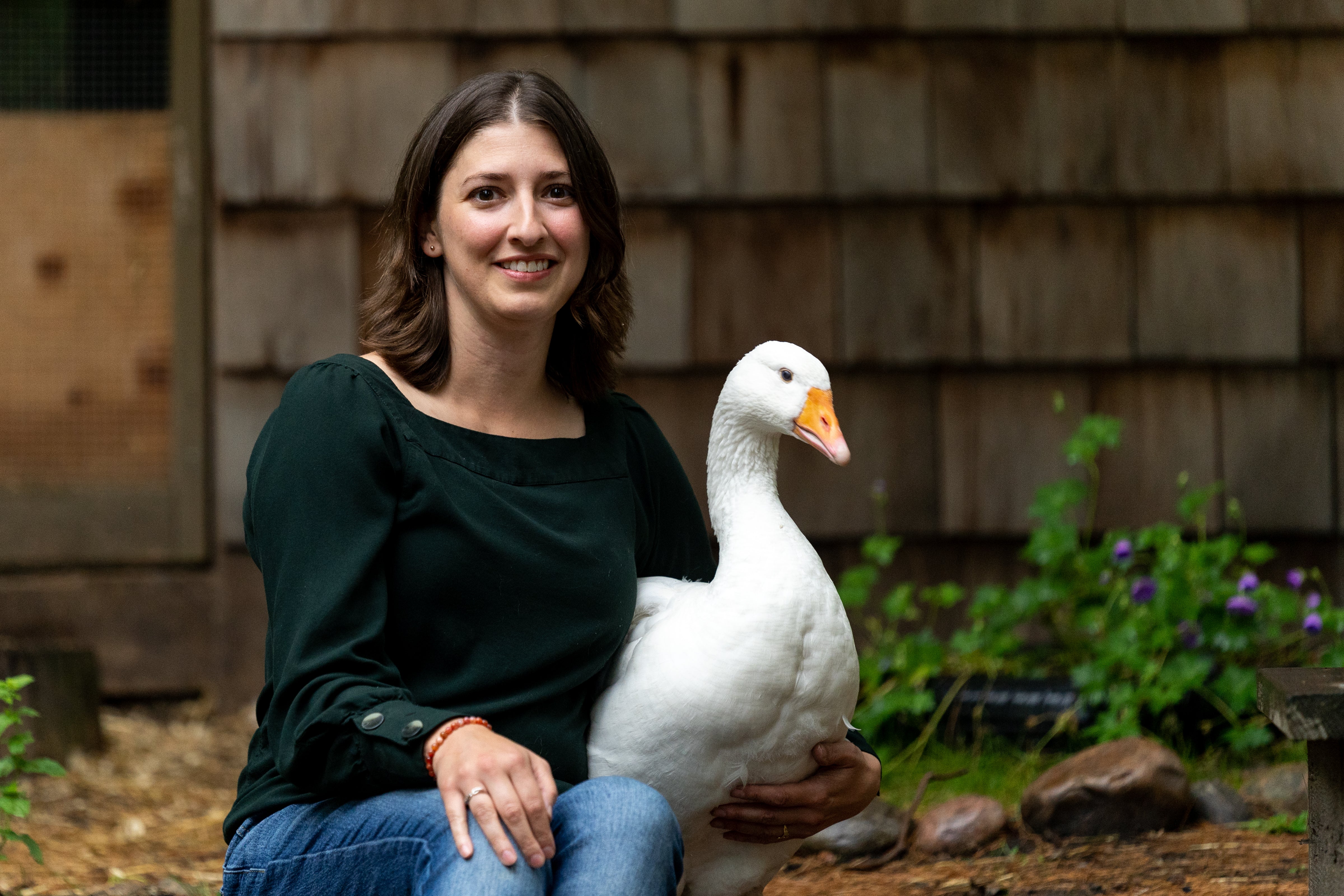 Bonnie Boyd – Teaching Through Compassion
Article by Kelly Goslin / Photography by Josianne Masseau
It is often said the greatest mark of compassion in an individual is the care they provide for animals and the natural world. Kindness towards those beings, both great and small, granted without the expectation of reciprocity, is one of the most important parts of respecting the environment within which we live, as well as everyone else with whom we share space. Renowned childcare provider and author Bonnie Boyd has built a remarkable program, and an equally remarkable children's story, with stewardship and compassion as their pillars.
Boyd began her career in childcare almost immediately out of high school, committing herself to a holistic education approach that encourages creativity, autonomy and connectedness. At an outdoor education seminar a decade ago, Boyd learned "people take care of what they love". Acutely aware of the fragility of our natural environment, she discovered childcare provided a wonderful, direct way to inspire kindness and environmental responsibility.
"I realized that inspiring the next generation of environmental stewards could be a simple task," explains Boyd. "I provide time and space for children to create good memories in the forest, or by a river, or with an animal. Those children grow up feeling connected to the natural world, knowing that they are part of it. Think of how you'd feel learning that your childhood home is being torn down? Now imagine that you see the natural world in that same light."
Moving to Muskoka in 2011 with her husband Russell provided an excellent opportunity for Boyd to pursue her aspirations. She was situated perfectly to establish a daycare program where environmental stewardship and holistic learning could thrive in a supportive community atmosphere.
"I feel that Muskoka has a different approach to the natural world," Boyd states. "Muskoka needs its green spaces. It needs wildlife. It needs clean water. These are our valuable resources. It's refreshing and encouraging to live in a place where so many people, including the decision makers, are invested in protecting nature."
Volunteering at Ontario Early Years Centre in Port Sydney, or EarlyON, Boyd learned "there was high demand in Muskoka for home-based daycare." Opening her daycare was consequently an instant success and she has been a licensed home-care provider with the Muskoka Home Child Care Agency since 2017. Boyd feels access to quality childcare in Muskoka remains limited, describing the current situation as a "crisis."
In recognition of her efforts to combat the crisis and provide support, Boyd received a 2018 Muskoka Community Services Recognition Award. The award was, and remains, a testament to the positive impact she has made on children and families in her community with her nature-oriented, play-based program. For Boyd, the award was inspirational.
"It made me reflect on my practice and recognize how much time and intentionality had gone into creating it," shares Boyd. "I felt bolstered by the award and energized to keep improving and to keep on learning".
The recognition of her childcare work has led to her latest, wonderful endeavour: The Nibbler – A Story of a Curious Goose. At her home and daycare, Boyd has multiple animals for the children to love and socialize with, including one cat, two dogs, four chickens and one duck. Seeing how significant the creatures were to the children of her daycare, Boyd came to realize a new addition was in order.
During a three-month shutdown during the COVID-19 pandemic, Boyd decided she wanted the children to return to her daycare with a summer project. While the initial plan had been to find a female companion for Frankie, their backyard duck, they found Ben instead. Ben the goose took up residence at Port Sydney Daycare during the summer of 2020.
Ben instantly became a sensation amongst the children attending Boyd's daycare, bonding quickly with his new human companions. He became a point of inspiration for their learning and exploration and a muse for their art and storytelling. One of the children nicknamed Ben "The Nibbler," as they all saw he loved to nibble on everything around him, from tree bark to shoelaces. Soon, the tales of his nibbling were recorded in homemade storybooks the children crafted with Boyd.
"I have written many children's stories over the years and most of them have to do with the animals I've known or my experiences in nature," shares Boyd. "Storytelling has always been part of my childcare practice. My young students and I have written books together before but none of them ever got past the crayon and staples stage."
The first draft of The Nibbler, however, was different from these previous creations. There was a concreteness to the story and an unprecedented enthusiasm amongst the students. The handmade book was constantly being borrowed, nibbled on by Ben and mended together just to survive its popularity.
Wanting to send the children home at the end of the summer of 2020 with their own copy of The Nibbler, Boyd set about self-publishing the book. Boyd states that "creating the book was like piecing together a little puzzle."
Touring local libraries with Ben the Goose has garnered a huge amount of support for Boyd's book. The enthusiasm The Nibbler has received has encouraged Boyd to write two more books, with the likely anticipation of more projects in the future.
"My experience of creating The Nibbler with my students felt like magic," says Boyd. "It was bigger than us. Nothing could make me happier than to have an experience like that again."