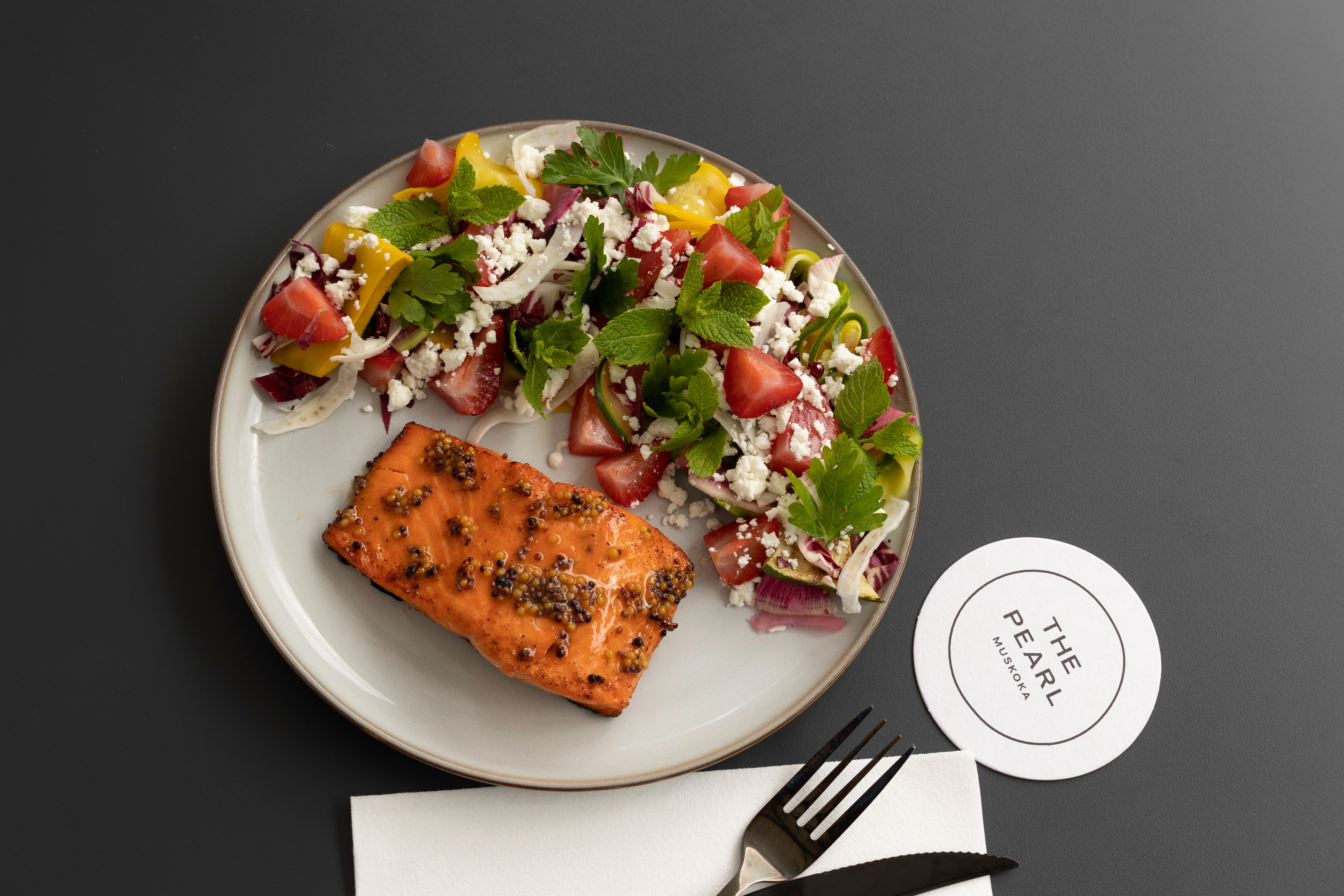 Cottage Country Cuisine – Shore lunch
Preparing fresh-caught fish like a pro
Article by K.M. Wehrstein / Photography by Tomasz Szumski
If you're like many Muskokans, seasonal or permanent, you probably like to cast a line into a convenient lake or river and pull up a big fish suitable for lunch or dinner that very same day. Let's use the kitchen magic of Muskoka's chefs to make that fresh-caught meal truly spectacular!
The first of two new restaurants on the block, Playa Cabana Muskoka, which opened in Bracebridge this past Canada Day. Playa Cabana is the latest addition to Muskoka's constantly broadening selection of restaurants. Owner and chef David Sidhu is of Indian and Filipino extraction but was born in Miami and grew up in Toronto.
"I worked in restaurants my whole life," Sidhu says, noting that he started in Toronto and went to New York where he worked for Dos Caminos on Park Avenue. After a semester-long cooking course in Yucatan, he brought his new expertise and taste for Mexican cuisine back to Toronto, which then lacked in Mexican eateries. By 2011, he owned a chain of six restaurants under the banner of "Mas Playas" (more beaches), a sentiment any Canadian can get behind.
After weathering the pandemic in his cottage in Utterson, he decided to open a restaurant in nearby Bracebridge. "Building up the company, I had very little time doing cooking," shares Sidhu. "I wanted to revert to back how I started, hands on everything –
that's what it's all about." He's considering adding a location in Huntsville.
Mexican food, Sidhu says, "relies so much on fresh ingredients that you're doing everything just before serving; on the fly. If you make a guac the day before, it won't hold up. It's not about the recipe. It's all about managing the freshness."
His British Columbia Rockfish Taco is flexible fish-wise. "It can be anything: trout, pickerel, pretty much any fish you want." The dish was originated the usual way: "Just playing around with trial and error." He and his Toronto chefs all share ideas with each other.
Sidhu's guacamole, which can be eaten on its own, is the genuine article – chunky, fresh and containing cilantro. It's not too spicy, so add more jalapeno if you're one of those suicide-wings-type people.
The taco is a delight. It's colourful and packing enough flavours to make your taste buds want to get up and dance the salsa. The beer-battered fish is the soft note underlying the piquancy of three sauces (counting the guacamole as one). There's no tidy way to eat it but that's part of the joy.
The Pearl (Muskoka) opened in Bala on June 20, 2023; the brainchild of a three-person partnership of brother and sister Toben Kochman and Elana Kochman and Elana's husband, Ryan Feldman. Elana and Toben started a hospitality business in Toronto in 2005; now Toben Food By Design provides not only high-end catering but home delivery, event venue provision, full event planning and more, keeping 100 employees busy.
About the conception of The Pearl, Toben Kochman says, "My whole idea was creating a business so I could be up here part of the time. I always just coveted the idea of being by nature, by Ontario north and Muskoka in particular, having travelled all over the world." Kochman completed his chef's training at the Cordon Bleu School of Culinary Arts in Paris. "It's just the feeling you get when you're up here. Bala is a hidden gem and we're thrilled to be in a place that still has that rustic, natural element to it."
The partners purchased the property in March 2022, considered exclusively catering but are now glad they chose to serve onsite. "The patio is literally full, from opening to close. I'm so thankful for the support we got not just from cottagers but the people who reside here all around," says Kochman.
Another key person in The Pearl's opening is executive chef Michel Swanson, who by virtue of growing up in Toronto and working with food all his life starting with a Taco Bell at age 14, was exposed to different varieties of cuisine. "Middle Eastern, Japanese, Spanish, Latin, Italian, French," Swanson lists off. His experience has leant itself well to the Pearl's "global street-food" approach. Swanson is a seasonal Muskokan, planning to winter in Toronto.
Milford Bay Trout Farm was the inspiration for the trout recipe that Kochman and Swanson co-created. "Being Canadian, we wanted to do a maple-mustard glaze," Swanson says, adding that the maple syrup is local, of course. Customer feedback on the dish? "We have a lot of people asking for it on the phone."
The tastes of the pastrami spice and maple-mustard glaze that adorn the trout are deliciously present but, perhaps unexpectedly, do not overpower it at all. Playing nicely rather than bullying, they add to the delicate orange flesh a complexity, intensity, texture and soupçon of sweetness.
Possible future plans for our dynamic trio? "We might open up a few more Pearls in other parts of Ontario and Muskoka north," Toben Kochman says.
Veteran Muskoka chef and restauranteur David Friesen composed a pickerel recipe in what seemed like seconds – laying out, among the ingredients, four species of wild fungi he had gathered in the bush from Minden to just 200 feet from a driveway. Talk about a locavore. Wait!? Isn't it dangerous to eat wild mushrooms if you don't pretty much have a PhD in mycology?
"I only choose species that are very distinctive and obvious," Friesen reassures. "If you see a round white mushroom, there are many types that could be, so you have to know your mushrooms." He searches for them in lines, since their roots interconnect. "The mycelium is the Internet of the mushroom world, the largest living organism."
The four species he used in the recipe are chanterelles, black trumpets, oyster mushrooms and a fungus named chicken of the woods, all of which do indeed stand out visually. If you don't dare forage, store-bought species such as shiitake or cremini or any, really, will work fine in this dish.
Friesen was born on Vancouver Island, began his chef's apprenticeship in Lake Louise, and worked the Calgary 1988 Winter Olympics. Moving to the GTA in 1992, he worked several stints including a two-year partnership with renowned chef Mark McEwan. After moving to Muskoka in 1999, he worked at the Hemingway-themed Compleat Angler in Port Carling and Club One in Bracebridge, which became Riverwalk, a restaurant he eventually bought.
Asked how Friesen conceived this dish, he answers, "Took cues from nature. Nature told me. Keep it simple; any of this stuff can be interchanged with anything else. Go with the season and what's currently fresh." He mentions smelt in springtime as an example.
This recipe works as well on steak, Friesen advises, and the fish can be stove-sauteed, grilled, spitted on sticks, cooked on a fire with green branches over it to smoke it—whatever. "Baking has to be precise; this doesn't," he says joyfully. "If you like mushrooms, put on more!"
Fish, mushroom and tomato flavours are all married gorgeously by the thyme, garlic and butter – oh, that nutty butter! Maybe that's how, despite using a frying pan, Friesen managed to get the barbecue taste. He did it somehow.
Now if you don't fish but still like to eat trout or pickerel, there's always the Milford Bay Trout Farm. As well as its most famous products, the smoked trout and smoked trout paté found in many Muskoka stores, fresh rainbow trout and pickerel fillets are available for using in recipes like these, not to mention candied trout and barbecue-ready trout on a cedar plank, by visiting their Milford Bay location. If they're sold out, pre-ordering from the next batch is also an option.
If you are concerned about the effects of environmental contaminants on your health, the Ontario government provides a website with suggested limits on consumption of fish caught in Muskoka lakes and even preparation tips to minimize contaminant consumption. Search the web for "Guide to Eating Ontario Fish" and click on the "Ontario.ca" result.
Good luck fishing Muskoka!
Fish Taco
– David Sidhu
 Ingredients
1 fillet of fresh fish, skin off, sliced lengthwise
Batter for coating fish (recipe below)
1 Tbsp guacamole (recipe below)
1 tortilla, 6-inch diameter (home-made or store-bought)
1 Tbsp tartar sauce
1 Tbsp guajillo chili sauce (recipe below)
 Method
Coat fish in batter and fry at medium (350°F) until golden brown (2-3 minutes), then place guacamole on tortilla then fish on top of that.
Add tartar sauce on top of fish and drizzle with guajillo chili sauce.
Garnish with shreds of watermelon radish, regular radish or daikon and fresh chopped cilantro.
Serve right away, with fresh lime on the side.
 Batter
1 cup all-purpose flour
¼ cup cornstarch
¼ cup rice flour
3 eggs
1 regular can of beer (Mexican lager is best: Sidhu uses Vacation Voucher Mexican Beer from Catalyst Brewery)
Whisk all ingredients together, add 1½ tsp salt.
 Guacamole
2 ripe avocados
Juice of 1 lime
1 fresh jalapeno chili, chopped
1 Tbsp cilantro, chopped fine
1 Tbsp fresh white onion, chopped
1 Tbsp tomato, chopped
Salt to taste
Combine and serve right away.
Yield: 1½ cup.
Guajillo chili sauce
Two guajillo chilis, dry, chopped
1 clove garlic, mashed
½ tsp Mexican oregano (or any oregano)
Mix all ingredients.
Chef's Tips
Another Mexican culinary secret: "Adobos are spice mixtures," Sidhu says. Mash and mix together 200 ml each of: chili arbol, chili guajillo, chili ancho
(dry poblano), roasted garlic and roasted onion, plus ¼ cup salt. "You can make anything taste Mexican by adding this."
Wild-Caught Pickerel with Foraged Wild Mushrooms
– David Friesen
Ingredients
1 Tbsp olive oil
1 fillet of pickerel or any other white fish, scaled, skin-on
1½ cups mixed mushrooms, torn into bite-sized pieces
¾ cup locally grown cherry tomatoes
Locally grown fresh thyme to taste
4 cloves garlic confit lightly mashed (recipe below)
Kosher salt and fresh ground black pepper to taste
1 Tbsp butter
 Method
Heat the pan, add oil, season fish with salt and pepper and place in pan flesh-side down. Flip after 2 minutes. Fish should curl.
Add garlic, mushrooms, tomatoes and some thyme leaves, season these ingredients with salt and pepper and cook. Total cooking time should not exceed 5 minutes.
Add butter just before taking off heat, cook until butter browns then serve, garnished with sprigs of thyme.
Yield: one one-fillet portion. Multiply for multiple diners.
Garlic confit
½ cup garlic cloves, peeled
1 cup olive oil
Method 
Place garlic and oil in a heavy-bottomed pot. Using medium-high heat, cook until garlic is soft and golden brown.
Let cool, place into a glass jar and refrigerate.
Will last months in the fridge so long as the garlic is covered by the oil.
Chef's Tips:
"White fish are very light in flavour compared to, say, trout, so it will take on flavour of mushrooms. Mushrooms are buttery themselves."
Tear mushrooms rather than cut.
If you find dirt or any little critters, wipe off rather than using water, as the mushrooms will soak it up.
"I use garlic confit because that way the garlic is already sweetened." It can be used wherever you would use garlic; the process gives the cloves a mild nutty flavour.
Browning the butter will give a nutty flavour to complement the mushrooms.
Wine pairing:
"An oaky Chardonnay would pair well with the earthiness of the mushrooms."
Maple-mustard
Glazed Trout with Pastrami Spice
– Toben Kochman & Michel Swanson
 Ingredients                                 
100g pastrami spice (recipe below)                        
340g trout fillet, skin on fillets    
80g maple-mustard (recipe below)                        
approx. 5g Kosher salt to taste                                    
Method
Working with the freshest local trout you can find, arrange the trout fillets on a parchment lined baking sheet, skin side down.
Preheat oven to 400°F on the highest convection setting (if possible). 
Season fillets with the salt and pastrami spice, making sure to generously cover the entire flesh.
Brush fillets with half the maple mustard glaze.
Roast fillets in the preheated oven for 10-12 minutes, or until the internal temperature reaches 110°F.
Remove the fillets from the hot baking sheet and brush one more time with a fresh coating of the maple mustard glaze.
Serve immediately or allow to cool and serve at room temperature.
Yield: four one-fillet portions.
Pastrami Spice
Ingredients                                 
300g black peppercorn, ground  
150g coriander seed, whole       
100g coriander seed, ground        
250g brown sugar                       
160g paprika                            
110g garlic powder                   
85g onion powder                      
50g yellow mustard seed    
25g mustard powder
                
Method
Toast all whole spices. 
Grind the whole spices in a spice grinder or mortar and pestle. 
In a bowl, whisk together all ingredients until evenly combined.
Reserve in an airtight container for up to two months in a cool, dry area. 
Yield: 1250g
Maple Mustard Glaze
Ingredients                                  
350g grainy Dijon mustard 
150g maple syrup            
Method
Whisk ingredients together in a medium bowl until well combined. 
Store in an airtight container in the fridge for up to four months. 
Yield: 500g
Chef's Tips
For cold serving or to warm up later, roast the fillet(s) seasoned with pastrami spice and salt alone, and add the glaze after cooling. "Because trout is such high-fat fish, it doesn't matter if you cool it, it's still going to be buttery and taste good," Swanson says.
Grilled version: cedar-plank the fillets to keep them from drying out too much.
 Wine pairing:
Swanson recommends "Something very light and crisp, such as a Sauvignon Blanc, fruit forward with notes of apple and citrus."