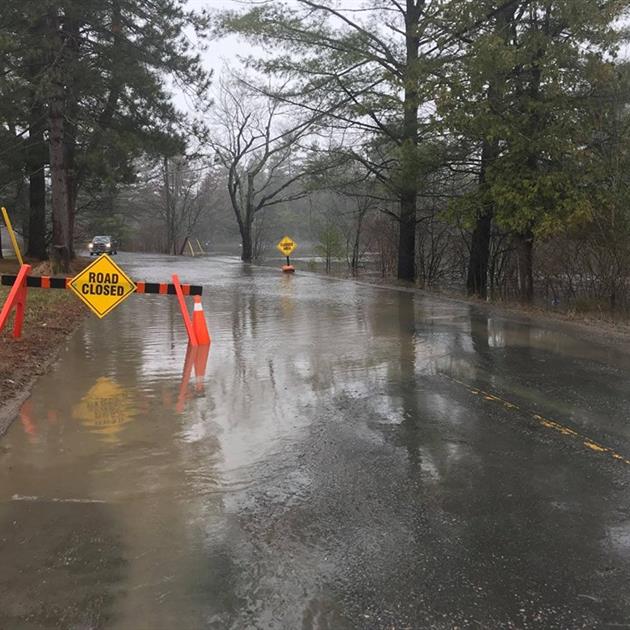 FLOOD UPDATE: BRACEBRIDGE ENCOURAGES SEASONAL RESIDENTS TO POSTPONE COTTAGE CHECKS
The rainfall event yesterday has increased flows in the north and south branches of the Muskoka River causing road closures and flooded road advisories to remain in effect and expand in other locations.
Seasonal residents wishing to check on their properties are encouraged to wait until the flooding emergency has ended to visit their property. Seasonal roads and access to those roads may be impaired by flooding, flood damage or washouts and are unsafe to pass. There are numerous waterfront homes that are without access.
Review of Environment Canada flow data shows that flows will continue to rise for the next 48 to 72 hours. The Town of Bracebridge is experiencing historically high flood elevations that have exceeded 2013 flooding levels. The Town is encouraging residents to take precautionary measures to ensure life safety. Beaumont Drive is passable at this point; however, as water levels continue to rise, it is expected that this road will become impassable.
Bell has advised that landline communications are being disconnected in the Beaumont Drive area to protect their infrastructure. At this time the Town is recommending residents in this area self-evacuate. Individuals displaced or affected by flooding that require assistance please contact 211 (or alternatively 1- 877-330-3213). If you require assistance to evacuate your home please contact 211. In all emergency situations call 911.
Road closures have been in place for an extended period of time. The Town is unable to provide an estimated time of road restoration due to increasing water levels. Anyone who is in flooded areas affected by road closure should contact 211 to advise of their situation. 211 is currently experiencing high call volumes across the province. As always, in an emergency situation call 911. Road closures may impact response times by emergency services to flooded areas and may limit the ability for emergency services to access certain locations.
It is illegal to cross closed roads. The Town cannot guarantee the integrity and safety of closed roads and they may pose a hazard. The public works department continues to monitor road conditions for flooding and is making repairs where possible. The Town of Bracebridge does not monitor private roads. Residents and visitors should assume that private roads along waterfront areas that have flooded in the past or are in low lying areas may be impassible due to flooding at this time.
 The Town has declared all Town waterside parks and access points closed until further notice to help ensure the public safety during the flood emergency.
The Simcoe Muskoka District Health Unit has issued a Drinking Water Advisory for the affected areas. Residents are advised that properties in flooded areas using well water should assume the water is not potable. Municipal water sources are not affected by this advisory. Water filling stations can be accessed in Bracebridge at 336 Ecclestone Drive, and for those on the Alport side of the Beaumont Drive flooding at 1601 Beaumont Drive (Kirby's Beach water treatment plant).
FLOOD EMERGENCY UPDATE REMINDER: Sand bags are available free of charge for Bracebridge properties affected by flooding at the Fowler Construction - Scale House located at 1206 Rosewarne Drive in Bracebridge 24 hours a day, 7 days a week. In addition to sandbags being available at Fowler Construction, the Town of Bracebridge has sand materials, and bags available at the following locations:
• George Road Boat Launch Overflow Parking Lot;
• The End of Maplewood Rd. (PVT); and
• Herbert Crt. (PVT).
Residents should be prepared to fill sandbags when they arrive at these locations. Please share all details of information regarding the flood emergency with those who do not have access to internet or radio. Property owners should contact their property insurance providers regarding flood damage claims. The Disaster Recovery Assistance for Ontarians (DRAO) is a program that can help you recover costs after a natural disaster. The Province of Ontario may activate DRAO for damage to private property if there's a sudden, unexpected natural event, such as a flood or tornado that causes costly and widespread damage in your area. More information is available at https://www.
ontario.ca/page/apply-disaster-recovery-assistance