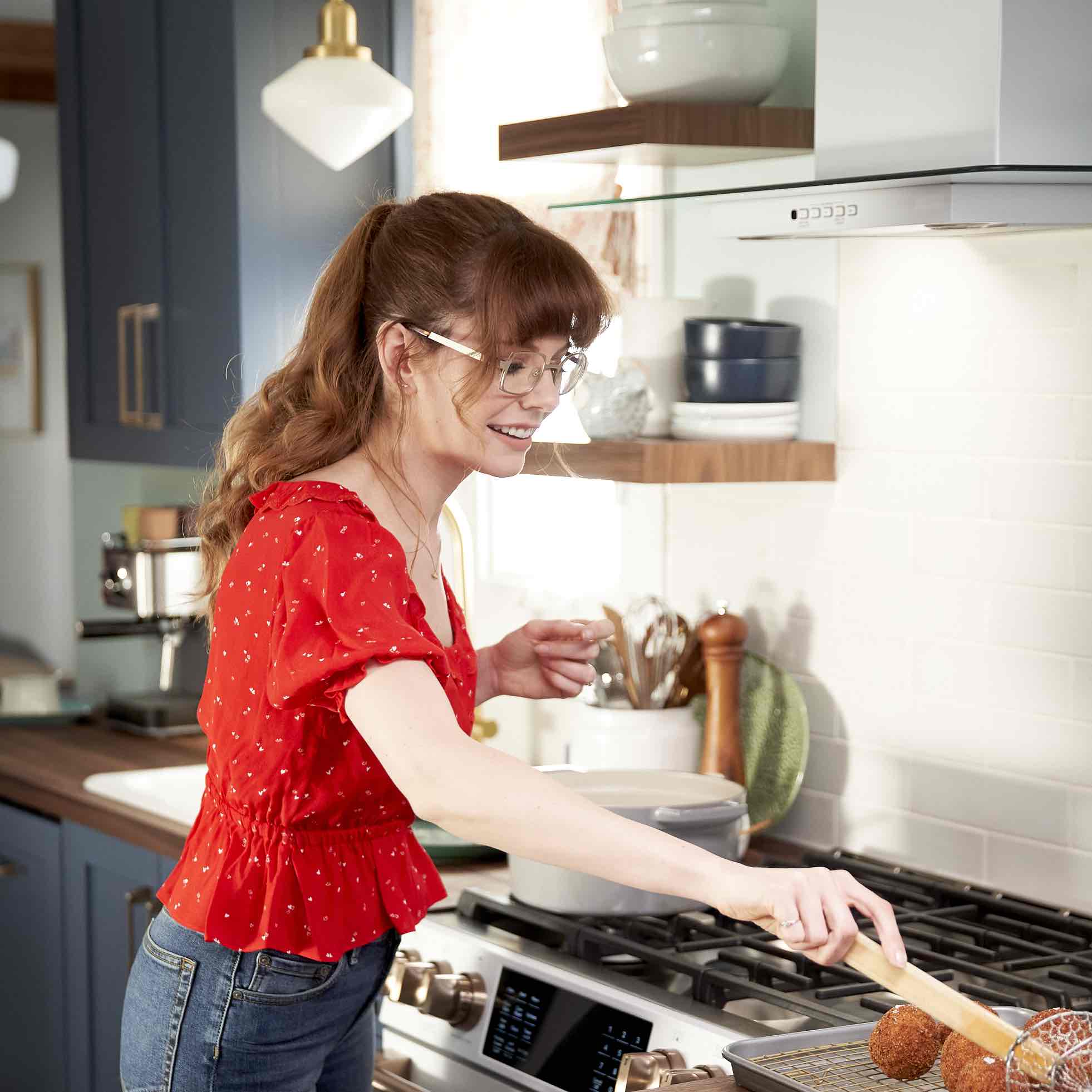 For Mary Berg Cooking is meant to be shared
Article by Sandy Lockhart
Making delicious meals for family and friends was always a favourite way for Mary Berg to spend time at her Lake Muskoka island cottage. 
Today she is known as the star of CTV's Mary's Kitchen Crush and author of her first cookbook, Kitchen Party, and the winner of MasterChef Canada Season 3. Berg explains it was some of those same family and friends who convinced her to apply and compete in MasterChef Canada back in 2016.
"I applied for Master Chef begrudgingly," she explains. "I auditioned with very few hopes."  She was also a bit nervous wondering, if she had professional success cooking, would it still bring her joy and help her relax. Would it, instead, cause stress if it was her career.
 "I didn't want to lose something I love," she says.
 Berg says she is not competitive (except when playing euchre at the cottage) so competition was not the driving factor on Masterchef Canada. Instead, she pushed herself to learn all she could from the experience.
 "It was not my kitchen so there was no normalcy. It was a total 180 degrees from cooking in my own kitchen – with the cameras, not knowing what was coming next," she says. "But I still felt comfortable, it was exciting and fun. It was the start of me publicly cooking."
 Berg has cooked privately for years, both at the cottage and at her Toronto home. 
 When she was about four years old, her family was in a car accident and her father died. Despite her young age, Berg saw how much it meant to her mother when people brought food to her house during this time.
 "Even if it was noodles and cheese from a neighbour," she says. "I learned love, appreciation and family could be conveyed through a meal." 
 Her father had been the family cook and was known to feed a crowd.
"My mother missed the people too, gathering for food at the house." So, Berg saw a spot to be filled in her family.
"When I was about seven, I started to make lunches and did some baking." She recalls making cornflakes and water for her mother when she was even younger, about 4.
 "I used water because I was not old enough to be allowed to get the milk out of the fridge on my own." 
 By 11 or 12, she was making meals for the family. "I could help my mom and do something I enjoyed. My mother never liked cooking. She says, 'it's too messy.'"  
 To Berg, it's the act of making a meal for someone else that is so important and appreciated. "People get nervous about always having to cook something that is perfect." 
 Berg's family has been in Muskoka for generations. 
"The island was my great, great grandfather's logging camp on my mom's dad's side," she says.  Every original building was once something else, a bunkie or the mess hall. Today, signs of those old days can be found. Along the shore, there are large bolts in the rocks, that were once used to chain the floating logs. 
Like her mother and grandfather before her, Berg has been coming to the cottage since she was a baby and still spends time there each year.
She's partial to the water in Muskoka Bay and explains why.
"I believe the water you've been going to since you were a kid feels the best. I've been swimming at other cottages on other lakes but it's not the same. The Muskoka Bay water of Lake Muskoka is the best!"
The island has a shallow side. "That's where I used to make mud pies with rocks and shells to decorate them," she says. "As we got older, we went to the other side. At the rock face, it was deeper and we just jumped right in.
It was a great place to grow up because most residents of the island were family. As the years have passed, some cottages have sold but islanders are part of what Berg calls the "cottage family."
 "I'm not a weekend warrior," she says, explaining she doesn't come up every weekend but instead comes for extended stays. As an adult, her normal routine is to come up and stay up for three full weeks, near the end of the summer. Last year was a bonus, as they spent almost three months at the cottage, staying well into fall. 
"The cottage is my favourite place to cook by far," she says, "Both inside and outside." 
 At the lake, breakfast is a big deal. At least once a week, Berg makes blueberry pancakes – always purchasing the blueberries from the same Gravenhurst blueberry stand every year. "Eating the pancakes reminds me of being a kid," she says. 
 Outdoor cooking is a big part of cottage life. It's an annual island tradition for everyone to gather for a potluck dinner which includes a huge clam linguini prepared by Berg. She says the big pot used to prepare the meal is so giant that it was her cottage bathtub when she was small.
 The cottage is also one of Berg's most productive work environments. Every recipe for her TV show Mary's Kitchen Crush in 2018 was written at the cottage. 
 A new cookbook is coming out in the fall of 2021."A whole chapter is dedicated to summer cottage recipes," she says. These recipes were written at the cottage with Berg in the Barca lounger. "It's my most productive place to work," she says, and then adds, "hopefully, I can have some time to veg there this summer."
 And a bit of cottage living is coming to TV this fall. Berg is filming a new series Mary Makes It Easyon CTV. Rumour is that one of the 23 half-hour shows will feature the giant clam linguini celebration.She has missed feeding family and friends through the last year's COVID restrictions but has adapted.
"Kind of in my own way, I'm able to continue through sharing food and recipes," Berg says of her time developing recipes for her book and television show. "I also do doorstop drop-offs.
"I need to share – the reason to cook is to share," she says. 
And to those lucky enough to receive a drop off from Berg, it comes with a little responsibility. With recipe development, she needs comments and constructive criticism and appreciates feedback. Or when she's made three cakes in one day, she just can't eat that much food and her lucky friends receive the rewards of Berg's hard work. 
 And when it's time to relax, she will be back up in Muskoka. 
"The products of Muskoka, are out of control delicious – it all tastes like summer."
This longtime Gravenhurst cottager is quick to list a few of her culinary favourites.
 "The Bakery has delicious apple fritters that are the size of your face. The butter tart lady at the Gravenhurst Market – I don't make butter tarts because hers are the best and her gingerbread is fantastic, too.
"Oh, and I love Sawdust," she says. "They are brewing beer where I used to buy my stink baits for fishing when it was a Canadian Tire. From the Oar Restaurant, we had a really, really great take-out for our anniversary last year."
As for the future, Berg plans to continue to develop new recipes and cook great new food – and we know a lot of that will be taking place at the cottage. If you follow her on Instagram, you might see mention of some of her cottage favourites along with her other experiences. 
Berg is passionate about cooking. 
"I want to help others love it and to get as much joy out of cooking for others as I do."