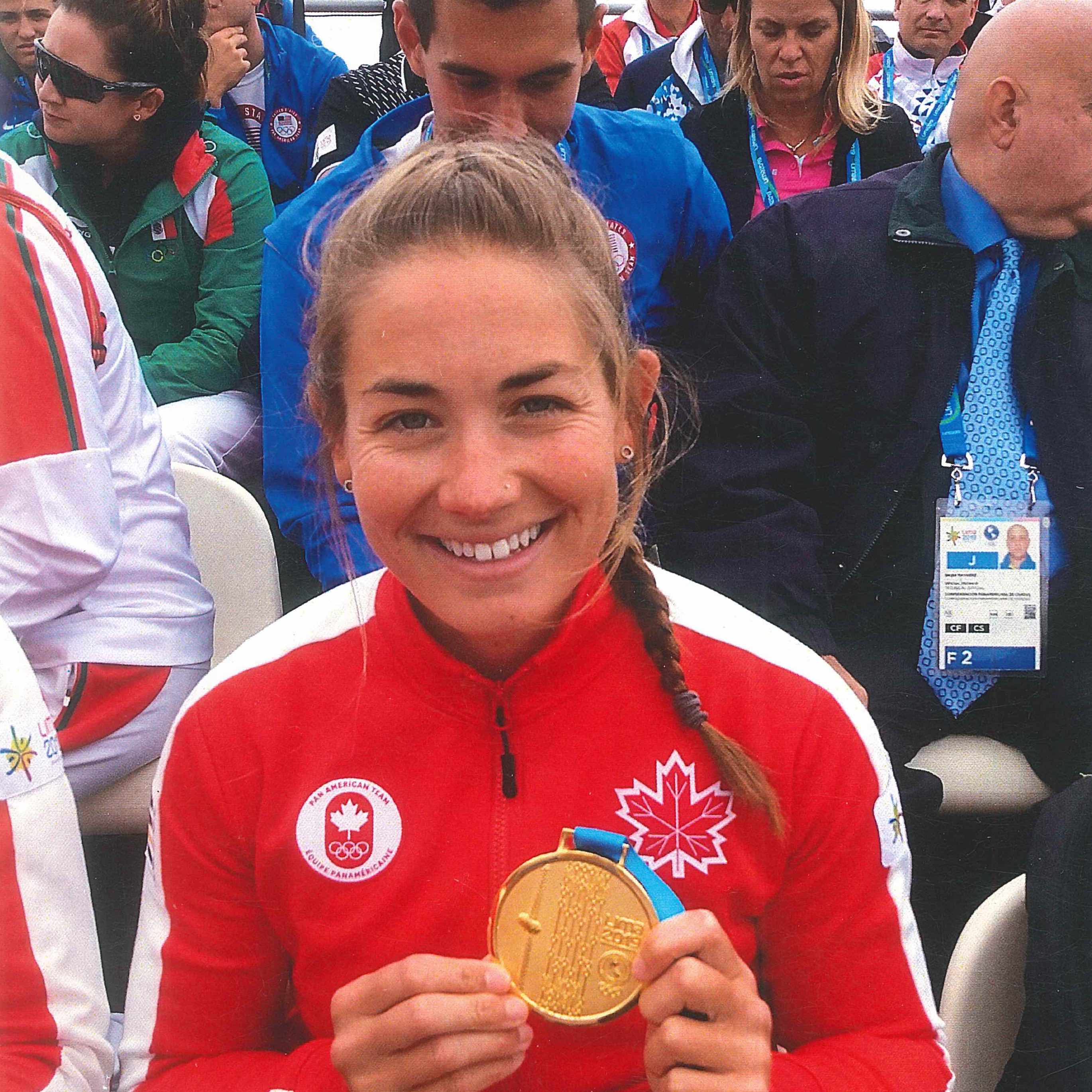 From the Muskoka River to the Tokyo Olympics
Article by Meghan Smith
Rituals and traditions that ebb and flow with the seasons are a large part of life in Muskoka. The onset of summer signals time to be spent at the cottage, on the beach and in the water. Whether the preferred water activities are for leisure, for relaxation or for sport, Muskoka's lakes and rivers provide a network of waterways that can fulfill any preference.
Alanna Bray-Lougheed is a qualified Olympian in sprint kayaking and a fifth generation Bracebridge cottager. Sprint kayaking is all about fast times over shorter distances on the water. Racing kayaks are very narrow, requiring balance and skill to successfully navigate, not mentioning the strength and power required to hit racing speeds.
Since 2012, Bray-Lougheed has been on the national sprint kayaking team, competing at several World Championship and World Cup events. At the 2019, Pan Am Games in Peru, Bray-Lougheed won two gold medals in K2 and K4 500m races.
"I qualified for Tokyo 2020 this past March after a year of uncertainty with training and competing during a global pandemic," she says.
Bray-Lougheed first competed for Canada in 2012 at Pan Am Championships in Rio de Janeiro, Brazil. Her mother, Sandra Bray, and grandfather, Jim Bray, travelled to the competition to support and cheer on the Canadian athletes.
"Having my mom see what I could accomplish after such humble beginnings I believe was very special for her," shares Bray-Lougheed.
Those humble beginnings include a cedar strip canoe purchased for use at the family cottage on Fraserburg Road in Bracebridge and summer canoe camp at Burloak Canoe Club in Oakville. Bray-Lougheed's sport combines speed and water, passions of her grandfather, Jim Bray, and great-great-grandfather, Alfred Bray.
In 2020, Alanna's grandfather Jim Bray was inducted into the Canadian Motor Sport Hall of Fame for his career racing stockcars. He began his racing career in 1952. In 1964 and 1965, he was the second Canadian to make the field for the Daytona 500. He had a part-time career in NASCAR Grand National from 1962 until 1974. Today, at 88 years old, he lives in Brantford and continues to enter cars in races with NASCAR Canada.
"My father followed his passion into racing," shares Sandra Bray. "Now we have two racers in the family. My dad with stock cars and my daughter with kayaks. My dad is a huge supporter of Alanna. And he's the one who ties all of the history together."
Alfred Bray, Alanna's great-great-grandfather, was a retired electrical engineer who purchased property on the Muskoka River in 1936. He was born in England and was the grandson of a steam engine producer there. He saw great change in technology as he moved from England, first to New York and then to Canada. Water access for boating seems to have been the draw for Alfred Bray to purchase land in Fraserburg.
"In those days, my great-grandfather and his neighbour were the only two guys on the river," explains Sandra Bray. "The rest of the area was just farmers. The neighbour had the smallest boat known to mankind. But the two of them were always out on the river."
The cabin was built in the family's backyard in Long Branch, a neighbourhood and former municipality that is now part of Toronto. Alfred took great care numbering the boards, preparing the design and then he took it apart, drove them to Muskoka with his son, Jack, and his grandson, Sandra Bray's now 88-year-old father Jim, and put it together on the property. Jim was just three-years old at that time. The original building was just 12 feet by14 feet but was added onto over the years, including the use of a steam engine on the property to generate electricity.
"I started going when I was five years old," comments Sandra Bray. "As a little girl in my dad's arms, I got to pull the steam whistle and that's what hooked me on the place."
The cabin and property, after Sandra Bray's great-grandfather passed away in 1961, were passed down to the next generation but it fell into disuse. At some point, the steam engine was removed from the property, taking with it the source of electricity. With inconsistent attention and irregular attendance from the family, the cottage began to fall into disrepair.
"It wasn't the type of place you'd go to visit every weekend," explains Sandra Bray. "There was a cookstove and kerosene lamps. My cousins and I, in our teenage years, we went up to visit but it was pretty primitive."
At the time, there were no family members who could put in the effort required to maintain the property, let alone return the cabin to a habitable state. Sandra and her two younger brothers met their great-grandfather but the cousins in her family had not and therefore did not have the same connection to and memories of "great-grandpa's forest.
"I felt a strong responsibility to honour what my great-grandfather had built and the beautiful site he'd picked," says Sandra Bray. "I took it upon myself to revive the place. 1997 was the start date of the resurrection or the revival, so to speak. People thought I was crazy but I love it." 
"From that time onwards, I have memories of going up in the summer and winter, always helping my mom with the work that needed to be done at the cabin," shares Bray-Lougheed.
Involved in heritage conservation in Oakville, Sandra Bray was familiar with the principles of restoration and knew the project would take time. Alanna, as the youngest of two daughters, accompanied her mother to revitalize the property on the Muskoka River at the age of three.
"If I learned anything during those young years, it was that it takes time and hard work to bring your visions and goals to life," says Bray-Lougheed.
For several years, the mother-daughter duo would visit family on the Trent-Severn waterway to collect lumber and then continue on to the cabin to work on renovations. When a dear friend visited them and noted the river, they urged Sandra Bray to purchase a cedar strip canoe to enjoy paddling on the river.
"Not knowing what I was doing, I bought one," she says. "It needed some TLC but it would float. My daughters and I tested it in our pool in Oakville."
However, with little experience in canoeing, when Sandra Bray saw an ad for a kids' summer camp to learn to paddle at Burloak Canoe Club in Oakville, she signed Alanna up. Her idea was that 10-year-old Alanna would learn the basics of paddling and be safe at the cabin. 
"My mom enrolled me because she wanted me to know how to paddle and steer the canoe," says Bray-Lougheed. "Gradually I started competing at regional and provincial competitions, and I began to train with the high-performance group at the club."
"Before long, I learned about these things called regattas," laughs Sandra Bray. "Alanna loved it. Paddling became her world."
What started as a weekly summer camp turned into full summer camp the following year and from there, continued growth and development as an athlete. Bray-Lougheed credits having a wonderful group of national team athletes and Olympians to look up to during her years at Burloak Canoe Club as her inspiration to continue training and aim to compete for Canada. However, her advancement in her sport reduced the amount of time she spent with her mother at the cottage.
"I continued to update the cabin and she continued to be dedicated to her sport," says Sandra Bray.
After many years of cleaning broken glass, property maintenance, building and rebuilding, Bray has the family cottage back to a comfortable, livable condition. She even built "one of the nicest outhouses" imaginable, with specifications from Cottage Life. The cabin remains rustic with no running water and no electricity.
"I've reached a plateau," shares Sandra Bray, about her revitalization. "It's very comfortable. It's insulated. I've brought it up to code with a building permit. I'm carrying on still, keeping the family tradition alive."
"My plan is to document my great-grandfather's life," says Sandra Bray. "If I don't tell the story, it's not going to get told. My dad tells me stories about his times there. He's proud of what I've done in resurrecting the cabin."
2021 marks 85 years and six generations of the Bray family cottaging at the Muskoka River property. Sandra Bray looks forward to times in the summer when the whole family is up at the cabin to enjoy the peaceful setting and bond as a family. Bray-Lougheed shares that her favourite parts of visiting the cabin are sharing a bonfire with family and friends and, maybe unsurprisingly, spending time by the river or by the falls.
"I also love being able to compete in a boat with three of my closest friends," shares Bray-Lougheed. "It is special to achieve a goal as a team, versus as an individual."
As pandemic restrictions begin to lift and plans for the Olympics in Tokyo continue to evolve, Bray-Lougheed's focus is on her training and she's trying to not look too far ahead. She has confidence that the safety of all athletes, coaches, volunteers and staff at Olympic venues will be the top priority of the International Olympic Committee (IOC) and the Canadian Olympic Committee (COC). The Tokyo 2020 Olympic Games, postponed in 2020 due to the pandemic, are set to occur from July 23 to August 8, 2021, with over 11,000 athletes from across the world competing in 339 events.
"There is no doubt that these Olympics will look much different than any other games," says Bray-Lougheed. "That being said, I am extremely excited to start getting information on exact details of how our experience will look."
"It's been a strange journey for athletes the past few years," says Bray. "On top of their rigorous, demanding training, they've had to do it under this cloud of doubt and uncertainty."
No matter what her experience at the Tokyo Olympic Games looks like, the cabin in Fraserburg and the quiet of the Muskoka River will be there for her to unwind and enjoy with her family, post-competition. 
"I am very lucky to have the cabin in my family and I hope to show my children the beauty of Muskoka someday," says Bray-Lougheed. "I definitely see myself spending more time on the Muskoka River in the future."
Similar to so many who enjoy Muskoka as an escape, being at the cabin provides a change of pace for Bray-Lougheed, with different rules, different timelines and different rituals associated with cottage life. Absconding to the cabin for a summer or a weekend creates excitement about getting away from everyday life and normal routine.