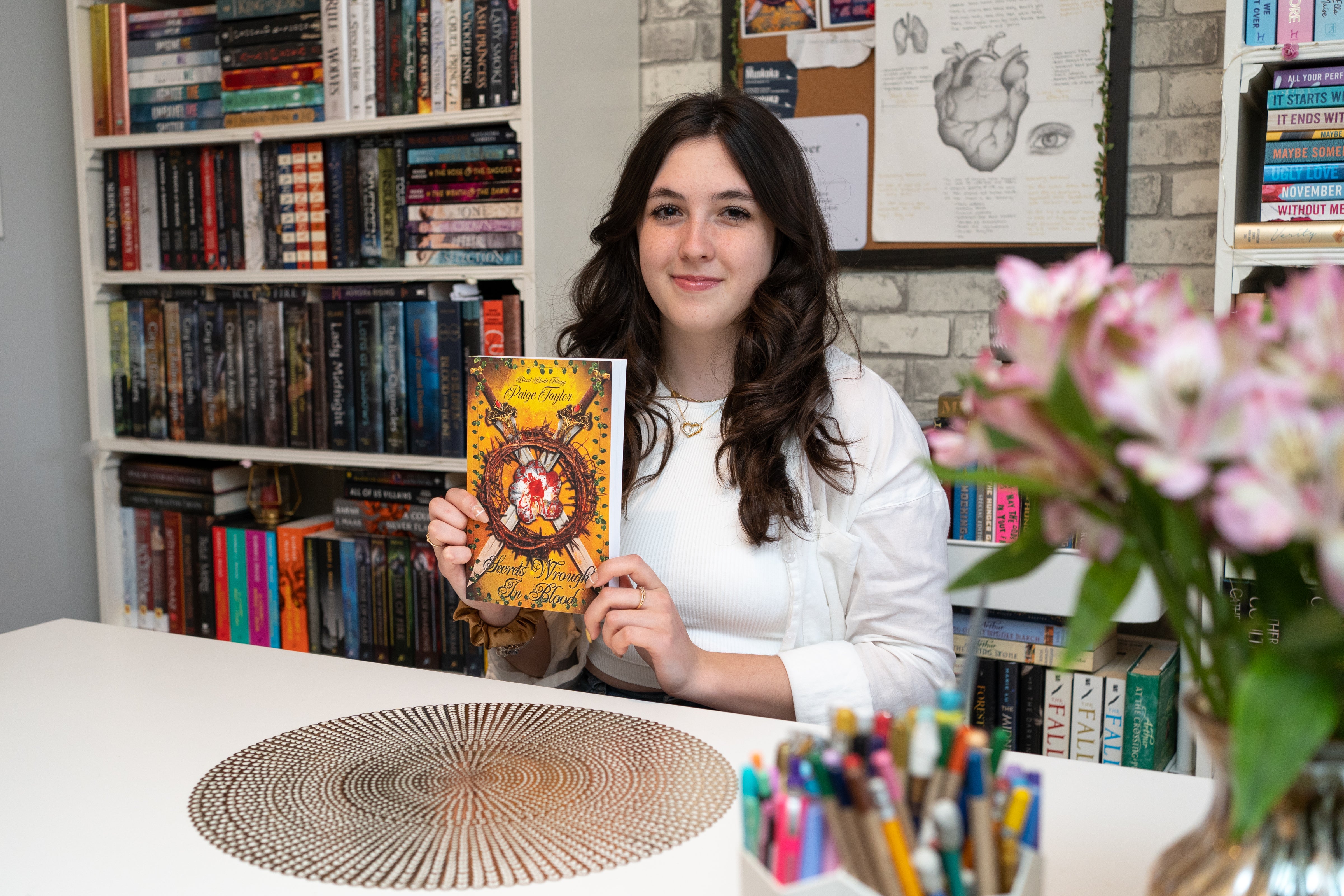 Imagination and Exploration - Author Paige Taylor
Article by Kelly Goslin
Photography by Josianne Masseau
The sound of clashing armour and swords disrupts the peace of an ancient wood. A mystic space so quietly sacred; its balance shattering in the mists of nature as it has amongst the people of Ilya.
Intrigue, violence, segregation and the desperate pursuit for stability in a chaotic and mythical realm define the world of Secrets Wrought in Blood, the first of the Blood Blade Trilogy by local author Paige Taylor.
At the remarkable age of 15, Taylor has written, self-published and promoted her debut novel, with enthusiastically positive response from her audience in Muskoka and beyond. A brief perusal of her Amazon reviews informs any prospective reader that Secrets Wrought in Blood is "a wonderfully thrilling and imaginative read."
Taylor was born in England and moved to Canada with her parents at the age of one. The idea for her novel first came to Taylor when she was in Grade 6, having been inspired by the work of J.R.R. Tolkien and other great fantasy authors. Drawing from themes of conflict and magic found in The Lord of the Rings series, Taylor began slowly writing her own fantasy masterpiece shortly thereafter.
"I knew I wanted to write something like Tolkien," she reflects, "so after two weeks of planning and sketching, I began experimenting with writing and gradually formed the foundation for my novel."
Through her art, Taylor has visualized the details of her characters, settings and plot, establishing another layer of depth and vibrancy for her words.
Over the course of three years, Taylor worked steadily on refining and completing her novel. It was a lengthy process of drafting, rewriting and expanding through both her writing as well as through visual art-based envisioning that "can describe my ideas better than writing initially."
Taylor reflected on her "self-improvement" as a writer through the process of creating Secrets Wrought in Blood, revealing the novel as a point not only of establishment for herself professionally, but as a means and conduit for creative exploration.
Upon completion of the final draft, Taylor embarked on the daunting process of self-publication with the support of her family, friends, high school teachers and the Muskoka Authors' Association (MAA), of which she is a member. Through the MAA, she found practical tools and supportive direction for navigating publishing, rendering the process "surprisingly easy" in comparison to the task of creation itself.
Young Adult and Fantasy Fiction as genres in Canada have faced challenge and triumph through the last few decades in both popular and academic reception. Fortunately, in recent years these genres have gained greater recognition for their communicability and socio-literary significance. Speculative fiction reflects our own understandings of identity and personal development, while also acknowledging ideas for change which can inspire its readers individually and collectively.
Taylor is an advocate for the integrity of her genres and states that through her book, both as a process as well as a statement, she champions the value of creativity. Through creativity, writers and readers alike can explore very real legacies of authoritarianism, inequality, injustice and terror, as well as environmental crises. Fiction provides a tangible avenue by which these issues can be examined and criticized. And in following the story to resolution, one may find application for reality.
"Fantasy is vital for teaching imagination," Taylor thoughtfully argues, "for if you do not have imagination how will you be able to either enjoy your literature or learn from it?"
For Taylor, Muskoka has provided a creative wellspring of ideas for her novel's setting; environmentally and topographically. The great forests of her fictional world carry the same vitality and personal significance as the towering pines of Bracebridge. Drawing inspiration from her home, her book carries a spirit of environmental awareness which speaks to the sensitive beauty and magic of nature. Secrets Wrought in Blood harnesses the power our natural world carries, symbolically and spiritually, and in her own life, Taylor continues to be inspired by all that surrounds her.
There are two more books to arrive in the Blood Blade Trilogy, and Taylor has revealed that she will continue exploring fantasy, as well as historical fiction, for future endeavours. Having debuted with great success, an achievement for an author at any age, Taylor has much to surprise her readers with as she continues to cultivate her craft.