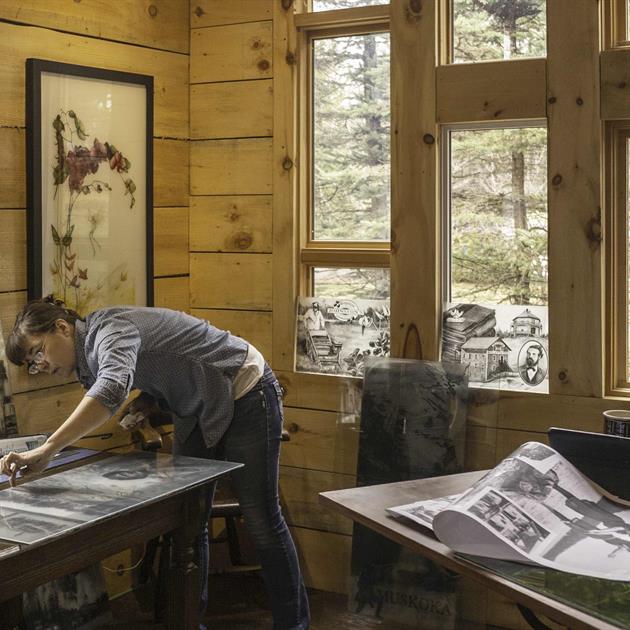 MAGICAL HINTERGLAS PROJECT DEPICTS HISTORY OF MUSKOKA
Light, or the way light shines on a piece of artwork, can completely change the visual experience, from transforming the colours and vibrancy to making the subject come alive. Hinterglas, or reverse glass painting, is a European painting technique that dates back to the third century.
Bonnie Bews, a Muskoka artist and resident, was introduced to the technique by chance, while sketching in a German town square in the 1990s. Rudolf Schmid, a glassmaleri in Germany, saw Bews sketching and invited her to his studio and gallery. Blown away by the technique and the extensive stories and folklore Schmid showcased with his art on every wall of his gallery, Bews accepted an offer to apprentice and learn the style.
"You know about stained glass and you know you can paint on glass and have it fired but what he did is beyond the norm," says Bews. "I went back and did a short-term apprenticeship. I learned glass painting, excelled in the hinterglas and since 1992, that's all I've done. I used to do oil on canvas and ink on paper but I came home and threw out all of my art supplies and started new."
The physical process for hinterglas art begins with selecting the appropriate glass. Glass must be sandblasted for charcoal, graphite or watercolour to adhere sufficiently. With the correct glass, Bews then paints or draws on the reverse side of the medium. As the pieces are not fired to seal them, the technique is considered a cold glass method. Once sealed, the artwork is completely stable and will not fade.
"Back when I started lots of places did their own sandblasting," says Bews "Over the years, they have moved into using acid etched glass, which is too fine for what I do. This past year I finally bought a big sandblasting machine. Now I prepare my own glass. I'm enjoying that aspect of really completing a piece from start to finish."
Sealing the artwork is slightly different, depending on whether watercolour or charcoal are used. For charcoal, a second piece of clear glass is placed against the first piece and sealed together with silicone.
"Watercolour is too translucent," explains Bews. "If you hung it in a window, the colour would just dissipate. With the charcoal, you can put it in a window and see the light coming through the glass. It's amazing how it stands out. It never fades and isn't disrupted by sunlight."
Similar to painting with watercolour on traditional paper or canvas, watercolour builds layers as it is applied, creating translucencies, vibrant colours and depth. In order to seal watercolour pieces, a whiteboard is placed against the backside, sealed with silicone and then framed and hung on a wall.
"It's very magical," says Bews. "The watercolour sticks in the tooth of the glass, so it always looks wet and fresh. On glass, watercolours look alive and vibrant."

Since returning to Canada from her apprenticeship in 1992, Bews dreamed of a big project like the folklore panels she'd learned beside in Germany. While she was quite happy to hone her skills and produce numerous works of art, both commissioned and inspired, Bews felt drawn to tackling something significant.

"There's always been something inside of me wanting to create something big," says Bews. "I wasn't sure what it was."
In the late 1990s and early 2000s, Bews thought she might have that big project with her studio Hinterglas Castle in the Walker's Point area. Inspired by the local fairies, Bews created a magical fairy garden surrounding her studio and painted numerous works featuring the mischievous beings. However, when she set out to tackle the large piece she felt was inside her, nothing came to her at that time.
In 2015, Bews was in the process of searching for a new home and happened across the McBride Lane property where she now lives and works. The old brick house and rundown building did not seem like much from the exterior, but a look into the house revealed beautiful hardwood floors and good bones. Bews knew the space was what she wanted.
"I instantly thought ok, I need a studio," shares Bews. "The old livery was dark, full of junk, musty and ready to fall down. It had been a stable with a loft but I knew it could work."
As soon as Bews saw the back wall of the livery, she had a plan. Without realizing the depth of the project coming to her, Bews knew she wanted to show the history of Muskoka. First, she needed to renovate the livery into a suitable studio before starting work on her masterpiece.
The livery was built in the 1880s in what was then known as Muskokaville. Constructed with large beams and square nails, the building was defying all odds by still standing over 100 years later. Now, the original boards from the building still live on as the front wall, inside and out, of her studio. As Bews began renovating in the fall of 2016, she found hundreds of old newspapers in the walls, acting as insulation.
"I read some of the articles and they were hilarious," laughs Bews. "The things they would advertise!"
The papers fuelled Bews vision of her historic piece and set her in search for more research on Muskokaville and all of the Muskoka region. She began researching early settlement and progressed through years of history and records, visiting four area libraries and conducting online research.
Muskoka: Etched in Time features 24 panels of varying sizes with about 13 different subjects. Bews had a list of ideas much longer that required whittling down before she even started to consider the artwork, itself. The piece was planned as an all-encompassing overview of Muskoka and the individuals and events that influenced or impacted the region.
"It's an artistic view of the history of Muskoka," says Bews. "I'm hoping that I'll be able to help people understand the history a bit more and put it into perspective. There's a lot more to Muskoka than just the tourism."
Panels feature local wildlife through the seasons, Dunn's Pavilion, Johnston's Cranberry Marsh and Muskoka resorts. Portrait panels depict countless individuals who were integral to the creation and development of Muskoka's rich history, such as A.P. Cockburn, James Boyer, Henry Bird, Tom Thomson, Rene Caisse and Norman Bethune.
After researching and planning for over a year, Bews set a deadline for herself of the annual Muskoka Autumn Studio Tour in 2018 to begin drawing the panels. The tour is a time when artists demonstrate their craft and actively work in their studios. Starting with a smaller panel, Bews completed the panel featuring Norman Bethune over those two weekends.
"Sometimes when you start a piece you don't know what it's going to look like at the end," explains Bews. "I really enjoyed that process of being able to focus on a story that I wanted to tell."
With the panels installed and unveiled on July 18, 2019, Bews has shifted back into her research. Her plan is to create a brochure to go along with the art installation, detailing what is included in each panel and why each historical depiction is important. 
"Everything was connected and it was so cool to research," says Bews.
"Like Henry Bird, he owned the mill and made army blankets. He needed wool, so he suggested the farmers, struggling because the land was full of rocks, farm sheep and he would buy the wool. Then because of that, the resorts in Muskoka were all known for their lamb. It was all connected."
In the fall, Bews plans to contact schools and community groups, and further share both her passion for art and her historical wall of art. Class trips are just one way she feels she can advocate for inclusion of local history and art in the curriculum.
"Maybe it will help a child who likes to draw see that they can follow a future in the arts, especially if it's a passion" explains Bews. "Art isn't a strong focus in schools anymore. If they come as a class trip, kids can see the history and I can talk to them about the art."
Born in Toronto, Bews spent much of her childhood in Queensville, always having art close to her. Her parents purchased a business in Torrance and Bews moved with them, experiencing life in Muskoka for the first time.
"I have always enjoyed the arts," shares Bews. "I loved doodle art and, of course, I didn't stay in the lines. I kept going with the arts because it was always a strong pull. I didn't have to worry in high school about what my future career was going to be because I knew it would be something in the arts."
Bews attended the Arts & Technology program at Georgian College and then was unsure which direction to take with her art or how to make a name for herself. After several years working as a graphic designer, and her father encouraging her to find her own niche to stand out in the crowd, Bews took her life-changing trip to Europe.
Unknowingly, Bews' form of art connects to a life-long love of Disney as well. Original Disney movies, such as Pinocchio and Bambi, employed the use of hinterglas painting for the backgrounds of the scenes. Painting a background scene on glass allowed for the layering and overlapping to create the depth and changing scenery.
"Disney was using the technique but it never really became a popular art form here in North America," says Bews.
Depicting wildlife, botanicals and fairies in her artwork was Bews' go-to. Her Etched in Time panels required a switch to mainly portraits and architecture – a change from fluid, changeable strokes to rigid lines. While Bews research behind the massive installation was a completely new direction, so too were the subject matter and techniques necessary to complete the panels.
"It pushed me into another level of my artistic career, knowing I can do it," muses Bews. "It's not as whimsical as my typical work but I've enjoyed it. I've grown and it's given me more strength."
Thrilled with the challenge and grateful for the journey, Bews is basking in seeing the two-year project come to fruition. How her future work will be influenced by the techniques and artistry she has developed is unknown. She is unsure of her next project but is eager to continue the evolution of her body of work. Bews is looking forward to a new approach, and to being inspired in her own studio each day by the history of Muskoka.
"I'm hoping to hear the Muskoka stories," shares Bews. "I'm hoping it will be a great experience for everybody."

Much like Disney and his "build it and they will come" mantra, Muskoka: Etched in Time is a passion project that Bews anticipates sharing with the community for years to come.