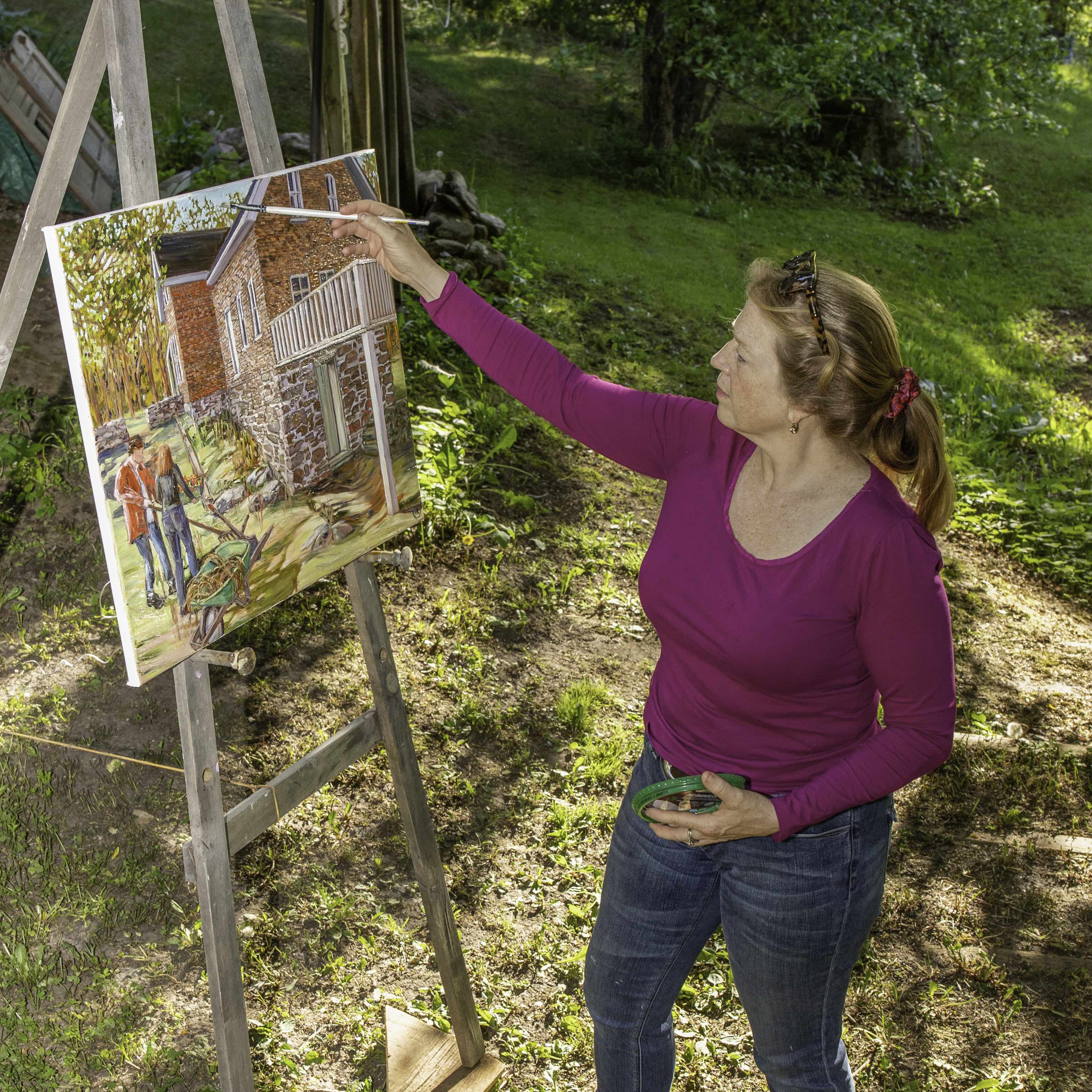 Marilyn Goslin - Painting with Just Not Skill but with Intention
Article by Meghan Smith / Photography by Tomasz Szumski
Painting en plein air or "in the open air" is a French style, most commonly associated with Claude Monet and the Impressionists. It's also a painting style recognized in Canada for its use by the Group of Seven. While artist Marilyn Goslin does complete works in her studio, she most enjoys painting outside, among the elements.
"You're feeling the wind, you're smelling the air, and it's a very sensory experience," Goslin explains. "Everything is very immediate and it helps you. It's very instinctual. It forces you to be fast. You don't have time to be strategic or worry about the resolution of the painting or compose or whatever."
As a self-taught artist, Goslin did not attend art school and therefore did not have the benefit of learning "the rules." Developing skills that could be learned quickly in art school, like which supplies to use and the best techniques to achieve a certain look, took Goslin time to master on her own. On the other hand, with no formal training, she was free to explore her instincts and talents, learning that sometimes, making mistakes and trying out ideas is better than following the rules.
"The best paintings are the ones where you're brave enough to just put that brushstroke down," Goslin says.
Thus far, bravery, tenacity and hard work have led Goslin to live, work and travel while evolving as an artist. But at first, she was not certain a career in the arts was even feasible, let alone one focussed on oil paintings. Growing up in Bracebridge, Goslin recalls enjoying art classes in public school and high school. She had always drawn and painted as a child and teenager but also has memories of cross-country skiing and snowshoeing in the winters and traipsing through forests in the summers
She attended Trent University for English and history programs but was always drawn back to painting. After a trip to Newfoundland for a wedding, Goslin spent an extended stay in England, painting watercolour scenes from the east coast and English scenery. She worked exclusively in watercolour at that point in time. When she returned to Muskoka, she held her first art show at Richard Green Fine Art, formerly located on Highway 118. When her artwork sold out at the show, Goslin finally began to realize that art might be a viable career option after all.
"I started to realize that this is what I really want to do," she shares. "I never went back to school and I've been a full-time painter ever since."
In the early 90s, at around 25 years old, Goslin moved to Montreal for a change of place. There, she had the pleasure of embracing the vivid Montreal arts culture, visiting galleries, attending ballets and theatre productions and meeting people from all different walks of life. She began to collect art books, a collection she continues to grow to this day
"I had an interesting life, there," says Goslin. "I was exposed to different art that I hadn't seen before. Just like any profession, your understanding is limited until you get out there and, all of a sudden, you're seeing and learning amazing things everywhere."
At Christmas one year during her time in Montreal, a dear friend gifted her a set of high-quality oil paints, noting that she needed to try her hand at oils instead of sticking only to watercolours. Goslin still had no interest in oil paints at the time and stored them away.
"I was terrified of oils," she laughs. "I thought, not on your life will I try oils! I'm a good watercolour painter."
Leaving Montreal and moving to Lakefield in 1999, Goslin's new neighbour began to suggest a foray into oil painting. She decided to take the advice to experiment, not be afraid and, if nothing else, she could try and not tell anyone. Goslin chose to paint her neighbour's bike, leaning against a fence beside a farmhouse, remembering that she selected the scene for the way the sun overhead cast shadows through the spokes onto the pavement.
"I thought to myself 'ok I can do this but I won't tell anybody'," she remembers. "I thought I'd just not tell anybody and give it to my neighbour. Well, little did I know, she loved it and she took that painting to a high-end gallery in Peterborough."
The gallery contacted Goslin the following day, requesting she come in with her work. A year later, a year filled with experimenting and "making it up" as she went along, Goslin held a show at the same gallery, showcasing her oil paintings. Every piece sold and she has not painted with watercolours since.
"That was the start of a really wonderful experience in Peterborough," shares Goslin. "As much as I missed Bracebridge and I wanted to come home, I had really good fortune in that city."
Working with gallerist and artist Peer Christensen, Goslin built a career as an artist and a following throughout Peterborough, participating in art shows, fundraisers and the Kawartha Lakes autumn studio tour. On studio tour weekends, Goslin would often have 300 to 400 visitors at her home studio. Her dedication to creating art from the heart often had her finishing between 60 to 100 paintings per year and hosting four art shows each year.
"I've been one of the lucky ones," comments Goslin. "I started painting full time and then, of course, I funded my painting by waitressing for years and years. You're always worried about finances but I've been really lucky and people have bought my paintings."
The art gallery run by the City of Peterborough maintains a permanent collection of Goslin's work on site. Goslin was recognized by the City of Peterbrough in 2014 with a community leadership award for culture for her many contributions to the community. For years, while making her own way as an artist, Goslin made a point of supporting other community groups in ways she could by donating paintings for auctions or other fundraisers for the local hospice or other non-profits.
"I had never heard of an award like that," says Goslin. "I felt really loved and supported there and it wasn't easy to leave, even though I wanted to come home."
Spending 20 years of her life in Peterborough, moving back to Bracebridge was not about one place being better or worse than the other. Moving was a recognition of her own sentimentality and being inspired by the locations where she works.
"The process of painting is a very sacred thing for me," she shares. "I'm happy to be home and I'm grateful people are welcoming me. But what I want to do now is find a way to honour my own memories of Bracebridge by doing more paintings of it."
Beyond just her natural surroundings, Goslin takes great care in selecting and building her living and workspace. Along with the growth and evolution of her art, she has spent significant effort over the last 25 years refurbishing old houses where she and her daughter have lived. Rejuvenating may be a better term as Goslin brings her homes back to how they may have looked when they were built.
Goslin and her daughter, Kelly, sand floorboards, buff and finish railings, reinstall windows, doors, trim and shutters from the time period and will even be refacing the brick exterior of her current residence. She even makes use of leftover or unwanted wooden boards by fashioning them into one-of-a-kind frames for her one-of-a-kind paintings. She recalls homes in Port Hope, Lakefield, Peterborough and Bracebridge that she took great pleasure in returning to their former glory, without adding all of the modern amenities. 
"It's sort of a continuing thread from painting," she explains. "Everything is sensory and means something to us, and every floorboard has a story. Every piece of furniture that we have has a story."
Goslin believes strongly that handmade items require more than just skill; they require intention. An emotional connection exists between an artist or artisan and their work that cannot be mass produced. She cites this connection as the reason she and her daughter restore every board in their home by hand. They are currently working on an old farmhouse on Golden Beach Road in Bracebridge, peeling back the layers of the century home to refine a space instead of covering it up with new materials. They make use of as much as possible from the existing structure and source required replacement items from other old farmhouses, second-hand stores and flea markets. Sometimes, she's even traded paintings for wanted materials.
"I want my house to be a sanctuary," says Goslin. "I think that my space has to be really sensory for me to carry on and feel inspired. In fact, I'm so inspired here that I'm doing paintings of the interiors of my house."
On the property, a dilapidated drive shed has been restored and converted into Goslin's studio, where she'll gladly accept visitors when she can. As a drive shed, the building had small windows, letting in little light. Goslin ensured the reinvention of the shed into her studio added a large window, facing the greenery of her yard and her neighbour's horse pastures. Her studio view, along with her ability to find the hidden gems of places in Muskoka from her childhood, provides Goslin with ample inspiration for new artwork.
"I am humbled by how lucky I am," she explains. "Honestly, I know there are so many talented people in the world, whether its art or music or whatever, that never get noticed. I've been so lucky people have been supportive of me."
Fearless in her craft – she is unafraid to ruin a painting in order to learn and grow; developing her skills and making her intention more clear.
Viewing a Marilyn Goslin painting transports you to the place and the emotions of the piece, much like entering her home or studio transports you back to simpler times. Goslin endeavours to continuously grow as an artist and challenge herself to try new subject matter.