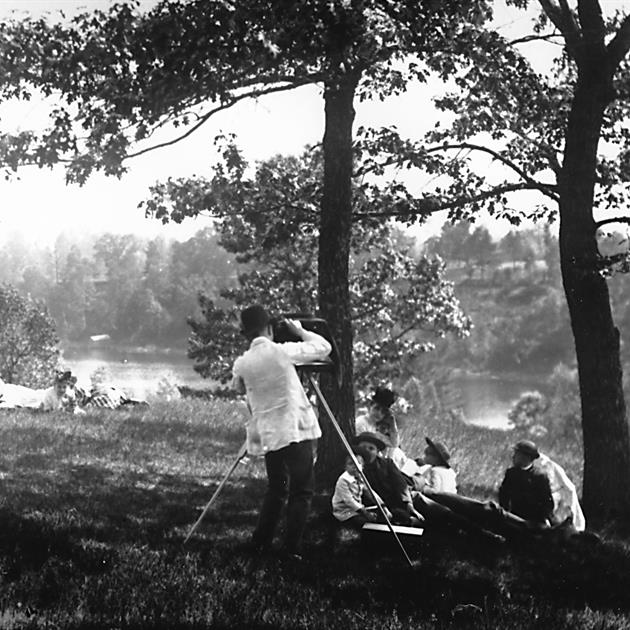 MICKLETHWAITE PHOTOGRAPHS STILL SHAPING MUSKOKA'S IDENTITY
Article by J. Patrick Boyer
Frank Micklethwaite was not the only person taking photographs in Muskoka a century ago but the alignment of three factors catapulted his work into a class of its own.
For openers, Micklethwaite's talent covered the full range of photographic skills. He so mastered artistic composition – including a person to provide scale in landscape shots, showing enthralled spectators following a sports competition at a Muskoka resort and guests artfully arranged across a lakeside hotel's front steps – that his distinctive work can be identified even when not signed.
In the technical department, Micklethwaite dominated competitors by employing the latest in processing, chemistry and innovative techniques, repeatedly winning honours for his exquisitely fine-grained images of people. Another plus was the man's physical stamina which enabled him to carry his hundred pounds of camera, tripod and heavy glass negative plates to nearly inaccessible Muskoka venues.
And, like other photographers of his era, Micklethwaite worked with speed. He'd hand-make glass plates in the morning, keep them dark by carrying them in fabric sleeves, expose them, again keep them in darkness while carrying everything back to the studio, then develop, wash and dry them that same night.
Creating five or 10 negatives for a day's outing was the upper limit, given the weight, effort and time required. The glass plates on which the negative had been recorded would be reused if the photograph turned out poorly – someone moving during a 30-second exposure was all too common. The emulsion was washed off and replenished, then the plate taken to the next shoot. Micklethwaite's log of images in Muskoka for 1892-1904 suggests he made (or at least kept) about 200 images a summer.
In addition to his natural aptitudes, Micklethwaite had mastered specific photography skills under the watchful eye of his father. William Barton Micklethwaite was a printer, stationer and brass founder during his career but photography was his greatest interest and most noteworthy vocation. His wife, Mary, gave birth to their son Frank William on March 13, 1849, at Ashton-under-Lyne in England. They then moved to Ireland and, as a boy, Frank unavoidably apprenticed in both the science and business of photography. Frank's younger sister Emily also married a photographer.
In addition to a fixed studio, Frank's parents ingeniously put a Micklethwaite studio on wheels to develop their new business. Rather than waiting for customers to come, the itinerant photographer explored the countryside capturing scenery and folks at their convenience. Frank happily enlisted in his parent's enterprising and start-to-finish entrepreneurial ways. When their wagon paused in a locale, fascinating prints of local scenes were displayed, for sale, on its sides.
In addition to skill and experience, and because of it, the second factor was that Frank Micklethwaite became famous. After completing his schooling, he'd worked in an architect's office, then studied art and worked in photography for six years. In 1875, having met and married Torontonian Ruth Hill, he headed to the New World with her, identified on the ship's manifest as a "photographer."
Micklethwaite quickly became familiar with Toronto, both through his wife's society circles and by working at the Mail newspaper. After three years, he went into business for himself, opening his own Micklethwaite Studio in downtown Toronto. Frank and Ruth's three sons – John, Fred, and Percy – would each engage in the family business, bringing to five the number of Micklethwaite photographers in three generations.
Jovial and progressive, Frank Micklethwaite was easy for Torontonians to embrace. Cherishing photography, he became a pioneer in its Canadian development, constantly adopting new methods that kept him at the forefront in creating high-calibre images. For three years running, in the mid-1880s, he won first prize in photography at Toronto's Industrial Exposition for his bromide enlargement portraits. From 1891 to 1895, he was City of Toronto Official Photographer.
Now as Toronto's best-known photo-grapher, his fame enhanced public interest in being photographed by him. Influential Torontonians, who had summer places in Muskoka, urged him to make photographs of them up north. He'd like it. So in 1887, Micklethwaite arrived in Muskoka to take photographs.
"Muskoka, once discovered, is never forgotten" became true for Micklethwaite – and for the countless thousands who would now begin discovering it through his hundreds of compelling images. His love affair with the district's blue lakes and rocky shorelines would last the rest of his life. Micklethwaite journeyed every summer to his Port Sandfield photography shop, base for Muskoka operations.
Inspired by memories of the family's mobile studio in Ireland, Micklethwaite effectively replicated his boyhood life as Muskoka's itinerant photographer. He explored the lakes and communities, lugging the cumbersome camera equipment and heavy glass plates, shooting scenery and events as he came upon them: towns, resorts, cottages, regattas, steamboats, swimmers, workers and settlers. Micklethwaite's records include a receipt for 23 cents, the going-rate for a water taxi from Port Sandfield to the top of Lake Joseph and back. He'd paddle and drive boats on his own, as well.
Micklethwaite's exquisite attention to detail, sense of classy style and artistic whimsy were all being captured on his hundreds of glass plate negatives. He portrayed summer regattas, families in formal dress gathering for dinner, guests arrayed on patios of renowned resorts, a hunting party's trophy display of deer carcasses or a fishing group getting a boasting-rights image of their day's catch.
This upward-spiral celebrity phenomenon not only made Muskoka more famous than it already was, but gave a much clearer impression of the place to a wider audience than had ever been the case before. Proud people displayed compelling photographic evidence of their Muskoka experience. Distinctive "Micklethwaites" adorned oak-panelled boardrooms from Chicago to New York, fireplace mantles of plutocrats in Toronto's Rosedale and Forest Hill mansions, drawing room walls in hundreds of estate homes and, for hundreds of thousands, the pages of North American magazines.
In addition to Micklethwaite's remarkable skill and widespread fame, the third element was Muskoka, itself. Photographs of Muskoka had a special caché. The venues for Micklethwaite's extensive Muskoka portfolio defined, with impressive new clarity, an Ontario district already enjoying a magnetic reputation.
Micklethwaite photographs from the late 1800s and early 1900s came to epitomize "Muskoka" because they crystallized the romantic yet vague notions people had of the Canadian north. Muskoka was convenient to the south, but hinged into the vast pre-Cambrian hinterland.
Savvy about business, Micklethwaite took hundreds of photographs of every major hotel, resort, marina and community in Muskoka. At the time and ever since, these hallmark images have visually supported the publicity needs of those Muskoka heritage enterprises.
"It was never just about the architecture," observes great-grandson William Mickle-thwaite. "At Summit House, smiling guests are in groupings of 20 to 50 people lounging in sunshine, on the steps or patios, having a happy time." These became great souvenirs with prints available for purchase. Frank Micklethwaite, the Summit House owner and the guests were all happy because it was win-win-win.
Micklethwaite also photographed some individuals who commissioned his work. Together, these photographs provided revenue for the Micklethwaite Studio but they also promoted Muskoka in two significant ways. Families dispatched prints all over the continent, boosting the district's aura to well-connected and influential circles. To prominent and powerful folk, self-promotion was generally second-nature. And second, Micklethwaite sent his top picks to Britain to be printed as commercial postcards. These images spread his fame and Muskoka's atmosphere in superb Micklethwaite-style to audiences in Britain and throughout the Empire.
Entwined with those images, naturally, are the Muskoka adventures of the Micklethwaite family through four generations. When automobiles and road travel became part of the scene, just before the Great War, Micklethwaite not only photographed them, but travelled from Toronto to Muskoka in them – a two-day journey with rest stops, repairing flat tires and taking photographs. Frank and Ruth, with sons John, Fred and Percy, tented at Port Sandfield, beside the Micklethwaite Muskoka Studio. They enjoyed this so much that when they couldn't get up to Muskoka, they'd tent on the Toronto Islands.
In 1915, in the developing early 20th century trend, they built a cottage beside the Moon River, west of Bala, where Fred's grandson William Micklethwaite and his wife Kathie Droy reside today. Their west Muskoka century residence, resplendent with heritage, has fittingly become centre for Bill's all-important project of creating a complete record of Micklethwaite photos. An electronic materials engineer and avid photographer himself, one of the sparks of his project was reading the 1993 coffee table book Micklethwaite's Muskoka.
Thanks to John Denison's prized work, a great many people became aware of Frank Micklethwaite and his Muskoka photography. Denison's large format Micklethwaite's Muskoka, sadly now out of print, portrayed Micklethwaite and how his photographs dramatically evoke the sense of Muskoka in late 1800s and early 1900s eras. Today these "FWM" black-and-white images endure as the single best photographic resource for what Muskoka was like. The inimitable Micklethwaite-style that first catapulted him to fame is seen in every photograph. They clearly and artistically capture the reality, elegance and adventure of a bygone Muskoka era.
What also makes these photographs rare, and hence Micklethwaite's Muskoka such a treasure, is that virtually all his Toronto photography plates were destroyed, reused or made into greenhouse glass roofs or even used as the 8 x 10 inch windowpanes in the 1915 Moon River cottage, one with traces of somebody's image still on it to this day.
Thirty years ago when Denison investigated National Archives holdings in Ottawa, he discovered to his astonished delight dozens of wooden boxes loaded with the heavy glass plates of Micklethwaite Muskoka negatives, generally untouched since they arrived. More sleuthing in Toronto and Muskoka newspaper morgues and other archival records filled out the story for Denison's landmark book. The realism and documentary-like authenticity of its photographs blend with excerpts from contemporary published accounts and Denison's breezy direct writing style.
"There's something magical about holding a slice of history in your hands," he says of his love for old photographs. Gazing at people frozen in time in a black-and-white Micklethwaite regatta scene at Port Sandfield made him at one with "ladies in big flowery hats and long white muslin dresses that whispered in the summer breeze, and men in blue blazers and cream trousers on the emerald-green grass." He savoured a scene "clear, artistic and brimming with presence."
As a boy, in the basement of his widowed grandmother Ellen Micklethwaite's Toronto home, Bill Micklethwaite had studied with rapt interest hundreds of these glass plates of Muskoka images, taken by his great-grandfather Frank and grandfather Fred. John Denison obtained 240 prints from these glass plates at the National Archives, from which he selected 144 appearing in his book. He also got another 16 photo-prints and a photocopy of the 55-page alphabetic log of photos Frank Micklethwaite, himself, prepared around 1905. Knowing the importance of these heritage materials, Denison has contributed them all to Bill Micklethwaite's invaluable project.
Bill hopes publicity about his centralized scanning and cataloguing project will alert other people to contact him at micklethwaite.photos@gmail.com about "other unknown Micklethwaite photographs" in hopes they too can be recaptured. He now has over one thousand Micklethwaite images digitized and transcribed into his digital archive. Some 3,600 Micklethwaite photos are catalogued in the National Archives, accompanied by 66,000 descriptive items – most being a page entry from Frank Micklethwaite's notebook. The project is as vast as it is vital to Canadian heritage, and nobody else could bring to it such background knowledge as William Barton Micklethwaite's great-great-grandson and photographer.
The influence Micklethwaite photos have had on peoples' image of Muskoka is greater than imagined. First, it gave such a pronounced definition to the district that disciples have followed it ever since. Secondly, folks frequently see photographs in books and magazine articles, on walls and mantles, without realizing they are Micklethwaite images reproduced without credit to their originator because publishers and website content providers no longer know the provenance of the compelling image they're keen to use as an illustration.
Public perceptions of Muskoka today are thus still being defined, directly and indirectly, by photographs of F.W. Micklethwaite. There are plenty. Frank William Micklethwaite and his middle son, Frederick William Micklethwaite, worked together for three busy decades from the turn of the last century to 1929 when Frank died. Each signed their photographs using their same first initials "F.W." Those who'd posed before their camera knew which Micklethwaite took it, but to others, Micklethwaite is legendary as a prolific worker blessed with longevity.
Micklethwaite photographs speak to us so poignantly because, for decades, they've been prized images uniquely portraying what Muskoka is like. Choice of subject, how it is framed within its surroundings, developed and presented, all separate the artist from the mere technician. It was to Muskoka's enduring benefit that the Micklethwaite family were not technicians but master artists of their craft.