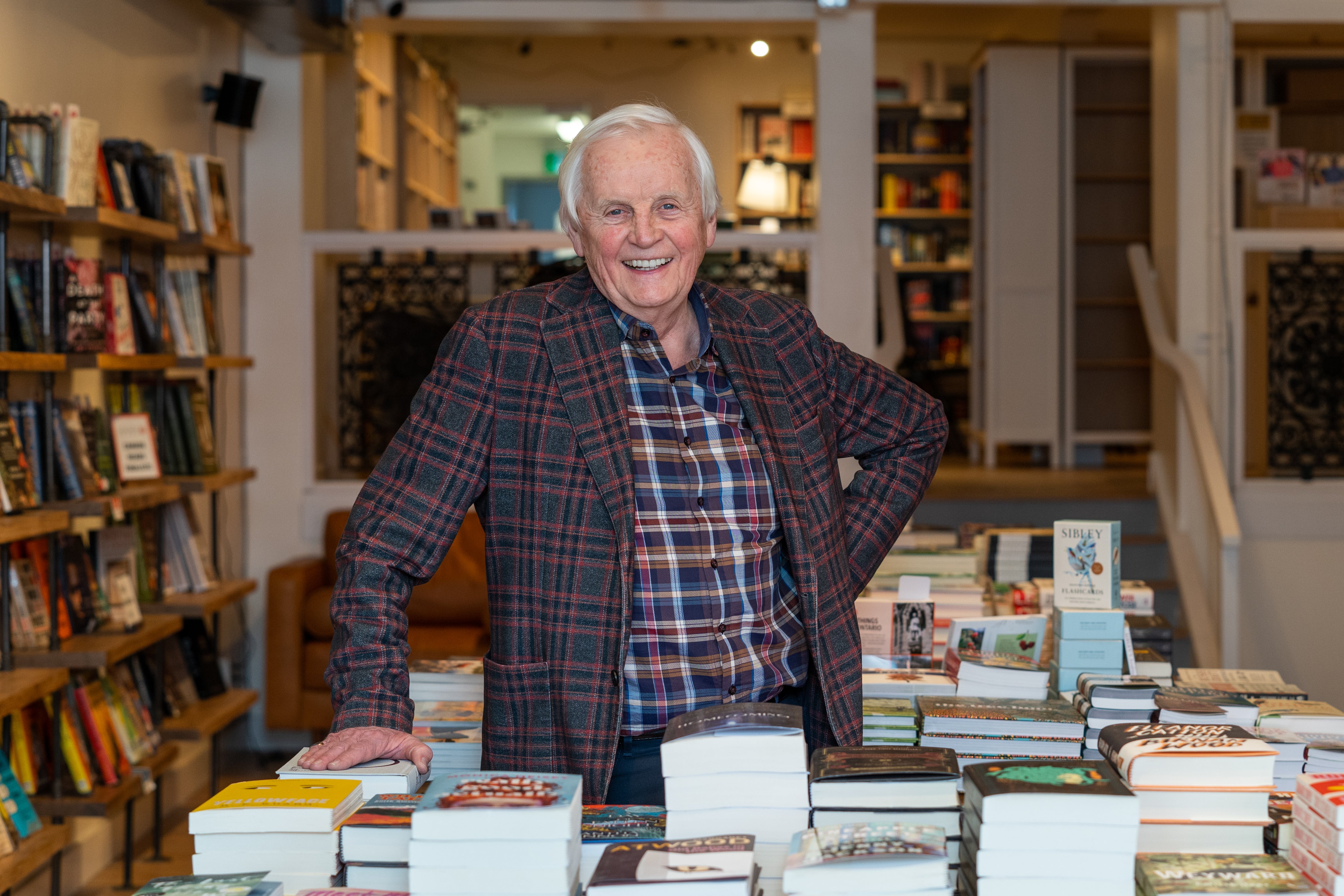 Muskoka Historian – J. Patrick Boyer
Article by Kelly Goslin / Photography by Josianne Masse
How do we approach history? In Muskoka, Patrick Boyer has emerged as a voice for our region's complex past and its connections to today. Through his Modern History of Muskoka series, Boyer is reappraising what we know of Muskoka's stories, its distinctive cultural foundations and their implications on understanding the region's identity. As Boyer himself explains, his latest highly acclaimed series records "the authentic experiences of real people who contended with transformative changes".
For anyone familiar with the communities of Muskoka, the name Boyer will likely already stand synonymous with historiography. Patrick Boyer comes from a multigenerational legacy of authors, thinkers, publishers and historians who have endeavoured to preserve the memories of Muskoka since the late Victorian era. Through recording their lives in his own writing, Boyer states that "it gave me an emotional jolt to realize that through my books, I was carrying forward, tangibly as well as intellectually, the lifeworks of three other men."
"In 1870, my great-grandfather James Boyer was editor of the Northern Advocate, first newspaper in Ontario's northern districts, municipal clerk, and Muskoka magistrate," Boyer details. "He wrote many accounts of Muskoka activities. His son, my grandfather George Boyer, became publisher and editor of The Muskoka Herald, a successor newspaper, and was mayor of Bracebridge in the 1920s. He wrote the book Early Days in Muskoka and broadcast a weekly radio program about Muskoka's pioneer era on Huntsville's CKAR station."
The family's story has only continued, as Boyer describes, with his father, Robert Boyer, becoming editor of The Muskoka Herald at 19, while his grandfather George sought work at the Canada Customs Office to keep their paper afloat during the Great Depression.
Growing up on Dominion Street in Bracebridge, young Boyer witnessed the exciting activities all recorded by his family's paper. His father became MPP for Muskoka when Boyer was aged ten and in his teenage years he worked in the print shop, helping cement Muskoka's news and developments with a Linotype machine.
Entering into this project, where he records the many facets of local history and connects them to contemporary life, Boyer is not simply engaging with the sentimental. He is also redefining how we consider and understand Muskoka history, placing its precedent historiography under a microscope and reappraising the many beliefs and preconceptions we have of the region.
The foundations of this endeavour can be identified in Boyer's lengthy political and legal career. Boyer sought change by identifying points of crisis within the democratic framework, challenging injustices and corruption "by creating organizations, by legislation, and by litigation." When faced with the negligent institutional approach to women with ovarian cancer, Boyer created the pioneering Corinne Boyer Fund for Ovarian Cancer Research and Treatment, now known as Ovarian Cancer Canada.
Boyer also used his membership in parliament to advocate for the rights of people with disabilities, aiming to "remove discriminatory obstacles they faced" systemically. Boyer introduced legislation to "give Canadian citizens a ratification vote by referendum on any transcendent changes in our Constitution proposed by governments". These are only a few of the many instances where Boyer acted to deconstruct negative social and political behaviours that impede the integrity of equity. His altruistic raison d'être is continued in his historical work. 
"Political life taught me that often issues and events are not stand-alone or one-off phenomena but integral aspects of larger forces and deeper imperatives," states Boyer. "What to some may appear to be a problem is often, in fact, the symptom of a more profound crisis. As applied to my historical writing, this underscores why providing context is everything."
Boyer's determined re-examination of context and evidence manifests in several manners within his Modern History of Muskoka series, as well as within his previous writings on local and broader history. Boyer recognizes that early Canadian historiography is riddled with the erasure of Indigenous voices and traditions, with our understanding of the past in Muskoka and beyond being heavily instructed by settler policies and concepts.
"Books in my Modern History of Muskoka series do not begin with a token chapter about 'Indians'," explains Boyer. "They weave First Nation, Métis, and Innu realities throughout the entire text – to reflect the reality of evolution. This intertwining approach respects the cultural complexity of present-day Canadian society within which Indigenous people live dual lives in time and space."
In addition to this effort of reintegrating those vital Indigenous voices and experiences, Boyer directly tackles the many assumptions and ideas that his readers possess of Muskoka as a settler culture that has become "cottage country". He explores the impacts of conflicts, pandemics, industrialization, and innovations on a complex Muskoka society.
"I strive to portray the culture of a place and people which remain the same while evolving beyond recognition – a paradox that brings us closer to truth," Boyer states.
In doing so, Boyer is pushing Muskoka's history further into light, aiding our region in its attempts to better promote our understanding of Muskoka's past and identity. His awareness and outspoken determination help remind us of the importance of striving for heritage conservation.
"Preservation of Muskoka history is a constant battle," says Boyer, in advocating for a district-wide public archive.
Boyer continues to champion reappraising our knowledge of history, stating that Muskoka's already rich literary history will benefit from the revision of "prior one-sided or propagandistic accounts and, especially, to incorporate new research". His Modern History of Muskoka, and the many other works he has written about Muskoka and beyond, stand out as bastions of a new wave of historical and cultural exploration.