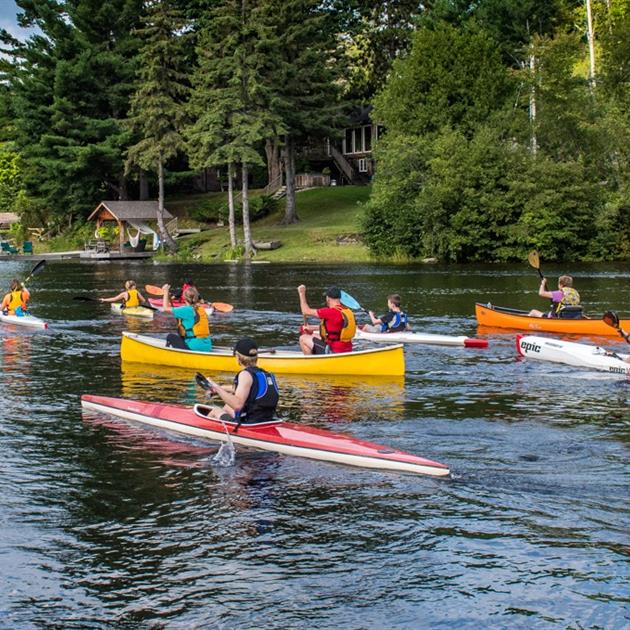 MUSKOKA PADDLERS FIND BEAUTY IN SIMPLICITY
Article by Matt Driscoll / Photography by Andy Zeltkalns
For more than a century, the rugged shorelines of the Canadian Shield have drawn people from all over the globe to Muskoka. There's no better way to take in the view than from the water, and for those who prefer the silent, scenic route – paddling is the method of choice.
From their base of operations in Bracebridge Bay, the Muskoka Paddle Club has grown from a loose association of like-minded paddlers to include recreational and competitive classes, youth classes, stand up paddleboarding (SUP) programs and guided paddling trips on waterways throughout the region.
"I came to Muskoka and I remember thinking, the Muskoka River is so beautiful, I can't believe there's nothing going on here," says club co-founder Jackie Mitchell.
A former competitive swimmer and Paralympic athlete, and later a swimming coach, Mitchell says she didn't grow up canoeing and kayaking to any great extent, but she's always had a love of being in and on the water.
Mitchell, who is also a teacher at Bracebridge and Muskoka Lakes Secondary School, said she had always wanted to try kayaking. Eventually she got the opportunity with a weekend learn-to-kayak course at the White Squall Paddling Centre in Parry Sound.
"That's when I fell in love with the sport," she says. "I like being around the water and being in nature – I find it very refreshing. It doesn't really matter whether it's competitive or not. It's also a chance to socialize and to take part in all of the other things that go along with it."
It took a series of chance encounters and a mutual love of Muskoka's waterways to get the club off the ground.
Sandy Schofield is an avid paddler and the co-founder of the Great Muskoka Paddling Experience, which will be entering its eighth annual edition over the Thanksgiving weekend in 2019. The event is a chance for paddlers of all ages and skill levels to get onto the Muskoka River for a fall paddle.
Both Schofield and Mitchell had at different times met with Michael Fekete from Toronto. Fekete is a renowned sprint kayak racer and the former coach of the Toronto Island Canoe/ Kayak Club.
"I had invited (Fekete) and his wife, Beryl, up to Muskoka," says Mitchell. "As we paddled along our beautiful rivers, at one point he said, 'Jackie, you should start a paddle club. This is a beautiful river to kayak and canoe'."
Mitchell says Fekete's generosity and talent on the water are legendary. In the past, he's helped start up nearly a dozen rowing clubs. He reached out to his contacts and helped the Muskoka Paddle Club acquire the necessary equipment for the first year.
The Muskoka Paddle Club spent its first year primarily as a group of canoers and kayakers exploring the Muskoka River, recreationally.
It wasn't until the second year that things really started to take off.
After reading a local media article about the fledgling club, Rick Mroz decided to get involved. Currently the paddle club's commodore, Mroz had previously run the paddling club in London and had a number of contacts across the province.
"Since the beginning, local experts, champions and others have offered guidance and coaching. We've been fortunate," says Mitchell. "To have the Town support us with the land lease (at Kelvin Grove) was paramount to starting the club."
Since its inception, the club has seen a steady increase in programs available, watercraft and the number of club members.
"It started basically as a recreational club and now we run the full gamut," says Mitchell.
Programs include day camps, a youth skills development program, adult fitness classes, adult north canoe classes and guided trips.
While many communities offer paddling clubs, Mitchell says there's something special about paddling in Muskoka. In some of the more urban areas of southern Ontario, Mitchell says the water isn't always that inviting. Aside from the pristine nature of the adjacent waterways, Mitchell says there are other advantages to being based out of Kelvin Grove Park in Bracebridge.
"The Muskoka River is very manageable," she says. "It's narrow and there aren't many rocks. There typically isn't a current that's going to drag you away and make waves and it's very easy to get to."
Mitchell says one of her favourite spots to paddle in the region is on the Muskoka River near Matthiasville. The river winds past beautiful scenery, both manmade and natural, and it makes for an ideal summer afternoon paddle.
Few people have more experience paddling the rivers and lakes of Muskoka than Liz Hawke. A lifelong paddler in the region, Hawke is a certified kayak instructor and hosts the Muskoka Paddle Club Sunday guided tours.
"I grew up on Lake Rosseau, using canoes and rowboats," she says. "The water's a happy place for me but nothing can compare to the peace and the bliss I feel when I'm in my kayak."
Hawke says she actually fell in love with kayaking by accident around 20 years ago when she borrowed a friend's kayak for a cruise on the Indian River in Port Carling.
"I was enthralled with it right from the start," says Hawke, who recently paddled the Grand Canyon.
It wasn't until 2012 that Hawke began to get serious about paddling. She joined a kayak club in Naples, Florida where she learned about the importance of safety on the water and having the right equipment.
"That really opened my eyes to what kayaking could offer and it's partly why I was so happy when the Muskoka Paddle Club was formed," she says. "It gives me a chance to pay forward some of the expertise and friendship I found with those Florida paddlers."
In addition to the guided tours, Hawke has been teaching rescue clinics for the club since its inception.
"I'm very big on boat safety and one of the main concerns when you are paddling a tippy boat is how to get back in the thing. We practise helping each other (assisted rescues) and also self-rescue techniques," she says. "My advice to paddlers who don't have rescue skills is to paddle very close to shore. Better yet, come on out to a Muskoka Paddle Club clinic and have some fun getting wet."
Hawke says Muskoka is a one-of-a-kind place to paddle. The region is cross-crossed with rivers where a paddler can lose themselves in the beauty of nature.
"I think one of my very favourite spots to paddle is the Shadow River in Rosseau," she says. "It's lovely with the trees arching overhead. We never know how far upstream we'll get due to the beaver dams, but that's part of the intrigue."
With each changing season comes a new chance to appreciate the beauty of Muskoka and a new opportunity to enjoy paddling in the region.
The waterways of Muskoka can remain quite cold, deep into the spring, and paddlers eager to get a jump-start on the season should wear a wetsuit or kayaking dry suit, says Hawke.
"Once the water warms up a bit, enjoy the shoreline and islands of the big water lakes until the power boats start taking over," she says. "In the summer, spend lazy days on those beautiful rivers. In the fall, it doesn't matter where you choose to paddle because it's all fabulous."
Kayaking is a low impact sport that puts little pressure on knees or hips, she says, which is part of the reason why the paddle club includes members into their 80s.
The club has been fortunate enough to receive multiple donations over the years, and they'll be putting the push on through a fundraising campaign this summer to acquire more recreational canoes.
If all goes according to plan, the club will continue to be a hub for those who enjoy the quiet beauty of Muskoka's waterways for many years to come.