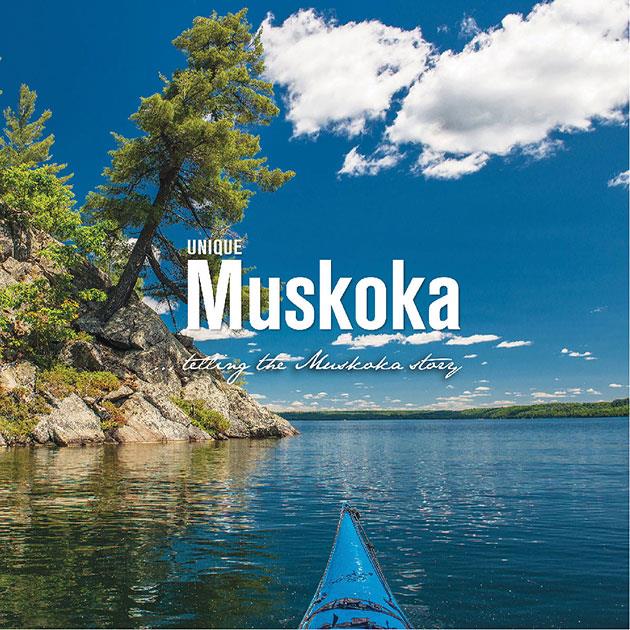 RURAL CHURCH RECEIVES AN UNLIKELY SECOND CHANCE
As an example of the strength of community and the tenacity of Muskoka's rural residents above all, the story of St. Peter's Rocksborough Church is one of legacy and rebirth.
Last year, when the future of the modest log church seemed in jeopardy, a group of like-minded residents stepped forward to literally pick the church up and move it to a new home at the Bracebridge Fairgrounds.
"It's been a very rocky road to get here but we couldn't be happier with how everything turned out," says Vicki White, whose family was instrumental in the construction of the church in the early 1930s. "The best part is that now that it's been relocated it's going to continue to be used. A church has to be more than just memories – it has to be a working church."
That was part of the reason that White and her family decided to get in touch with Muskoka Pioneer Power when they were informed by the Diocese of Algoma that St. Peter's Rocksborough would need to be closed in its original location, just east of Bracebridge on Fraserburg Road.
"It was a very sad day when they were informed that the diocese decided that it had to be closed," says Barb Dawson, a founding member of Muskoka Pioneer Power. "The Anglican Church found that it was just too much money to operate and not enough people."
It wasn't always the case, as St. Peter's Rocksborough was once a hub of the community. Several dozen people packed into the church for its opening service on October 17, 1933.
The roots of St. Peter's Rocksborough church are intertwined with those of the families who called the area home for generations.
"Granny Bowers had always wanted a church on that rock," says Vicki White, referring to her great-great-grandmother Eleanor Bowers, who was born in 1846 and was one of the original residents of the area.
The church, referred to as St. Peter's Rocksborough, and the neighbouring Rocksborough Road take their names from the Rt. Rev. Rocksborough Remington Smith, the first bishop of the Diocese of Algoma to be elected by the people of the diocese. Smith was bishop at the time the church was opened.
At that time, brothers from the Society of Saint John the Evangelist (often referred to as the Cowley Fathers or the SSJE) would travel, frequently on foot, from Bracebridge to many of the smaller churches in the region to conduct services and offer communion to parishioners.
"There wasn't much travel by car in those days, so the Cowley fathers would do everything on foot or by horse," says Rev. Kelly Baetz of St. Thomas' Anglican Church in Bracebridge, which has always been closely aligned with St. Peter's Rocksborough.
"The Cowley Fathers are actually a huge part of why there are so many small churches in the Bracebridge area. One example is St. Peter's Rocksborough, but others are St. Paul's in Uffington and St. Stephen's in Vankoughnet."
The SSJE was founded in 1866 at Cowley, Oxford, England by Father Richard Meux Benson, a priest in the Church of England and Father Charles Chapman Grafton. The SSJE was founded in Canada by Roland Palmer SSJE as a daughter house of the congregation in Cambridge, Massachusetts. The first Mission House was established in Emsdale in 1927 and the following year, they moved to Bracebridge where they were situated until Easter 1983, when they moved to Hamilton.
"As a kid I remember Father Thornton and Father Palmer from the Cowley Fathers coming out to perform services." says Vicki White. "They had a print shop out there (in Bracebridge) where they would print the church pamphlets.
"The Sisters of St. John the Divine would also come out and have sales there. I actually still have a plaster cross in my bedroom that was made out there."
Not in the best of health in her later years, Eleanor Bowers expressed the wish to see a church constructed. She felt it could function as a religious and social core of the community. Although Bowers never lived to see the first ceremony take place at St. Peter's Rocks-borough, work was well underway at the time of her passing and Vicki White says she was told it was a source of great joy for her in her final months.
A nearby log cabin was torn down and the wood reused in the church, and large flat slabs of granite were used as a foundation.
Ron Leeder of Muskoka Pioneer Power, whose family was also one of the founders of St. Peter's Rocksborough, says other boards must have been taken from a barn, as there are still visible marks from where horses have chewed at the wood.
The Leeders, Shires, Kingshotts, Whites and Dixons were all founding families of the church and Vicki White can recall vividly many ceremonies taking place in the building.
"All of my cousins and I were baptized in that church," she says. "I remember they would pay the kids 10 or 20 cents to build a fire before services, so the building would be warm by the time everyone arrived."
The services were weekly, then bi-weekly, and then less frequent as the congregation diminished.
"In the late 90s, we got a call from the church saying they were thinking of closing," recalls White. "People in the area were very upset and we started raising funds. It went extremely well and it paid for everything right up until a couple of years ago."
Nonetheless, the decision was ultimately made in 2017 that the church would be deconsecrated and closed.
"I understand that they just didn't want all of these little churches all over the place," says White. "I think it was very difficult for everyone – not just our church."
Word of the impending closure circulated until it reached the ears of Ron Leeder and Barb Dawson at Muskoka Pioneer Power.
"They locked the doors in June of 2018 and they were going to destroy the building," says Dawson. "They didn't want it vandalized and I can understand that."
Eventually, the idea came together to physically lift the church and move it 4.4 km down the road to the Muskoka Pioneer Power village at J.D. Lang Park (the Bracebridge Fairgrounds).
"This was a huge project," says Dawson. "It's incredible how everyone came together. We received donation after donation. Basically, everything we needed to do this was donated."
That included Wes Finch and Sons, and Dave and Tammy Comeau from Dave Comeau House and Cottage Raising, who actually moved the building.
"I know they've lifted plenty of houses but I don't know if they've ever taken one down the road like that," says Dawson.
And so, on June 8, 2019, the small church was hoisted from its granite perch and transported over the course of roughly an hour and a half to its new home at the fairgrounds.

"We're just so pleased and grateful," says White.  "There are already weddings booked, so this is really a best-case scenario.  This church was so important to us, so to know that it will still be used and that we can continue to visit it is an incredible result."