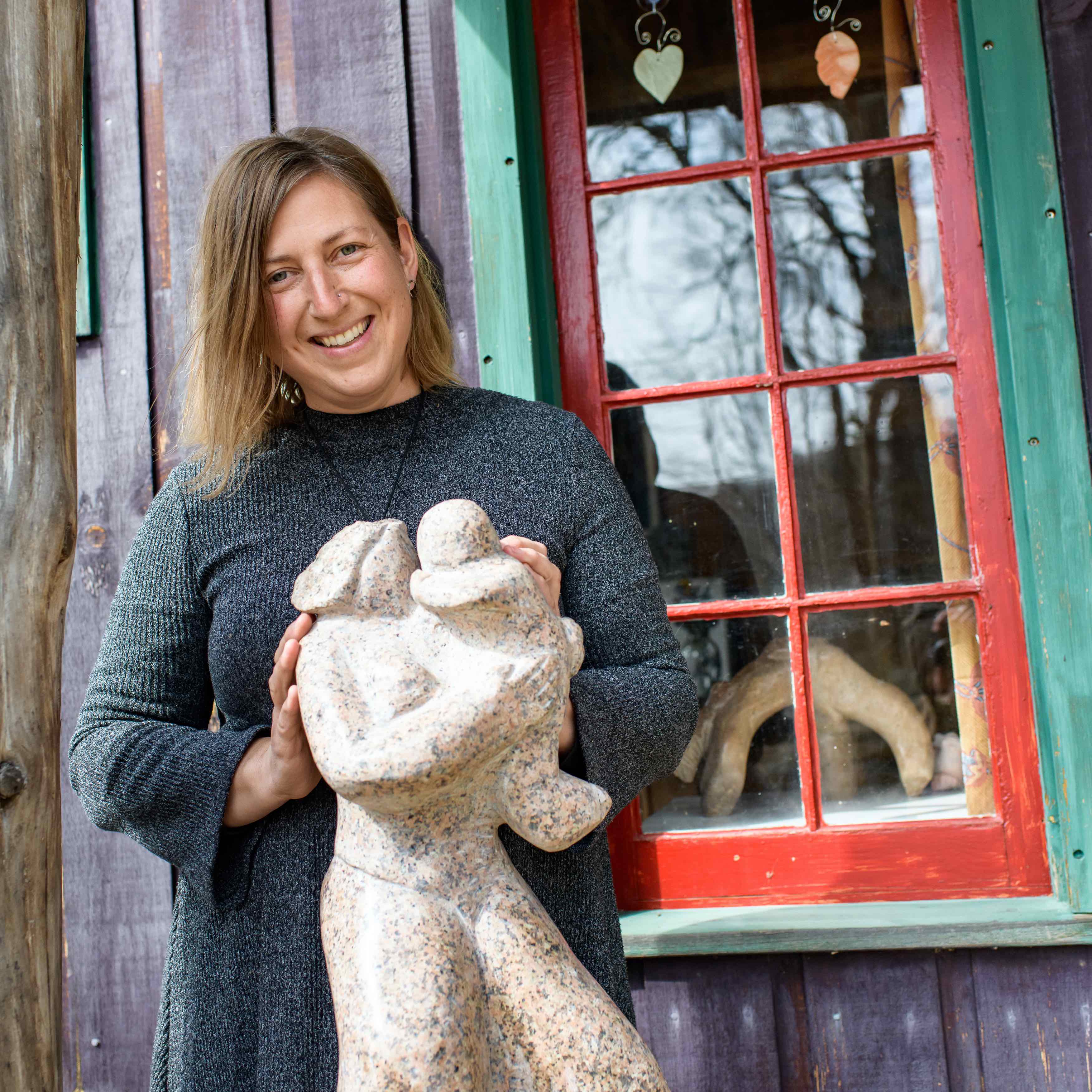 Sculptor Elise Muller Celebrates Femininity and Motherhood
 Article by Bronwyn Boyer/Photography by Kelly Holinshead
Elise Muller has never been confused about her calling in life. From an early age, she knew she would be an artist. Her grandmother Edith Muller was a stone carver, and although she passed away when Elise was quite young, the torch (or more accurately, the chisel) was successfully passed forward two generations.
"I'd been around her sculptures growing up and I was always so drawn to them," says Muller. "I have one of her carving tools, which is really special to me. It was misplaced in her paint box that I ended up with, so I knew I was meant to have it."
A native of Hamilton, Muller attended an art design and mixed media program at a college in Dublin, Ireland for a year after high school. Next was fine art at McMaster University for two years. But when she took a stone carving course at Haliburton School of Art and Design in 2001, Muller knew she'd found her calling.
 "I always loved art in all forms," she recalls, "but I truly fell in love with stone carving. I felt I finally found my passion, the area that I really wanted to focus on."
The rest of Muller's training was self-taught. Over the following 19 years, she continued experimenting with different stones and techniques. It wasn't too long before the student became the teacher, and she became a part of the faculty at Haliburton School of Art & Design teaching Soap Stone Carving Basics, which was the first course she took.
In 1999, Muller and her partner Cirvan Hamilton settled in Muskoka on a 13-acre property near the Muller family cottage on Otter Lake. "I spent every summer there growing up," she recalls. "It was so beautiful, and I could never get enough of canoeing and exploring the natural landscape."
Over the next few years, the couple worked away at building their business until Stone Tree Studio was born. Initially, they both worked in the same small shop, which is now Muller's showroom. Now, she works in what she calls her "stone shack," attached to Hamilton's furniture building studio. It has a garage door where she can bring large stone pieces in and out with a forklift. It also gives her a well-ventilated space to work, which is important due to the dust created by carving into stone.
Meandering gardens featuring Muller's work are situated between the buildings. They've been enjoyed by patrons of the Muskoka Autumn Studio Tour and the Dorset Studio tour over the years.
The COVID 19 Pandemic has most certainly transformed the way artists approach their livelihoods, and Muller is no exception as she's now making video tutorials for teaching or facilitating creative projects people can learn during quarantine.
In 2018, Muller was the winner of the Canadian Sculpture Competition at Kingsbrae Garden in St. Andrews, New Brunswick. Attunement, a large sculpture of a mother and child, was her submission. Muller used red granite to carve the piece, which is special to the area. The sculpture is a permanent fixture of the Kingsbrae garden, which is a career highlight for Muller.
"It was very exciting," Muller recalls. "I didn't expect to win at all. I'd seen the beautiful garden and the calibre of the other sculptures that were there, so I was very surprised."
Muller's style is very evocative of femininity and motherhood. Her signature series is a collection called Bodies in Motion that features bodies swimming, diving, walking and skateboarding, to name a few. But even when the figure is meditating or relaxing in a dream, there is a natural movement that gives it life.
Inspired by Kintsugi, the Japanese practice of putting broken pottery pieces back together with gold, Muller also paints gold leaf to extenuate the natural fault lines in the stone. In this way, Muller achieves a balanced marriage of stability and delicacy – solid archaic forms adorned with veins of sophistication and beauty.
Mother and child, goddess archetypes, gargoyles and fantasy creatures, seen only in Muller's imagination, are represented in her work. The shapes look abstract at a glance but upon closer inspection, the characters emerge. And this cast of characters ranges from giant statues to tiny, delicate figurines. The small ones can be challenging since the stone is not as forgiving. Jewelry is her bread and butter item.
 "It got me thinking, maybe I should take a jewelry making course and I thought, 'oh no, here I go again – I'm all over the place!'" Muller has a good laugh at her endless drive to learn new creative mediums. "But it's fun to see my necklaces floating around," she adds. "It's a really nice feeling, I must admit." 
Always eager to explore the many directions an artist can take, Muller has also delved into formal training in art therapy. Muller's first sculpture was of a pregnant mother holding a child, carved after she had a miscarriage. The mother and child theme became a mainstay throughout her career. She sold the piece at her first art show in 2003.
 "It was really hard to let go of that one," she recalls. "But it inspired me to keep creating, and to help others do the same. Many people say they don't have a creative bone in their body, or they can't draw a straight line. But as soon as you give them the tools to play, they have the time of their lives. They learn that it's not about the finished product. It's about living in the moment and enjoying the process." 
Whatever form her creativity takes, Muller's passion lies chiefly with creating her own sculptures. Working with stone is the most natural and ancient medium.
"Stone is malleable but very durable," Muller says. "That's what I like most about it. It lasts forever."
Certainly, no matter how new the piece is, it looks like an ancient wonder found on an archeological dig. It comes as no surprise that Muller has always been drawn to archeology, which may well have contributed to her attraction to the art form.
Muller begins the carving process with a diamond blade on an angle grinder to rough in the shape. Then smaller chisels, rifflers (curved files) do the finer work. The final stage is polishing with waterproof sandpaper in various grits. In this stage, high grit sandpaper must be rinsed out continually to keep it clean. Diamond backed fabrics are preferable for this job as they last longer than sandpaper, which gets used up in minutes on the rough stone.
"There are so many different things you can do," Muller explains. "Sometimes I leave a part rough to make a certain texture, such as a person's hair, while the rest is sanded smooth." Sometimes, tool marks are left to create a pattern or texture Muller likes. It could be considered a "mistake" in a sense, but she uses it to her advantage.                         
Muller sources her stone online from the U.S., Quebec and Vancouver primarily. Large blocks of yellow and purple limestone are shipped from B.C. as they can't be found in Ontario. She also sources stone locally from other carvers and instructors whenever possible. There are advantages to each type of stone. Soap stone and alabaster come in a wide variety of colours. Muller likes St. George red granite for its durability and Italian Cararra marble for its beauty. Working with Cararra also makes her feel connected to famous stone carvers throughout the centuries.
In recent years, Muller has been completing sculptures on a larger scale. In 2016 she sculpted a family taking a walk, which lives in front of the Dorset Health Hub. The Dancersis a large sculpture of a couple dancing in Indiana limestone for the Elora Sculpture Project, commissioned for the town of Fergus. Muller is also working on a large abstract piece of Cararra marble for a series inspired by rubber band shapes. Muller found that crumpled rubber bands create very interesting shapes, like Celtic knots.
"Whenever I see a shape I like in a rubber band, I take a photo of it," she explains. "Then I can carve my favourite ones later." Muller would like to feature this series in a show called Tension and Release, in which photos and sketches of the rubber bands would accompany the sculptures.
"I'd been wanting to try abstract sculptures but I needed inspiration," Muller explains. "That's where the rubber bands came in. You never know what's going to inspire you."
Ultimately, Muller's process is a co-creation between the artist and the medium. Some of the sculptures are planned out with a sketch or maquette (small plasticine or clay model) while others are improvised.
 "Sometimes I just go for it," Muller says. "It feels like I'm just releasing what's already there, as if the stone is in control of what it wants to be. Sometimes a piece will break off and the plan changes and ends up being something else entirely. It's intuitive, working with the stone rather than against it. I try to listen to what the stone wants to be."