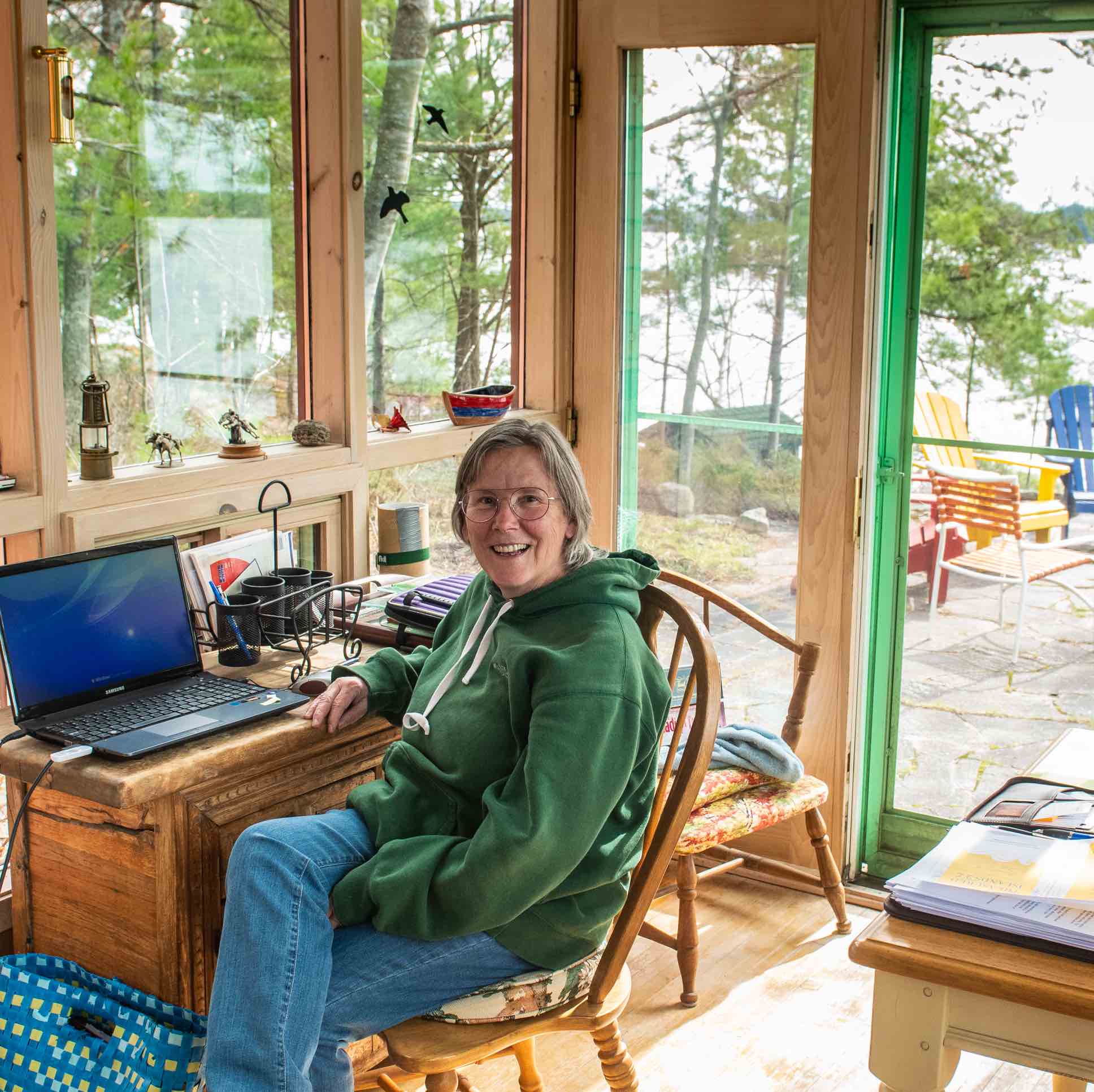 Sharing the Treasures of Island Living
Article by Meghan Smith /Photography by Andy Zeltkalns
Sharing stories and memories is a way to impart lessons learned and keep alive family history. While we are used to being able to tell these stories during meals or on rainy afternoons, the past year has made it difficult to connect as usual but even more important to do so.
Treasured Islands with Generations of Muskoka Memories is a compilation of poems and short stories fuelled by a love for Muskoka and its island escapes. Much akin to sitting on the dock on a summer afternoon, surrounded by family and friends, each story takes you to a different place or time.
Self-admittedly, author Kathy Varley has only become a Muskoka islander over the past 30 years, beginning to come to Muskoka in the 1990s with her husband, Selby Martin. Martin's family has owned Wellesley Island since 1879, over 143 years, passing through several generations. Varley's book shares fond memories of childhood games and activities, the lifelong impact of summers spent in Muskoka and historical family connections to prime ministers and premiers, before and during their tenures, military men and women and adults and children from across the globe.
"I feel I have some claim to it now, too," laughs Varley. "We spend the summers here and enjoy the privacy. It's a big island. We love it here."
Muskoka is an escape for many. Even those who live in the area year-round have their own rituals and spaces to unwind and relax, enjoying the forests, lakes, flora and fauna. For Varley and her family, enjoying the privacy, the tranquility, the beauty and the wildlife only add to the charm and history of Wellesley Island.
"You see something new every time you walk around the island," shares Varley.
Like a walk along a well-trodden cottage path, Treasured Islands with Generations of Muskoka Memories reminds the reader of their own sun-soaked adventures. Everyone who has visited the District has their very own Muskoka story. Those with generational connections have even more history from which to draw and share.
The idea of collecting the stories from her fellow islanders struck Varley one evening at a neighbour's dinner party. A dinner guest was sharing a recollection, a story named The Raven Faces North, that is now included in the book and Varley knew instantly how many more stories there were to be shared.
"My husband and his father always had so many stories to share, so I thought there must be hundreds more out there," says Varley. "We put the word out, just to people we knew, and I told myself that if I got more than 20, I'd put out a book."
Varley received more than her initial target of 20, and has now received so many she's working through the publication of a second volume of stories and memories. Treasured Islands with Generations of Muskoka Memories was published in 2020, with 26 stories from 17 contributors.  The stories Varley collected for the book were all sourced through word of mouth and support from the Muskoka Lakes Association newsletter.
"People have poured their hearts out," says Varley. "There is so much history and passion that has been poured into these stories."
Memories of Sans Souci Island, Star Island, Caledonia Island and more provide a glimpse into the lifestyles and traditions of islanders through generations. Accounts of regattas, canoe races, parlour games and grand meals paint a picture of summer life in Muskoka. Each story communicates the lifelong traditions of summers at the cottage.
"I've been enchanted by them all," says Varley. "It's a privilege just reading these stories but we've also met so many new people on the islands."
Connections are a valuable commodity in Muskoka and can be wide-reaching. Through the Muskoka Lakes Association newsletter, Varley received a request for the book. With correspondence, it was discovered that the book requester is a first cousin of Selby Martin, Varley's husband.
"Making connections and meeting all of these new people has been such a great side effect of this project," says Varley.
With the interest created from the first book, Varley again sent out requests for participation in November 2020. She had stories in her hands to review before Christmas with the second book forthcoming in July 2021. She now has 30 stories and a dozen new authors contributing.
"Muskoka is a pretty powerful place," shares Varley.
In a pandemic, if nothing else, people have found themselves with time to sit in front of their computers and put their thoughts in words. Tales that would usually be shared during drinks on the dock, at a dinner party or during a campfire now come to life in written word.