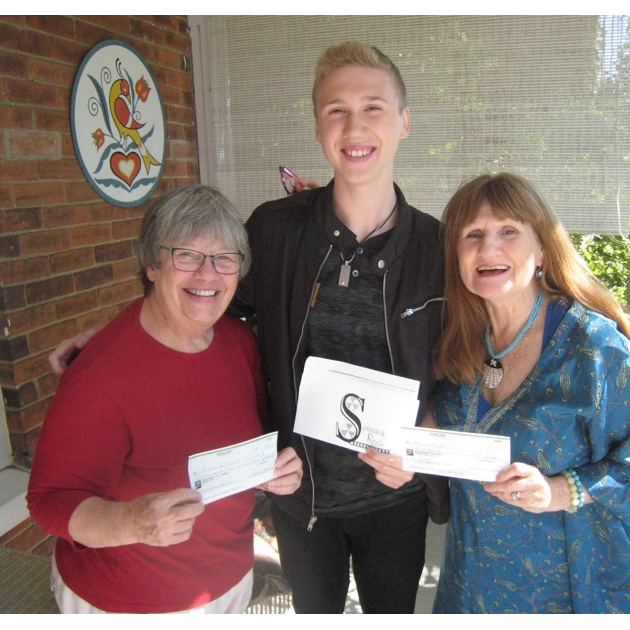 SPINNING REELS AWARDS STUDENT BURSARIES
Two local students are the recipients of the 10th Annual Spinning Reels Bursary.
Mitchell Brock of Bracebridge and Muskoka Lakes Secondary School and Preslee Bertrand of St. Dominic Catholic Secondary School will each receive a $1000 bursary.
The Spinning Reels criteria states candidates must be students in their final year of study, who will be seeking admission into first-year undergraduate studies at a university or college in one of the following disciplines: Film Studies, Motion Pictures Arts & Sciences, Animation Arts Programs, Film and Television Production, Theatre Arts – Production or Performance, Digital Media Arts.
Brock attended BMLSS, actively participated in Improv and school plays and participated in many PRISM performances of Shakespeare in Annie Williams park under the tutelage of Robin Clipsham.
Brock will attend York University to study Acting and Film. He was pleased and thankful to receive the bursary.
"Thanks to Spinning Reels and the bursary I will be able to put the award towards buying my books for the course. I can get four of them. This will make my experience easier and better for my first year at York."
Bertrand attended St. Dominic Catholic Secondary School and has been accepted to Canadore College in North Bay where he will study Film Editing in the Post Production program. He will learn about advanced visual and audio editing.
Each of the students are hoping to get a job in the thriving Canadian Film Industry.
The board of Spinning Reels is pleased to have awarded this bursary in the past decade to the education of local students, knowing it will make a difference to the students and to the Canadian film industry.
Spinning Reels is a local not-for-profit group of volunteers bringing independent movies to Muskoka. They are affiliated with the Film Circuit, a division of the Toronto International Film Festival Group, providing filmgoers in under-served communities transformative experiences through access to Canadian and International film.