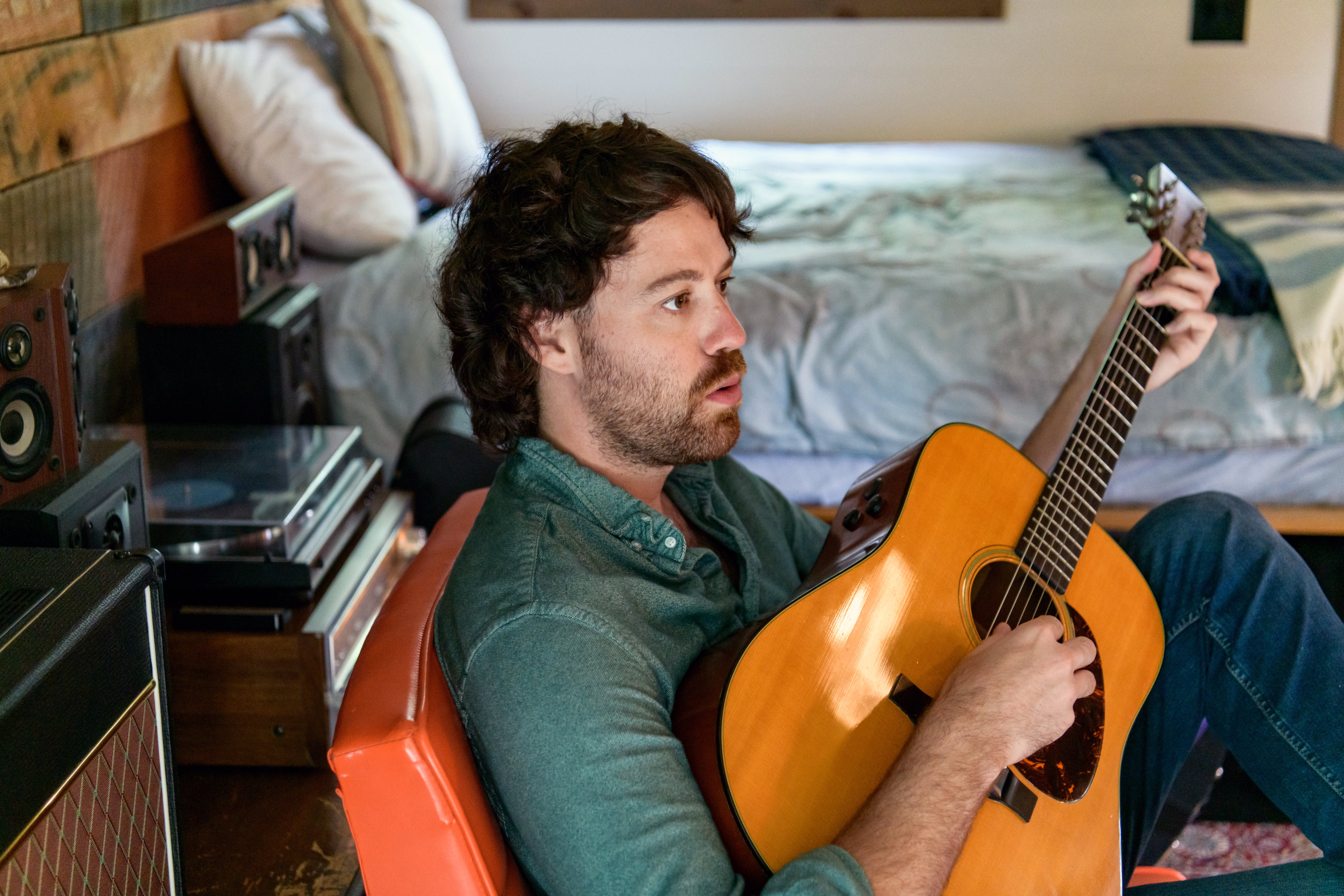 The Secret Alchemy of James Gray
Article by Bronwyn Boyer / Photography by Kelly Holinshead
"As soon as I try to write a song, I worry will they like it and it comes out all wrong / Like a race car driver staring at the crowd, it's hard to find silence when your mind is so loud."
These are the opening lines from James Gray's latest album, New Friends That Talk Like Old Friends. The first song, "Think About Me," sets the theme of the record - conversations between himself and the listener. Whether he's singing to a crowd or connecting with someone one on one, it has to be genuine.  
For Gray, performing is a conversation. He confides in his audience as though it's an old friend, sharing his stories about the human condition. By having the courage to be vulnerable, he proves that it's nothing to fear, because everyone can relate to what he sings.
Although Gray has an eclectic palette of musical tastes, he has flourished into a classic troubadour, following in the footsteps of artists like John Prine, Gillian Welch and Townes Van Zandt.
"The artists I admire most say things that feel real and authentic, because they're being true to themselves," says Gray. "You can smell it on people when they're trying too hard to be something they're not. So I love when a song feels honest and casual, rather than contrived."
Since 2016, Gray has made a living as a full-time singer-songwriter, which is no easy feat. The Emsdale native began his musical journey around age 12 when he got his first guitar and started learning Jimi Hendrix and Led Zeppelin songs. He then formed a metal band with a few friends from high school and started playing in North Bay a few nights a week. It was clear music was his passion but it was a puzzle to figure out the next step.
"After high school I felt lost," he recalls. "I knew I wanted to be a musician, but I had no idea how to pursue it. After the band broke up, I started to sing, and that's when I became a folk singer. The style resonated with me, and it made sense from a practical and technical standpoint, so I didn't look back."
Adapting to unpredictable territory gives Gray the ability to weather the storms of the solitary troubadour life. The support of his family has also helped Gray walk a path shrouded in danger and uncertainty, something he doesn't take for granted considering how uncommon it is. But a true artist has no choice but to take that leap, regardless of any adversity or fear.
"I'm always really ambitious in the planning stages of a tour," Gray explains. "But then when it comes time to pack up my life for six weeks and leave my comfort zone, suddenly I feel the push back, both physically and emotionally. I think it's natural because fear is there to protect us; it can be a good thing, but it can also be overwhelming and I wonder what I got myself into. But I know I'm not happy if I'm not performing and writing songs, so that keeps me going."
The balance between ambition and adaptability allows Gray to weather the many storms that an entertainer must endure. "We have to make changes to accommodate our ambitions," he elaborates. "Knowing that everything is temporary is important. I try to have a purpose, but my goals are malleable - sometimes I get an amazing opportunity to play a great gig, and other times it feels like work. It's scary when no one shows up and you don't make any money. But even then, it's still my dream job."
Gray dreams big and works hard. His humility, practicality and imagination seem to be the magical ingredients that have launched him onto some big stages, like the Mariposa Folk Festival, a Ted Talk in Whistler BC, and CBC radio. He's toured all over Canada, Australia and Europe. He has three albums under his belt and is working on his fourth while continuing his busy performing schedule.
Gray's songs and the experience of performing them feed each other to create an intimate world where everyone is invited. As his latest album articulates, the most rewarding part of his work is meeting new people and sharing the life lessons that he learns from them.
"What I love most about travelling and performing is meeting new people and exploring new places," says Gray. "Waking up on a stranger's couch and having a really great conversation with them and then going out and cruising around a place I've never been before, then performing and then sleeping on another stranger's couch the next night – it's illuminating. It breaks me out of the daily grind and the blockages it creates between people."
Naturally, Gray is most comfortable when he can make friends with the audience, which is another reason New Friends That Talk Like Old Friends is such an apt title for his latest body of work. What sets Gray apart is how at home he feels with emotional vulnerability, which for many artists can be the most daunting part of the job.
"I don't find the vulnerability difficult at all," he says. "It's when I don't feel like I can open up that's uncomfortable. I find the fact that we don't talk openly with each other is a problem. We all act in certain ways to protect ourselves, which means we put each other into boxes that become our identities when it's such a small part of who we really are. So when I get on stage, and I'm able to honestly express myself, I feel at home. I can be the best version of myself, and that encourages others to do the same."
Touring Europe taught Gray one notable cultural difference in particular. Even before his arrival, the experience of booking the shows was vastly different than the experience booking shows in Canada.
"Every detail is meticulously organized and planned out ahead of time and they send documents outlining your every move," Gray explains. "In Canada things are much more haphazard and experimental – everyone is just trying different things to see what works. Europeans know what works, so they don't take risks. Both have their pros and cons."
For Gray, writing and performing are very disparate aspects of his work. "It's hard to say which one I prefer," he says. "It's like comparing apples and oranges. Both can put gas in my tank but in very different ways. Performing is open and collaborative, while writing and recording are very personal. A good performance can crack open that creative inspiration, whereas recording can be stifling at times. People always tell me I'm so much better live because I feed off the audience. But I do love the mystery surrounding recording, how to make a song sound like what I hear in my head."
Despite the discomfort, Gray is able to find joy in the challenges he faces, adapting to the many complex factors that go into making a record.
"Who you're working with and their communication style, the mood people are in, the space – there are just so many factors," he says. "I recorded my last album alone in my cabin in Emsdale. I did my guitar and vocals with no click track, and then I had the drummer play over it and we edited it to fit. It's an insane way to record that doesn't make sense but I thought it would feel more natural."
Good communication and a shared vision are essential when it comes to capturing songs that are so personal. This was especially the case on Gray's latest album, since all the songs were written as sensitive conservations.
"The concept is to remember that human connections matter most," Gray explains. "Every song is about challenging the status quo, whether it's re-framing addiction, mental health, or the fear that keeps us distracted from how temporary life really is." 
This spring, Gray sold vinyl test presses of his latest album to raise money for mental health programs in Muskoka.
"As someone who's struggled with my mental health my whole life, therapy has been vital for me," he explains. "We need to take to care of our mental health. When we see someone out running, we think it's positive and healthy. But when I tell people I'm in therapy they can't believe it because I seem like such a happy person. We need to normalize maintaining our mental health the same way we do with our physical health. I feel like that's part of my job as an artist – to help create a world everyone can resonate with and feel safe in."
Balance in all things seems to be at the core of Gray's philosophy. He loves traveling and exploring but he also needs strong roots to come home to.
"I hope to live in my cabin till I die," he says. "I have no desire to play monopoly. I can go on adventures if I want but I'll always come home." 
Gray also plans on making many more albums. Currently, he's working on a new EP and is quite excited about the material and some new directions he's taking, building on what he's learned so far.