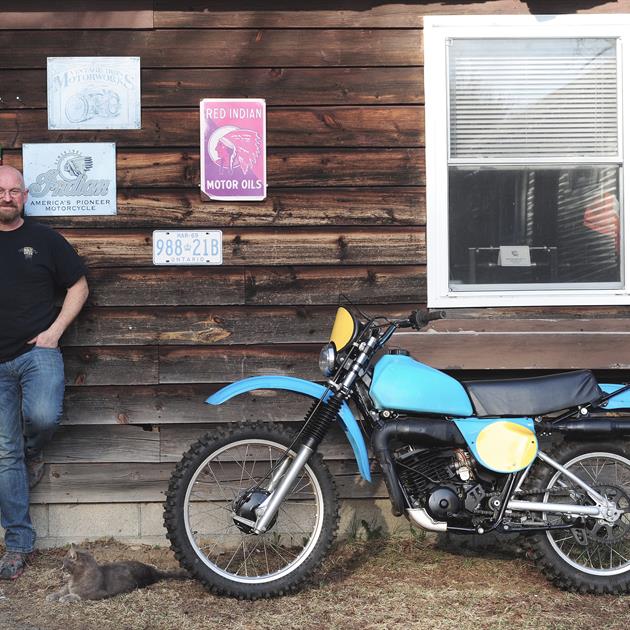 VINTAGE BIKES – FROM A BUCKET OF PARTS TO TRACK
Article and Photography by Heather Douglas
"We are vintage riding vintage," Chris Hauk said with a laugh as he describes his re-entry and that of his friends into motorcycle racing after 20 years.
A resident of Port Sydney, Hauk first started racing motorcycles in 1994. It was a passion he and his father shared. When his dad passed away. road racing became a form of therapy.
"I started riding when I was 16 and living in London," Hauk said. "It was 1985 and I had a 500 Honda Shadow to get me from here to there."
Throughout his teens he had more sport bikes that were his primary form of transportation. Hauk had no inclination to go further, until his father's death.
"I had to take a race licence course at the RACE school at the Shannonville track," he said. "I raced a '92 CBR 900 as an amateur and did quite well."
A crash and a dislocated hip during mid-season in 1995 put a sideline on his racing for a short while, however, not for the entire season.
"I went back with an '89 Hawk GT and finished the season without losing a race on that bike," Hauk said.
While he raced as an amateur in 1995, his success boosted his status and he went back in for the 1996 season racing as a professional, which means he was then racing against more elite riders.
"I won first place in the twins class," he said of his professional season.
Hauk quit racing after that to focus on his career, which meant resurrecting his father's business, Colony Cabinets in Strathroy. His bike racing career then switched from motorcycles to bicycles, which he raced in a velodrome. His motorcycle riding returned to a form of pleasure.
While racing bicycles, Hauk met his future wife, Shannon, whose family ran the velodrome. Shannon, who had grown up in Muskoka, returned to the area in 2005 and Hauk followed her north.
Hauk's focus then switched to the restoration of vintage bikes. He had some experience with motorcycle repair as he had worked for a motorcycle company.
Shannon recalls the first bike he dragged home. It was in such rough condition she freaked that he had actually spent money on it. Hauk had paid $200 for a bike in less than stellar condition. It could best be described  as a basket cases, as often occurs when the parts accompany the frame in a basket.
Hauk took his frame and parts and disappeared into his workshop for months. When he re-emerged five months later, Shannon freaked again as she couldn't believe bike he brought out was the same bike he had bought for $200.
"I was blown away with seeing the transformation," she said. "It was restored to showroom condition."
Hauk rode the bike for a few years before selling in it and starting another restoration project.
Over the years he has restored over 10 bikes focusing on vintage air cooled dirt bikes. The vintage meaning the bike was built prior to 1989.
"Restoration to me is taking something that is old and unloved and bringing it back to new." Hauk said.
The restoration projects also helped him make Shannon his wife, as he sold one to purchase an engagement ring.
As a full-time cabinet designer working at All About Kitchens, the restoration projects are his "fun time."
Hauk currently has four restoration projects on the go. Working on multiple projects allows him the advantage to move from one bike to another, if he runs into a problem getting parts for one or another.
Hauk uses online resources to source most of his parts and finds Facebook a fantastic way to connect with other vintage bike owners and find parts.
"If I need something and post it, usually within an hour someone says they have it," he says.
He is presently working on an '80 YZ250, and an '81 YZ250, a 750 Yamaha and his original Hawk GT.
He had sold the Hawk GT after he stopped racing. One day, he walked into Orillia Motorsports and was chatting with the owner and looking at the GT when it dawned on him that was his racing bike.
"It took me eight months to convince the owner to sell it to me," Hauk said. Wade Tindale, the owner of Orillia Motorsports had not wanted to sell the bike. Hauk was about to give up and buy another bike when he decided to give it one more attempt finally convincing Tindale to sell it in the fall of 2017.
Having his race bike back in his shop put the racing bug back in his mind. 
"What vintage racing is to us, is old people racing what we had when we were young," Hauk said with a laugh. Hauk is currently 48 years old.
In addition to completing the restoration on the Hawk, which includes changes necessary to make it legally to conform to the VRRA rules and making it road worthy, Hauk has to validate his racing license.
When Hauk decided to start racing again he joined the VRRA, Vintage Road Race Association, in 2017 which is quite a close-knit community.
"When I did join, people asked if I was the same Chris Hauk from 20 years ago," Hauk said.
Hauk has come a long way from the 11-year-old boy who stared up at an 81 YZ125 that was too big, and that he dreamed of riding.
He is once again sharing a passion that was a bond between a father and a son.