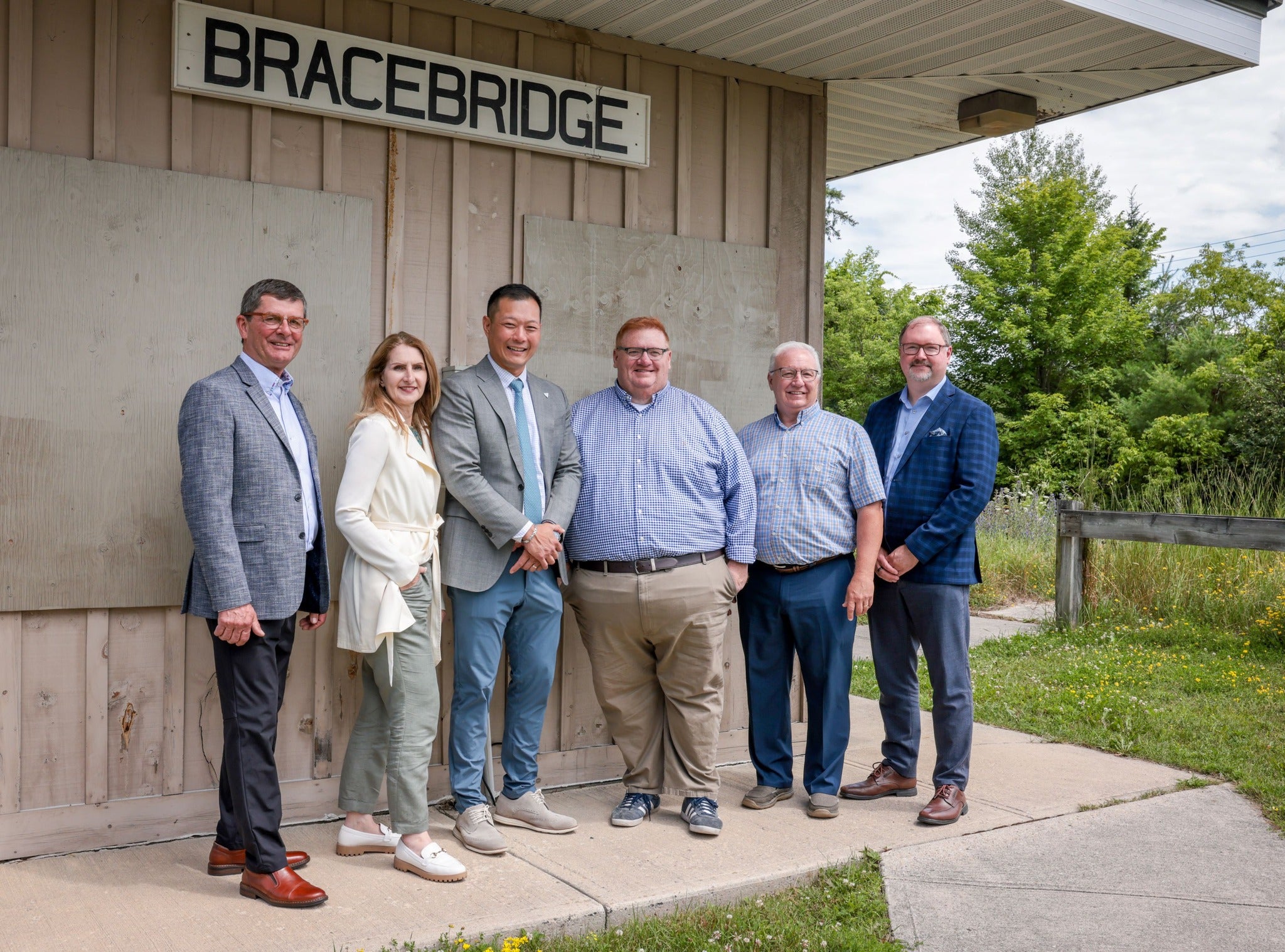 What's Happened
Changes in store for Muskoka waste collection
With the usage of local waste disposal sites soaring over the past several years, the District of Muskoka is making changes to commercial garbage collection services.
During a meeting of the district's engineering and public works committee, district councillors heard they are looking at two potential options for commercial garbage collection.
According to Stephanie Mack, the district's director of waste management and environmental services, the first option is ending all curbside waste collection for most industrial and commercial users. Option two is the continuation of curbside collection within the downtown areas of Muskoka's municipalities.
The announcement comes in the wake of changes to provincial legislation announced in 2021. The changes involved altering the existing blue box program. Muskoka is expected to transition to the new blue box program in autumn 2024. While residential property owners are covered under the new blue box program, industrial and commercial property owners are not.
Staff recommended option two, which allows for continued curbside collection within the business improvement area and main street areas of Muskoka. Staff said this option would help to promote clean urban areas within the district.
Council voted to approve the second option but there was some concern about ensuring an appropriate communication strategy was in place to make sure all business owners were aware of the changes.
The move comes on the heels of an announcement by district staff that waste disposal across Muskoka is up dramatically. Statistics show waste disposal sites in the district received more than 400,000 visits in 2022 alone.
In her presentation to councillors, director Mack said during lockdowns caused by the pandemic in 2020 waste disposal sites across Muskoka saw unprecedented traffic volumes throughout the year. Mack said the high season for waste disposal is now lasting longer and slower times of year are increasing in volume.
In a district survey conducted in 2022, the majority of residents indicated that despite increased usage at area facilities, the majority of Muskoka residents still dispose of their waste via curbside collection.
Second home survey results show interesting changes
The results of the District of Muskoka's second home survey are in and they're providing interesting insights into the region's seasonal residents and second homeowners.
The district has been collecting information on its second home population since 1973. Studies have been done periodically over the years with the goal of providing valid data to estimate the size and impacts of Muskoka's second home population.
The most recent survey received a total of 5,952 responses, the largest number since the initial survey in 1973.
Among the data collected, the new survey indicates that while the seasonal population across Muskoka has decreased by 0.56 per cent since 2017 (down from 81,907 to 81,452), the combined permanent and seasonal population has grown by four per cent (from 142,506 in 2017 to 148,126 in 2023).
The data indicates that 48 per cent of the seasonal population is over the age of 55. Of those surveyed, 43 per cent of second-home households earn more than $200,000 annually, which indicates a four per cent increase since 2017.
Just over 10 per cent of second homeowners cited Muskoka as the location of their permanent residence and roughly 98 per cent of second homeowners in Muskoka are located on waterfront property.
Roughly 10 per cent of those surveyed said they plan to make their second home their permanent home at some point in the future. The survey calculated an average time span of six years until that planned move.
The survey indicates 11 per cent of second homes are rented in Muskoka, which signals an increase of just over seven per cent since 2017. The average annual rental period is estimated at 7.7 weeks per year.
Muskoka hosts Canadian Council of Ministers
Some of the country's most important players in the environmental sector were in Huntsville recently for their annual meeting.
At the end of July, the Canadian Council of Ministers of the Environment (CCME) met at Deerhurst Resort to discuss a number of issues related to the environment.
The council is made up of environment ministers from each of the provinces and territories as well as the government of Canada and the meeting was hosted by Ontario's Minister of the Environment David Piccini.
A number of topics were up for discussion, foremost among them were making progress on achieving zero plastic waste and attempting to come up with innovative solutions to lessen the impact of climate change and strengthen resilience and adaptation.
Ministers discussed better management of plastic waste in Canada and received an update from the CCME working group on the Canada-wide Action Plan on Zero Plastic Waste. They highlighted their respective governments' initiatives to promote a circular economy and to strengthen their efforts to prevent plastic waste and pollution, so plastics are reused and stay in the economy and out of the environment. Ministers heard and discussed concerns about the proposed federal plastics registry, single-use plastics ban and recycled content and labelling requirements, as well as the need to streamline measures.
"Ontario was pleased to host the 2023 meeting of the Canadian Council of Ministers of the Environment to discuss our shared commitment to protect the environment, create environmentally sustainable programs that support new jobs, and grow the economy. Working in partnership with other governments, Indigenous communities, industry, and local organizations, we're ensuring a safe, healthy and clean environment now and for future generations," said Piccini.
Ministers held a separate and prior meeting with Indigenous leaders from national Indigenous organizations and representatives from Ontario First Nations and Métis communities and organizations on July 26. Discussions focused on ways to improve collaboration on water issues.
The District of Muskoka has approved a new strategic plan
The District of Muskoka's new strategic plan is expected to help guide its priorities for the next several years.
The strategic plan focuses on following RISE values. The RISE acronym stands for respect, innovation, service and equity.
Under the plan, the district will focus on four priority areas. The first priority area is the environment and the plan calls for focus on environmental preservation, climate change action and ensuring they are a positive behavioural example.
The second area of focus is on community. This area encompasses provisions for building safe and sustainable housing, stimulating a diverse economy and workforce as well as connecting residents to healthcare and social supports.
The third area is focused on services with the stated goals of modernizing municipal services, improving communication abilities and planning for future infrastructure needs and developments.
The fourth stated priority is a pledge to strengthen relationships between district staff and the community.
The plan has recently undergone public consultation, wherein 89 per cent of respondents indicated they supported the RISE values. Council approved the strategic plan and directed staff to return in the fall with clear steps to be enacted by the district.
Muskoka hosts Northlander train talks
It appears that it's all aboard for the return of passenger train service to Muskoka.
In July, Stan Cho, Ontario's associate minister of transportation, hosted a round table meeting at Deerhurst Resort in Huntsville to discuss the return of the Ontario Northlander passenger train service.
Cho assured those in attendance the return of passenger rail service is a reality and the trains will be running by the mid-2020s. However, to hit the target dates a great deal of work is required, said Cho. More than just infrastructure upgrades to stations and railway lines, Cho said local businesses and municipalities must prepare for increased visitor traffic.
According to the Ontario government, some 60,000 annual train users are expected by 2041. Cho said that should translate to roughly $132 million in economic benefits and thousands of jobs.
Northlander passenger rail service will initially focus on 16 stops: Toronto (Union Station), Langstaff, Gormley, Washago, Gravenhurst, Bracebridge, Huntsville, South River, North Bay, Temagami, Temiskaming Shores, Englehart, Kirkland Lake, Matheson, Timmins, and Cochrane. The train service is also expected to connect with the Polar Bear Express train service from Cochrane to Moosonee.
Passenger rail service to the area was cancelled in 2012.
The SS Bigwin returns to Lake of Bays
One of Muskoka's most iconic watercrafts is back and ready to cruise Lake of Bays after a prolonged pandemic hiatus.
The SS Bigwin is now back on the water for its first full season in four years. The boat is currently operating regular cruises for the public from the Dorset public boat launch and Dwight Beach.
Built in Toronto, the 66-foot SS Bigwin was purchased by the Huntsville and Lake of Bays Navigation Company in 1925.
Shortly after arrival in Muskoka, Bigwin was transferred to the Bigwin Inn boat livery. For years Bigwin ferried many famous guests back and forth to Bigwin Island Resort, one of the most prestigious summer destinations in North America during that period.
As the golden age of Muskoka's resorts dimmed, so too did the fate of SS Bigwin and she eventually fell into disrepair. After years of neglect, the boat sat partially submerged on the bottom of her slip at Bigwin Inn.
However, in 1991, a coalition of Lake of Bay's cottagers, residents and organizations came together to purchase the vessel and begin the long restoration process.
On November 17, 2012, SS Bigwin once again set sail on Lake of Bays to pass preliminary engine tests. She was officially relaunched in July of 2013 and is now operated by the Lake of Bays Marine Museum and Navigational Society.
Lorenna McKennitt headlines Muskoka Music Festival
With arts, crafts, food and wall-to-wall live music, there's something for everyone in Gravenhurst with Dockside Festival of the Arts and Muskoka Music Festival.
On the weekend of August 18th to 20th, Dockside Festival of the Arts and its sister festival Muskoka Music Festival, returned to Gravenhurst.
In addition to the vendors and artisans, the Dockside Stage featured songwriters' circles and performances from Alex Pangman & The Sweet Hots, Alli Sunshine, Bet Smith, Briar Summers, Claire Davis, Clerel, Clever Hopes, Dayna Manning, Doghouse Orchestra, Eamon McGrath, Highway 11 Corridor Ukulele Players, Jade Hilton, John McMillan, Kunlé, Liam Kearney, Lindy Vopnfjörð, Miranda Mulholland, Talia Hannah and the commune. As part of Muskoka Music Festival, multi-award-winning Canadian singer-songwriter and musician Loreena McKennitt graced the Opera House Stage for a sold-out Saturday evening performance. McKennitt was accompanied by The Bookends, a Stratford-based Celtic band. JUNO Award-nominated, award-winning and internationally renowned contemporary folk artist Dayna Manning kicked off the special evening of music.  
"I can't believe our festival is seven years old," said Miranda Mulholland, founder and artistic director of the Muskoka Music Festival. "I'm so delighted to be welcoming my musical hero, Loreena McKennitt to Gravenhurst this month. It's been my absolute pleasure to curate a lineup of so many talented artists who will be gracing our Dockside stage all weekend long alongside our incredible artisans."
Both events are not-for-profit with the goal of providing accessible entertainment and artisans to celebrate the past and future of Gravenhurst. Supported by sponsors, donations from the public are also welcomed.