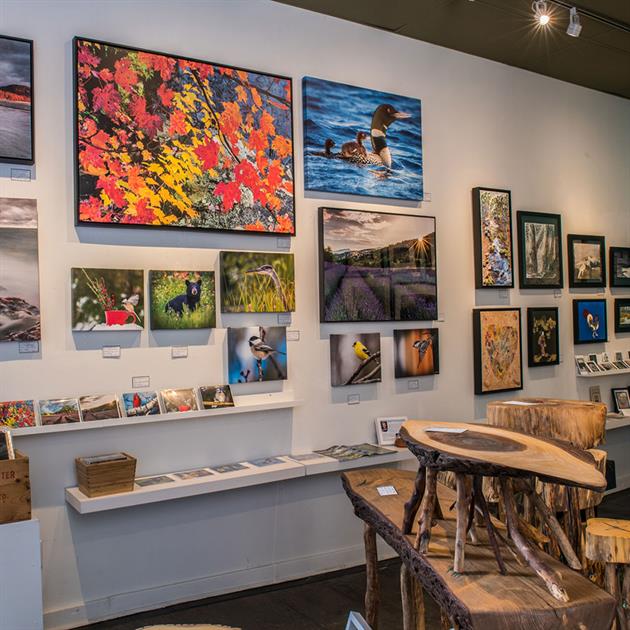 ARTS AT THE ALBION – CREATING NEW LIFE FOR AN HISTORIC BUILDING
"Meet me in five minutes," said the voice at the other end of the phone. It was April of 2013 and Penny Varney had just finished talking with Guy Gagnon, the then prospective buyer of the historic Albion Hotel in downtown Gravenhurst. 
Varney, a Gravenhurst-based jeweler, had heard through the grapevine the Albion was for sale and promptly phoned the real estate office representing the sale to ask if she could speak with the buyer. She had an idea for the potential owner.
After 15 years of having her own business, called Penny Varney Jewellery, Gallery and Gifts, on Gravenhurst's main street, Varney had decided she wanted to get out of retail and focus on her jewelry. She also knew moving her business to her home would mean traffic in her private space – something she only likes to do once a year for the Muskoka Autumn Studio Tour. Her idea was an artists' co-op in the Albion Hotel.
The realtor contacted Gagnon and shortly thereafter, the prospective owner and artist met in the hotel's former dining room: two large west-facing front rooms, which were an apartment at the time. Gagnon didn't know what he wanted to do with the space but he knew he didn't want to keep it residential. Other than the tavern in the rear of the building, there were no commercial tenants.
Varney explained to Gagnon, also owner of Gagnon's Your Independent Grocer in Bracebridge, an artist's co-op was a shared gallery space, staffed by the participating artists. Gravenhurst was going through an economic rough patch, so she wanted to bring together artists exclusively from Gravenhurst. She was certain she could find enough co-op participants, so splitting the rent, phone, supplies and insurance wouldn't be an enormous amount. There would also be a $150 start-up fee for paint and other supplies to get the place started.
"I was happy when Penny called me," says Gagnon. "Having someone interested in one of the bigger commercial spaces was very exciting." He wanted to repair the Albion while keeping the visible changes to a minimum.
"I thought I could make it look better. I could give it a second life," Gagnon explains. "Penny had a great vision of what the hotel could be and should be."
Gagnon's greatest concern in buying the building in downtown Gravenhurst was any potential difficulty finding commercial tenants. However, with a co-op being a shared responsibility, carrying the cost would be much easier.
"Having Penny come in with her idea and initiative (before the sale) was some security," he explains. The timing was perfect.
Erected at the main intersection of Gravenhurst in 1879 by George Washington Taylor, the Albion Hotel was originally a frame building which burned to the ground eight short years later. It was rebuilt the next year, 1888, in Gothic Revival style and became a hub of activity with a large dining room, parlors and bar.
In the 1940s and 50s, Toronto salesmen would travel with their goods to Gravenhurst on the Greyhound buses, which arrived at the Albion Hotel's snack bar. They'd set up kitchen wares, linens and merchandise in the south-west room and then walk down Muskoka Road, letting the retailers know that they were ready to take orders. 
The Varneys had a cottage on Sparrow Lake and Penny recalls coming to the Albion as a child in the early 1950s. "My father used to bring me here to pick up relatives who would come up on the bus. And I had lunch here with my dad when I was five. It was funny, with all the heavy linen table cloths and silverware on the tables."
Over 30 years later in 1983, the Albion was declared an historic building. Then in the late 1980s, the exterior was restored and the rooms converted into apartments and business space. Today, Penny Varney's vision has breathed life back into those historic rooms. 
The Arts at the Albion co-op is now open to artists from all over Muskoka: Washago, Bala, Bracebridge. In its fifth year, it hosts the creations of 20 local artists who are as different as they are unique. Each artist signs a one-year contract and works one day a month; sometimes two days in the summer.
The 10-foot ceilings and sunlight, which pours through the newly replaced five-and-a-half foot windows, create a lofty and bright space, perfect for exhibiting local talent. Armed with their weapons of choice – silver, paint, glass and even driftwood, to name a few – artists have joined together at the Albion and amassed bodies of work one would expect to see in a gallery on Queen Street in Toronto's west end. 
Their collections flow through the rooms and vibrate with creative energy. Many of the resident artists also teach weekly classes in the adjacent classroom: stained glass, figure drawing, watercolour, basket making, fibre art and ceramics. Some artists will teach one-on-one but others like to have a group of five or more. There is no concrete class schedule and the artists are flexible.
If you have an interest in learning one of the mediums, Penny explains, the best approach is to get in touch with the artist and they will make the arrangements. This method has worked very well for all.
Over the five years, only 10 artists have been lost to attrition but Hinterglas artist Bonnie Bews explains it's good to have a little turn over. Returning clients can see new pieces and fresh displays.
When there is an opening, the co-operative looks for applicants online and through a newsletter produced by Muskoka Arts & Crafts. The co-op members decide together who they think would be the best fit. Due to the natural limit of wall space, they can only host a limited number of painters, which creates a balance in mediums represented between three dimensional artists and painters. If one 3D artist decides to leave, the space can be redesigned to accommodate new displays.
Original co-op member Bews explains the year-round representation provided at the Albion is invaluable for both exposure and sales. Arts at the Albion affords the artists good representation at an accessible location, which is essential for business – especially here in Muskoka, where many of the artists live in the less accessible rural area. To exhibit their work to a larger audience, many of the artists at the Albion also attend events such as the juried show in March at the Sportsplex in Bracebridge.
This year the Artists at the Albion lost an artist and didn't have any applicants that fit the space.
"We had painters that wanted to come in but we didn't have any wall space. So, we thought, why don't we take in a guest artist?" Varney says. "So now we've started a program where we take in a guest artist every month."
For the month of February of 2018, stained glass artist Brad Haines punched the co-operatives dance card, and entered the scene with a few moves of his own. Haines' subject matter was completely foreign to Varney and there was a small wave of uncertainty from the group. The brightly coloured glass characters had them asking "what is this?" and "do we think this is appropriate?" But when a Bracebridge and Muskoka Lakes Secondary School co-op student came in for her slot, she looked at the stained glass and immediately identified the representation of Toadstool from Nintendo's 1985 Super Mario Brothers as well as other classic video game characters. 
To the surprise and joy of Varney, the student even decided to purchase one of them. "Wouldn't you know? That's just really neat," remarked Varney.
Varney was ecstatic to be connecting to a younger generation through visual arts. The prospect of reaching out to a new group of buyers – especially from a demographic who talk about, photograph and post the details of their lives (and purchases) on social media outlets – is an exciting development.
To find out what else is new and upcoming for the Arts at the Albion, find the co-op online at artsatthealbion.com. Better yet, head to Gravenhurst and spend a few moments absorbing artistic energy and inspiration in this unique, historic and now creative space.
Source: Unique Muskoka Magazine
Article by Heather Glumac  /   Photography by Andy Zeltkalns