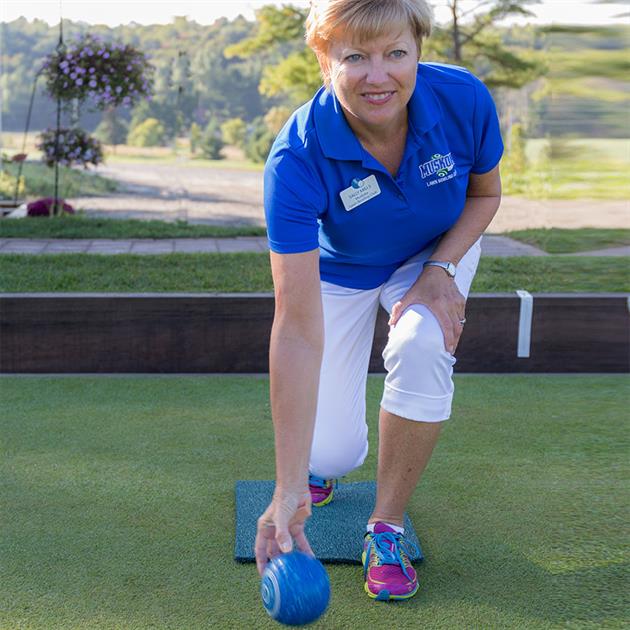 THE TRADITION OF LAWN BOWLING RETURNS TO MUSKOKA
It doesn't take much imagination to conjure the old world charm of lawn bowling.
Men in their sailor caps and ties, and women in long white dresses catching up on the talk of the town as they tumbled the bowls along long manicured greens.
A century ago, bowling greens could be found throughout Muskoka in towns and at many of the lakeside resorts. However, up until this past year, the sport had all but disappeared from the region.
That was until the spark of an idea grew into what has now become the Muskoka Lawn Bowling Club. After considerable hard work, tireless fundraising and community advocacy, Muskoka once again has a lawn bowling facility to call its own.
In 2017, the Muskoka Lawn Bowling Club celebrated its first successful season on land leased from the Muskoka Highlands Golf Course.
"This is something for any age, any gender - we have truck drivers and doctors," says Sally Mills, one of the driving forces behind the creation of the facility.
"It's about everyone coming out to get some exercise and have some fun."
One of the main attractions of lawn bowling is the accessibility of the game - it's easy to learn and there's minimal equipment required to play. Players are given four weighted balls - or bowls - and the objective is to roll the bowls down the green (typically about 34 to 40 metres in length) towards the jack (a smaller ball). Closest to the jack gets the points. 
The game dates back to 12th Century England, and the first clubs in Ontario opened in the 1830s.
Lawn bowling was once ubiquitous in Muskoka, with facilities in many of the towns and resorts. Historical records indicate that bowling greens were constructed at the Wawa Hotel on Lake of Bays, at Elgin House on Lake Joseph and at Windermere House on Lake Rosseau by the early twentieth century.
Paignton House built its lawn bowling greens as part of a larger expansion in the 1920s that included tennis courts and additional guest cabins. Monteith House on Lake Rosseau boasted some of the best sporting amenities available, including lawn bowling, tennis and in later years, Muskoka's first roller skating rink.
Rostrevor Resort on Lake Rosseau even brought in lawn bowling champions to help provide their guests with lessons on the game.
The Bowling Club at the Highlands isn't the first in Bracebridge either, as the Bracebridge Lawn Bowling Club thrived for years beside the current site of Bracebridge Public School. The original club hosted many competitions over the years, drawing in clubs from Orillia and Gravenhurst, and was quite successful. The club room was a horse stable that had been converted into usable space but it burned to the ground in 1945. The club itself was active from roughly 1928 to the 1960s.
Part of the modern appeal of lawn bowling is that many clubs have relaxed their formerly stringent rules about dress code and made the clubs more accessible for anyone interested.
Nowadays, the Muskoka club prides itself on catering to seasonal and permanent residents from the ages of 9 to 99.
"It was an amazing and crazy summer," says Mills, referring to the opening season. "We've had so many people jump on board. We drew 85 members in our first year – most of whom are new bowlers. We were expecting to get maybe 40."
Muskoka's resurgent interest in lawn bowling began largely with Lawrie and David Scott. The couple had been members of the Markham Lawn Bowling Club and decided to bring their passion for the game to Muskoka when they moved here in 2005.
The major obstacle to construction was that little funding was available for new builds. That changed in 2015 when new criteria for Ontario Trillium Grant funding became available.
Sally Mills, who had by now largely taken over the project, applied and in March 2016 learned the club had received the maximum amount – $150,000 – to build a new lawn bowling facility.
"We had pretty much given up on it by that time; it was our last shot," says Mills.
The following year was a series of ups and downs, but Mills says thanks to the support of the Town of Bracebridge, the staff at Muskoka Highlands, those who donated financially and a small army of volunteers, everything came together for their grand opening on July 8, 2017.
Since then, the club has hosted avid bowlers and newbies, community groups, family get-togethers, as well as the club's first lawn bowling tournament. They also won awards for most new members and best communications program during the 2017 Ontario Lawn Bowling Association's annual fall meeting.
"It's an incredible feeling," says Mills. "I knew this summer was going to be a huge amount of work. What surprised me is how rewarding it's been."
Often referred to as curling on grass, the two games are similar in terminology and rules, except without the sweeping of curling and the added challenge of a house that can be moved during the game.
"It's easy to learn but difficult to master," says Mills.
Like many lawn bowlers, Mills comes from a curling background. A longtime member at the Leaside Curling Club, Mills and her team were wrapping up their season in the spring of 2010, when one of her teammates mentioned the six-week learn to lawn bowl program.
"We were sorry to see the curling season come to an end, so I thought 'what the heck?'," says Mills. "After that I was hooked."
Mills has been a cottager on McKay Lake and Three Mile Lake for the past 25 years but wanting to maximize her time on the lake presented a problem.
"It made for a very short lawn bowling season," says Mills.
A lack of bowling time is no longer a problem for Mills, who now sits on the board at multiple clubs, and has become a certified coach.
"Our learn to bowl program has been extremely successful," she says. "A high percentage of the people who have gone through the program have become members of the club."
Fellow Three Mile Lake cottager Beverly Bond is one of those who took the course and joined the club.
"Although I was a new player, I have curled for many years and I enjoyed the similarities," says Bond. "I had a chance to meet new people at the club and I really enjoyed the strategy play of lawn bowling. I plan on playing again next summer when we return to the lake for the summer."
Bond says she's been most impressed with the accessibility of the club, where anyone can join and learn the game. She says the schedule is flexible, making it easy to accommodate those on vacation, newcomers or those who want to maximize their time at the club.
Anne Campbell is a retired teacher from Toronto, who's been cottaging on Silver Lake in Port Carling for the past 25 years. She also tried her hand at lawn bowling for the first time this past summer.
"I really enjoy the exercise as well as the social aspect of lawn bowling," says Campbell. "What stands out the most for me was how friendly the members of the bowling club were."
Campbell has known Sally Mills for the past eight years, and also knew about her desire to build a club, but she was floored when she saw the finished product.
"It looks as if Muskoka Lawn Bowling Club has been in existence for many years," she says. "It's due to their hard work and organizational skills. I'm sure that visiting lawn bowlers are impressed."
Campbell says she's looking forward to renewing friendships at the club this summer and playing for many years to come.
Mills says it's those personal stories that make the experience so rewarding.
"There was a grandfather out at the driving range next door with his three grandchildren," said Mills. "They were sitting on the bench and we hauled them in to play a game. He said, 'this is great, it's something I can do with my grandkids'."
Clients from Community Living South Muskoka are regular guests at the club. "We have one young man who comes out every Friday morning and he absolutely loves it," says Mills.
A corporate group from Staples also came out during the summer and enjoyed themselves immensely, says Mills.
"I think a lot of young people are surprised by how challenging the game can be," she says.
While they do draw from different demographics, Mills says a big push for the club in the coming seasons will be to attract a younger crowd.
She said they hope to approach schools in the area this season to get them involved, and St. Dominic Catholic Secondary School has already created several benches located alongside the playing area.
Mills is hoping to have two learn-to-bowl sessions next year, and is seeking funding to increase accessibility at the facility. She's also hoping to find a way to create more shade for the summer days, and lights to extend play into the evening.
She's encouraging all residents of the area – permanent and seasonal – to come out and get involved in a new and exciting element of the Muskoka community.
More than a century after the first bowls were cast along the manicured grounds of Muskoka's grand resorts, lawn bowling is once again a highlight of the summer for many.
Source: Unique Muskoka Magazine
Article by Matt Driscoll / Photography by Tomasz Szumski