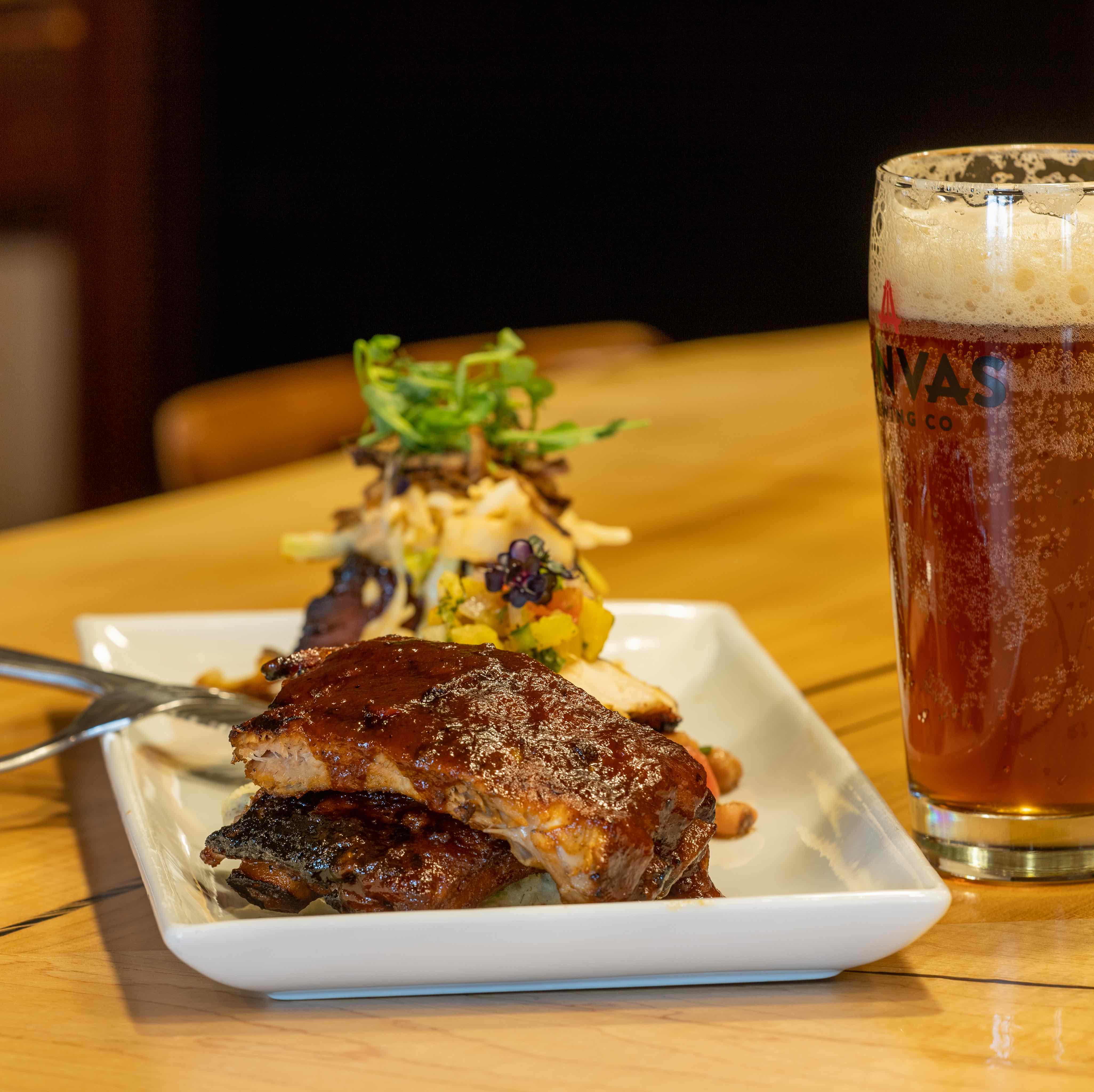 Breweries offer key ingredients to Muskoka's flavourful cuisine
Article by Karen Wehrstein / Photography by Tomasz Szumski
 So, do you think beer is just for chugging down at a raucous bar or party?
Please raise the level of your mental discourse just a bit to consider that, just like wine, your favourite brew can be used to flavour haute cuisine.
Beer-battered fish and chips, for instance, is a menu staple of many of Muskoka's fine eateries including the Old Station Restaurant in Bracebridge, where Chef John Cooper cooks up a delicious version with a secret ingredient.
"It's always been on the menu," he says, "and is never coming off."
Bracebridge native Cooper's culinary journey started with a degree in philosophy at the University of Toronto, funded by his work in a Toronto restaurant kitchen. Eventually, he says, "It occurred to me that I was making a lot more money cooking than philosophizing," and he devoted himself entirely to cuisine, moving back to Muskoka after his wife unexpectedly became pregnant. In 2010, after a one-year stint at the Inn at the Falls, he settled into his 12th overall cooking job at the Old Station.
Every recipe used in the 30-year-old establishment, Cooper says, has been tweaked over the years. He uses Muskoka Brewery Craft Lager in this one because it's light enough not to overpower the flavour of the fish, and in respect of the restaurant's long-standing good relationship with the 25-year-old brewery.
"We've always had their beer on tap," he says.
The secret ingredient? Club soda in equal amounts to the beer. "Half and half is more complementary to the fish," explains Cooper. "It seems sweeter because there's no bitterness."
Fish and chips always have a comforting, homey feeling, and this version grew on me as I sampled. The batter is thick yet fluffy, fried a crispy golden brown, and mixes gently with the tender cod flesh. With lemon and made-in-house tartar sauce, it combines sweet, savoury and sour beautifully.
Katalyst Brewing is one of the newest kids on the block among Muskoka craft breweries, located in the antique building formerly used by Muskoka Brewery in downtown Bracebridge.
Born and raised in North York, co-owner Mark Verok became familiar with Muskoka as a child, visiting friends' cottages with his family. His wife and co-owner Krystal Perepeluk grew up in Kitchener. Finding his career in real estate unsatisfying, Verok, along with Perepeluk, decided to make her beloved hobby of home-brewing beer into a business, starting with contract brewing in Toronto in 2016.
Faced with Toronto's astronomically-expensive rents for brewery space, the couple decided they could locate elsewhere.
"We started looking everywhere from Parry Sound to Haliburton, and ended up stumbling on this building," recounts Verok. Despite unwittingly choosing an inauspicious time to open the business, January 2020, they have persisted, currently brewing 10-12 varieties of suds, each of whose name has a story behind it.
"Overdraft: the state of my bank account," says Verok. "Damage Control: first batch of beer through the new equipment." Barrel Roll is descriptive of an actual car accident; Vacation Voucher commemorates a Mexico trip the couple unfortunately booked for March 2020.
Verok does not reveal the origin of the name of the beer he adds to his beef stew – Kataclysm – but we do know it is an imperial stout with chocolate, and it won a bronze medal in the Spiced Beer category at the 2020 Ontario Brewing Awards. From his mother's recipe, he substituted sirloin tip for chuck and added this dark, chocolatey, decadent brew. It works.
The other new brewster kid on the Muskoka block is Canvas Brewing Company in Huntsville, now famous for taking an old Dollarama store and transforming it into a double-patio, wildly-muralled, would-be-crammed-except-for-COVID hotspot.
"We were going to do a grand opening on the May 2-4 weekend of 2020," sighs brew master and co-owner (with Steve Koncan) Jeff Woodworth.
Canvas has a close association with Tall Trees Restaurant, further west in Huntsville, based on a friendship going back to childhood between Huntsville-born Ashley Vowels, who co-owns the restaurant with her husband, Novar-born Randy Vowels, and Woodworth, whose family moved to Huntsville when he was six. The two businesses collaborate on cross-promotions and, currently, a food delivery service supporting local charities.
Woodworth's beer career started with home-brewing, then took him to two breweries in British Columbia, then Niagara College for brewing courses and some travel in Europe to experience its beer cultures. He worked at Muskoka Brewery for about five years and a Barrie brewer for roughly the same time, before co-founding Canvas, whose name was conceived as a very Muskoka double entendre, connoting both the arts and the outdoors.
Meanwhile the Chefs Vowels took different paths: Randy studied at Georgian College then worked at Huntsville's 3 Guys and a Stove for 11 years, while Ashley went to Humber College, fed politicians at Parliament Hill's eatery, competed in international contests, and worked as executive chef at both Hidden Valley and Deerhurst Resorts. She met Randy at 3 Guys. Together, they bought Tall Trees on May 6, 2019.
"Good food is about balance," says Randy. "It's sweet, it's spicy, it's acidic, it's all about balance." The couple decided to transform the restaurant's décor to something more casual – it has a lot of warm red-browns and nature motifs and not so many white cloths – while maintaining the quality of fare that Tall Trees clients expect.
"The best things," Ashley observes, "are often simple."
The Vowels have shared with us two goodies out of their Summer BBQ Mix Grill Box: Smoked Beef Short Rib in Tall Trees Signature Rub, slathered with a sauce spiked with Canvas Ember Red Ale; and Honey Sriracha Coleslaw. They're keeping secret their signature barbecue sauce recipe, which they plan to offer for sale within the year, but after a little taste-test I can tell you this: the original is sweet, intense, spicy and delish, and with the Ember it's a whole different sauce, with more of a bite in the aftertaste and much more of a depth to the delish. That principle of balance is demonstrated in the hot richness of the ribs versus the cool freshness of the coleslaw, and the divergent tones of sweet and spicy in both.
So now we know great entrees can include beer: how about a dessert?
Take another swig from your tankard to clear your palate for Beer Brownies with Baileys Whipped Cream as made by executive chef
Iain Irvine of The Oar in Gravenhurst.
Cooking is in Irvine's blood – pretty much everyone in the family who isn't retired has worked at one restaurant or another – and this one is a family business. Irvine's culinary education was all on-the-job, aided by his father Alain's connections. Now he has another chef heading up the kitchen while he concentrates on catering, but his mother still does admin.
"A brewery approached us asking for a recipe," Irvine recalls. "We just substituted beer for water, which added some moisture and made the brownies softer. We liked it so we put it on the menu." It's still available from the catering service.
Chantilly creams have been around forever, Irvine notes – even savoury ones such as Porcina mushroom whipped cream atop soup. "What liqueur you add depends on what flavour you want in the cream." Black licorice? Pernod or Sambuca. Almonds? Amaretto. Vanilla? Frangelico. The sky is the limit.
This colourful and shamelessly boozy dessert is to die for. The Baileys is the perfect complement to the chocolatey brownies, and they have juicy hunks of chocolate in them. Add berries and mint and they're a sweet symphony.
Bon appetit and – cheers!
 The Old Station Beer-Battered Blue Cod
John Cooper, The Old Station
Ingredients
1 cup Muskoka Brewery
Craft Lager
1 cup club soda
2 cups all-purpose flour
3 tsp baking powder
2 tsp Kosher salt
½ tsp white pepper
5-8 fillets Blue cod
(or any firm-fleshed white fish)
Canola oil for deep-frying.
Method
Pat fish dry with paper towel then dredge lightly with flour, shaking loose any excess.
Combine beer, soda, flour, baking powder, salt and pepper, and let stand 10 minutes.
Bring oil up to 335° F
(use a thermometer!)
Dip each fillet in batter and let excess run off. Using tongs, slowly and carefully dip each fillet into the oil. Only release as the cod begins to float. 
Turn after three minutes and let cook an additional two minutes. Let drain on a cooling rack or paper towel.
Repeat until finished, and serve with lemon, coleslaw, tartar sauce and fries.
Serves five to eight.
Beer pairing: Muskoka Brewery Craft Lager.
Chef's Tips
What happens if you put all the fillets into the oil at once?  "A huge explosive disaster. The key to deep-fried fish is letting it float into the oil. You're not dropping it."
 Kataclysm Beef Stew
Mark Verok, Katalyst Brewing
Ingredients
1 tbsp olive oil
(for browning beef)
2.5 lbs. sirloin tip
½ tsp each salt and pepper
¼ tsp curry powder
4 cloves garlic, minced
2 onions, diced
250 grams diced pancetta
(can substitute bacon)
355 ml Katalyst Kataclysm Stout
4 tbsp tomato paste
3 cups beef broth
3 carrots, sliced into medallions
2 diced celery stalks
2 sprigs thyme, macerated without removing leaves from stems
Method
Cut beef into 2-inch cubes and season with salt, pepper and curry.
Heat oil in a pan over high heat and brown meat on all sides.
Remove meat from pan.
Add garlic and onions, sweat them both by cooking for four minutes,
then add bacon. 
Once bacon is cooked through, add celery and carrots.
Transfer mixture into a large pot.
Add Kataclysm and beef broth.
Bring to a simmer and add beef cubes.
Simmer for a minimum of two hours. Remove thyme sprigs.
Serves four.
Wine or beer pairing: Red wine or any dark beer. If it's spicier, use Mexican lager or similar.
Brewer's Chef-like Tips:
How to macerate the thyme without de-leafing the stems:
"Gently smack it." Verok uses a table and rolling pin.
Have a smoker? Try smoking instead of braising the beef, using applewood chips. "The result is amazing."
Dry Rib Rub for Smoking or Braising Randy Vowels, Tall Trees
Ingredients
1 cup brown sugar
½ cup paprika
2 tbsp black pepper
2 tbsp salt
2 tbsp chili powder
2 tbsp garlic powder
2 tbsp cayenne pepper
Method
Combine all ingredients together,
rub on 3-inch bone-in beef short ribs (3 lbs.) and leave in fridge overnight.
To SMOKE: Place ribs unwrapped in smoker at 250° F for 4 hours. Wrap in tinfoil and place back on the smoker until internal temperature reaches 210° F.

To BRAISE: Place ribs in an oven-safe pan, add water until just covered. Place in oven for 3 hours at 400° F until tender, remove and grill ribs on barbecue.

Add a little Canvas Ember to your favourite barbecue sauce (¼ cup beer to one cup of sauce, adjusted to taste) and sauce the ribs.
 Honey Sriracha Coleslaw
Ashley Vowels, Tall Trees
Ingredients
½ head green cabbage, sliced fine
1½ cups mayonnaise
¼ cup honey
2 Tbsp sriracha
Salt and pepper to taste
Method
Combine all ingredients and adjust seasonings.

Serve over the sauced ribs.
Beer pairing: Canvas Original, a German-style lagered ale. To quote its flavour profile: "Subtle sweet flavour and finishes crisp and refreshing, this will cut through all smoky and barbecued meats and sweet/spicy sauce, getting you ready for another mouthful."
Chefs' Tips:
With ribs, says Chef Randy, "it's about the temperature. Everyone's oven is different, everyone's smoker is different." Use that thermometer.
For second-day nibbling: just reheat the ribs in the sauce.
"For adding more crunch to the coleslaw," explains Chef Ashley, "add some thinly-sliced onion that has been lightly dusted with flour and deep fried."
Like innumerable Muskoka chefs, the Vowels like to garnish with micro-greens from Four Seasons Greens.
 Beer Brownies with Baileys Whipped Cream Iain Irvine, The Oar
Ingredients:
1 box (440 grams) Betty Crocker Brownie Mix, or Quaker Chocolate Fudge Brownie Mix, or any mix or recipe that includes water, skipping the water
1 medium egg (or two if you want
a more cake-like texture)
1/3 cup vegetable oil
1/3 cup your favourite beer
(avoid hoppier beers)
Method
Preheat oven to 350° F

Grease edges of 9-inch baking sheet and place parchment on the bottom

In a bowl, mix egg, oil, and beer together until combined

Add brownie mix to liquid and stir until mixed through. It is okay to have some lumps in the batter.

Bake for 20-25 minutes in a pan large enough that the brownie mix is half an inch deep, turning halfway through. It's done when a toothpick inserted into the middle of the brownie comes out almost clean.

Remove and let cool for 30 minutes.
Ingredients:
½ cup 35 per cent cream
1 tsp sugar (optional)
1 tsp vanilla
¾ oz. Baileys Irish Cream liqueur
(or 1 oz. if you're okay with the cream being more liquid)
Method
In a chilled metal bowl add cream, sugar and vanilla. Use a whisk or electric mixer on medium-high and mix until the cream has become whipped and stable; you should be able to create stiff peaks with the whisk. Slowly fold in the Baileys with a rubber spatula until it is completely blended together.

Cut or tear apart brownies and top them artistically with whipped cream, berries and fresh mint.

Makes four large portions.
Chef's Tip:
Also works with vanilla ice cream.