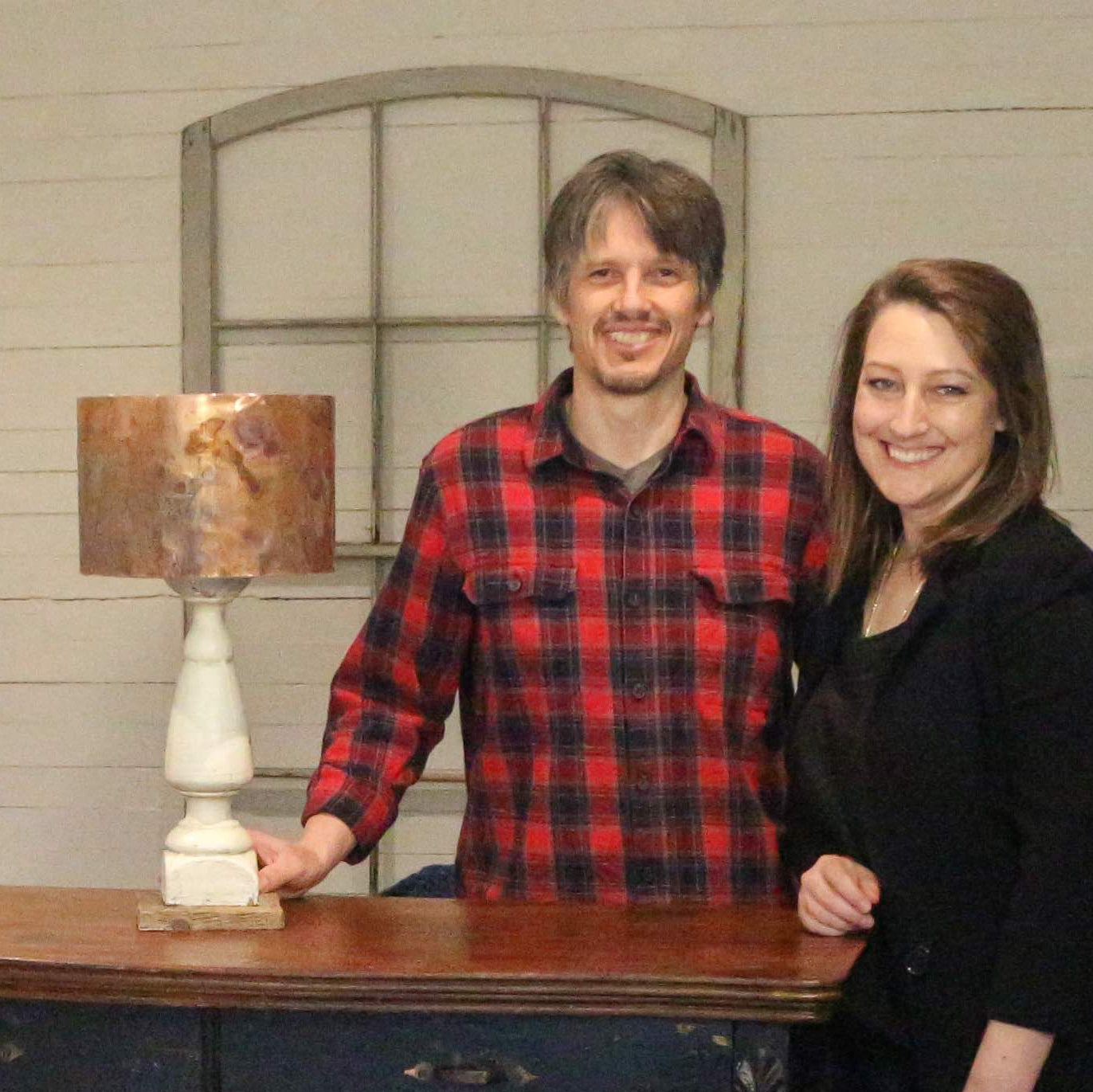 Creating a new purpose from something old
Article by Meghan Smith / Photography by Tomasz Szumski
Muskoka has a wild beauty – an environment that people work fiercely to protect. Recycling initiatives, watershed councils, landfill monitoring, invasive species control and flood prevention are all factors in preserving the natural allure of the region.
Artisans and business owners are inspired by the landscape. Depicting and appreciating the natural surroundings has developed and continued the appreciation Muskoka. However, there are also those who work and draw inspiration from what others have cast off or no longer want.uskoka has a wild beauty – an environment that people work fiercely to protect. Recycling initiatives, watershed councils, landfill monitoring, invasive species control and flood prevention are all factors in preserving the natural allure of the region.
For Theresa McFadyen and Terry Marsh, owners of Crimson Yard Co., choosing sustainability and eco-friendly partners is what drives their business. The couple have deep roots in Muskoka, with years in construction trades and woodworking for Marsh and family history in boat building and finishing for McFadyen. Their creativity and their mutual love of furniture and home décor spawned their Crimson Yard candles and their newest endeavour, Home by Crimson Yard, which focuses on custom upcycled furniture.
"We always wanted to start a business together," shares McFadyen. "We started off wanting to make furniture but the candles are what took off initially. We were both still working full-time and we had to make a choice about what to focus on first."
Their soy wax candles are hand-poured into recycled tin. The dust cover on top is filled with wildflower seeds so it can be planted in the tin when the candle is finished or just tossed outside to flourish. Even the ink is environmentally friendly.
"In the last year and a half, we had time to focus on everything," explains Marsh. "We got to think about what our goal was and what we want to do. The creativity for the furniture became more present for us."
In creating furniture and home accents, Marsh and McFadyen use various materials from old tires to well-loved furniture. They work with eco-friendly and eco-conscious brands for paint and other supplies and they utilize everything possible, like creating wooden beads from leftover projects.
"We really try to think over everything we can," says McFadyen. "We look at the company's priorities because customers expect that from us. It's known that we take care. We're big on the environment and doing what we can as a business to limit our carbon footprint."
While the world changes rapidly, there is a growing push towards the "slow movement," advocating for a cultural shift to slow down in all aspects of life. In consumption and fashion, the slow movement involves local artisans and the use of eco-friendly materials, with the goal of preserving crafts and the environment and, ultimately, providing value to both consumers and producers.
Gravenhurst resident Sue Carley, an avid cyclist, is putting old bike parts to use, saving these items from landfills and putting the funds raised from her jewelry to a good cause with the help of her friend and salesperson, Michelle Patterson-Griff.
For many years, Carley has participated as a volunteer and as a participant in the Tour for Kids; a multi-day cycling event raising funds and awareness for childhood, youth and young adult cancer. As a participant, everyone must donate or fundraise for their entry. Carley disliked having to continuously ask the same people for donations and wanted to find another way to fundraise. At one of the annual events, Carley saw and purchased a bike chain bracelet.
"I thought it was cool and thought, 'I should start trying this'," explains Carley. "I talked to Alison Dawes at the Purple Bike Shop about things I could make. They saved me old bike parts galore, so I could do what I needed to do."
After researching different ideas, Carley began making her own creations. Each piece requires significant cleaning and "processing" before items can be repurposed. Carley works to use a variety of items, creating one-of-a-kind jewelry that may be similar but never the same.
"I use the inner tubes from bikes, the chain, the cables, the sprockets," shared Carley. "Whatever I can get my hands on, I find ideas for."
Upcycling has increased in popularity in recent years. The practice involves reusing discarded, useless or unwanted products to create a product of higher quality or value than the original.
"If something can be repurposed and redone, rather than thrown away, why not?" says Marsh.
Upcycling could be considered similar to refinishing a piece of furniture but it extends beyond that. The environmental impact of upcycling is unknown but the artistic value is notable. From furniture to décor to clothing, Mary Ann Gonneau, artist and owner of The Backyard Bear Arts and Crafts Studio, embraces the reuse of all kinds of products in her art and in her everyday life.
"I feel that if something can be re-loved, why toss it?" says Gonneau.
Her current project is a recently purchased 120-year-old farmhouse in the Carnarvon area that she intends to bring back to its former glory. However, Gonneau's repertoire covers everything from upcycled clothing to driftwood art to a china hutch built from old pallets.
"I see something and my mind starts to imagine what it could be and I bring it home," says Gonneau. "I like organic items such as wood and metal. The rustier the metal the better."
As a child, Gonneau remembers her mother had to be creative with art supplies. They lived in the country and her mother did not drive. Therefore, Gonneau was given whatever was at home to create her art.
"I remember her giving me an old Eaton's catalogue with a home-made glue mixture of flour and water, and she said to make her something," recalls Gonneau. "I made dolls and stuffed animals out of old clothes, cards from photos cut from magazines, games from pieces of wood or cardboard. Whatever I could find to use, I found a way to make it into something else."
Because she wasn't given specifics or instruction, her own imagination took hold, allowing her to kindle her own creativity. She learned quickly ideas can come from anywhere. Gonneau admits to spending a significant amount of time visiting yard sales, pre-COVID, to search for materials and inspiration.
"They don't make things like they used to" is a long-standing, but appropriate, cliché. Consumerism and the rise of single-use items, disposable packaging and products not designed for re-use or lifetime use are all contributing elements of the throw-away society. Far too often, the general mentality is that a replacement is always available and new is better.
Collecting everything from scrap metal and vintage doors to old tools, scrap metal and even clothing, Gonneau's studio is filled with ideas waiting to come to fruition. She has even found uses for "ugly old sweaters" by crafting mittens and using old wool and fabric to make dryer balls.
"I pick out what most people would think are pretty ugly, pretty grandmotherly, too worn or too dated to wear," she says. "From those sweaters, I make mittens that the person, who would have by-passed that sweater, would love to buy because they are different and one of a kind."
Fast fashion is the term for inexpensive clothing produced rapidly by mass-market retailers in response to the latest trends. Fast fashion produces and sells somewhere between 80 billion and 150 billion garments a year globally, with only about 15 per cent of consumer-used clothing being recycled or repurposed, as Gonneau works to do. Electronics and appliances are now considered out-of-date after only a year or two. In the past, appliances were built to last for 30 years or more.
"Unfortunately, we live in a society where you buy it, use what is needed and then throw the rest away," comments Gonneau. "Most people seem to have an out-of-sight, out-of-mind mentality. Items from years ago were made to last."
Household items were once built durably, intended to stand the test of time with expert craftsmanship. There are current producers, businesses and brands doing their part to bring items to market that are durable and sustainably made, rather than just what's the latest trend. Alternatively, and potentially more impactful, is keeping older goods for continued use or finding ways to pass them on.
"Often times, these are pieces that have stood the test of time," says Karin Nickel, certified appraiser and owner of Worth Repeating for over 18 years. "They're built better. A dresser that's 40 or 50 years old, it was built with pride. A lot of current items are in an easy price range but it's not built for the long term. Or it's just something that's in fashion."
Consignment shops are another way to avoid tossing items that may still have useful life but are no longer required by the original owner. Consignment involves a shop selling goods on behalf of the owner. The owner retains their ownership until the item is sold and pays a commission on the sale to the shop as compensation for selling the item. Nickel knows first-hand the value of well-made goods.
"We provide the service of helping people with excess furniture and collectibles to liquidate them," explains Nickel. "Or we help people locate these items. Honestly, I have more offers than I could ever take!"
Nickel explains her business focuses on items that are in mint condition and ready to go to a new home. But sometimes, individuals are on the hunt for an old-fashioned or well-built item they can upgrade themselves by changing the level of distress, updating the colour or switching the hardware.
"Inventory is always changing, every day," explains Nickel. "I might go to look at a dining suite but I'm asked to look at something else. Often people are surprised what might be worth something and what might not."
In the digital world we now live in, it's easy to find clothing swaps, second-hand stores, thrift shops and even family heirlooms through websites and social media. Finding uses for previously loved goods that are quality-made reduces the impact on the environment, keeping these items from ending up in the garbage. 
"Not only am I saving items from going to the landfill but I am also saving money on materials," says Gonneau. "It's a win-win situation."
"For us, it's a no brainer," says McFadyen. "We have one planet, so it's what can we do as an individual and as a business to support sustainability and support other businesses that are eco-conscious. Plus, it's fun to think outside of the box."
Shopping consciously, in all avenues of life, can make a difference. Every person can research their purchases, ensuring the sustainable sourcing of materials or understanding the afterlife cycle, before choosing a product or brand. Before kicking something to the curb, consider extending the life of items by repairing or altering, donating to a cause, selling through consignment or repurposing and upcycling. Residents, cottagers and visitors can all help Muskoka's natural, wild beauty continue to thrive.