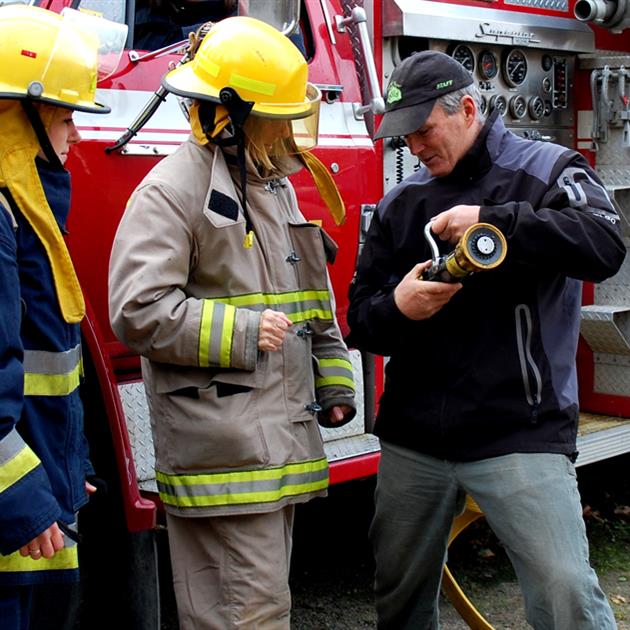 CALLING OUT YOUR INNER WILD
By Dawn Huddletsone
Despite days spent in offices, sitting at computers, we all have a little bit of wild in us that yearns to break free. Finding it just requires an appropriate challenge. You may be surprised at what you can do.
To help you find out, a Muskoka-based outdoor company is putting unique new twists on some of the latest adventure crazes. Even if you regularly challenge yourself, it's unlikely you've experienced anything like this.
If you've tried escape rooms, you probably haven't done them in full firefighter gear, experiencing some of what firefighters encounter at the scene of a fire. If you're a fan of outdoor adventure, you may not have spent a few hours throwing axes at targets in the bush or throwing cast iron frying pans for distance. If you like to be on the water, you likely haven't taken a stand-up paddleboard – the closest you can get to walking on water – through a quiet river wilderness to the site of a beautiful waterfall. You'll find all of these challenges and more at Find Your Wild.
Created by former outdoor education teacher Jamie Honderich, known to most as simply Hondo, Find Your Wild is based at an 80-acre property just east of Huntsville. It's on the lands of a heritage farm where Hondo and fibre artist Pam Carnochan run a bed and breakfast and still keep a small number of animals like sheep – the wool from which Pam uses for her Watercolour with Wool artworks – a donkey, a horse and chickens. It's an idyllic scene with its old farmhouse and barn, a small lake, a creek, a beaver pond, and mature hardwood forest as far as the eye can see.
But tucked away in the bush are unique activities you'd be hard pressed to find elsewhere.
There are the firefighter adventures led by National Fire Protection Association (NFPA) certified firefighters, including three escape rooms designed to give you a taste of what it's like to respond to different fire call scenarios.
First, you gather at the vintage pumper truck to don your firefighter bunker gear. Then you head to the Tangles in Tight Spaces escape room where you have to navigate a low profile space, wriggling under and between beams like a firefighter might squeeze under a garage door or break through a wall, and then find your way through a box full of wires. Some adventurers choose to do the challenges with an oxygen tank strapped on their backs, others opt to do it without. Always, the activities are challenge by choice – you can choose more or less of a challenge and can skip an activity completely or back out of it when you're part way through if it makes you uncomfortable. Once you've escaped those tight spaces, you'll complete an obstacle course using gear that might be used at a fire scene. Both the escape room and obstacle course are visible to the rest of your group so they can cheer you on and help out with a bit of coaching if needed.
Then there's Hide and Seek. You get called to a building and have to get a variety of victims out – mannequins in this case – but they aren't always easy to find. In a real fire, frightened children may try to hide. Your job is to get them to safety.
Finally, there's the B&E and Bail. You've been called to an industrial site where you have to break in a door and haul a hose to where the 'fire' is. But you get trapped and have to find another way to get out. One of the solutions is a head-first bail out of a second-story window. At a real scene, that could be a long way up but for the purposes of Find Your Wild it's just seven feet off the ground with a well-padded landing. Even that can be a challenge in full gear.
In all of the escape rooms, there are riddles along the way that will help you solve the problems you encounter.
There's no reward, however – other than bragging rights – for completing the course quickly. Firefighters never run, says Hondo. They move with a sense of purpose. "You have to keep your head on. It could be chaos otherwise," he says. "You solve problems as a team and move with purpose to complete the challenge."
Also at the Find Your Wild base is another unique challenge: Bush Poker Axe Throwing. You may have tried axe throwing and you may have played poker but have you done both while on a hike or snowshoe through the bush? Targets painted with card values in different suits are strapped to trees throughout the Find Your Wild forest. Some will require you to throw the axe with your non-dominant hand, from behind a tree, or from one knee. The better your aim, the better your poker hand.
It's one of many bush challenges available. There's also a low ropes course, a bouldering wall, a lumberjack challenge that incorporates axe throwing, crosscut saws and cast iron pan throws, or a secret garden path where you have to navigate a rope maze blindfolded.
Not all of the Find Your Wild adventures are at its base, though. Hondo regularly leads groups into nearby Algonquin Provincial Park or Arrowhead Provincial Park. Two of Find Your Wild's most popular summer adventures are the full-day Big Easy Stand-Up Paddleboard Adventure and the half-day Big Easy Fun Family Float.
The full-day adventure begins at the beach in Arrowhead Provincial Park, follows the Little East River down to scenic Stubb's Falls and then carries on into the sparsely populated Big East River where, after some stops for snacks and swimming, you'll arrive at a private beach for a campfire cookout. The Family Fun Float is a shorter version of the same trip, ending with s'mores over the fire. You can stand, kneel or sit on your board and either paddle or let the current carry you along. There's even a Zodiac boat available for parents who want to bring wee ones, too. The Find Your Wild dog – Stanley, a Norwegian Elkhound – is optional or you can bring your own furry friend.
With Find Your Wild, Hondo is following his dream of spending his post-retirement life outdoors. He was a geography teacher at Huntsville High School where he also ran school eco programs. He's been a wolf and cougar researcher. And now he's sharing his love for the outdoors by giving people the ability to explore the wilderness and challenge themselves to try something new, something maybe a bit outside their comfort zone by finding their own inner wild.