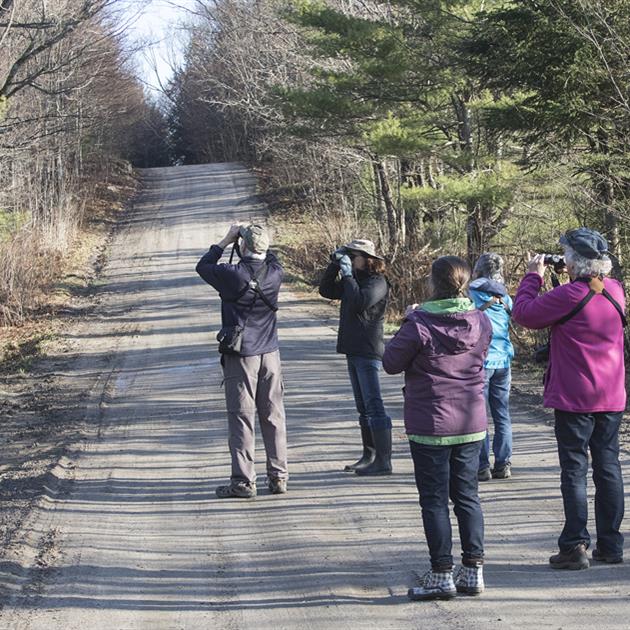 BIRDING IN MUSKOKA
By Doug Smith/Photography by Eleanor Kee Wellman
When an American avocet was spotted in Bracebridge it caused quite a stir with the local birding fraternity. Rarely seen outside of its usual western range, the elegant shorebird provided a highlight to the fall migration for many. For novice birder Aaron Rusak it was life-changing. 
Up until that time the recent UBC grad was only casually interested in birding, though he'd taken a class in ornithology while at university. Since the avocet, Aaron has become a self-confessed birding fanatic.
Birding is like that. It can be as passive as observing the birds at a winter birdfeeder or enjoying the backyard antics of hummingbirds during the summertime. Then a rare bird sighting or other notable event changes a pastime into an obsession. The level of interest goes up accordingly. For some, things become very involved.

David and Regan Goodyear have been birding since 1985, when they lived in Ottawa. Over the years the Goodyears have made birding an integral part of their travels. "Birding has taken us to places we might  not otherwise have visited. We've travelled across Canada and the U.S. and have visited many different habitats in search of a particular species, whether it is searching behind a waterfall in a canyon in Colorado to find a Black Swift or traipsing around a costal salt marsh in New Brunswick in search of a Nelson's Sparrow."
They explain their fascination with birds, "We do it because it is a way to connect to the world around us. Birds are both beautiful to look at and to listen to." They continue, "Following the migration of birds through our area has become another way of marking the passage of time for us, and we are always thinking in terms of what birds are arriving or departing and what to look forward to or to expect next." They add, "We love the challenge of identifying new birds. The more we learn about them, the more questions we have, which takes us to new depths of learning and makes us realize we have barely scratched the surface."  

Though often done solo, birding is always part of larger community of others who are like-minded. Opportunities to delve deeper into the world of birds abound. There are field trips with the local naturalist's club to birding hotspots, and many other participatory nature programs available.
Bird Studies Canada, the Audubon Society, the Canadian Wildlife Service and similar organizations all enlist birders to help collect data through citizen scientist surveys.

One of these is the annual Christmas Bird Count (CBC). Originally organized in 1900 as an alternative to the ridiculous practice of shooting as many birds as possible on Christmas Day, it has grown into a huge event. Over 2500 counts now take place each year.

Later in the winter is the time for the nocturnal owl surveys, organized by Bird Studies Canada. These involve driving along a route, "10 stops, each two kilometres apart and you play a CD with owl calls on it and wait to see if any owls call back or show up to hoot," explains retired biologist Jan McDonnell, who runs an owl survey on Fraserburg Road, starting east of Highway 11.
"This year I did my owl survey later in the window that I normally do," McDonnell points out. "Bird Studies Canada recommend that it be done during the month of April and preferably during the first two weeks but since we were away on our holiday, I didn't end up doing it until April 20th. We heard very few owls this year compared to normal (two barred and one saw whet). Wonder if that is because of the crazy spring conditions this year? I think other owl surveyors also reported a slow year."
She continues, "The year I heard (and saw!) the most owls was 2014 when 21 owls (six were saw whets) responded to the CD. That year we saw four of the barred owls – they flew up and perched on trees by the road and hooted like mad. It was a fun year!" McDonnell concludes, adding that it was the most owls recorded on a route that year in Ontario.
Hearing the birds is as much a part of birding as the watching. Most birds are located by their calls or songs, so knowing what a species sounds like goes a long way to identifying the bird. As can be imagined, this takes practice and study, and is best achieved in the field, ideally learning from other, more experienced birders.

Such skills are a necessary part of running a Breeding Bird Survey, (BBS) for the Canadian Wildlife Service. Local birder Al Sinclair surveys a route each spring. "The most challenging part is getting up at 3:30 a.m. to get to my starting position by 5 a.m."

BBS surveyors choose a morning during the breeding season, (late May to early July) for the survey. They (there is usually an assistant) must start one half hour before dawn. The survey requires a 50-kilometre route, with the surveyors stopping each kilometre and counting the number of individuals and species heard and seen for three minutes at each stop.
Al relates his experience, "... it is interesting to me to compare results over multiple years, what species are stable, declining/increasing, short term or long term. How the same species are found at the same location year after year. But the main reason I keep torturing myself is because my route has been going since 1969, started by someone in Barrie. Few people know bird calls well enough to do it so I feel I have to help or the route will end. This long-term population data on Muskoka birds I think is priceless," Al concludes.
Al Sinclair is also the Muskoka eBird editor.  

A smart phone app designed to let individual birders record their data as they bird, eBird is revolutionizing the way birders do their birding. When combined with GPS it is a powerful method of sharing sightings,  allowing the birder to provide current data on the species and individuals seen at any location. Al's  regional role is, "to vet all records that are flagged as unusual by the program." This same date becomes part of the collection of data being reported from birders using the app all over the world. Al says he "uses eBird to alert me of rare sightings and pinpoint the location." 

eBird is something Aaron Rusak uses every day. As the Administration and Program Co-ordinator at the Muskoka Conservancy, (MC) Aaron is also leveraging its social aspect to advantage. He explains, "The Muskoka Conservancy currently protects 39  properties. Some of them are privately owned properties that we maintain in the current state, others are properties that we own and protect, some of which are public access."
Aaron continues, "eBirding is an interesting tool in that it's known really well to birders but isn't used in all other circles. However, establishing hotspots in eBird promotes an area to a very specific group of people, who care about keeping the area protected already. It also promotes the area to visiting birders, as they're more likely to visit hotspots on eBird if they're new and unfamiliar with the area. Hopefully it turns into somewhat of a snowball effect with word of mouth between birders."
For the Goodyears, who have been using eBird since 2012, (and are now recently retired) it has added yet another dimension to their birding.

"We used this when we were planning trips to Ecuador and Australia. eBird generates a list of the top hotspots for every country, province, state, or county. We then built our trip itinerary around these hotspots, thus ensuring that we would be visiting the "birdiest" locations. Users can also search for a particular species and find out where it has been seen most recently. We used this recently on our trips to help us further pinpoint a location where we might see a desired species. When we were in Australia, for example, we wanted to see a bird called the Beach Thick-knee. No problem! We simply searched the species on eBird and saw that it had been seen at a particular beach the previous day. We headed out later that afternoon and enjoyed incredible views of this rare and difficult to see species."
They point out, "We also enjoy using eBird because we are part of a larger community of birders. We have met many eBird users in the field whose names we recognize from their online eBird lists and profiles. We might be bird nerds, but we are not alone!"

Once considered something of fringe activity, birding is now mainstream, and enjoyed by many millions worldwide. While individual involvement and commitment varies, all birders have as a common goal, to study and enjoy birds.

Once ignited, birding becomes a passion to last a lifetime.