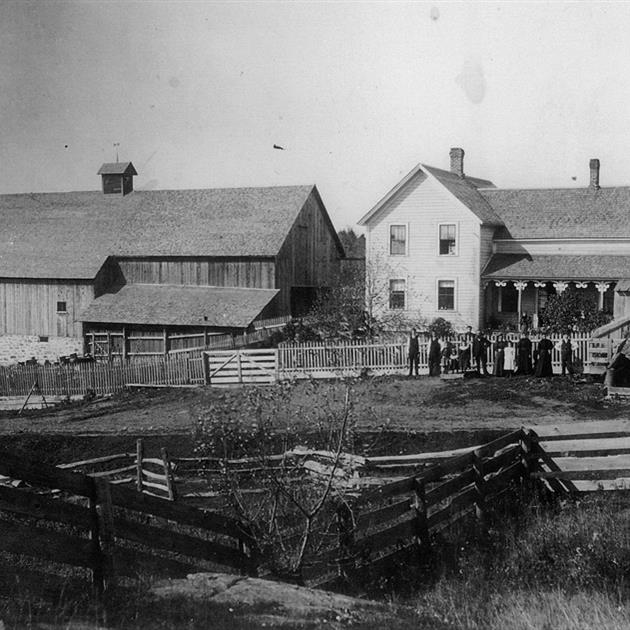 MUSKOKA'S NON-BRITISH PIONEER COMMUNITIES
By J. Patrick Boyer
In 1873, after scouting North American locales for "New Iceland," 21-year old visionary Sigtryggur Jὀnasson led 160 of his country-folk into Muskoka's remote Cardwell Township to establish their Canadian toe-hold colony of "Hekkla."
Meanwhile, German immigrant brothers Georj and Wilhelm Gilbert and their families were clearing an unbroken section of Muskoka's Draper Township, constructing homes, beginning farms, and launching their "Germania" settlement to draw others from native Germany.
Like all fresh-start settlers, they sought a better life. But being non-British, the dominant stock of Muskoka's homesteaders, any such Icelanders and Germans, besides creating important new settlements, would enrich the District's society with their skills and culture.
The news about immigrants, of course, is not their arrival but what caused them to abandon cherished homelands in the first place.
Iceland 145 years ago had about 71,000 people, 2,000 in capital Reykjavik, most everyone else farming rural areas and fishing coastal waters. A colony of Denmark, Iceland was struggling with depleted resources, a livestock epidemic that annihilated 200,000 sheep, and Danish trade restrictions. Then it got clobbered by thick volcanic ash from Mount Hekla's eruptions, a lethal degradation rendering farming impossible across much of the country.
Adventurer Sigtryggur Jὀnasson looked hopefully to North America, in 1872 becoming the first permanent Icelandic settler in Canada. His enthusiastic letters home encouraged others to follow. The government, seeking more settlers to populate Canada's widespread land mass, named Jὀnasson an immigration agent and printed 20,000 promotional pamphlets for him to distribute in Iceland. The first wave of immigrants reached the promising land the very next year.
First sailing to Scotland and then crossing the Atlantic to Quebec City, the settlers and their Icelandic horses reached Toronto by train and continued north to the railway's terminus at Washago. The intrepid homesteaders, led by Jὀnasson, then made their way up the stumpy rutted road to Gravenhurst and boarded a steamer to northern Lake Rosseau. Their final push inland led to waiting wilderness for homesteaders with small sturdy horses to clear and farm.
Naming Canada's first Icelandic community "Hekla," after Iceland's renowned mountain, seemed bittersweet: a nostalgic link to their homeland, yes, but a nod to the most prominent cauldron in Iceland's over-active volcanic mountain range whose eruptions had triggered their departure.
These special Muskoka settlers were just the vanguard. From 1873 until the late 1800s, Iceland's exodus continued until 20 per cent of its entire population was in North America.
A number at Hekla felt there might be greener (less rocky) pastures elsewhere. Already by 1874, some left to establish a new Icelandic community at Kinmount in Haliburton County, joined by 365 more immigrants direct from Iceland. This colony lasted only a year. Byspring 1875 their search resumed. A few Kinmount settlers returned to Muskoka. Others relocated to Nova Scotia. Most headed west, under Sigtryggur Jὀnasson's leadership, to settle the shores of Lake Winnipeg and establish a "New Iceland" community at Gimli.
Hekkla, having taken root, carried on. From Iceland more hard luck farmers trickled in.
Jacob and Jouran Einarsson arrived in 1878 and, before long, gave the community its first locally-born child. Apart from naming newborns, existing Icelandic names got tweaked to accommodate English-speakers: Ásgeirsson to Asgeirson, Einarsson to Einarson, Guὀmundsson to Goodman, Jὀnsson to Johnson, Snæbjörnsson to Snaebjornsson, Tὀmasson to Thompson, Finnsson to Finnson, Helgasson to Helgason.
Cultural adjustment took other forms, too. One of Hekkla's first settlers, a bookbinder by trade, discovered his craft was not yet needed in Muskoka so worked instead at a Parry Sound saw mill. A decade and a-half later, realizing the need to keep Icelandic cultural life vital, Pall Snaebjornsson organized Hekkla's reading and study society, which from 1888 acquired and discussed many Icelandic books.
Desiring status as a real community, Muskoka's Icelanders sought a post office. Asgeir V. Helgasson applied to Ottawa and was duly appointed postmaster. However, everyone was chagrinned when postal officials refused to correct their misspelling on the franking hammer they'd sent him. He opened Hekla's post office in his trim wood-frame house in January 1887, but for the next two decades post master Helgasson's protests to Ottawa never succeeded in getting that embarrassing second "k" removed from "Hekkla."
At first settlers worshiped in homes and buried their dead at their farms, the common pattern of Muskoka's remote areas. By the late 1890s they wanted a proper church, accompanied by what Icelanders called a "church garden." They acquired an unused church building near Rosseau, then dismantled, moved, and reconstructed it during 1900 on an acre bought from Jacob Einarson. Alongside, they'd already established its "garden," or cemetery. Hekkla's community church was served by Methodist and Presbyterian ministers, until those churches merged in 1925, when clergy from the United Church of Canada assumed the duty until the church was closed, continuing with one annual service each August.
In 2005 a unique event commemorating Icelandic settlement in Canada began in Iceland and ended in Manitoba. Dubbed "The Path to Gimli," the adventure entailed Icelanders and Canadians riding Icelandic horses through all places connected with early migration. In Muskoka, that meant Hekkla as Canada's first Icelandic colony, as well as Gravenhurst, Bracebridge, and Rosseau. They visited the Hekkla Church and Cemetery, and were accommodated by Edith and Harry Smith at Ullswater.
"What a thrill it was," recalls Edith, a descendant of the pioneer Einarson family, "to host the Icelandic riders, watch them on the original road built by my great-great-grandfather Rasmus Oleson, see them go from the Old Parry Sound Road into a waiting knee-high field of hay to graze and spend the night in, while we and many others welcomed the riders and invited them to enjoy a July swim in Skelton Lake."
Meanwhile, back in 1870, Muskoka's German arrivals left their duchy of Hessen-Darmstadt because the place was undergoing a disruptive geopolitical realignment within Bismarck's newly-minted German Empire, and because an expansive spirit was igniting Germans to colonize the wider world. Late to achieve unification, Germany had missed out in the empire-building conquests by which other European powers gained overseas territories.
Coming for Free Grant land were Wilhelm Gilbert and wife Margrieta, brother Goerj Gilbert and wife Katarina, and Katarina's parents, Hermann and Maria Dorothea, while 25 more German families joined them in settling their Muskoka colony. Adjusting for the British setting, anglicizing their names included such variations as Weizmüler to Weizmiller or Weismiller, and Snieder to Snider. Other German-speaking families bore such surnames as Chettle, Toye, Germyn, Wise, Deitz, Hyndemann, and Speicher.
Germania's homesteaders, primarily Lutherans, built their "Germania Nazareth Evangelical Lutheran Church" on land Wilhelm Gilbert donated. Lumberman Hermann Weizmiller contributed timbers and boards. Volunteers formed working groups: carpenters to construct the log building, artisans to craft pews and an altar, others to paint, to landscape the grounds, to mark out a cemetery. Muskoka's multicultural nature got a boost as services in German became increasingly mixed with English usage, while Germania's non-Lutherans built a Methodist church.
From an early age in Hekkla and Germania, children worked diligently alongside parents and their extended family, as in Muskoka's other close-knit pioneer communities. Girls made candles and soap, fetched eggs, milked cows, cooked food, washed clothes, and ironed laundry. Boys plowed fields, weeded gardens, split firewood, carried water, learned to hunt, and kept an alert eye for livestock predators.
In Germania's early years, children attended other township schools, but by 1888 local families built their own schoolhouse in the village centre, on land donated this time by Wilhelm Gilbert's brother Georj. Families contributed some $400 toward costs of the board-and-batten schoolhouse and adjacent sports field. From the fine brick chimney for its wood stove to the well-proportioned housing for the school's rooftop bell, the calibre of German craftsmanship was on full display
Germania's goal was self-sufficiency. After clearing land, they plowed and planted, raising fields of oats, wheat, corn, beans and potatoes. Alongside their crops, Germania's farmers such as Willem Gilbert kept well-tended livestock, including poultry, hogs, and large dairy herds.
In 1884, when the community had some 100 residents, John Weismiller, son of Hermann and Dorothea, opened a post office. The next year William Stamp took over post master's duties, amidst jibes about the aptness of his name Stamp, which two decades later were entrusted to Julius Rossgar who in 1906 combined Germania's post office with a store beside Weismiller Lake.
Germania was not a closed ethnic society, and its non-Germans included the Tait brothers – Thomas who operated a sawmill, and William who ran a general store supplying such products as wire and nails, socks and pans, tinned foods and matches, hard candy and blankets, cups, cheesecloth, biscuits, and bullets. Special shopping excursions into Bracebridge or Gravenhurst, by wagon in summer and sleigh during winter, offered wider choices, plus the entertainment of observing town doings.
The community had put down roots. With more baptisms, weddings, and funerals, new generations became entwined with Germania life. Following the village's first blacksmith P. Herman, Nikolas Weis took over shoeing horses and fashioning hinges and other iron-work as Germania's smithy. In 1896, when Wilhelm Gilbert died, his two-storey home and farm were inherited by son Heinrich, and his wife Rachel, who carried on the productive operation.
The population reached 150. Prosperity increased. Thomas Tait expanded his lumber business to include a shingle mill. Charles Tingey, another non-German, introduced competition by opening Germania's second general store. Then Hermann Weismiller took over Tait's saw and shingle mill, running the steam-powered operation beside a tiny lake named after himself.
As in Muskoka's other snow-bound farming communities, men harvested trees during winter to supply logs for Weismiller's sawblades in exchange for cash, or boards, or both. When fire destroyed his mill early in the 20th century, Weismiller sold his steam engine to the Speichers, who operated a lumber mill of their own until it, too, burned down.
Though Germania's population began dwindling, life continued to arrive. On July 8, 1912, Nikolas Wettlaufer's neighbours joined in a successful barn-raising at his farm.
By the mid-1920s, the convenience of automobiles spelled an end for the settlement's remaining general store; with locals shopping elsewhere, it went out of business. Germania's schoolhouse closed in 1960 with school consolidation; for awhile the building served as a community centre for events and entertainment. Germania's post office operated until 1957. Summer services are occasionally held at the Lutheran church.
Both Hekkla and Germania families enriched Muskoka by their diversity and devotion to community betterment. Their descendants, through generations of intermarriage and engagement in District life, are melded into that unique blend of Canadians known as Muskokans.