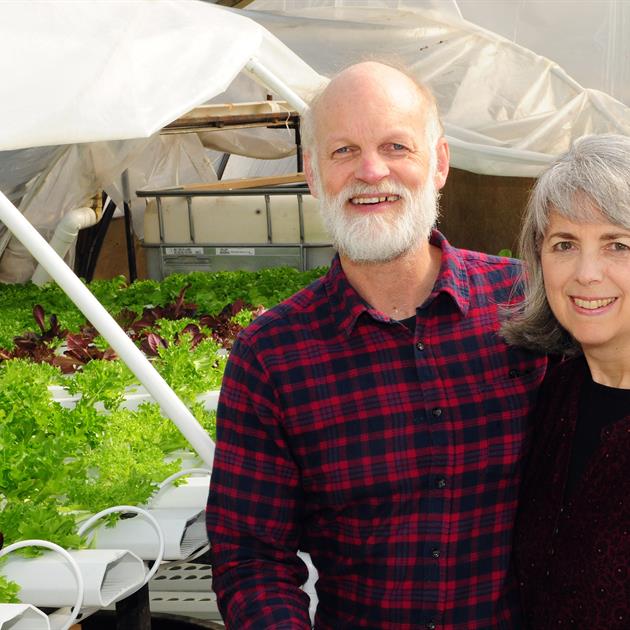 FOUR SEASONS GREENS USES FUTURISTIC AGRICULTURE FOR HEALTHY RESULTS
By Karen Wehrstein
At first glance, Four Seasons Greens does not look like an agricultural enterprise. It looks like a typical modest residence with a Muskoka look on a quiet street in the sleepy, well-treed village of Port Sydney. In fact, it is the residence of Steven and Sharon Bacon as well as some number of their five mostly-grown children.
But go into the backyard and you'll see there is much, much more going on. The yard is dominated by greenhouses. Inside them are complex arrays of shelves, trays, hoses, tanks and pumps. One room in the house is also set up that way, for a total of 2,500 square feet of growing space on a 0.93-acre lot.
On the trays you'll see: green. The rich green of tiny cilantro plants, the fresh green of small lettuce leaves, the very pale green of sunflower or alfalfa sprouts, the bright green of wheat grass blades. The nutrition-packed, health-enhancing tasty green that, for the Bacons, has become their living and their life.
They have been married for 30 years. Steve worked in various fields previously: teaching at a private boys' school, running an outdoor education program for a camp, helping at a church, general carpentry and renovations. Sharon had her hands full raising and home-schooling five youngsters, but also worked semi-professionally as a harpist, singer and children's music teacher, things she still does.
But Steve always had little jars with sprouts growing, and did research on how to grow produce with the highest nutritional value as his bed-time reading. "Around 2008-2009, we built a mini aquaponics thing in the back," says Sharon, referring to a system of growing that was new at the time. "We also put together a sprouting kit, to start people on growing sprouts. People were starting to be interested. We had conversations, people started asking questions."
That led to sprout parties, both at other people's homes and in the Bacons' own. (Their kitchen smells deliciously like a health food store.) "We'd have a potluck supper and a conversation around good eating," Sharon says. "We'd have 20 to 25 people, once a month." After doing this for two years or so, the Bacons were providing more kits, getting requests to grow sprouts, and wondering whether they should take it to the next level - when they had a fortuitous meeting with a prominent Muskoka chef.
In 2010, they joined the agricultural/culinary organization Savour Muskoka, and signed up for its August "Field to Fork" event. "We were in an out-of-the-way corner, not the main loop, and we thought 'nobody will see us here'," Sharon recalls.
However, their table happened to be beside that of Chef Rory Golden of Deerhurst Resort. "Rory came over and he was running his hands over the plants," says Sharon. "He asked, 'How can I get these?' We thought there'd be too much regulation; you have to get all food-grade qualifications. He said 'Go do your research. We'll buy stuff from you'."
"Construction was drying up so I had an extra day a week for research," Steve recalls. "In December we told Rory, 'We're good to go'." Deerhurst, other restaurants such as Tall Trees in Huntsville, and Muskoka's main health food stores — The Great Vine in Huntsville and Muskoka Natural Food Market in Bracebridge — were immediately supportive.
Then in February, Steve's construction work dried up completely. "So we jumped off the deep end," he says. "Did a bunch of cold calls, took them trays. By June most of them signed up. We jumped and started to run."
Running, the Bacons never looked back. They now supply the vast majority of medium to high-end restaurants in Muskoka, a fair number of the delis, the aforementioned health food stores and the Your Independent Grocer supermarkets of Gravenhurst, Bracebridge and Huntsville.
Attending farmers' markets for three summers led to Four Season's "Community Supported Agriculture" program, in which customers buy sprouts and greens by subscription, making monthly payments online and picking up their produce at 16 depots from Port Carling to Dwight, including delis, gyms and libraries.
In addition to Steve, who does the bulk of the farming as well as delivery to the depots and construction of the growing spaces, and Sharon, who handles administration, Four Seasons now has three additional part-time staffers in winter, and six or seven in summer. Their experiment, to see whether they could make a living at it in Muskoka has been a spectacular success.
So what exactly does Four Season Greens offer? There are sprouts of various plants; microgreens, meaning baby plants usually 10 to 15 days old; micro-herbs such as basil and cilantro, which has a sweeter taste than the grown plant; and plants such as lettuce, kale and basil grown using aquaponics. They also have everything you need to grow and use sprouts and microgreens yourself, including workshops, seeds, books, kits, blenders and compostable packaging. There's lots of free info on their website.
What is aquaponics? The Bacons define it as "the integration of horticulture with fish culture in a closed system." Also, "the most sustainable system of food production in the world." Basically, a fish tank is combined with soil-free planting, with the fish waste producing the nutrients for the plants, and the fish fed by the larvae of flies bred on compost mats, all inside a greenhouse.
According to Steve, this technique uses two per cent of the water, five to 10 per cent of the energy and 12.5 per cent of the land needed to produce the same amount of food with conventional agriculture. Because the fish are cold-blooded, he says, their waste is quickly converted to fertilizer by bacteria, and the health risks of salmonella and E. coli are eliminated. It also extends the growing season in an area such as Muskoka from a few months to all 12. Even in the depth of this past winter when the temperature hit -36 C, the air inside the inner envelope of Four Seasons Greens' main greenhouse was +12 C.
Everything, Steven and Sharon say, is experimental. "It's like Edison trying 792 ways that didn't work to make a lightbulb," says Steve. They are constantly tweaking, adjusting temperature and humidity, growing new species; "the chefs always want to try new things," says Sharon. Because their crops grow in a week or two rather than a year, however, they can do trial and error faster than most farmers. A new experiment for this year is LED grow-lights for use through the dark months from October to February. Some of the shelves have white LEDs, some a combination of red and blue, to see which works best.
"Good for you" is Four Season Greens' motto, and their claims of health benefits are derived from research as well as personal experience, at least in Sharon's case.
"I had high blood pressure," she says, grinning at Steve as she adds, "Something about five kids and a husband with a wild dream." She was on three different medications to control it when they learned about the nutritional power of broccoli sprouts from a 1997 study conducted at John Hopkins University.
"Sprouts have on average 20 to 30 times as much nutritional value as the full-grown plant," Steve explains. "With broccoli, it's 50 times." In the summer of 2010, Sharon prescribed herself broccoli sprouts daily, three to four packages per week. In two weeks, she was getting light-headed due to her blood pressure decreasing. She was able to cease taking the meds, and is now on a maintenance broccoli dose. "That's my medicine," she says. It was also a key reason for their going into business, and they have customers who've seen health improvements.
"Our health is totally based on what we put into our body, so it's got to be good because if it's not, we're suffering," advises Steve. "You want to be healthy, have energy and no brain fog."
Growing microgreens is actually in Sharon's blood; her great-grandfather happened to be the chandler who outfitted Antarctic explorer Robert Scott's ship, including microgreens. Captain James Cook used sprouts to prevent scurvy on his voyages, Steve points out, and during the First World War, they were delivered to the front lines to provide nutrition to fighting troops. Steve's ultimate personal dream is to live entirely independently and sustainably, off the grid. To this end, he's experimenting with unusual technologies like deriving heat from the decomposition process that happens within compost, and Chinese-style greenhouse design, in which heat from the sun is gathered and entrapped by way of a sloping south-facing transparent ceiling between solid front and back walls, four feet and 12 feet high respectively.
"I'm the dreamer," he says. Sharon laughs and says "And I'm the one who drags him back to earth." Possibly this combination of idealism and pragmatism is the key to their success.
Because the Bacons are innovators on the edge of agricultural technology, they have received funding from FedNor, the Ontario Ministry of Agriculture and Food, and Innovation Initiatives Ontario North. That last organization, Steve says, "likes us because what we're doing is not super high-tech and computerized. Anyone can do it."
Steve and Sharon envision aquaponics technology being used in First Nations reservations, Third World countries and even big cities, where growing spaces can be built on roofs or in abandoned warehouse. An aquaponics system can range in size from an aquarium with plants on top to a warehouse, making it suitable for anywhere that needs food that is local and fresh. They've already had inquiries from Temagami First Nation, among others
"The whole vision of this thing is that it's possible to grow food for the community that's healthy, turn it into a microbusiness and make a living," says Steve. That's the pragmatic dream this dynamic couple wants to spread from their own little space in Muskoka to the world.
Rainbow Seedling Salad with Basil-Mint Vinaigrette
"People often ask us how to eat sprouts," says Sharon. "Our simple answer is 'Umm… just eat them!'" Okay fine, but what if you're having guests over for dinner?
She's ahead of me. "Having grown up on the standard North American diet of cooked food and at best a salad consisting of iceberg lettuce and not much of it," she says, "we began thinking of how to give salads a facelift." The Bacons turned to their friend Chef Grant McArthur of Grant's Woodfired Smokery (http://www.maincoursemuskoka.ca/), and he came up with this open-ended recipe.
"This salad is bursting with flavour and nutrition, and it looks beautiful too," Sharon enthuses, adding some advice: "Make sure you take time to chew leafy greens well. Plant cell walls have to be ruptured in order to release the dense nutrition, and you will find in doing so that your appetite is satiated for a longer time because your body is getting the goodness it needs."
To make the salad
Toss together:
3 cups pea shoots chopped into one-inch pieces (these make a wonderful base for a salad)
½-1 cup colourful micro-greens, such as Red Daikon Radish, Bull's Blood Beets, Purple Kohlrabi, or Swiss Chard
½-1 cup fresh herbs, such as dill, basil and flat-leaf parsley (remove stems)
1 cup something sweet, such as chopped mangoes, strawberries or other fresh-picked berries
½ cup something crunchy, such as red onion, radish, snap peas or sprouts
Garnish with edible flowers and petals (borage, violas, marigolds, nasturtiums, etc.) Serves 4 to 6.
To make the vinaigrette: Purée in a blender:
3 oz. basil tops and leaves
1 oz. fresh mint tops and leaves
¼ cup white onion
1 clove garlic
¼ cup red wine vinegar
¼ cup fresh-squeezed lemon juice
1 Tbsp maple syrup or other sweetener
1 Tbsp Dijon mustard
½ tsp sea salt
¼ tsp pepper
With blender running on low, slowly add 1 cup olive oil (½ light and ½ extra virgin) and blend until incorporated. Store refrigerated in a sealed container. Serve at room temperature.