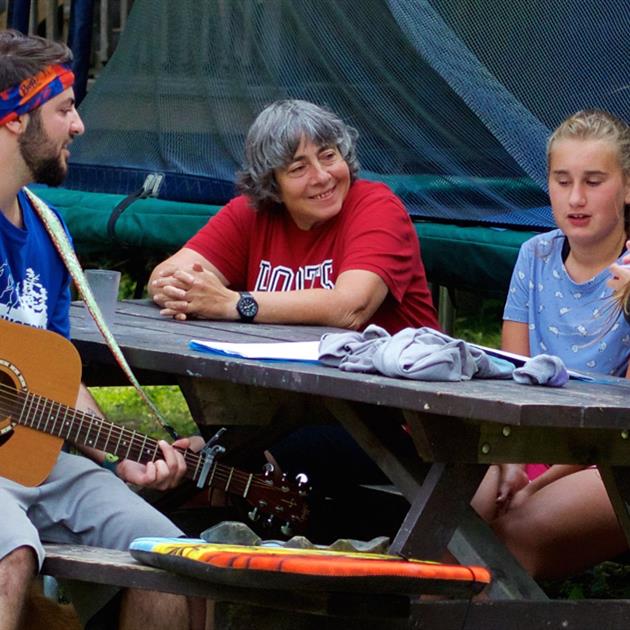 CAMP WINSTON - CHANGING LIVES, ONE CAMPER AT A TIME
Article by Sandy Lockhart / Photography by Larry Carroll
For anyone lucky enough to have experienced summer camp as a child, they know it's something special. For the kids at Camp Winston, the experience is often described as life changing.
For anyone lucky enough to have experienced summer camp as a child, they know it's something special. For the kids at Camp Winston, the experience is often described as life changing.

Founded in 1991 and located on the shores of Sparrow Lake, Camp Winston is a unique retreat for children with complex neurological disorders who need highly specialized support.

Camp Winston offers summer camp programs and weekend retreats throughout the year for young campers aged 7-13 and a teen program and weekend retreats for campers aged 14-17. Campers have a complex combination of neurological disorders, which include Autism Spectrum Disorder, Attention Deficit Hyperactivity Disorder, Tourette's Disorder, learning disabilities, Obsessive Compulsive Disorder and other anxiety disorders including Oppositional Defiant Disorder.

Most campers have two or more of these challenges but at Camp Winston, everyone is welcome.

"Parents are often at the end of their rope," says Denise Fruchter, camp founder.

Camp senior director Andy McMullan, who started as a Camp Winston counsellor at age 19, says, "it's the best place on earth. I work with a lot of kids in all areas and our camp is the best place to affect change."

He explains that in most cases, for the first time in their lives, Camp Winston campers feel welcomed, connected and secure enough to participate without fear of rejection or alienation. Camp Winston's primary goal is to set these special children up for success.
Fruchter has spent every summer at the camp since it opened, more than 25 years ago. "Like most Camp Winston kids, I'm not a 'what you see is what you get' kind of kid," she explains.

Fruchter explains that she has been diagnosed as on the autism spectrum with Tourette's Syndrome, ADHD and learning disabilities. "When you have more than one disorder, all the sum is different than the parts," she says. "What I get stuck on with my autism, I get distracted from with my ADHD."

Her own bad camp experience at age 10 is part of the reason she is so passionate about camp, today.


"I was an overprotected, only child thrust into a cabin group of 12 children with underaged counsellors. It was terrible and so was I."She remembers refusing to get involved in some activities. The counsellor did not recognize Fruchter acted up because she didn't understand what was expected. Then, she explains, "kids would rather be bad than stupid.
"Most of the kids, here, would be kicked out of other camps," says Fruchter. "We have a very special staff."

Her goal is to help campers enjoy camp and learn skills to help them have success in life.


Campers have many experiences but learning to swim and ride a bike are two of the basics most campers learn at Camp Winston. "If you learn as a kid to ride a bike, swim or even how to play chess, these are recreation and social opportunities that will serve for all time," says Fruchter.
At Camp Winston, children have the opportunity to escape their ordinary and often challenging daily lives, connect with others in a way they've never experienced and build life-long skills with the help and support of the dedicated and passionate Camp Winston staff.

Working with the campers, the plan is to focus on things that will matter in 10 years. They also don't reward or punish campers. Most of the energy goes into helping kids with skills and relationships.


It's all about learning life skills in a recreational setting and some of that starts with animals as part of the nature programming. A favourite camp spot is the animal petting area. Campers learn that relationships are about giving and taking. For example, collecting a few handfuls of sweet green dandelion leaves get the campers access to the gerbils.

Before they can even pet a gerbil, they need to learn how to care for the pet. Once they decide to hold an animal, campers must commit to a certain amount of time. They are not allowed to jump from animal to animal. Instead, they must calmly sit with it and consider the animal's feelings. It's all about caring for and respecting the animals.

Caring for each type of animal requires a license and they are all graduated. At the highest level, a camper can teach another person how to care for the animal.

"We focus on control, responsibility and empowerment," says McMullan. "People may think, 'look at his behaviour, he can't possibly take care of something else.'" But working with the staff at Camp Winston, children gain all kinds of skills.

"Sometimes, it's easier for campers to understand relationship with animals and empathize with animals," says McMullan. "Relationships with animals are more straightforward than relationships with people."

At Camp Winston, alpacas and goats may wander by during the afternoon. Each day, they are set free to walk about the camp and forage for food. As campers learn to be a giver and receiver in nature, it helps personal interactions, McMullan explains. "Plus it's just awesome – how many times in life do you get to interact with an alpaca?"

The single most important thing that determines quality of life is keeping and making friends," he says. Everything the campers do is designed for them to practice those friendship-building skills. "They try a skill, fail, problem solve and try again. Camp is a motivating environment with the campers set up for success.

"It's the best place I've come across for kids to make real changes, especially kids with complex needs.

"Swimming and boating are regular activities, so is drama. Lunch includes a musical interlude. Those who struggle with too much noise and overstimulation wear sound blocking headphones.

It's a positive environment where everyone has to be kind to each other.

Another unique feature is Camp Winston's organic garden. "A lot of kids have never eaten a vegetable in their life," says McMullan. Here, they help grow snow peas and cucumbers, and take that same food to eat at their table.

Resume building and mock interviews are part of the teen program. Some basics, like eye contact are taught.

"You need to face the person, smile, look in their eyes and say 'Good Morning,' plus their name," lists Fruchter. For some campers, these are learned skills.

After 27 years, Camp Winston has many success stories. Fruchter recalls one camper whose family was struggling with their child who was restrained, aggressive, non-compliant, had ticks, was obsessive and had Tourette's.

"Camp Winston worked its magic," she says. He spent several years on staff, moving his way up the ranks. Fruchter smiles and says, "He's in university now."

She recalls a letter about another camper. A family member wrote and offered this thanks. "I have a sister because of Camp Winston."

"We are a needs-based funding organization," McMullan states. "We are never going to quit. We are going to make it work." He explained that one camper will be old enough to go on canoe trips this year but needs his medicine refrigerated in order to go along. "We are looking for a sponsor for a propane fridge, so he can go along."

And while the camp is known for helping its campers better adapt to their lives outside camp, he stresses that the camp has trained a lot of staff, too. "There are professionals who give a lot of credit to camp." About 140 campers come each summer plus another 200 visit as respite on weekends. "We have a big waiting list of 300 names," says McMullan, explaining that once a camper attends, they come back year after year and rarely leave. The longest waiting list is for kids 8 to 12. "We are still working on a way to make this sustainable," he says.

"It's the best place I've come across for kids to make real changes, especially kids with complex needs."The camp is funded by the generosity of others. It does not receive any regular government funding. Most campers don't pay to attend but Fruchter shares the story of one happy parent who gave a very generous donation. Her child was a new person, thanks to Camp Winston, so the parent showed her thanks by making it possible for the camp to help others, too.
"You changed the course of my kid's life," the parent enthused. It was another Camp Winston success story.