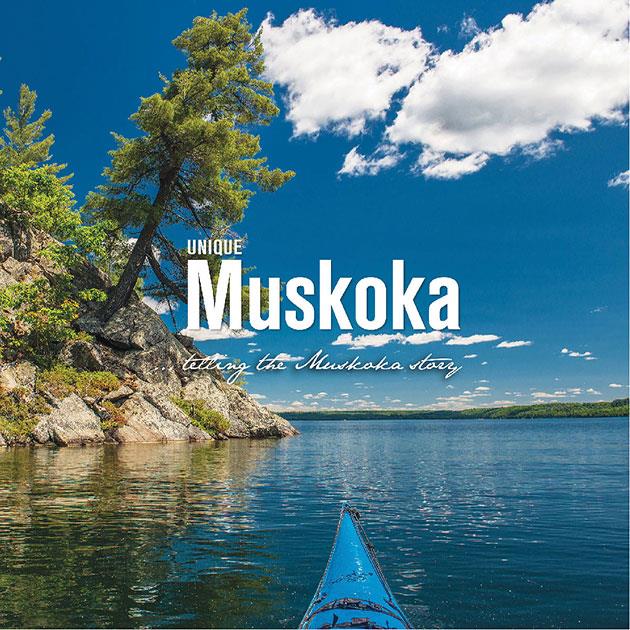 CLIMBERS GRAB ON TO WINTER
Article by Matt Driscoll / Photography by Tomasz Szumski
Unknown to most but not far off the beaten trail, towers of frozen ice beckon adventurous souls.
For decades, climbers have sought the beauty, solitude and the challenge of Muskoka's ice walls.
"It's an incredible way to get outside and appreciate winter," says Peter DeMos, who has hosted guided ice climbing tours with his company Liv Outside Adventures since 2000. "A lot of the routes, here, in Muskoka are well hidden but when people see them, they're just blown away by how big some of them can be."
DeMos got his start climbing ice walls in British Columbia and brought his love of climbing with him when he moved to Ontario. Through his research, he was able to come across guidebooks put together by the Ontario Climbing Association, detailing a variety of routes in the Muskoka area. The books typically include information, such as where the climb is located, who has done the climb before and a rating that details the difficulty of the route. DeMos says many of the routes in the region were first discovered during the 1970s and 80s.
"As it turns out, this region is actually the best for ice climbing in the entire southern part of Ontario," says DeMos. "It has to do with the exposure that's created here by the lakes, as well as having a slightly lower average temperature than in the more southerly parts of Ontario."
That slight variation in temperature means there is less consistency to the ice walls that emerge in the more southern parts of Ontario.
"It's always consistent around here," he says. "Most of the climbing we do is when the temperature is around -10 or below. When you start to get closer to zero, the ice can get very wet. Once the ice starts to get wet, you need to worry a lot more about having water resistant clothing because no one wants to be cold and wet when they're climbing."
The ice climbing routes can actually change as the season goes on, says DeMos. You can often find climbers going online to chronicle the changes as they occur.
"Every year you could be encountering a slightly different climb," he says.
Climate change has also affected ice climbing routes on a large scale, he says, and Muskoka is no exception. Nonetheless, DeMos says the routes they climb are extremely safe. That typically means an ice width of somewhere between two or three feet thick.
"A one-inch thick column of ice can hold up to 2,000 lbs. It's really incredible," he says. "There's essentially zero risk on the routes we climb."
DeMos says the routes they normally tackle are one or two pitch climbs. A pitch is a section of a route that's climbed between two belay points, using a rope for protection. Those pitches are typically around 100 feet, DeMos says.
There are some routes in Muskoka that consist of two or three pitches. That entails climbing roughly 100 feet, setting up a station and climbing another pitch.
Many of the climbs in Muskoka are what are known as "top down" climbs, says DeMos, and are less than 100 feet high. A "top down" climb requires tying a rope to something secure at the top of the route (typically a tree or some other secure object) and then using that rope to scale the entire route.
DeMos says all of their introductory climbs are "top down" routes.
There are dozens of routes in Muskoka, he says, but some of the best routes are on Skeleton Lake and Lake Rosseau. However, he says climbers need to be very cognizant of the fact they cannot climb on private land.
Almost all of DeMos's routes are situated on Crown Land but he says the Ontario Access Coalition is an excellent resource to find out which routes can be climbed and which can't.
Randy Kielbasiewicz, the co-chair of the Ontario Alliance of Climbers, agrees that Muskoka can be a spectacular location for ice climbing but getting access to those routes can be a big issue.
"The biggest challenge in Muskoka is the lack of public land," says Kielbasiewicz. "It's a beautiful area for climbing but it's also a very heavily developed area."
Nonetheless, Kielbasiewicz says there are at least half a dozen routes on Skeleton Lake, some of which can be quite challenging. One big plus of climbing in Muskoka is the routes typically aren't difficult to access. Kielbasiewicz says simply getting to the climb can be a big challenge in other parts of the province where you might have to travel for up to an hour on foot to access the climb.
There are several other areas near Muskoka which also offer excellent climbing experiences, he says. Mill Lake, just outside of Parry Sound, offers more than half a dozen routes and Kushog Lake off Highway 35 south of Dorset is one of the better used climbing routes in the province. Kushog is also where Kielbasiewicz ascended his first ice route.
Kielbasiewicz had been rock climbing for more than two decades when he was introduced to ice climbing, seven years ago.
"I had some injuries and I wanted to shift my focus to something new and exciting," he says. "A lot of people had been telling me I needed to try ice climbing and I fell in love with it, instantly."
The ice climbing community in Ontario isn't particularly huge, says Kielbasiewicz, but it is growing. He points to the success of the Southern Ontario Ice Festival in Maynooth, which drew more than 250 climbers to the region, this year, and also generated a significant amount of money, which was donated to the area's children's charities.
Kielbasiewicz says it only takes one climb to understand why the sport will likely continue to grow in the coming years.

"It's something that needs to be experienced," he says.  "You're surrounded by the intense beauty of the winter and you're literally climbing on frozen water.  It's an ethereal experience."