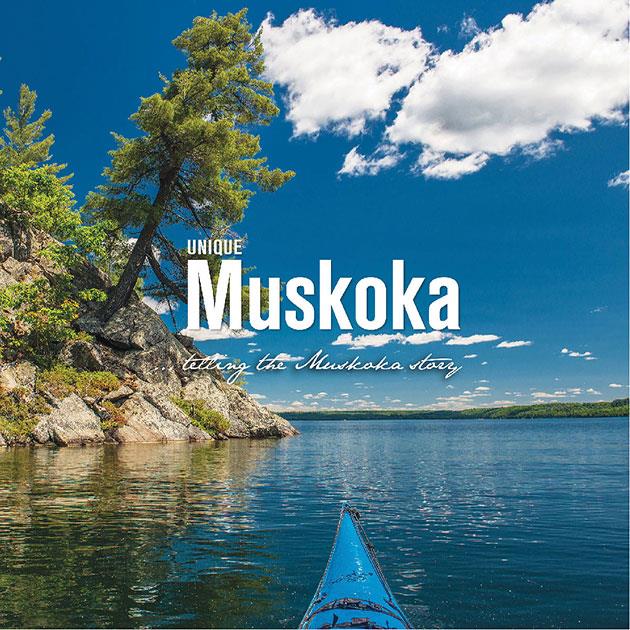 WANDA III AND MUSKOKA DISCOVERY CENTRE
Classy steam-era yacht Wanda III embodies a unique Muskoka saga. Neither the Toronto shipbuilders fashioning Muskoka's fastest vessel back in 1915, nor the renowned Eaton family taking delivery of her, could possibly have imagined the charmer's impact on Muskokans, today.
More than a century on, this elegant steamer has become a vehicle of such unprecedented transformation it's unclear whether Wanda III or the surroundings she now dominates is undergoing the greater change. As the legendary vessel and her owner, Muskoka Discovery Centre in Gravenhurst, mutually remake each other, the emerging phenomenon might best be called "sustainable heritage."
Everybody's witnessed how advanced products of one period, outpaced by newer technology, vanish along with the time-trapped conditions that produced them. However, thanks to high calibre engineering, respect for authenticity, unstinting spending and devoted attention, Wanda III is escaping that fate. Once the technological triumph of the Steam Age, she is no less an epitome of our own times.
Over many decades, a host of actors in all regions of Muskoka played roles that have cumulatively ensured Wanda III is no relic of the past but a showcase of the future. Moreover, Muskoka Discovery Centre's bold vision will present her to visitors not in a limited display of steam-boating alone, but as centrepiece of interactive and engaging attraction on how the Steam Age itself changed everything from farming, forestry, industry, commerce, tourism and transport to the lives and culture of Indigenous and non-Indigenous Muskokans alike.
Rick McGraw, chair of Muskoka Discovery Centre's revitalization committee, calls Wanda III a "catalyst for the ambitious project now underway." For Muskoka's tourism economy, this leadership in sustainable heritage will ripple far beyond Wanda III. And the forthcoming Stanley Meek Steam Era Exhibit, a unique and multi-faceted endeavour, carries district-wide importance as a major Ontario tourist attraction.
Making of the Wanda Legend
A third Wanda means two predecessors must be accounted for, not for mere historical curiosity, but because their fates explain why there'd even be a Wanda III.
Timothy Eaton, founder of the innovative Canada-wide department store chain bearing his name, craved being number one. The pillared mansion at his Lake Rosseau Kawandag estate asserted Eaton's primacy on land but from it, this competitor watched others go past in boats faster than his. So, in 1898, he bought the fastest vessel Polson Iron Works in Toronto could build.
The thriving shipyard had been incorporating powerhouse "triple-expansion" steam engines in a range of ships, dredges and barges since the 1880s. That ingenious compound marine engine, emblematic of the Steam Age's ever-advancing inventions, multiplied boiler steam's work power by expanding it in three stages through cylinders at different pressures. Such an engine made Eaton's 12-ton yacht Wanda, as he'd craved, fastest on the Muskoka Lakes. He gladly paid the shipyard's account. He was now number one on water, too.
To nobody's surprise, when Eaton lost that distinction in a 1904 race, the disgruntled man promptly traded in Wanda for a faster gal. As for his reject, Polson's rebuilt Wanda for the Temagami Navigation Co. and she freshly debuted in northern Ontario as the Temagami; by 1917, she'd been sold to Haileybury's T. J. Mullen and in 1926 was scrapped.
Meanwhile, through the winter of 1904-1905, craftsmen at Polson's busy Lake Ontario yard custom-built Eaton's even sleeker and faster Wanda II. Vowing to not miss a single Muskoka season, he launched the beautiful craft right after the ice went out in 1905.
At 94 feet, she was almost double the original Wanda's 54-foot length. And heavier, her gross weight 51 tons, four times Wanda's. Constructed of lapped steel sheets, Wanda II was also propelled by a triple-expansion engine, but this one was a Doty, enabling her to clip along at 24 knots an hour. Timothy Eaton regained his swagger, a man whose vessel left all others on Muskoka's central lakes in his wake. When he died from pneumonia in January 1907, he exited as Muskoka's reining marine monarch.
But speed didn't help Wanda II escape a fate more dire than losing a race. Three days after the Great War began in August 1914, a morning boathouse fire at his widow Margaret Eaton's summer estate Ravenscrag, near Windermere, claimed the second Wanda, and a half dozen other trapped boats in the bargain.
 John Eaton, who'd succeeded his father as president of the Eaton retail empire, was exuberant about luxury boats, Rolls-Royce touring cars, private railway cars, trains, and airplanes. It was simply a matter of personal indulgence and family pride for there to be another Wanda. But with Canada's political and commercial establishment focused on winning the war against Germany and Polson's busy building six minesweepers for the Canadian Naval Service, luxury yachts for plutocrats lacked priority.
John Eaton simply responded to War Minister Sam Hughes' urgings and gave $100,000 for the Eaton Machine Gun Battery, which earned him a uniform in 1915, a knighthood the following year, and private contract work that outflanked wartime shortages and Polson's urgent government war orders.
Through another winter, the shipyard effectively replicated the incinerated Wanda II. All valves and auxiliary pumps were built to rigorous naval standards. The fine workmanship of the period, right down to her Honduras mahogany joiner work, was a testament to Canada's proud shipwrights. The phoenix-like Wanda III was also 94 feet long, 12 feet across her beam, weighed somewhat more at 60 gross tons, and her triple-expansion engine propelled her right along, too, at 24 knots per hour. Above all, she was elegant, right down to her shapely torpedo stern.
For a dozen years, through the Great War and well into the Roaring Twenties, Wanda III stylishly plied the waters from Margaret Eaton's estate near Rosseau, until a different kind of tragedy ended her pride of place with the family.
Sir John's wife Florence, Margaret's daughter-in-law, was a woman of intense feelings and great compassion. Her empathy for others, including female workers in Eaton's stores, revealed a "society woman" of character similar to self-willed Eleanor Roosevelt's. In 1913 Florence and John sailed aboard his new steel-hulled 172-foot steam-powered luxury yacht, which he'd christened Florence in her honour, from Toronto to Quebec City. During this ill-fated trip, Lord and Lady Eaton's year-old son Edgar suffered convulsions from contaminated milk and became paralyzed. Returning to Toronto, Florence carried him from her namesake ship and refused to ever again go aboard, foretaste of a future episode.
In 1927, Lady Eaton pressed Wanda III into a mercy mission to speed a little girl of Rosseau village to Bracebridge's hospital. Her appendix burst. She was in extreme agony. The fastest boat in all Muskoka could not outrun death. Highly distraught, Florence never forgave Wanda III for the child's death.
Seeing the boat on which the suffering girl perished was a constant haunting reminder of the tragic loss. In an eerie irony, earlier that very year, Sir John had the Florence's steam whistle transferred to Wanda III, which nonplussed Lady Eaton, the yacht's principal user. The now-banished craft remained hidden for three years in her Lake Rosseau boathouse, unused, the Department of Transport not even bothering to make annual inspections of the mothballed yacht. Any buyer would have to remove Wanda III from these waters.
While she gathered dust, the world's economy shuddered. A major economic depression continued spreading financial woes. Harry McGee at the T. Eaton Company head office wrote Charles Shaw in Huntsville on April 29, 1930 inquiring whether he'd like to buy Wanda III. McGee claimed "she carries 75 people comfortably" (three times higher than actual capacity) and "reaches speeds of 16 miles per hour" (10 mph lower than her real capability). When he suggested a purchase price of $10,000, he was also off the mark.
Recipient of the offer, Charles Orlando Shaw, was a human dynamo who'd applied his "good ol' American know-how" to transform central and north Muskoka's economy with his Anglo-Canadian Leather tanneries at Bracebridge and Huntsville, cultural life with his renowned Anglo-Canadian Band so good it was featured yearly in CNE grandstand shows, and Muskoka vacationing with Bigwin Inn, his triumphal Lake of Bays resort hotel which laid claim to being "Canada's largest and finest Summer Resort."
Keen to be rid of a phoenix now become an albatross, the Eatons knew Shaw was Wanda III's most probable buyer. But he was astute enough to know this, too. Shaw understood Wanda III had become anathema to Lady Eaton. He replied, telling McGee that Wanda III "is not worth $10,000 to us, regardless of its worth to others. We have to use her at Bigwin in our boat livery, and there's nothing in it for us to operate a vessel of this cost for the comparatively small revenue we can get out of it during the hotel season. It takes at least two, or probably three, licensed men to operate a boat of this kind – whereas a comparatively large gasoline launch can be operated by one man, no licence required." By May 7, his counter-offer of $7,000 had been accepted.
Bargaining was the easy bit; moving the vessel posed the challenge. "It would be quite a heavy job to move this [60-tonne] boat from where she is now to Bigwin Inn. We first have to construct a suitable boathouse in which to keep her. At this time of year, all our men are engaged finishing up new work at Bigwin. Until our summer's pressure of work is over there, can we have a boathouse in readiness when the yacht reaches Lake of Bays." The move had to wait until "September 1 at the latest," when Shaw "would have all arrangements made to take her away."
By August 23, he asked for Wanda III to be "lowered into the water so the bottom planks will have time to swell up a little before we move her to Gravenhurst where we shall load her onto cars." A week later, as Margaret Eaton's bill of sale was registered with the Collector of Customs in Toronto, Shaw completed the three forms required to change of ship's registry. Legalities complete, flatbed rail cars moved Wanda III from Muskoka Wharf to Huntsville, from whence she was transported aboard barges to North Portage on Peninsula Lake "without any difficulty or the slightest damage," Shaw proudly reported. In late May 1931, she was moved overland, up to Lake of Bays, over the Portage Flyer's rails. 
Like a predecessor, another Wanda thus made a fresh debut on higher waters – but this time, with two crucial differences: she was still in Muskoka, and Wanda III still bore her original name. The superb steamer, now sailing 89 metres higher on the Muskoka watershed, was part of Bigwin Inn's boat livery for the 1931 season. She immediately caught everyone's eye.
Shaw's flotilla also included steamship Bigwin, ferrying guests between the mainland and his Bigwin Island resort, and steamer yachts Annetta, Clarion, Kingfisher, and Rambler III. Big-name guests chartered Wanda III, charmer of this fleet, for daytime scenic tours and romantic evening cruises. Now began the period of Wanda III's greatest continuous service to the largest number of Muskoka vacationers. During the Second World War, her passengers included Princess Juliana and her daughter, Princess Beatrix, both future Queens of The Netherlands, living in exile from Nazi-occupied Holland at Ottawa. Summering at Bigwin Inn, their indispensable possession, the Dutch Constitution, was secure in Bigwin's office safe.
When C.O. Shaw died in 1942, his family ran Bigwin Inn for four more years. In 1949, they sold Wanda III to Lake of Bays' classic boat collector Cameron Peck, who converted her from coal to oil fuel. In 1954, Bigwin's new owners re-acquired Wanda III for the resort's boat livery, a reinstated role lasting another five years. Then, the shapely and intriguing vessel was passed around, with several more owners after 1959 – the fantail yacht everyone wanted, for a while. By 1970, Sandy Thomson of Rat Bay not only bought Wanda III and lived aboard the vessel but restored her. This devoted Lake of Bays boater held onto his prize for a worthy quarter-century.
By the mid-1990s, William M. Gray entered the picture. His book Lake Joseph, 1860-1910 vividly portrays life of Indigenous people, advent of the steam age in Muskoka and his affectionate respect for Muskoka Lakes steamers. Gray told a fellow champion of classic boats, Stanley Meek, about Wanda III.
"She's on the Lake of Bays, and should be picked up," he said. "She'd have a great future at your Muskoka Steamships & Discovery Centre" in Gravenhurst.
Meek – a major aficionado of quality boats and for the past 25 years a board member, treasurer, chairman and Muskoka Steamships & Discovery Centre donor – facilitated with the Canadian Cultural Property Review Board acquisition of Wanda III – for $1. Sandy Thompson's generosity, plus his extensive restorations of the vessel, established the standard for Wanda III by people who understand her unique importance to Canada.
Through October 1993, an engineering feat returned her from Dwight Bay to Muskoka Wharf. On Highway 60, utility wires were lifted, traffic closed off, detergent applied to asphalt so the flatbed's tires could slide, instead of burning, when rounding corners under her great weight, with sand then spread over the roadway to prevent other vehicles slipping. Highway 11 had to be closed as she was moved south in the northbound lane, required for access and egress. By October 29, she was cheered through the streets of Gravenhurst, beginning what everyone anticipated would be a triumphal new chapter in Wanda III's already long and changing life.
When a Boathouse Does More than House a Boat
Between 1996 and 2003, the steam yacht was in operation for chartered cruises, bringing pleasure to passengers and crew alike. "She has a very special feel or personality that can bring peace and calm to her passengers," smiled Captain Ron Sclater. "It's very elegant being out on the lake with her, regardless of the weather."
But service became intermittent. Behind the scenes hovered concerned Department of Transport regulators giving work-orders and headaches to management about the craft's mechanical operations and safety. Wanda III's return to the central Muskoka Lakes, it began to seem, held more promise than she could deliver.
Charles Shaw had refused to move her to Lake of Bays until a suitable boathouse had been built, but Wanda III's envisaged boathouse at Gravenhurst did not get built even in 2002 as part of the Town's splendid new structure for Muskoka Steamships & Discovery Centre. Languishing among the town's homeless, merciless sun damaged her constantly exposed decks. Sitting out-of-service did no favours for her interior or engine. Wanda III became a moored ornament of Muskoka Wharf rather than a gliding diva on the lake.
From spring 2001, when John Millar arrived on the scene as company president, to the present, "the challenge of preserving this one-of-a-kind historic artifact," he says, "has been daunting." Gary Getson, Muskoka Discovery Centre's results-oriented chair, resolved to replace fretting with constructive action. Now, bring up the stage lights on "sustainable heritage":
A striking new structure, alongside Muskoka Discovery Centre's existing red building, will be multi-purpose – starting with a 3,000 square foot wet slip for Wanda III. She'll be protected from weather, available for cruises, and serve as lead attraction of the new Stanley Meek Steam Era Exhibit. 
Rebuilding her 1915 equipment, ever since Wanda III's return to Muskoka Wharf, required finding skilled workmen who no longer exist to replace parts no longer being made. Persistence produced miracles, with both of those ferreted out and painstaking restoration completed.
For safety and environmental reason, Wanda III is now becoming a hybrid. Converted for electric propulsion, she'll operate as a zero-emission historic yacht in prime contemporary condition, yet the steam engine can operate for cruising to maintain the cherished sounds, atmosphere, and visual pleasures of Steam Era inventions and style. On June 21, Jack and Britt McIrvine boosted this electrification component of sustainable heritage by pledging $200,000 on a matching basis.
Unlocking the benefits of heritage treasures requires spending money. Meek, who for decades has been advancing Muskoka steamship tourism, and his wife Conchita, significantly fueled fundraising for the facility with $500,000 on a matching basis. Ottawa's Cultural Spaces program added $950,000. The Gordon Shaw Legacy Fund came through with another $300,000, the McGraw Family a further $100,000. With over 60 percent of the budget raised, Muskoka Discovery Centre is now appealing to the broad community – individuals, families, and national, regional, and local businesses – to reach the $3,850,000 required for this major new attraction to strengthening Muskoka's vacation economy and the wide spinoff benefits that entails.
With Wanda III as centrepiece, the Steam Era Exhibit highlights steamships because the throbbing engine rooms of Muskoka's steam age vessels remains a magnetic draw for mechanical enthusiasts across North America. However, presenting the full nature of the golden age of steam goes far beyond the boats.
The 5,000 squarefoot exhibit hall will contain world-standard interactive exhibits about the steam revolution's economic, social and cultural transformations and impacts on peoples' lives. As with Muskoka Discovery Centre's stunningly successful "Watershed Wonders" pavilion, these new exhibits will incorporate 3-D artifacts to engage, entertain, and educate. 
Especially compelling to advance Truth and Reconciliation is potential at the facility for an authentic portrayal of Indigenous culture, values and experience by First Nations to whom Muskoka is traditional territory of long standing.
The sustainable concept will be applied throughout – from the new structure's interior green wall to its 5,000 square foot "green roof" anchoring solar panels, offering visitors a pleasing lookout across Muskoka Bay, and serving as an educational venue for school children.

Together, Muskoka Discovery Centre and Wanda III are leading heritage tourism into the future.