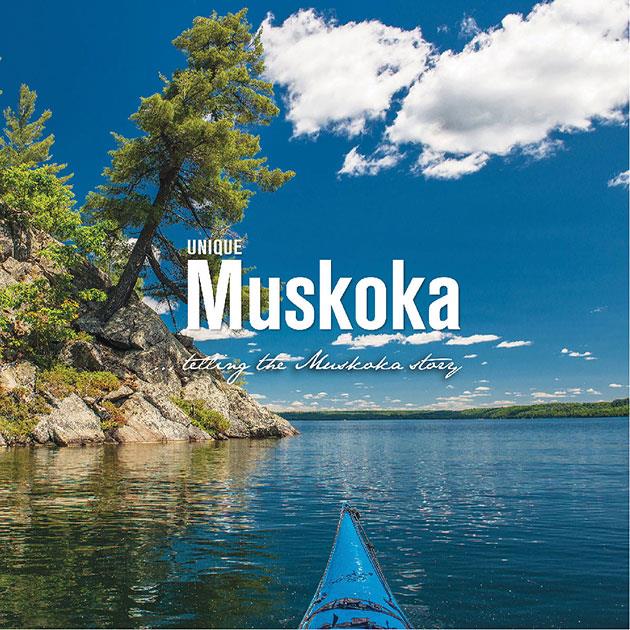 COTTAGE COUNTRY CUISINE
Article by Karen Wehrstein / Photography by Tomasz Szumski
One of Canada's greatest pastimes is winter survival: finding ways to alleviate the chill in the air, our bones and our hearts. Insofar as food is love, or at least something to love, there are a number of types of culinary coping mechanisms that can comfort us through to spring.
To approach them professionally, we will journey first to the popular Bala restaurant Moon River Lookout, home of Chef Ken Bol, who is co-owner with his wife Tiffany.
"It was built in 1944, and everyone who worked at Dunn's Pavilion – now The Kee – had meal tickets to get their meals, here," Bol recounts. "It was called the Sunset Restaurant, and we had all these ambitions to decorate with sunset images, but it was known as a biker bar, so we had to change the name." That was in 1999.
Bol's personal history starts in Rexdale, and he has cuisine in his blood.
"My father was a chef. But he said 'stay out of the kitchen, if you can.' He just didn't want me to work so hard while the managers out front got to dress up and mingle with people. So that's what I did."
From back-order cook at Pizza Nova, he got promoted to manager. School at Humber College didn't suit him; he quit after a week and a half and found a job as a manager at Pizza Hut.
"I did so well I was sent across Canada opening Pizza Hut restaurants before settling in Windsor," Bol reminisces. "The restaurant that was there was a Casey's, and I thought it was a cool environment." Now working with that chain, he journeyed on to the Yorkdale Casey's, where he met Tiffany. Together, they opened a 60-server Casey's on the Queensway, and operated it for two years.
Moving next to Hockley Valley Resort, Bol decided after 10 years of managing that it was time to cook, and took a culinary apprenticeship at $5 per hour and 80 hours a week for three years. "It was the best five bucks an hour I ever made," he says. "I'm a big fan of apprenticeship. You get so much more out of your trade and can be proud of it. I trained under some great chefs, and learned a lot."
By then, Tiffany's parents had retired to Muskoka. "We had come to visit and fell in love with the area," Bol recalls. "We were looking for a house, and everything was out of reach, down south, so we started looking up here."
In 1988, the couple made their move, and Bol's mother-in-law, who worked at the Royal Bank, put his name out around Bracebridge. "Everyone was looking for a chef," he says. The Old Station in Bracebridge snapped him up and he worked there for two years.
But the family was growing. "I was tired of working nights and weekends and getting laid off in winters. Tiffany's father was in construction, and I started doing some and quite enjoyed it." That led to the founding of his construction business Cedar Works of Muskoka, which operated from 1991 to 1997. It's not just the food at Moon River Lookout that is crafted by Bol, but also a lot of the woodwork.
The culinary world tempted him back when he drove past the Bala Bay Inn and saw the lights were off. "The people were taking offers to run the place. They accepted my proposal." He did that from 1996 to 2004, during which time he and his wife were able to purchase both the Sunset Restaurant and the Bala Falls Pub.
"We focused on those two restaurants, and were very successful," Bol recalls. "We sold the Bala Falls Pub last year, so that we can focus on Moon River and gourmet catering."
Bol's fondest culinary memory, though, goes back to his roots. "When my father was retired, he came and stayed with us in Bala and cooked some special buffets with me," he recalls. "That was the highlight of my cooking career."
In winter, Moon River Lookout serves more soups and stews, and "good old-school stick-to-the-ribs comfort food" like braised short ribs, an old English dish. "It's one of the go-tos," Bol says. "It's what you need on a cold day."
As dishes go, it's a forgiving one. "The only mistake you can make is to not let it braise enough. Sear the meat, lock in the flavours, then let it absorb everything that's in the recipe. People like it, it's easy to serve, easy to store."
The meat does indeed both fall off the bones and pick up the flavour of the vegetables and herbs, in a rich, tangy, full way. You'd never know the almost undetectable soupçon of sweetness comes from local blueberry wine, but it does. Rule of thumb: fats and oils are warming, and this dish is redolent with the latter. But, Bol enthuses, "olive oil is good for you!"
On Muskoka Road 118 between Glen Orchard and Port Carling sits Richwell's Muskoka Fine Foods, owned by chef Richard Bynoe.
His background is a bit different than that of most chefs. Bynoe was a North Bay base brat whose father worked for more than 32 years in a NORAD underground compound while also founding and running a martial arts school to teach unarmed combat and weapons defence to military personnel and police. Following the path taken by his father, Bynoe began martial arts, himself, at age seven. Still continuing his martial arts training, he moves around his kitchen fast and silently, blades flashing, a black-clad gourmet ninja.
"I was going to go into physiotherapy or something like that," Bynoe recounts. "But I had a summer job at this inn in Callander, and had to make an eight-foot gingerbread sleigh. And that was it." He was hooked on cuisine.
Starting as a dishwasher at Blue Mountain Resort, he did his apprenticeship there. Bynoe then attended Algonquin College, where he scored the second highest grade point average in the hospitality department. On graduation, he returned to Blue Mountain as a sous-chef, then moved to the restaurant North 44 in uptown Toronto.
"That was a culinary challenge," he says. "It was very fast-paced, very competitive, with lots to learn."
Next, Bynoe moved around southern Ontario, working as executive chef at Italian restaurants in Pickering and Brooklin, Ontario, and a Greek one in Markham. But he wanted to move further north. "I love nature, and not so many crazy drivers," he explains. He started in the same building he's in now, the eatery then named Rebecca's, until it closed in 2014. He then opened a seafood shop at Field of Greens in Port Carling. Dividing his time, he gradually shifted to Patterson-Kaye Lodge.
Then came his big opportunity. "My extended family loved my food and bought the building, so I could start this restaurant." Richwell's opened in 2017.
Bynoe's soul-warming meal derives from his background in Italian cuisine, being his spin on a traditional Lombard dish. "osso bucco with risotto alla Milanese" was first served at Richwell's as a Labour Day dinner special and will be a staple item on next season's Italian-inspired menu.
It is absolutely true when he says: "Everything about it is warm: the tomato, the other veggies, the colours, the richness of the cheese." The saffroned risotto and the copious olive oil are warm too, singing richly on the tongue.
In Italian cooking, Bynoe instructs, "you pay attention to the flavours of the ingredients you're using, and don't mask them with something else. Make sure all the flavours you're putting together are more like a symphony rather than a big gong."

Bon appetit and stay warm this winter.


Osso Buco with Risotto alla Milanese
Richard G. Bynoe, Richwell's
Osso Buco
Ingredients
6 (1 to1 1/2-inch-thick) pieces osso buco (veal shanks)
(about 4 pounds total)
Kosher salt and freshly ground
black pepper
1 cup all-purpose flour (5 ounces)
1/4 cup extra-virgin olive oil,
plus more if needed [use garlic oil]
1 Tablespoon unsalted butter
 (1/2 ounce)
1 large yellow onion,
1/2 inch cubes (12 ounces)
2 medium carrots, 1/2 inch cubes
(6 ounces)
1 celery stalk, 1/2 inch cubes
(4 ounces)
3 medium cloves garlic, minced
1 cup dry white wine
3/4 cup homemade or store-bought chicken stock
1 28-ounce can peeled whole tomatoes, seeded and drained, tomato flesh crushed by hand
3 fresh thyme sprigs
1 bay leaf
Lemon zest and chopped flat leaf parsley (gremolata) for garnish
Method
• Preheat oven to 325°F. Season veal shanks with salt and pepper. If you have butcher's twine, tie it around each shank to help hold their shape.
• In a large roasting pan, heat olive oil over medium-high heat. Working in batches, lightly dredge shanks in flour, shaking off excess, and add to roasting pan (be careful not to over-crowd them). • Lightly brown shanks on both sides for about 4 minutes per side. Lower heat as necessary to prevent flour from burning. • Transfer browned shanks to a platter and repeat with remaining shanks, adding more oil if pan becomes too dry.
• Add butter to roasting pan, along with onion, carrot, celery, and garlic. Cook, stirring, over medium-high heat until vegetables are softened and just starting to turn a light golden colour, about six minutes.
• Add wine, stock, and tomatoes to roasting pan, then place shanks on top, spaced evenly as possible. The liquid should nearly but not totally cover the shanks; if it doesn't, add more stock or water. Add thyme and bay leaf. Bring to a simmer.
• Cover roasting pan with plastic wrap then aluminum foil, and transfer to oven.
• Cook for two hours, then remove plastic and foil and cook for another 20 minutes.
• Remove from oven, let rest for 5-10 minutes then use tongs and a spatula to move shanks to a platter.
• Strain vegetables.
• Perfect the consistency of the sauce by reducing or by adding more stock.
• Add salt and pepper to taste.
• Use a ladle or sauce spoon to skim excess oil from the top and remove thyme sprigs and bay leaf.

• Spoon over shanks, and garish with zest and parsley.

Risotto

Ingredients
14 ounces risotto rice (about 2 cups), preferably carnaroli
4 cups homemade or store-bought chicken or vegetable stock, plus more as needed
3 Tablespoons extra-virgin olive oil
1 small yellow onion, minced (about 7 ounces)
1 cup dry white wine
2 generous pinches saffron (stamens)
Kosher salt
2 Tablespoons unsalted butter
1 1/2 ounces freshly grated Parmigiano-Reggiano cheese, plus more for serving
Method
• Combine rice and cold stock in a large bowl. Agitate rice with a whisk to release starch. Strain through a fine-mesh strainer set over a 2-quart liquid cup measure or large bowl. Allow to drain well, shaking rice as dry as possible. Set stock aside.
• Heat oil in a heavy 12-inch sauce pan over medium-high heat. Add rice and cook, stirring frequently until all liquid has evaporated and rice sizzles and takes on a nutty aroma, about 5 minutes.
• Add onion and continue to cook, stirring frequently, until aromatic, about 1 minute.
• Add wine and cook, stirring occasionally, until the pan is nearly dry, about 3 minutes.
• Add saffron, a large pinch of salt
and 1 cup stock and stir till absorbed.
• Continue adding the stock and stirring until 1 cup remains.
• Add that into rice with butter and stir constantly until butter has melted and rice is thick and creamy.
• Add more stock or water if risotto becomes too dry.
• Turn off heat, add cheese and stir rapidly to thoroughly incorporate.
• Season with salt. Serve immediately, with more cheese in a grinder for diners to use as desired. Serves six.

Wine pairing:  Sauvignon Blanc.
Chef's Tip
What!? Plastic wrap in the oven?

"Chefs have been doing this forever, "Bynoe reassures."  I've done it for 20 years.  Even at higher temperatures the plastic won't melt, just go hard around the edges."  The idea, of course, is to seal in moisture, but acidic ingredients such as tomato and lemon will eat away the foil unless the plastic is there.


Braised Short Ribs
Ken Bol, Moon River Lookout
Ingredients
4 lbs. beef short ribs (ask butcher to cut into 2" pieces)
11/2 cups olive oil
4 cups beef stock
2 large cans of plum tomatoes
2 cups Johnston's Blueberry Wine (available from Muskoka Lakes Farm and Winery near Bala)
3 Tbsp Kosher salt
3 Tbsp crushed black peppercorns
8 bay leaves
8 sprigs of thyme
8 sprigs of rosemary
1/2 cup chopped fresh garlic
1/2 bunch parsley
3 lbs. mini red potatoes
8 cups of coarsely chopped onion, celery, carrot and any other root vegetables you might like.
Method
You will need a large stock pot or roasting pan with a lid, able to hold 12 litres.
• Preheat oven to 275° F.
• On stove top, heat oil to very hot and sear the short ribs on all sides until golden brown.
• Remove from pot and cut into two-rib portions.
• Return to pot with beef stock, tomatoes, blueberry wine and all spices. Stir well, cover and put in the oven. (If you don't have a lid, cover tightly with tin foil.)
• After one hour, add in the potatoes and other vegetables. Remove after 1½ to 2 hours, checking to see that the meat is super-tender and falling off the bone.
• Check seasoning and add more salt and pepper, if necessary, to taste.
• Serve with a chunk of crusty baguette and blueberry wine.
Serves eight.
Chef's tips
Other root vegetables you might like: "hardier squashes such as butternut, celeriac bulbs, parsnips, yellow beets, rutabaga…"
 "Blueberry wine sweetens over the years." Sock some away now.