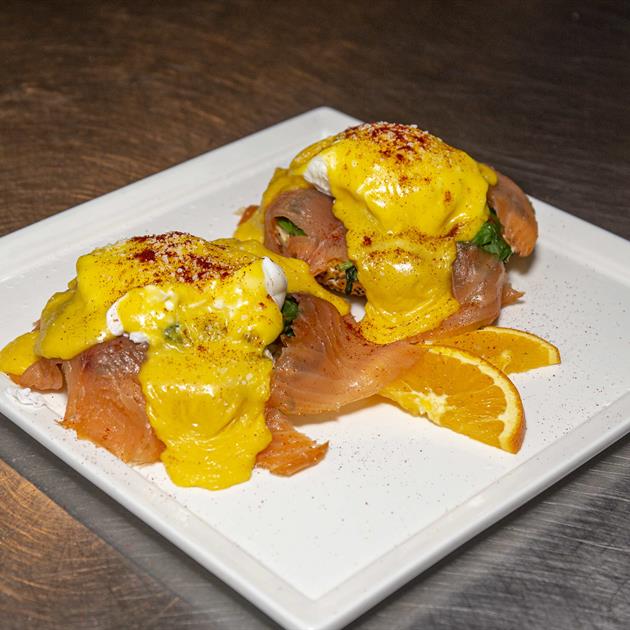 COTTAGE COUNTRY CUISINE
Article by Karen Wehrstein / Photography by Tomasz Szumski
The first meal of the day is arguably the most important, getting you started off nutritionally and emotionally. And, oh, there are some fine ones available in Muskoka, from the sublimely simple to the exquisite haute cuisine. Swig your coffee and off we go, from south to north.
We'll start at Bethune's Bistro in downtown Gravenhurst, a modest and homey but historic establishment. Locals say it was a restaurant at the start of the 20th century. According to its current owners, in the 40s, it was Vincent's and Muskoka Coffee Shop, in the 50s and 60s it was the Steak & Pasta House, then Basil's, then Uptown. Current owners Bei Bei and her son, Zan Xu, gave it its current name, in honour of the Gravenhurst native revered by the Chinese, Dr. Norman Bethune. They celebrated their first anniversary by offering all dishes at 1940s prices, such as Salisbury steak for 65 cents.
Originally from Shanghai, the family moved to Canada 30 years ago, when Zan Xu was seven. Bei owned a series of restaurants in and around Toronto, and cooked multiple cuisines including Greek as well as her native recipes. In 2014, mother and son were tipped off by a meat supplier about the amount of bacon ordered by a small restaurant in Gravenhurst, and, seeing the potential, they bought it.
"We didn't know why such a little town was so busy in the summer," says Xu. "We opened right after Labour Day, thinking we'd pace things." They received their baptism of fire from the crowds coming to enjoy the fall colours.
"I'm in Canada for 30 years," says Bei, "And it was first time I feel I'm home. In Mississauga, no one says 'hi.' Here, everybody knows everybody." Once, when her aged mother wandered onto the railway tracks, an anonymous saviour, who clearly knew who she was, steered her back to the restaurant, requiring no thanks.
Bei's cooking philosophy is simple: keep it simple and keep the price down. People who don't own 3,000-square-foot cottages will be able to afford breakfast here, and can have it all day. The Bistro opens 7:30 a.m. all year and closes at 8 p.m. for the summer, closing times varying in winter. Classic breakfasts like eggs and bacon dominate the menu, but it wanders a bit with Eggs Florentine, Hawaiian omelet and Greek omelet, the item for which Bei gave us her recipe. It grew, of course, out of the Greek influence on her cooking.
This is one of those dishes in which seasoning is minimal, allowing the natural flavours of the ingredients to create a mélange that is actually quite delicate. Don't coat it with salt and/or pepper before you dig in, even if that's what you always do, because you'll want to taste how beautifully eggs, tomatoes, Spanish onions and just a few olive slices combine.
When cooking it, follow Bei Bei's example: "The best recipe for cooking is passion. You cook for someone you love."
Next, we head up to downtown Bracebridge and the Main St. Delicatessen, founded in 2013 by Jovan and Paul Milidoni. It opens at 9 a.m. on Saturdays and Sundays for brunches with a menu that goes well beyond the traditional. Weekdays, the deli opens at 11 a.m.
The couple combines four ethnicities in their immediate ancestries: Jovan's father was Israeli and her mother was Spanish, while Paul's parents were Italian and Ukrainian. Husband and wife were both classically trained, starting at George Brown in Toronto.
"We met almost 13 years ago," Jovan reminisces. "I said 'I want to open a restaurant,' but he was against, he'd owned one previously. I said 'Let's open up a deli, that's all I want.' He said 'If it means I get to marry you, fine'."
Exhausted mentally and physically by working with a major Toronto catering company, the couple was also searching for a better life. "He said, 'I know a real estate agent in Bracebridge, let's go for a drive'," Jovan recalls. "He took me to Bracebridge, we circled the town and he asked me 'Could you live here?'"
Her answer was "yes," so the Milidonis made the move in 2013, gutting the previous location with the help of her father, a contractor. In April of last year, they moved to their current Manitoba St. location, an historic building they have renovated in the spirit of the time, with a modestly-elegant red and black colour scheme.
Since I'm writing about Muskoka breakfasts, they're sharing a key component of their recipe for "The Muskokan," a popular breakfast item, building on Eggs Benedict/Florentine. It uses a garlic/onion-enhanced bagel as the base, smoked salmon for the meat, and adds goat cheese and caramelized onions to the traditional poached eggs with Hollandaise sauce and spinach. A garnish of orange slices completes the presentation. "It's a dish you want to enjoy in Muskoka, because there's water all around, and that makes you crave fish," says Jovan; hence the name.
"Layering flavours – that's what it's all about," enthuses Jovan. I see what she means when I take a bite. The multifarious flavours match brilliantly, creating a delicious riot on your taste buds, the super-rich Hollandaise adding decadence without heaviness.
Cooking, she says, is a business you have to love, feel and be passionate about. "You have to live and breathe food. I love it. There's nothing else I'd rather be doing than cooking."
Paul throws his ingredient into the conversation: "It's all art."
The final leg of our breakfast tour brings us to Eclipse, the most upscale restaurant at Deerhurst Resort, near Huntsville. It offers brunch every day, including a not-to-be-missed enhanced one on Sundays. In charge of it is Hayley Ness, the resort's Chef de Cuisine of Banquets.
Born in Toronto, Ness started working in kitchens at the young age of 16 – then attended George Brown in her late teens, heading to Humber in her 20s. Now she's just one final exam away from earning her Culinary Chef du Cuisine certification. Her resume is star-studded with establishments such as the Royal York Hotel, Toronto Congress Centre, International Centre, The Four Seasons Centre for the Arts, The Sony Centre, Evergreen Brickworks and Hilton Hotels and Resorts, and the Plaza Hotel in New York City.
Ness was drawn to Muskoka partly for the love of her husband-to-be, Chad Beattie, who she met here – and partly for having always loved the area.
"Huntsville is such a beautiful, peaceful place," she says. Naturally, she felt Deerhurst was the place to work, and landed her job two and a half years ago. To give back to the community, she donates her time and expertise every month to local food banks.
Because we simply cannot do breakfasts as a theme without including maple syrup somewhere, Ness has shared her recipe for Deerhurst Maple Glazed Cedar Planked Salmon, which features prominently in the aforementioned Sunday brunch.
Cedar-planked salmon is an Eclipse tradition, she says.
"I just wanted to change the recipe to be something that inspired me. I'm always trying to develop recipes and make them better." She likes to marinate fish overnight, and the triple-citrus marinade she uses features maple syrup tapped from Deerhurst's own sugarbush.
The lengthy marination fills the melt-in-your-mouth salmon with the marinade's complex mix of flavours. The whole presentation is as Ness likes to make them, "colourful and beautiful" with the multicoloured cherry tomatoes, red onions and living green sprouts on top. Delicious hardly begins to describe the full effect.
Why does she use pink peppercorns instead of black? "I find the pink to be a lot brighter in flavour," Ness explains. "They're both very earthy but the black peppercorn is a little bit sharper and a little bit more earthy. If you crack black ones, it's too strong."
P.S.: Cottage Country Cuisine aficionados might recall a recipe in the May 2017 Unique Muskoka for Canada 150 Breakfast Poutine, by then Deerhurst Executive Chef David Bakker – a totally outside-the-box concoction of "fries" made of slivers of French toast, "cheese" made of fresh berries and whipped cream, and maple-cream "gravy". Well, guess what: three years later, this throw-your-diet-right-out-the-window breakfast, lovingly created for a national anniversary, is still on the Eclipse menu. (And in our archive at uniquemuskoka.com if you want to make it yourself.) Chef's tip from this one, for old times' sake: when tossing your French toast in cinnamon sugar, add a soupçon of salt.
Ah, breakfast. Homey or gourmet, savoury or sweet, it tastes best in Muskoka.


Greek Omelette
Bei Bei, Bethune's Bistro
Ingredients
3 eggs
10 grams (2 Tbsp, measured sliced)
black olives, diced
30 grams (6 tsp) tomatoes, diced
20 grams (4 Tbsp) Spanish onions,  
diced
30 grams (6 tsp) feta cheese
Salt & pepper to taste
1-2 Tbsp olive oil
(enough to coat your frying pan)
Method
• Beat eggs together with other ingredients, except the feta cheese, vigorously until mixture is light and fluffy.
• Coat frying pan surface with oil, place on medium heat.
• When it is hot, add mixture.
• When bottom is solid, flip. Add feta. • When whole omelette is solid, fold in half with cheese inside.
• Serve with home fries (diced potatoes fried in bacon fat, sprinkled with seasoning salt to taste) and toast.
Serves one.
Hollandaise Sauce
Jovan Milidoni, Main St. Delicatessen
Ingredients
1/4 cup unsalted butter
2 eggs 
salt 
Method 
• Separate eggs and place yolks in a medium mixing bowl. Be sure not to include any egg whites. 
• In a small saucepan, slowly melt butter.
• While whisking the egg yolks rapidly, slowly drizzle in butter, in a steady stream (sauce should double in volume).
• Season with a pinch of salt.
Warning: yes, this recipe is ridiculously simple, but don't try it without reading the…
Chef's Tips
It's very tricky, Milidoni cautions, as multiple things can go wrong.
Using a clean stainless steel bowl to mix the sauce is ideal.
Even a drop of egg white will destroy the sauce; it won't thicken.
For a full-flavoured deep Hollandaise, melt the butter until it starts to smell nutty, and small bubbles and brown bits start to appear. Take it a bit too far and you have burnt Hollandaise, with a bitter flavour.
When adding the butter to the yolks, it needs to be a nice steady stream, not too fast, not too slow. It's a two-person job, or you can use a cloth to grip the bowl in your other arm. Whisk vigorously: too fast or too slow will make the mixture separate. Don't stop until all the butter is in. The butter is actually cooking the egg yolks.
Hollandaise is one of the five "mother sauces" in French cuisine, meaning you can add any flavour to it. Lemon juice is standard, but also try: smoked paprika, fresh dill, sriracha to Thai it up, cilantro to Mex it up, etc.
Adding tarragon, shallots and red wine makes it into a Béarnaise sauce, which goes well with roast beef, e.g. on roast beef sandwich with arugula.
Try Hollandaise on: poached salmon or trout; shrimp or other seafood; any fish grilled; asparagus (add a little lemon to the sauce and grate some Parmesan on top)

Try it as a fondue: keep Hollandaise nice and warm, and dip cooked veggies into it: pearl onions, mini Yukon Gold potatoes, braised Brussels sprouts, cherry tomatoes, mini portabello or cremini mushrooms... wine pairing, ice-cold Rielsing.  (Note: Here Jovan was riffing...!  You could be the first to actually try this.)
Deerhurst Maple Glazed Cedar Planked Salmon
Hayley Ness, Eclipse, Deerhurst Resort
Preparation Time: 30 minutes day before, 1:20 on day of serving
Ingredients
1 side of Atlantic salmon: 3-4 lbs.
deboned, cut into 2.5 oz. portions
1 cup maple syrup
½ cup smooth Dijon mustard
¾ cup orange juice
¾ cup lemon juice
Zest and  juice of 1 lime
2 Tbsp pink peppercorns cracked in
half
2 Tbsp kosher salt
6 Tbsp vegetable oil
1 bulb fennel
1 pint heirloom cherry tomatoes
¼ red onion
½ bunch (a little more than you'd get
in a package from a store) chives, finely
sliced
1 container of pea tendrils trimmed from soil (if unavailable, any other living sprout can substitute; she gets hers from Four Seasons Greens)
Salt and fresh-ground black pepper
Method
• Remove the skin from the side of salmon, then cut the salmon straight down the centre and then portion horizontally into 2½ oz. portions and put into a 2-inch deep baking dish.
• Put orange juice, ½ cup of the lemon juice, lime juice, zest and pink peppercorns into a pot and bring to a boil and then lower heat to reduce marinade by half. Once reduced by half, cool to room temperature and then whisk in maple syrup.
• Put Dijon mustard in a mixing bowl and whisk in the maple and citrus reduction. Then using a pastry brush coat the salmon with the marinade and marinate overnight in the fridge.
• The next day soak the cedar planks for one hour and pull the salmon in the marinade out of the fridge. We soak it for an hour so it absorbs water then treat it with vegetable oil.
• Preheat the oven to 425 F and put the salmon pieces on the cedar planks, spacing them 1 inch apart from each other.
• Cut off the top of the fennel bulb and then cut the bulb into quarters. Cut out the core of each piece and then julienne the bulb. Cut the cherry tomatoes in half and julienne the red onion.
• Heat 2 Tbsp oil in a frying pan on high heat and then sauté fennel for 2 minutes to soften slightly. Add red onion and sauté another 2 minutes. Add cherry tomatoes, the remaining ¼ cup of lemon juice, and salt and pepper to taste. Sauté 1 minute. Remove into a bowl and keep warm.
• Place portions of salmon on planks onto a baking sheet, season with kosher salt and place into the centre of the oven for 9-10 minutes until fully cooked. (Know your oven: if it's not fully cooked in 10 minutes, put it back in for another four.) Remove from oven and top with the fennel salsa, then the cut chives, then the trimmed pea tendrils. Serve and enjoy!
Serves 10-12.
Chef's Tips: Cedar Planking
So why bother placing a dish on a cedar plank to bake it, rather than just a pan?
"The cedar infuses the cedar flavour into the baked dish," says Ness. "As it sits in marinade, it absorbs, so some of the cedar flavour is absorbed into the dish."
Your plank should be about 6 inches wide. You can just hit a lumber store department and buy lengths of 1 x 6 cedar: just make sure it's 100 per cent natural, not pressure-treated or otherwise chemically altered.
At home, sand the plank smooth, then season it with olive oil.
Always soak the plank for an hour before using it; that way the wood is moist and so produces more of the cedar flavour.
After use, thoroughly wash and disinfect the plank. It's dishwasher safe. 

Treat it with oil occasionally.  Cared for properly, your plank will last for a couple of years.