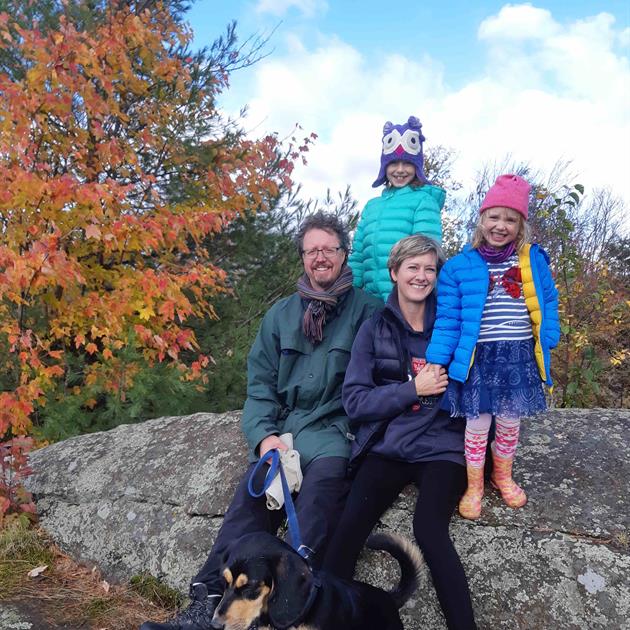 EXPERIMENTS INSPIRE AUTHOR'S CREATIVE WRITING
Adam Dickinson has spent his career exploring the intersection of the literary and scientific worlds.
It's a place few authors venture but it's one that's provided unexpected dividends for the Bracebridge born and raised Dickinson.
The author of four books of poetry, Dickinson is also a creative writing professor at Brock University. His work has been nominated for multiple awards including the Governor General's Award for Poetry. He's also been a finalist for the CBC Poetry Prize and his work has been translated into Chinese, Dutch, Norwegian and Polish.
On May 1 Dickinson will be back in Bracebridge to take part in the Canadian Federation of University Women (CFUW) Author's Night at the Rene Caisse Theatre. In addition to fielding questions from the audience, Dickinson will be discussing his latest book Anatomic.
The poems of Anatomic emerged from biomonitoring and microbiome testing Dickinson conducted on himself in a laboratory. Dickinson drew blood, collected urine and swabbed bacteria to measure the precise chemical and microbial diversity of his body.
"We write our environment but our environment also writes us," says Dickinson. "I'm interested in my metabolism but I'm also interested in global metabolism."
Dickinson's work led him to discover that the "petro-culture" has become a part of our being in the form of pesticides, flame retardants and other substances. Structured like the hormones some of these synthetic chemicals mimic in our bodies, the poems in Anatomic link aspects of Dickinson's life like diet, lifestyle and geography with historical details such as spills, poisonings and military applications to show how permeable our bodies are to the environment.
For his next work, Dickinson has been studying the effects of heat on the human body and its ability to create art.
"I wanted to find out what you can do with heat and how to write with heat," he says. "To do that, we did lab work which heated up my body temperature by 1.5 degrees Celsius."
To raise his temperature, Dickinson conducted a series of experiments. Monitored in a laboratory, Dickinson wore a suit with piped in hot water and covered himself with a thermal blanket heating himself up slowly over five hours. In another experiment Dickinson would ride a stationary bike for an hour in high heat and humidity while his heart rate and blood pressure were monitored.
Although the testing was not dangerous due to the controlled environment, Dickinson says it was rather uncomfortable.
"I couldn't wait for it to be over," he says. "There's a feeling of confinement and panic that comes with it."
Dickinson says it took him a full day to recover from the experiments, during which time he worked on his poetry as he had also done during the study.
"When I was on the bike I would exercise for 20 minutes and then write for 15 minutes. Then I wrote immediately after and I'm still writing," he says. "I wanted to see what physiological and cognitive changes would occur."
Dickinson says the results were fascinating and he was actually quite pleased with the material he produced during the experiment.
He says his work is also a study of the effects of climate change on the world's population generally.
"We are now living in a warmer world and I'm interested in what effect that will have on us," says Dickinson. "There is a limit to the temperature that humans can live in and we're already reaching it in some places."
Dickinson comes by his love of all things scientific naturally.  Both of his parents were teachers at Bracebridge and Muskoka Lakes Secondary School, and his father helped with environmental research for the University of Toronto.
"He was involved in the early tracking of Monarch butterflies and some of my earliest memories are of catching the butterflies for his research," says Dickinson. "We did a lot of camping and canoeing growing up in Muskoka. We would actually travel through central Ontario as a family, teaching canoe safety lessons. We would tip the canoe and my parents would come out and save us. I think we were essentially paid in free camping but we had a lot of fun."
Wendee Cameron of the CFUW has known Adam Dickinson and his family since he was about five years old.
"He's very passionate about Muskoka and his research is fascinating," says Cameron. "I think it's very interesting that he's flipped this whole idea around. He's not so much looking at what we're doing to our environment as what our environment is doing to us."
This will be the 22nd year that the CFUW has hosted an Author's Night in Muskoka and they're encouraging all members of the general public to come out and join them.
"I'm not really a big poetry reader but the way he puts it is so fascinating," says Cameron. "He takes science and art and he's able to approach them from a completely different angle." 

Tickets are available at the Renee Caisse box office and online.