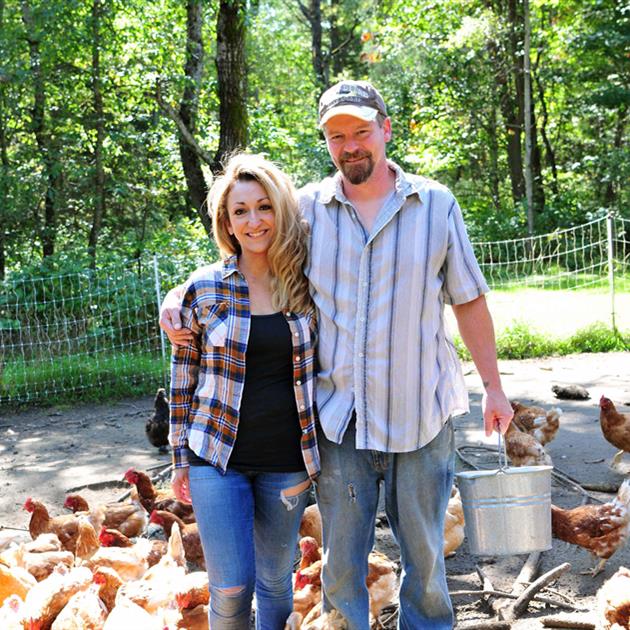 TAKING A GAMBLE ON EGGS
Article by Karen Wehrstein / Photography by Heather Douglas

Taking a chance on raising farm fresh eggs has paid off for Alexandra and Dan Gamble.
Four years ago, the couple was operating a printing and display business in Queensville. They recognized they were in a declining industry and, as outdoors-loving people, they dreamed of moving to Muskoka. When she was a child, Alexandra's family had owned a cottage on Harp Lake near Huntsville.
Opportunity knocked in the form of a humble breakfast staple in every Canadian household.
"We had some chickens at our old place, started selling the eggs, and they went really well," Alexandra recalls. "We realized there's a market for farm fresh eggs." Being experienced entrepreneurs, they did their research, wrote a business plan and carefully chose a 10-acre, mostly-forested lot on South Mary Lake Road in the village of Port Sydney.
"It's flat, had two cleared acres, had the house and all the outbuildings that we needed to get started, and was within good proximity to schools," says the mother of one son, Jackson, aged eight. One outbuilding was perfect for a chicken coop, the other for a packaging shop.
So, three years ago, the family made its move and the Gamble Farm was born.
All wasn't easy at first, especially since part of the plan was to grow vegetables.
"We soon realized it's very difficult, with the short season, bugs and poor soil," Alexandra explains. However, when the Gambles introduced their eggs into a couple of local stores, they started to sell very well. "It just kind of took off."
Now the family has 100 heritage-breed laying hens on-site as well as satellite flocks at other farms in Muskoka, and Gamble Farm eggs are sold all the way along the Highway 11/400 corridor from Novar to Toronto, including larger communities such as Orillia, Barrie, Bradford and Newmarket. The Toronto business originated with Torontonian cottagers who, after becoming familiar with the Gamble brand during their Muskoka sojourns, asked where they could get them in the big city.
Muskoka stores that stock them are too many to list – check the farm's website – but include both health-food stores and supermarkets. Gamble eggs are also used by chefs at Riverwalk in Bracebridge, Bartlett Lodge in Algonquin Park, Muskoka Lakes Golf Course and Windermere House.
During the summer, you can buy eggs and other products right at the farm store, Wednesday through Sunday, 10 a.m. to 6 p.m., from June (check the website for the exact date) until Labour Day. You can also get the vegetables that the Gambles have managed to grow by enriching their veggie garden's soil: tomatoes, cucumbers, garlic, beets, carrots, onions, potatoes, lettuce, radishes, hot and sweet peppers, sweet corn, squash, kale, spinach, peas, beans, and various herbs. You can get meat they've raised. You can also purchase goods from other local farms such as ice cream, honey, maple syrup, berries in season, preserves, and more. As well as regular eggs, the Gambles sell duck and quail eggs.
Eggs are collected from the chicken coop daily, then sorted by size, handled for abnormalities and washed. They are shipped to all stores weekly in rented refrigerated trucks, though that will change when the Gambles purchase their own refrigerated truck in the near future, saving money and expanding their market geographically.
Doing all this work are Alexandra and Dan, themselves, plus two part-time employees in winter and three in summer. "One of the employees is my mother," Alexandra says, appreciatively. "She's been a massive help to this business. She came and worked for us for free until I could afford to pay her. When family steps up and does that because they believe in you and your business, it's pretty amazing."
Another family member who steps up is eight-year-old Jackson.
"If there's something he wants to do, we set it up for him," says his proud mom. "He had a pet duck over the summer, and he collects eggs."
The Gambles' farming philosophy is natural permaculture: avoiding chemicals and going sustainable by making the farm its own micro-ecosystem, as farmers have done since time immemorial.
"We're not certified organic as it's so much red tape," Alexandra notes. "For instance, to be certified, I couldn't feed the birds the left-over vegetable matter. We've opted out at this point. But we don't use pesticides or fertilizers, and our feed is non-GMO and certified organic."
Soil is enriched with composted manure from the chickens and other farm animals. Leftover vegetable matter and garden waste is fed to the birds, which also aid in garden pest control during the growing season. The forest surrounding the farm provides habitat for birds, bats, bees and other insects that benefit both crops and livestock.
Chickens are raised free-run, giving the eggs that free-run colour and flavour, and the Gambles plan soon to add hogs. "They root up old gardens and their manure helps in the soil," Alexandra explains. "If you can create this system where everything feeds off each other, especially on a small scale, that's how you can make it affordable and sustainable." Yes, they plan to sell pork.
The fact that husband and wife both have strong business backgrounds has been invaluable to their success, she says.
"We knew how to market our product, about retail and profit margins and all of that stuff. Small-scale farming is sustainable but, as well as understanding farming, you have to be business-minded. We keep really tight records, which give us a big picture of which aspect of the farm makes money and which is about feeding back into it, so we can evaluate what we want to do and what we don't want to do. Without really intricate record-keeping, it's a bit of a crapshoot."
The Gambles support local food security charities by donating portions of their sales proceeds on a quarterly basis. "There's a special label on the eggs," Alexandra explains. "We've had a huge amount of support in Muskoka, as the stores will buy extra and make them more visible, and media coverage helps." The beneficiaries are The Table soup kitchen and food bank in Huntsville, and the Manna Food Bank in Bracebridge. Future charitable plans include designating part of their property a community garden, where food can be grown and donated to people in need.
What else is next for the Gamble clan?
"We are looking at continuing to grow our business, work with other farms with our satellite flocks," Alexandra says. "The more we can grow the brand and work with other local farms, the more people we can employ. It's building the business in Muskoka."
Once used to indoor work environments, how do she and Dan like their new lifestyle?
"It's very labour intensive. It's not a 9 to 5 type of job," Alexandra muses. "There are ebbs and flows to it. During the slower months, you have time to reflect and plan, but from April to September, I can't even formulate a sentence. You're working from sun up to sun down during busy season." That includes a lot of time doing management and planning. 

But overall they are happy.  "We love it and wouldn't have it any other way," she enthuses.