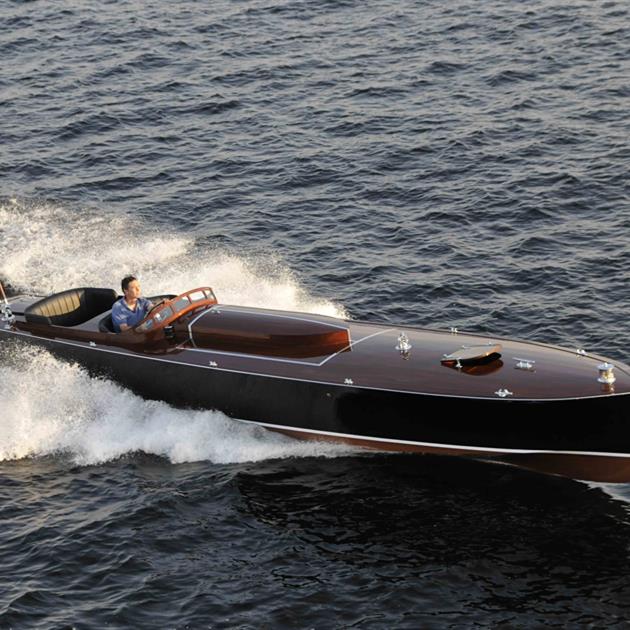 DESIGNS AND DREAMS MADE FROM WOOD
Article and Photography by Tim Du Vernet
Since the days of the Egyptians and Vikings, boat design has challenged builders for over 4,000 years.
In Muskoka, lakes and rivers have offered recreational and commercial opportunities for generations of boat builders. The rowboats of Muskoka weren't quite the longboats of the Vikings but they were certainly essential in the early days of water travel.
Ditchburn's earliest rowboats came out the top floor window of their first facility in Rosseau. All the boat builders of Port Carling built rowboats that were fairly similar. They were ribbed with lapstrake construction, and the seats further supported the hull.
A 14-foot rowboat is easily rowed by one person while the 16-foot or 18-foot length could be rowed by two people. They are very seaworthy and could be rowed quite comfortably at a moderate speed across the lake. Installing a small single or two-cylinder engine into a rowboat created a Dispro, of which several thousand were eventually built, beginning in 1915, in Port Carling.
It is certainly more comfortable and usually convenient to travel in shelter and with a power source. The first engines were external combustion steam or naphtha powered. This technology evolved to common use and there are many examples of the early steam launches still operating on the lakes.
Many were converted to gasoline and now electric engines are becoming a popular alternative for cabin launches. From a modern context, these boats look quaint, slow and primitive. Before there was much of a boat building industry in Muskoka, the earliest cabin launches were brought to the region via rail. This is why so many of them are very narrow for their length. They were limited by the width of the tunnels and rail system.
Early launches were pointed at both ends and often mirrored hull designs of sailboats. They look ever so dramatic with a transom that seems to disappear into the water. There is a period elegance and fluidity to design that is ever appealing.
Lightning, a custom-built race boat based on turn-of-the-century styles, is a particularly good example of this. She was built by Greavette Boats for Cameron Peck, whose summer cottage was on Lake of Bays. She is now in a private collection in the United States. This hull was a replica built specifically to be powered by an early Standard Engine.
Water transportation was critical to the development of Muskoka and served as the earliest highways of the region. When internal combustion engines became commonplace and effective in different sizes and power, the design of wooden boats really took off. Hotel livery boats, service launches and the Muskoka steamships were the working vessels of the lakes.
Many of the livery boats continue to run in private collections, now. They were relatively simple craft, built with steamed ribs, moderate horsepower and lots of seating. With knife-edged cutwaters, they offered a smooth and elegant ride. These early displacement hulls travelled through the water and depended on hull length for speed and stability.
Engine power matured to the point where boats could travel at entertaining speeds, enough for racing and competition. Motorboat racing in Muskoka became quite competitive and circuit races were established in Foot's Bay, Port Carling and Gravenhurst, in particular. Some of the biggest names in Canadian motorboat racing history got their start in Muskoka. Greavette Boats, Minett-Shields and Ditchburn built sport runabouts and internationally competitive challengers. Harry Greening, Harold Wilson and Chas. Wheaton are names that have been well documented on race ledgers.
At one point in Muskoka, well before the days of personal watercraft, the little sea flea was a common sight. Easily made by a father and son team from a sheet of plywood, this little craft could skim across the water with a mere 10 horsepower engine on the transom. If sponsons were added, they became a three-point hydroplane. Add a racing version of a 35 horsepower Mercury outboard and you've got some real speed. These little boats would go well over 60 mph. Hit a decent wave and you'd have even more fun.
The sea flea is still well loved in Muskoka, especially by the Muskoka Sea Flea Club that continues the passion with an annual gathering and an active website. Check out their website for more details about the event.
It takes a great hull design and a powerful engine to make a boat go fast. Nautical engineers and boat builders quickly discovered strategies that reduced the wetted surface of the hull allowing a boat to go faster over the water, rather than having to plow through it.
The Americans John Hacker and George Crouch were considered to be the best naval engineers of the 1920s and into the 1930s, when boat racing was gathering speed. Many of the designs of the sport runabouts in Muskoka followed the themes of these American engineers. Rainbow 1, designed by Crouch and built by Ditchburn in the early 1920s, was considered the ultimate gentleman's sport boat. It could win races one day and be cruising the next.
A few years later, Ditchburn used steps in their "Viking" hulled boats to increase speed. Harry Greening pushed the concept of steps in another direction, by constructing a "lap strake" boat, with the laps running horizontally, rather than lengthwise. His race winning Rainbow IV was disqualified, because the rules prohibited "steps" and the laps were seen as a variation of a stepped hull.
By the 1930s, boats were designed that could rise up on the water by planing and running on sponsons or similar strategies. Minett-Shields was licensed to build Ventnor sponson racers. These competed at the Duke of York races in England among other venues. The famous Canadian bandleader, Guy Lombardo, drove a U.S. built Ventnor hull to the checkered flag. Shadow II, a Minett-Shields built Ventnor, originally owned by Chas Wheaton is still on Lake Joseph and powered by a big Hispano-Suiza aircraft engine. The Miss Canada III, considered one of the best handling race boats of her era, lifted up on "knuckles" that flared from the hull to gain her speed.
Not everything was about speed. For everyday boaters, who needed space and comfort more than speed, the boat builders of Port Carling and Gravenhurst built utility boats up until the mid 1950s. It was only until the last versions of the V-8 powered Duke utilities of the early 1960s that frames were used. Steam bent ribbed construction was still going strong in the Playmate, the Sea Bird and Greavette utilities. Boats with ribbed construction tend to flex more and provide a more compliant ride.
This design cannot handle much power as a result and the utilities were quickly outmatched by fibreglass boats of the 1960s. The Duke Playmate is like the VW Bug of the water. The design was little more than a squared-off rowboat with a small four-cycle engine installed. With some minor variations, from centre drive to forward drive, this design lasted many decades in construction.
Greavette transitioned to modern planing hull designs with their plywood "Flash" inboard/outboards. They are still considered to be fine riding boats with good performance and a bit of style from the wood materials.
In most industries, such as the automobile industry, the lowest end of the spectrum will benefit from a trickle-down of technology from the most sophisticated models. In Muskoka, where numbers of boats built was quite small by comparison, design features were quite uniform. Again, due to the small numbers, many of the boats in Muskoka were custom orders, with features specifically requested by the intended owners.
Greavette attempted to build and market a "production" boat in the early 1930s by partnering with Dart boats from the U.S. A few examples exist but the concept wouldn't float.
The custom nature of many boats of Muskoka also meant they were not necessarily better designed than their U.S. counterparts, but were better built and finished. The outstanding craftsmanship of Minett and Ditchburn boats, that was consistently superior to the U.S. built counterparts, was a key characteristic that helped maintain their allure.
While many Muskoka designs, such as the 18 to 21 foot sport runabouts, can be attributed to John Hacker, others were created from the hands of Muskoka boat builders by more ancient methods. A half-hull model is shaped according to the eye of the builder. Based on little or no science and instead coming from experience and experimentation, the full-scale version would be built. A few of these half-hull models still exist. The Port Carling library has a half hull of Miss Muskoka, built by John Matheson and a half-hull model served Gary Clark as a starting point in the reconstruction of Rainbow I.
The boat building industry did benefit hugely from developments in automobiles and even aircraft power. Stylistic trends in wooden and fibreglass boats followed those of the auto industry and many of the chrome fittings mimicked auto-mobiles. When fibreglass boats really took hold in the 1960s, streamlining was all the rage. Automobiles with fins and jet taillights were in vogue. This carried over to boats as well. Looking cute and dated, these features have a nostalgic charm from a modern eye.
Many of the engines powering boats were nautical conversions of auto-based engines. Race boats benefitted from progress in aircraft power, when large numbers of light and powerful engines were needed for airplanes in the First World War and Second World War. A surplus of these engines was available at the end of the wars and they were modified for use in race boats. In fact, when these boats start up, they sound like vintage aircraft, with the clatter of valves and drumming pistons. By the 1940s, the Allison V1710, a favourite racing engine, was designed to generate 1,000 horsepower.
The history of wooden boating in Muskoka connects developments in technology, commerce and culture. This lakeland paradise transitioned from a landlocked hinterland where human powered craft and simple launches were the only option to a summer recreation experience with booming shoreline industries involved in building boats and summer palaces.
The wooden boat industry in Muskoka still thrives but at a much reduced scale. New boats, reconstructions and restorations emerge from the shops in Gravenhurst, Port Carling and Bracebridge every year. Butson Boats continues generations of boat building tradition. Gary Clark and Paul Brackley in Gravenhurst restore all manner of craft. Mike Windsor runs a shop in Gravenhurst and he specializes in computer designing of boats. Stan Hunter in Milford Bay also restores a variety of wooden boats, perhaps specializing in cost-effective repairs of utilities.
So the craft is very much alive and, no, they don't build them like they used to, just better. New materials for bonding, better machinery, computerization, extensive experience and history to draw from, the skills and techniques have never been better. As long as the passion for wooden boats continues, the skills are there to support it.