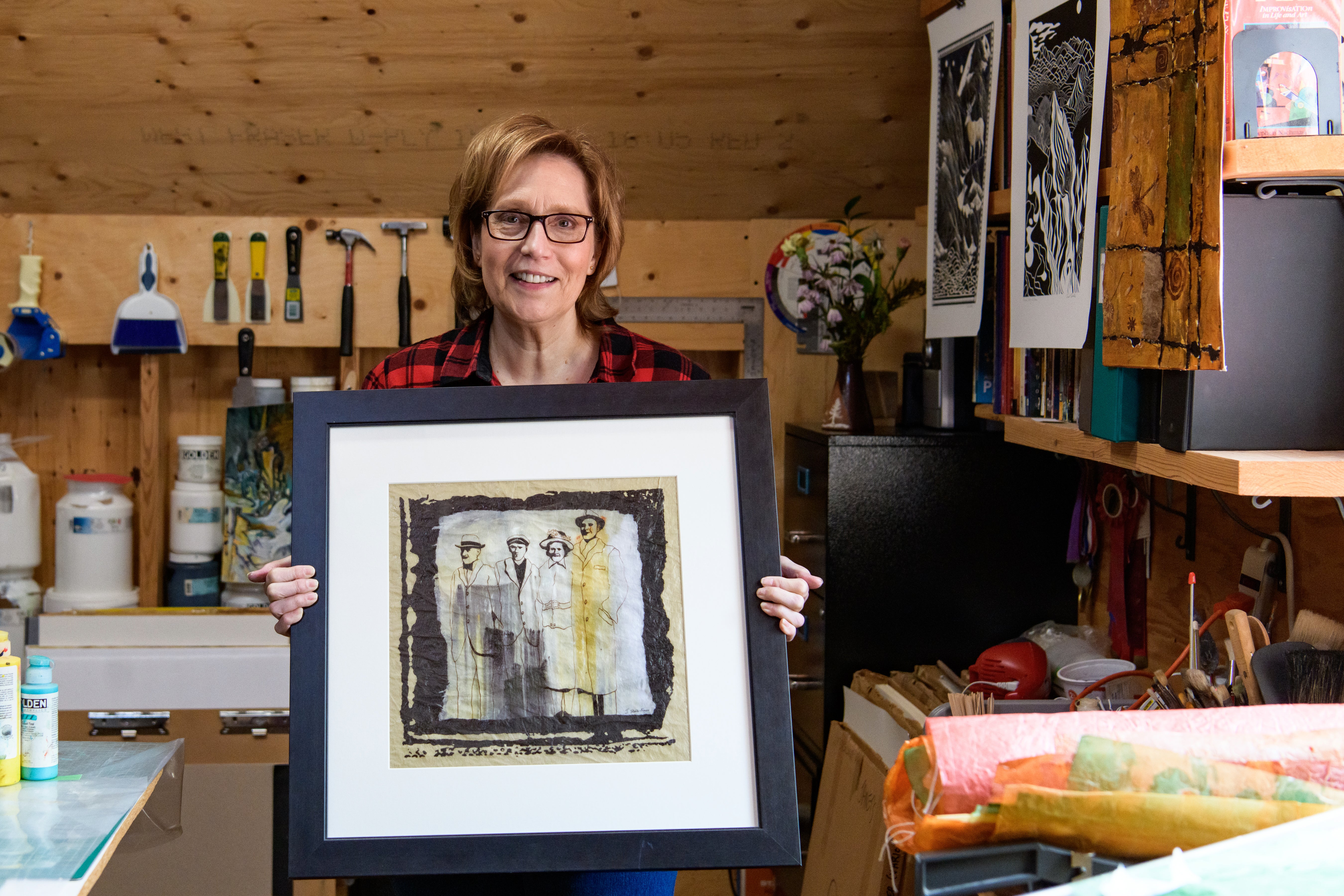 Creative Explorer – Janet Stahle
Article by Bronwyn Boyer / Photography by Kelly Holinshead
Artists are brave adventurers, born to take risks and make mistakes. Blazing new trails means braving paths never travelled. Being conduits for a universe of thoughts and feelings can be daunting. To create art is to live with the tension of translating the infinite into a language we can understand. For multimedia artist Janet Stahle, it's about finding the space to allow that connection to flow.
"The senses have to be attuned to receive it, and then stay open," Stahle says. "We are so trained to be productive that it doesn't always come naturally to be able to just be. In order to accomplish practical things, we have to put up blocks to that infinite space. But being creative requires removing the boundaries of our intellectual filters."
Stahle was born in Brantford and raised in Elmira until the age of 16 when her parents divorced. She then moved with her mother to Hamilton and acquired her master's degree in philosophy from the University of Guelph. Torn between fine art and philosophy, she was able to do both by doing elective programs at the Dundas Valley School of Art during breaks from studying philosophy.
When she got married, she moved to Baysville, where her husband's family had a cottage. It was there that she established her Tapawingo Studio and formed a studio tour with other artists in the Lakes of Bays area. She was also part of the Muskoka Autumn Studio Tour for 15 years.
For 12 years, she taught fine art at Nipissing University in Bracebridge until it closed. Then in 2015, she moved Tapawingo Studio to her new home in Emsdale, which she built and where she currently resides.
Stahle can't be pinned down to one medium or style. Her body of work contains paintings, drawings, relief and screen printing, stencil, collage, etchings, wood and linoleum carvings, stamps, sculptures and tapestries.
She enhances her older work with computer software in a style she calls "tradigital," where a combination of traditional and digital mediums is used to create new aesthetic experiences. The result is an intriguing jubilation for the senses, full of bold, vivid colours and intricate designs. Anything and everything is depicted, from animals and nature scenes to mystical figures, cosmic imaginary worlds and other worldly landscapes. Stahle works her magic with wood carvings, pastel paintings re-worked and acrylics layered on wood with added textures and fractals.
"The 'tradigital' medium is new, so purists don't really believe it's art," Stahle states. "But the same thing happened when photography came along. When photographers create prints digitally, that's traditigal. A lot of artists are making tradigital art without even realizing it. Life goes on, new media and technology comes along, and there's no reason not to embrace it."
Stahle also points out that when acrylics came along in the early 1960s, people thought it was blasphemy to paint with 'coloured plastic.' Still, she uses the digital component sparingly.
"Personally, I need the tactile feel," she says. "I could never be just a digital artist – I have to work with my hands first." 
Stahle carves "substrate" moulds out of bass wood or linoleum for her sketches. "I'm known as a print maker and a lot of people think that's all I do," she says. "But I do a lot of different things just for fun."
Creativity and fun go hand in hand in Stahle's world. She uses laughter, irony and absurdity to get into that pure creative space. "Humour is a big part of my life," she says. "I think there's transcendence in laughter. A big part of my interest in philosophy was the concept of play, in all levels, and how it teaches us – it's how we learn."
For Stahle, laughter and exploration are the ultimate forms of play, which is why music is another important medium for her to explore.
"I've loved music ever since I was a little kid, because it's playful," shares Stahle. "Pure play doesn't have a goal when it's spontaneous – when it breaks out organically in a relaxed state, there are no expectations or effort. If you're too conscience of the pressure that can enter into it, you'll lose it."
With infinite creative possibilities to explore, organizing the flow of ideas often requires creative solutions.
"I keep journals of all my ideas," Stahle explains. "And I created a system from that where I would cut out little cards and write every art process I could think of on each one. Then I put them all in a bag and then randomly pull out two or sometimes three. I might pull out 'etching' and another one might be 'collage.' So, I try to figure out how to do an etching with collage. I have to go through all the steps involved and it gets my brain working."
Stahle's art is an expression of inner journeys, using the outside world to represent what's happening internally. Her background in philosophy informs her work as a celebration of the cerebral and aesthetic.
"I'm an explorer," she says. "That's where I get my passion. I've always been a curious a person and I get my joy from experimenting. I'm both a thinker and a doer, and I like having a good balance between the two."
Stahle's most recent painting is a woman standing in a bleak winter scene with her back turned to the viewer draped in a red Hudson's Bay blanket. Stahle explains that it's about an inner journey.
"I'm trying to express the essence of just being," she says. "I wanted to convey that while on the outside there is quiet stillness and solitude, under the snow things are changing and growing. Someone might find it lonely if they're lonely, I suppose, and that's valid. Art is about letting people have the experience they're meant to have, even if it's not what was intended."
Stahle's path as an artist and philosopher involves navigating the tension between the muse of infinity and the limitations of earthly physical reality.
"We need the freedom to play and explore, but we also need rules to make it all manageable," she says. "There are only so many hours in a day, so you have to figure out what's most important. For me, it's art, because if I can't express myself creatively, I wouldn't have a reason to exist."
Foremost in Stahle's mind is an ambitious project many years in the making called Leonard Cohen's Table. Stahle feels that it will be her masterpiece, and it holds a special connection to her friend Mendelson Joe, who passed away in February of 2023. The piece began in 2012 as a large piece with three paintings in one depicting a narrative of Leonard Cohen's life and songs.
"Joe took special interest in the piece and was very much looking forward to seeing it when it was finished," says Stahle. "But I got really busy teaching at the time and I put it aside. It was so large it had to go into storage, which made it difficult to work on. I went back to it a couple years ago and then something else happened and I put it away again. I finally cut it out of the frame and rolled it up so I could do it as a drawing instead. I kept talking to Joe about it over the years but I never got it finished before he passed away. Now I plan to break it down into separate pieces and present them as framed place settings at Leonard Cohen's table, hence the title. I'm determined to finish it now, in Joe's memory." 
Stahle is also working on her new Ancestor Series, an idea that came from a collection of old family photos. "I inherited my grandmother's life story that she'd written out," Stahle explains. "And I took photos of every page to do drawings of them and add some texture with tradigital substrates."
Stahle's work has also been used for album covers of local musicians Sean Cotton, Douglas McLean and Andy McClelland. "I'd like to do more of those," she says. "It's nice to do something a little different every now and then and I've got tons of ideas."
Stahle also often thinks about illustrations for another book she'd like to write, as writing is yet another medium she likes to explore. An anthology of her poems, each with a corresponding piece of artwork, has been published in a collection called A Woman's Book of Hours.
Stahle is currently completing pieces for an exhibition with four other artists called Out of the Woods at the Algonquin Park Visitors Centre. It was a long-standing tradition for Stahle, Brenda Wainman Goulet, Kate Santos, Elizabeth Siegfried and Jane Gray to do shows under the name 'Pentad,' which means a group of five. Since Wainman Goulet and Santos passed away, Elizabeth Johnson and Karen Gray have filled the space to re-capture the spirit of five female artists joining forces.
As for teaching, Stahle doesn't have any concrete plans to continue, even though she enjoys it.
"It's a lot of work, and it takes a lot of time and preparation that I'd rather be putting into my own projects," she explains. "But teaching is very inspiring, and it's the best way to learn. I gave my students freedom to paint or draw whatever they wanted to practice the techniques, rather than asking them all to paint the same thing. I loved how often they asked questions that I didn't know the answers to, so I would have to investigate. I was always learning, and learning is the key to growth."
Whether she's teaching or not, it's clear that Stahle will continue to explore, to play and to create in all aspects of her life and her art.