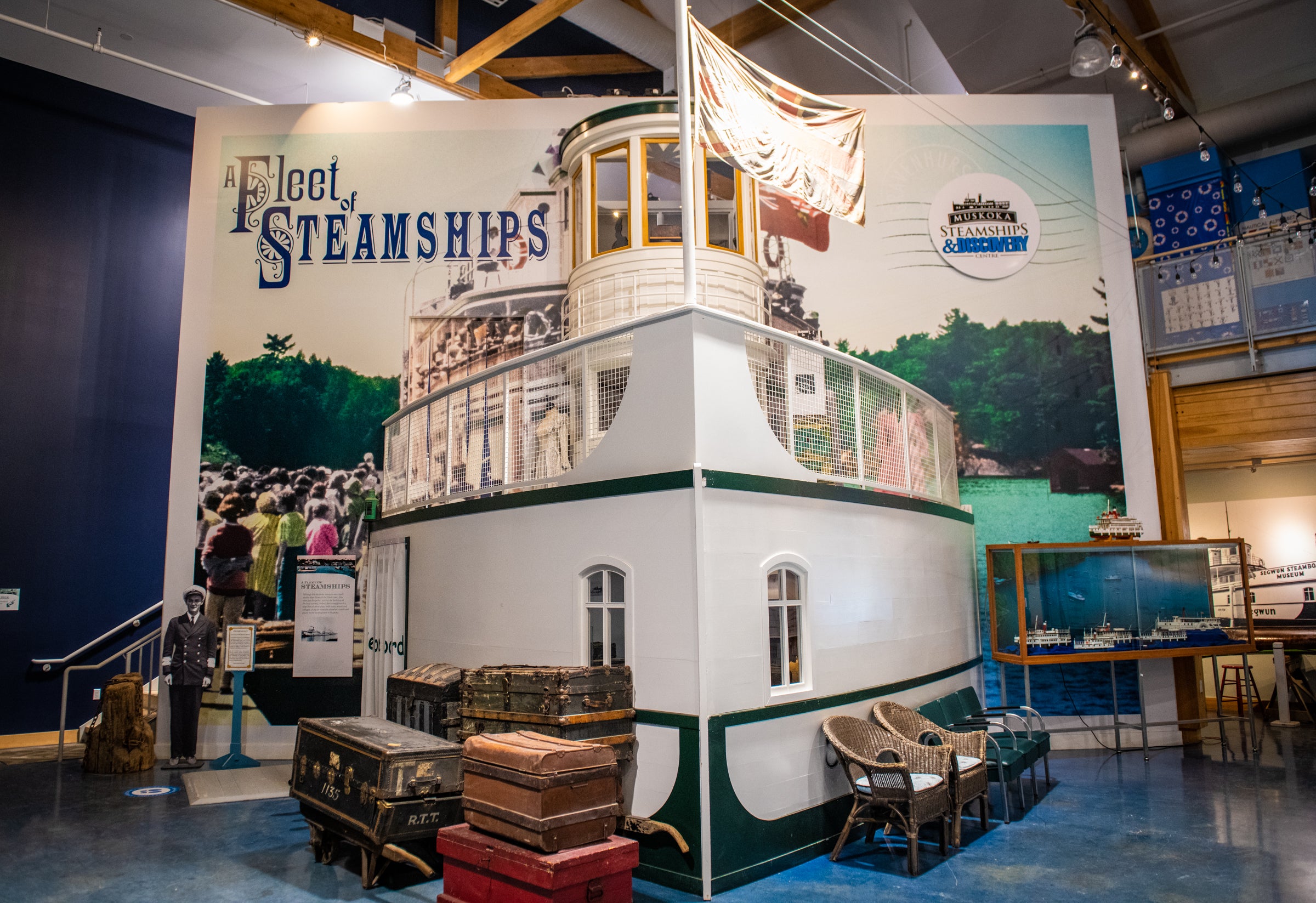 Heritage Curators - Muskoka Steamships & Discovery Centre
Article by J. Patrick Boyer / Photography by Andy Zeltkalns
Of the district's heritage curators, the Muskoka Steamships operation at Gravenhurst has the greatest seniority. From the time Alexander Peter Cockburn launched Muskoka's first steamship Wenonah the year before Confederation through to the mid-20th century, the pioneering role of the Muskoka Lakes Navigation Company enabled the district's unexpected evolution – beyond typical logging farming, and manufacturing – into a unique vacation destination.
The timing of Muskoka's steam age transformation also powered mills, road building, tractors on fields, warping tugs moving logs, motor vehicles and construction. As steamships linked with steam trains to provide decades of transportation for passengers, freight and mail, the Gravenhurst-based operation expanded as it rewrote the district's history.
The navigation company extended services north into Lake Nipissing and west to Georgian Bay. Expanding beyond water transport, the company built prestigious Royal Muskoka Hotel on Lake Rosseau. For decades, the Muskoka Steamships Company, with North America's largest inland freshwater fleet of vessels, was not curating history but making it by reshaping social and economic development.
After steam's eclipse by newer technologies, another unexpected twist in Muskoka's saga was the miraculous resurrection of the company's role in providing touring aboard steamships on Muskoka's central lakes. Today, Muskoka Steamship's website urges people to "Visit Muskoka, there's no place like it!" By extending the district's heritage into the post-steam era, the Royal Mail Ship Segwun's appealing reinstatement of passenger cruises since the 1980s represents a rare steamboat restoration in North America, joined more recently on Lake of Bays by the former steamer Bigwin.
Muskoka's innovations in sustainable heritage were enriched by the Gravenhurst company adding Wenonah II and Wanda III to its present-day fleet. Offering cruises during navigation season, Muskoka Steamships rightly claims that it "preserves knowledge of the Steam Era and enables the public to experience the fun, romance and history of the Muskoka Lakes."
The steamer side of the double-headed operation complements its sister facility, the Muskoka Discovery Centre. Fittingly, it is a museum like no other. Nestled on Muskoka Bay's shore at the town's west side, the centre houses classic wooden boats riding in slips, an interactive display of Muskoka's watershed, artifacts from the district's settlement era and tourism economy, an archive of Muskoka documents and photographs, a play zone for children, meeting rooms for the Centre's many community and educational roles, and a shop with books on Muskoka heritage and topical Muskokan souvenirs.
The word "museum" once suggested fixed displays about an unchanging past, but the word "discovery" aptly describes the centre's contemporary role. In addition to interactive aspects of a visitor's experience, the centre itself constantly interacts with its setting.
When time came to update already impressive exhibits, the Muskoka Steamships & Discovery Centre displayed its blended strength and resources of heritage-minded locals and seasonal Muskokans. Working with Science North of Sudbury, Ontario's premier entity in creating world exhibits, the revamped museum drew a wider and younger audience, and changed its name from Grace & Speed (referring only to the sleek and fast classic motor launches) to Muskoka Discovery Centre denoting its more comprehensive offerings of Muskoka's built and natural heritage.
When Chippewas of Rama community councillors met with the Discovery Centre leaders, their interest in the museum's state-of-the-art Watershed Wonders exhibit led to a state-of-the-land addition – an Indigenous entranceway called Water Is Life. Now, before visitors experience Muskoka's watershed and its wildlife, the twinned Indigenous exhibit first introduces them to Indigenous values about water.
When COVID-19 threw a curveball into life, the in-person Muskoka Discovery Centre programs migrated into cyberspace. Highly successful series, on topics ranging from classic wooden boats to current environmental action, engaged viewers around the world, far beyond the museum's walls.
To keep pace in today's competitive heritage tourism market, Muskoka Steamships & Discovery Centre sought to adapt and revitalize its offerings. First, new features and forums were added to existing facilities – pirate ship adventures, wedding venues, Muskoka triathlon, Kidzone, speakers' series – then they chose to expand facilities and exhibits themselves. Three new ones, opening this summer, portray the Muskoka story as "a microcosm of Canada."
The Town of Gravenhurst benefits from its municipal heritage committee, and active members and volunteers of the Muskoka Steamships & Historical Society add real bench strength. Richard Tatley imparts his knowledge of local history and of Muskoka's steamships through his books and on-board tour guiding. The town has two archives, headed at the public library by Judy Humphries and at the Discovery Centre by Mary Storey. Dozens of individuals have taken the lead. Hundreds have contributed in landmark ways. Thousands have volunteered services, time and money for Gravenhurst's exceptional evolution as a coveted destination for living heritage experience. And the beneficiaries are beyond number.