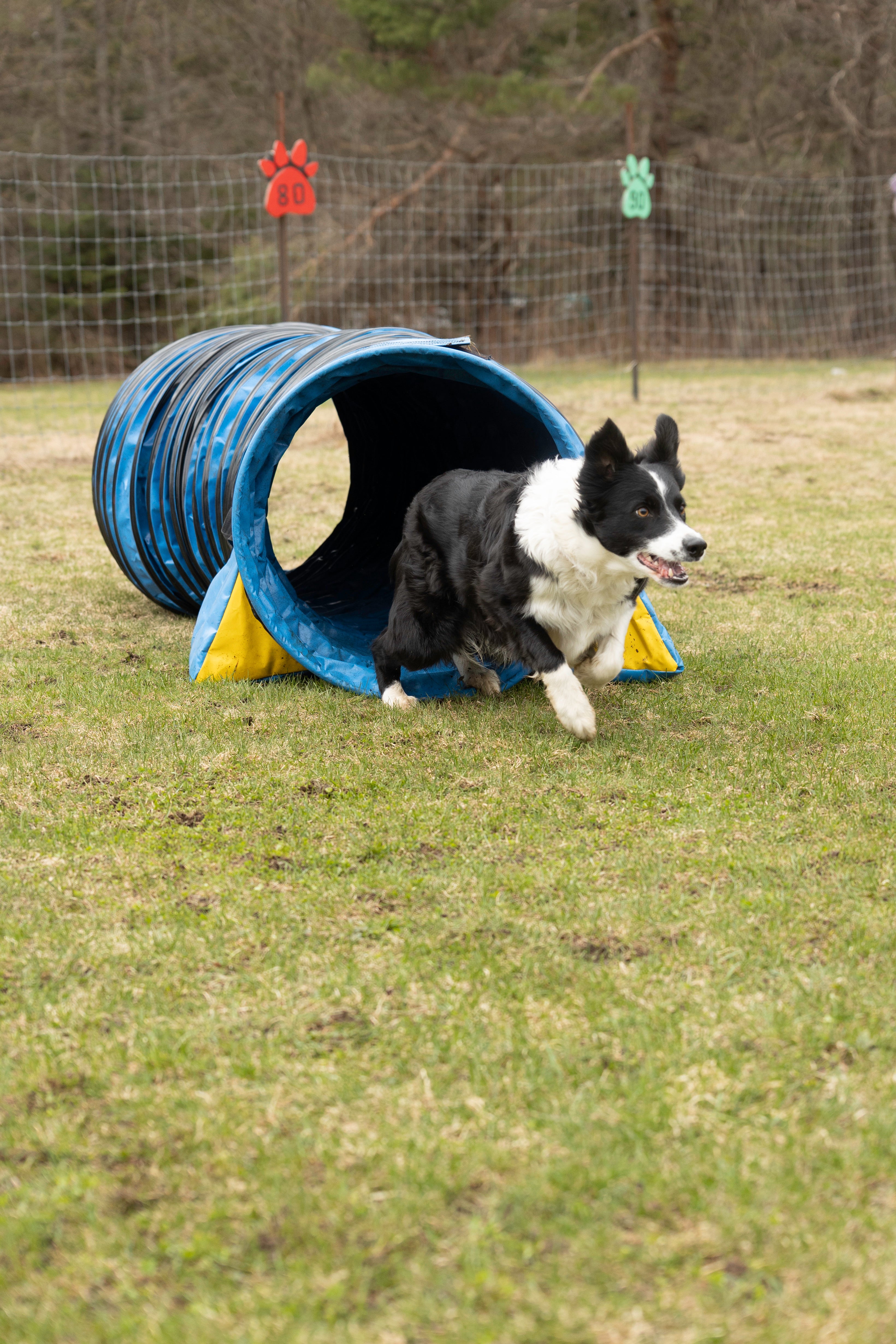 Dog Agility – Celebrating the Bond
Article by Bronwyn Boyer / Photography by Tomasz Szumski
Dogs just want to have fun, burn energy and please their owners. Agility training is the best way to achieve all of that, especially if a dog has too much energy to succeed in obedience school. And, if a dog excels at agility training, it has a chance of becoming a world class athlete.
From June 16 to 18, there will be 237 dogs competing in the Agility Association of Canada (AAC) Regionals. The event is being held at the Oro-Medonte Fairgrounds and is being hosted by the Northern Derby Agility Club.
Northern Derby Agility Club is the result of two training clubs joining together under one umbrella – Animoosh Agility in Severn Bridge and Four Paws Ready Inn in Huntsville. The 2023 Regionals will be their first event co-ordinated together, and they've been approved to host the 2024 Regionals as well.
"We have been long time friends with Animoosh Agility and are excited to be partners in this," says Bryce Longtin of Four Paws Ready Inn. "We look forward to hosting more events in the future to contribute to the agility community, which is very supportive and close in our area."
Four Paws Ready Inn Boarding and Athletics is a family business owned by Darren and Pattie Page and their daughter and son-in-law, Bryce and Neil Longtin. They emphasize agility training as an inclusive sport for all ages and walks of life.
"We're really excited to provide classes and host our own competitions," Longtin explains. "We want to make all newcomers feel welcome."
Agility is a great way for newcomers to make friends in the community. Even if they do not own a dog, those interested can get involved in other ways, as large events require about 300 volunteers.
Pamela Ford, owner of the Animoosh Agility club, was seeking a community when she was transferred to Muskoka for her job. When she started agility training with her German shepherd, it did not take long before she earned friendship, notoriety and success in the sport. She completed the process with the AAC to become a judge, and the rest is history.
"Being a judge is a lot of fun," Ford explains. "And it's exciting because you get to see your friends perform and compete, and just try to be their best. And sometimes being their best doesn't mean winning – sometimes it's just completing a sequence that they always struggled with before. Not everyone is there to be number one."
Northern Derby also contributes to the larger community through charity events. Following the regionals, there will be a round-robin agility tournament to raise money for hospice care.
"We need to keep our competitors and spectators entertained while we're scoring," Ford explains. "And I honestly don't know anyone in our agility community that hasn't been touched by someone who's been in hospice care. We also had a couple of judges pass away recently that received hospice care, so it's important for us to give back."
Any club registered with the AAC can host events and trials. Once a handler or a junior handler and their dog are registered, they can train at clubs across Canada and compete in their category at the regionals. Any dog who scores 350 points at the regionals then qualifies to compete at the nationals. Whoever comes out as top dog at the nationals represents Canada at the Agility World Championships - just like the Olympics. This year, they're being held in the Czech Republic.
Bonnie Bews of Bracebridge is a well-known artist in Muskoka. Something a lot of people may not know is she and her pug, Sadie, are a champion agility team, having placed first at the 2021 Ontario Regionals. For Bews, the two hats wear well together.
"I paint during the day and then I spend evenings and weekends training and doing trials with my dog," explains Bews. "It's a good balance to my profession. It's just so much fun."
Agility is a great recreational and spectator sport for people of all ages, but it's especially meaningful for dogs.
"It gives them a purpose," Bews says. "There are many different types of challenges that play to different strengths. So, if your dog doesn't show signs of wanting to chase a ball, they might love to jump off the dock into the water. So 'dock diving' is a sport they can get into. 'Scent detection' is another one, as well as 'lure training', where they chase an artificial rabbit. Each dog will show signs of what it loves to do, and the handler follows those cues."
Agility training is equally challenging for dogs and handlers. There's a lot to learn, so dedication and discipline are necessary to develop and advance. Building a language of sophisticated verbal and non-verbal cues strengthens the bond between dog and handler.
"You and your dog work together to learn a combination of hand positioning, feet positioning and verbal commands," explains Bews. "And different breeds learn and respond differently."
Dogs are categorized by height, age and experience level. There is a "veteran" category for senior dogs. As Pamela Ford puts it, "it is possible to teach old dogs new tricks."
As for teaching new dogs new tricks, puppies have to be at least 18 months old to compete, but training can start around one year old.
Muskokans interested in agility training are encouraged to reach out to the three clubs in the area. In addition to Northern Derby Agility, there is also Muskoka Agility Dogs in Huntsville, operated by Dan and Lynda Yielding.
"It's a huge sport," says Bews. "And it's quite the community to belong to. We're all just having fun, and we help and support each other, rather than compete."