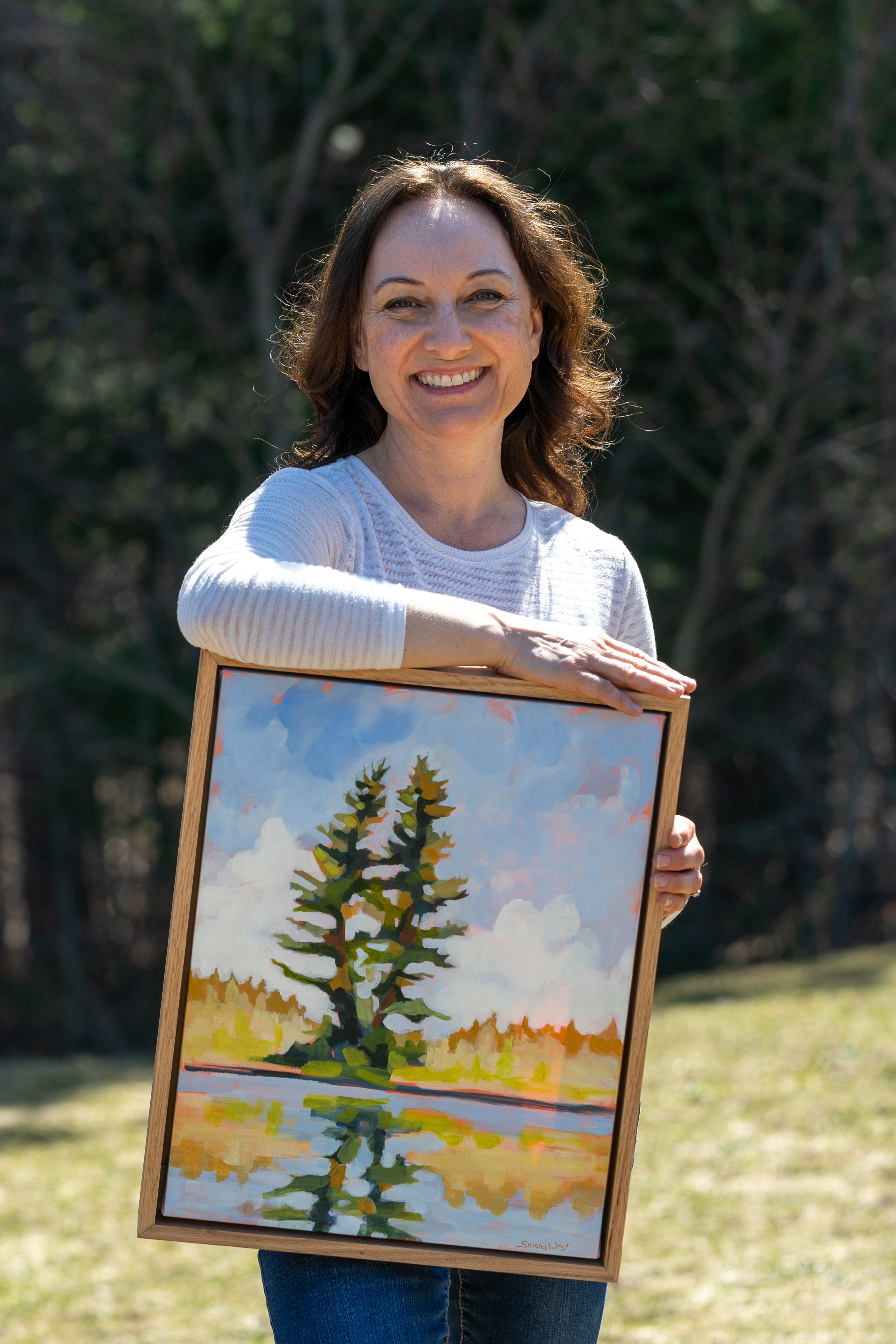 Serena West - Painting the Ebb and Flow of Life
Article by Bronwyn Boyer / Photography by Josianne Masseau
The sound of birds singing, the fresh scent of pine trees, the invigorating embrace of a calm lake and the warm glow of sun on skin are the language Serena West speaks with her paintings.
The natural world has always been West's biggest source of inspiration. As a child, she spent most of her time outdoors riding her bike, searching for frogs and making friends with the trees. Even in the cold winters, she found ways to enjoy the great outdoors.
West was born in St. Marys and spent her childhood years in London. When she was 14, her family moved to Hamilton. During these formative years, she was drawn to visual art, but it took her a while to develop the confidence to pursue it.
"I started drawing a little bit when I was a child, but I didn't think I had a great artistic ability," West recalls. "It wasn't until I took some classes and learned some techniques that I started to believe in myself. Eventually I realized I could draw, and then I got excited about it."
West's artistic talent bloomed, and she began her career by painting murals for homes and businesses in Hamilton. After her mural business started growing, she enrolled in formal studies at the Dundas Valley School of Art through McMaster University.
"The courses blended painting techniques and just telling us to paint without any direction," West explains. "It was a challenge, but in hindsight it forced me to think outside the box. They encouraged us to figure out our own style so we wouldn't become cookie-cutter artists."
West's artistic training gave her the confidence to express her own vision rather than just painting for others. Her love of nature and solitude pushed her away from city life and drew her to Muskoka. Having spent significant time camping up north through the years, the move made sense.
"I just fell in love with the area," West explains. "I always loved how pristine and quiet it is. I loved being able to just jump in the lake in the summer and go cross-country skiing in the winter. I just wanted to be immersed in nature. That's what has always stayed with me and continues to fuel me."
Muskoka's varied landscapes, with rivers, lakes, forests and fields, provide endless inspiration, not to mention the variety of the seasons. While not new, her love of nature and enjoyment of all the outdoors has to offer is evident in all of her artwork.
"When I look back, I see how much the outdoors has always been a theme for me, and it's coming out in my art more and more," she says.
As West became a mother, her focus shifted to raising her children. Even when she was too busy to paint, art was still a prominent part of her life.
"I was always taking pictures wherever we went, so I could draw from those memories and pull them into my art," she explains. "I also did art with my kids, giving them tips and tricks to help them with school projects. I knew I would eventually get back into it – it was always on my mind."
Once her kids were in school, West returned to painting. However, continuing her new work on canvas was a departure from her murals in Hamilton.
"I started painting on canvas and expressing more of my own emotions to rediscover that outlet," she recalls. "It was a new exploration of subject matter more than what I did for a living. I was free to explore compositions, colours and landscapes that felt more natural to me."
This new journey as an artist led West to painting portraits and landscapes as a form of art therapy. The expression of emotion and feeling is apparent in her paintings.
"I wanted to express what I saw in people's faces," she says. "We've all gone through hard times, and these experiences connect us. I want to tell their stories, and I also want to invoke the therapeutic elements of nature into my work. Now the two worlds are coming together."
Clearly, nature is important for West. Not only in joyful times but experiencing Muskoka's natural beauty is a powerful form of therapy for her in challenging times as well.
"I always find myself out in nature when I go through difficult times," she explains. "The birds are singing, the light is coming through the trees, and it brings me a feeling of peace. So that's what I try to capture in my paintings. I'm hoping to awaken memories in my viewer that connects them to nature. Maybe a lake scene will remind them of fishing with their dad or camping trips with their friends. I'm hoping to spark that feeling."
By developing a body of work that combines portraits with landscapes, West is tapping into the common human experience as well as the connection to the environment.
"I've always loved people's stories," explains West. "I wonder what has happened in a person's life that shapes who they are. So, the result is a kind of a duality of stories and settings, wanting to capture human emotion and our connection to nature."
It is often said that the eyes are the windows to the soul. West's portraits certainly reinforce this statement, as she studies her subjects to capture their sense of depth and intrigue.
"Whether I'm painting people or animals, my favourite part to paint are the eyes," says West. "I spend a lot of time trying to capture the expression. If I'm doing a commission for someone, I ask about that person's character, their favourite colour, anything to help get to know them a bit. If it's a pet, I ask about their quirks, because it informs the colours, the brush strokes, and the mood. If a dog is mischievous, for example, I'll try to put a certain spark in the eye that speaks to that."
West's show Passages at the Chapel Gallery in Bracebridge conveyed the experiences and emotions that connect people. Even when West is expressing pain in her work, there's still beauty to be found. Female figures arranged to look poised and put together combined with raw emotion in the eyes creates an evocative juxtaposition. While the forms and colours are floral and feminine, the subject's eyes and body language tell a different story.  
"I wanted to co-ordinate a body of work that would look beautiful while expressing feelings that resonate with everyone," says West. "We've all experienced loss and pain, and we want to find our way to the other side. Art can create a space to be open and vulnerable – that it's okay to not be okay. I think when we honour those feelings without fighting them, we can move on to the happier times."
Regardless of subject matter or medium, West strives to create something that will resonate with people. It matters less to her if viewers pick up on the specific feelings she paints, as long as they get something out of it.
"It's like singing along to a song," West explains. "Maybe the artist meant something totally different than what the listener interprets. I never know what someone else might see when they look a painting. If they feel something special, even if it's just because I used a shade of yellow that reminds them of their mom's curtains growing up, that's beautiful to me."
West has also found value in sharing what she has learned about art by teaching drawing classes at The Annex in Bracebridge. West believes art is inclusive and accessible to all.
"I think everyone is an artist. It's just a matter of bringing it out," she explains. "I think teaching helps me to be a better artist, and I consider it a piece of my own artistic journey. It's rewarding if I can inspire others and help them find their voice. It's amazing how everyone's style is so different. I love the way people's voices come through their pieces, and how their individuality comes alive."
An introvert by nature, teaching wasn't something West thought she would be doing. She started by teaching friends, which was easier because she knew them. From there, she did some teaching online during the pandemic.
"I got my feet wet with the online courses, and then I decided to try it out in person," West says. "I quite enjoy it now, just sharing different techniques I picked up along the way. There are millions of techniques and all of them are valid. If I can share what I've learned, I can encourage people to tap into their own unique form of creativity."
In addition to displaying her work and teaching classes at The Annex, West is also on the board of directors of the Muskoka Arts & Crafts collective.
"I want to connect to the community and help where I can," she says. "It doesn't seem like much, but it's what I have, so it's important to give."