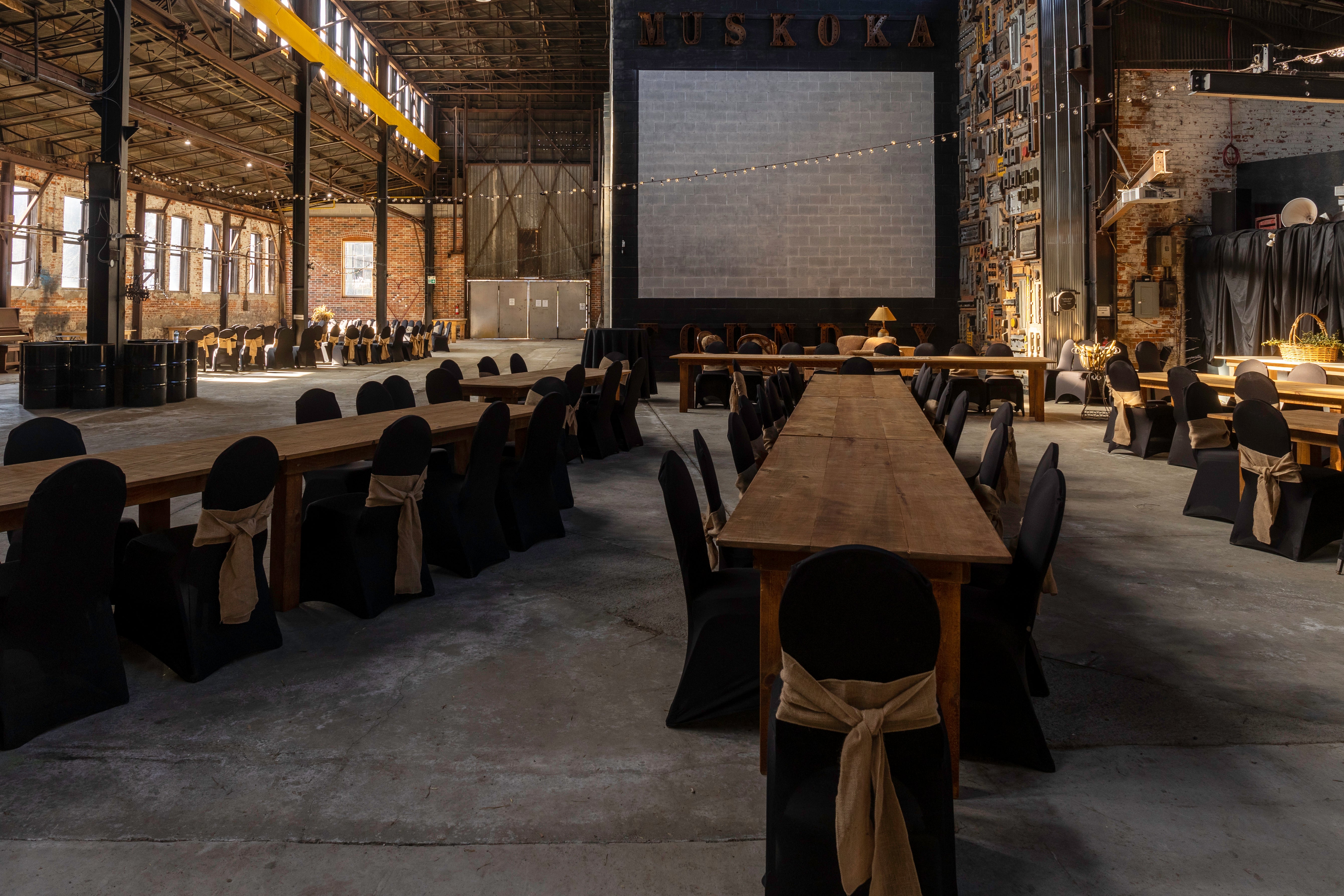 Old Building, New Ideas – Muskoka Foundry
Article by Kelly Goslin / Photography by Tomasz Szumski
 Historic buildings are at the core of every town, city and nation, carrying legacies of struggle, perseverance, loss and triumph. Through their restoration and use, the memories and ideals of a community's forebears are communicated through patina. The past itself is revitalized, and the innovation and creativity that defined the buildings' inception become once more a beacon for excitement and hope.
Once known as the Dominion Linen Mill, the Muskoka Foundry in Bracebridge, like many other historic industrial buildings, has lived a multi-faceted life since its construction in 1903. Beginning as a trail-blazing linen mill, then transitioning into a fabrication factory under various owners, its soaring ceilings have overlooked many decades of life and ideas.
Now, under the creative direction of Scott Harkness, its current owner, those memories from a bygone era have been born anew; its complex history preserved lovingly through modern rehabilitation. The process has not been without its challenges, but like every great pioneering venture, perseverance and imagination have once again brought the Foundry to life.
Prior to the construction of the Dominion Linen Mill, industry in the 1880s and 1890s throughout Muskoka was largely dominated by lumbering. According to labour historian Gregory S. Kealing in his book Dreaming of what might be: the Knights of Labor in Ontario, 1880-1900, both Muskoka and the Ottawa-Hull regions had "secured hegemony over the production of wood products" by the late Victorian era. In the year 1881, "over 800 adults and 64 children worked in Muskoka's seventy-four mills." That lumber-centricity did not, however, impede new manufacturing ventures entering Muskoka during the 1870s and 1880s.
In Bracebridge, Henry J. Bird established his once Glen Allen-based woolen mill in 1872. The popularity of his operation necessitated expansion in 1888, and by 1911, there were three different buildings comprising the Bird Mill compound. Wool and fine yarns were imported to sustain increased demand, and the mill thrived in an ever-developing commercial landscape in Muskoka.
Bird's success is indicative of the growing diversification of Muskoka industry that arose with an equally diversified consumer populace. The appetite to purchase goods in Muskoka was accelerating at a rapid pace, further compelling innovative businesspeople and merchants alike to rush in on the Northern opportunity.
The combination of consumer appeal and natural amenities in Muskoka created ideal conditions for the establishment of Canada's only Dominion Linen Mill location. According to the original published investment proposal from 1903, now on display in the Muskoka Foundry, it aimed to produce fine linens and woven goods using Waterloo-based flax, a crop greatly encouraged by colonial governments seeking to expand their oil and fibre industries.
Selecting North Falls (now Bracebridge) as a strategic location to establish a mill site, Dominion Linen Mills proposed a $250,000 building plan siding the Northern Railway tracks and in ideal proximity to the Muskoka River. In today's money, the project would cost roughly $6.5 million dollars. It was an ambitious development aimed at capitalizing on a corner of Ontario never before incorporated into the flax industry.
The mill employed around 50 workers, primarily women from Ireland or of Irish descent, who were renowned for their skilled weaving craftsmanship. A list of passengers arriving to Canada to settle during the first decade of the 20th century, on display at the Muskoka Foundry, lists several Irish women bound for Bracebridge to work at the Dominion Linen Mill.
For a time, the linen mill flourished, with 25 looms bustling as Bracebridge grew around it into a commercial epicentre for Muskoka. However, there were inherent challenges to the flax industry in Ontario. Flax production and refinement had started excelling in Western Canada and Ontario's position was waning. World War I brought rejuvenation to the flax industry in Canada as Europe's fields were decimated, but the Bracebridge mill could not withstand the financial hardships long enough to see that stimulus. A funding incentive was offered to Dominion Linen Mills by the Town of Waterloo, and the mill in Bracebridge closed in 1912.
The building remained vacant for five years after this closure. However, in 1917, Mungo Park McKay purchased the property and moved his Bracebridge Bay Foundry facility into the mill. The newly minted Muskoka Foundry advertised as "Engineers, Machinists, Iron and Brass Founders." The McKay family produced cast metal components and signs throughout the 1910s to 1950s, along with other necessary industrial metalworks. There are vestiges of the foundry's workmanship throughout Muskoka and beyond; manhole covers dotting the streets of Bracebridge, sawmill equipment at Saw Lake, and bridge and dam components in Fenelon Falls.
Following World War II, Mungo Park McKay's son Ron McKay took over the foundry. He continued its operation into the late 1950s. By 1961, the foundry was vacant, but in November of 1964 negotiations concluded between the McKay family and George W. Wilson, and the foundry became home to Bracebridge Manufacturing.
Under the direction of Ron Wilson, the chief engineer, production lead and president of the reincarnated foundry, the building witnessed a major transformation, installing monumental steel beams and reinforcements, as well as the construction of towering new roofs. The Bracebridge Manufacturing and Steel Fabricating Company continued to produce large custom equipment, such as all-terrain vehicles and the now-famous swan tour boat for Santa's Village. Selling to Northern Ontario Casting in 1974, the foundry went through several more decades under various owners as a metal fabrication plant.
Between 2008 and 2010, the foundry was purchased by Jerry McNabb from Cross Tech Industries. It remained partially vacant at that point. The warehouse's future was uncertain.
In 2015, Audrey van Petegem and Scott Harkness purchased the property, setting off on a path of remarkable heritage restoration and entrepreneurial ingenuity. According to Scott Harkness, the building's "rock-solid" construction, including a foundation "that is two feet thick with five feet below the surface" has ensured its stability despite its lengthy history. With steel beams from the 1960s that, according to Harkness' engineer, rendered the structure "overbuilt," it has stood relatively unscathed despite continued lapses of vacancy and minimal maintenance.
The structural integrity has been vital for the Foundry's restoration project. Many heritage buildings are at risk of demolition when left vacant for several years or more as disuse quickly undermines their structural reliability. Unfortunately, without champions to willingly embark on a challenging journey, there is little incentive for developers and entrepreneurs to revitalize heritage structures from local governments. Bracebridge, and the progress of the Muskoka Foundry, stand out as bastions of hope against this dreary backdrop of abandonment, according to Harkness.
"The Town of Bracebridge was, and still is, incredibly supportive of this project," shares Harkness.
When he and his late wife Audrey went to the planning department in 2015 to propose their ideas for restoring the Foundry, they were met with what he describes as an "ecstatic" response.
"They'd been wondering for years what could possibly get done with the old Foundry property as it is right in the middle of a residential area," he says.
With the support of the Town as well as the District of Muskoka, and the enthusiasm of the community, the Foundry project commenced in 2016.
While the bones of the structure were in exceptional condition upon purchase, it has been no small feat to bring the Muskoka Foundry back to life. There were several major issues requiring immediate attention in order to secure the building's safety, accessibility, and heritage integrity.
"When we first started with this project, we had to deal with rezoning the property," stated Harkness, "and this took several years to get through."
The physical work of the structure commenced with the next significant issue to address – fire separation. Harkness explains that with "almost 9,000 square feet of retail space toward the front of the building, and about 21,000 square feet of other use space, we had to create a two-hour fire separation between those two entities." To satisfy the intense fire protocols and building codes, there is a total of 280 linear feet of fire separation, its implementation a lengthy task with a hefty expense.
And that was just the tip of the iceberg. The interior of the Foundry needed significant gutting, the removal of waste materials and miscellaneous obstructions to the historic framework, "stuff that simply did not belong in this building," according to Harkness.
Wiring had to be completely overhauled, and the windows needed thorough restoration. To accommodate 18 bathrooms and two accessible restrooms, new plumbing had to be brought in through the floor, necessitating the trenching and removal of 400,000 lb. of concrete. Outside the building, soil remediation was needed to reduce a slightly higher heavy metal presence in the property, costing $88,000.
It is one thing to renovate a heritage structure to possess the necessary modern amenities. However, how can one do so while still sensitively marrying contemporary demands with historic preservation? As an answer, Harkness referred to the quote he hand-inscribed across the fire separation wall, taken from his hero Albert Einstein, whose face accompanies it – "Logic will get you from A to Z. Imagination will take you everywhere."
In purchasing the Foundry building, Harkness has endeavoured to preserve, the many different iterations of its life since 1903. Cloth and linen-related antiques are situated throughout the building, paying homage to its Dominion Mill past.
The original bricks have been carefully preserved, with any alterations completed using traditional methods. The original foundry moulds have been lovingly assembled into two different wall installations, one covering a large area of fire separation, the other providing a backdrop for a refined wine bar. A heritage wall of photographs is situated near the restrooms, showcasing a timeline of the Foundry and its restoration. A mid-century style diner has been hand-constructed in the centre of the event space, a vibrant nod to the liveliness of the foundry under both McKay's and Wilson's ownership.
Urban theorist Jane Jacobs argued "new ideas need old buildings." The Muskoka Foundry building is now alive with music, weddings, food tastings, wine samplings, and soon to be opened – an indoor Foundry Market. The bustle of excited attendees to events and concerts, and soon customers for many local food businesses selling their fresh produce, bring footsteps and chatter back into the once silent structure.
Not only has the Foundry been historically resurrected, but new opportunities and dreams for Bracebridge have arrived with its salvation. From a past of innovation and perseverance, the Muskoka Foundry is surging ahead to a future equally full of promise.