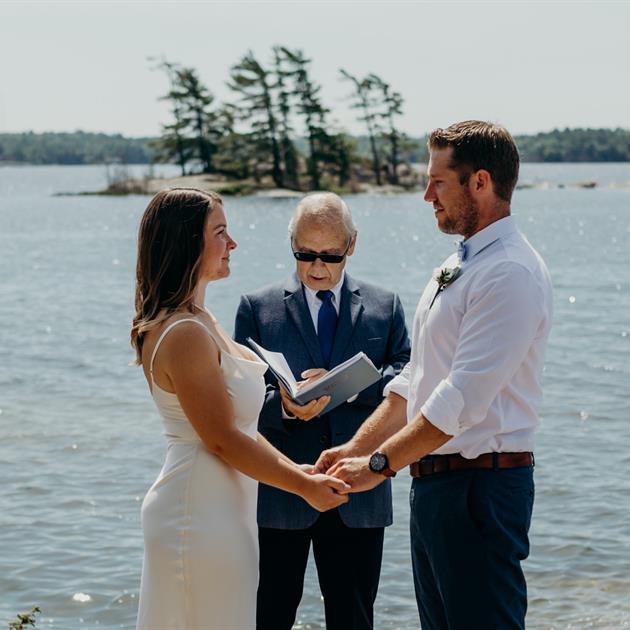 DOWNSIZING WEDDINGS TO FIT THE CHANGING TIMES
Article by Meghan Smith
All weddings have the same end goal – a marriage or the union of two people. The paths to achieving that union and the scene on the day of the marriage are drastically different, depending on the couple. Brides and grooms spend weeks, months and sometimes years carefully planning their special day to meet their vision and the expectations of their guests.
Like so many activities in 2020, the onset of the COVID-19 pandemic and the subsequent emergency measures resulted in a complete upheaval of the wedding season in Muskoka. The event industry overall has suffered significantly with the inability to host gatherings of any size. Resorts, hotels, cottages and campgrounds that traditionally play host to large weddings throughout the spring, summer and fall cannot welcome their guests as planned. Wedding vendors have had to do whatever they can to work with their clients.
Couples who had planned a 2020 wedding have had to change plans, either cancelling, post-poning or pivoting for their day. There are many couples wanting to uphold their marriage date who have changed their plans to something a bit smaller and then there are those who wanted something smaller in the first place.
"This pandemic has been a learning curve for everyone in the industry," says Carlyn Hurst, photographer and owner of Lenny & Hume Creatives. "I've adapted to suit my clients' needs. You have to be supportive and work with people; ensure that the day is still theirs and still special."
Whether it's currently possible or not, a traditional wedding can be daunting. There may be competing family dynamics at play. The couple may not want to spend a whole day in the limelight. Couples may be celebrating a second marriage or have started a family before marriage. The focus of the wedding day is different and the couples may choose to put their attention elsewhere, rather than pulling out all the stops for a big gathering.
An elopement is just for the couple and Muskoka presents plentiful opportunities to steal away and get hitched. They may not be running away in secret but it's a very intimate day, with only the couple and maybe a few witnesses.
"Elopements offer a lot of options for locations, whether it's hiking a trail to a waterfall or a rock cut overlooking a lake," says Bryn Armstrong, event and wedding planner and owner of Primp and Pop Event Co. "Muskoka is such a destination. The setting of a wedding at a dock on the water or a beach or a forest allows us to be a bit more creative because we aren't touring around with a huge guest count."
"Now that I've experienced it myself, I couldn't recommend an elopement enough," laughs Allison Holder, florist and owner of Floral Designs by Allison. "There's this ease and fluidity to a small wedding. It's so incredibly intimate."
By eloping, a couple can be fully present for the day without having to worry about the details and schedule that come with a large wedding. Holder and her wife had planned a larger traditional wedding next fall. But as the pandemic hit, they took the opportunity to assess their own expectations and they realized a large wedding wasn't being true to them. When an opportunity to participate in a styled wedding shoot with Primp and Pop Event Co. presented itself, Holder and her partner pivoted.
"We decided that with all of these wonderful vendors I work with in the industry, we could turn it into our wedding day," says Holder. "So, we jumped in with under two weeks' notice because it felt really right. I have to mention just how grateful we are for all that Bryn did for us."
Bryn Armstrong conceptual-ized and started Primp and Pop in 2016 as a direct result of her own wedding. Armstrong had worked in the wedding industry for over 10 years, planning and executing traditional weddings.
"I loved it but what I was planning for other couples didn't mesh with what we wanted to do for our own wedding," shares Armstrong. "We'd just moved back to Muskoka, purchased a house, welcomed a dog and we were expecting our first child, all in the same year. Our priorities were different."
Armstrong and her team at Primp and Pop specialize in elopements, micro weddings and pop-up weddings. These types of ceremonies have a much shorter timeline from booking to wedding day but reduce the stress of a large function for the couple. Having a much smaller guest list allows for the flexibility to customize and personalize a wedding day.
"We start with 'all-inclusive', for lack of a better word, and essentially it allows us to handle all of the moving pieces for the couple but in a very personal way," explains Armstrong. "We're not cookie cutter. We work with our clients and spend time getting to know each other so I can recommend personal touches they can involve in their day."
Armstrong works in locations all across Muskoka that could not typically be considered for larger weddings. She also curates vendors from all across the region to provide unique, memorable experiences for those focused on a more private union.
"I love being able to play a role in special occasions," shares Holder. "I studied sociology and anthropology at school and there is such an intense human element to flowers. They mean so much more than just looking pretty."
Holder has received over 30 inquiries for elopement flowers in addition to what was already booked for this year. While that's good news, it's also a challenge to fulfill multiple floral orders with differing colours and types.
"For weddings, a lot of people have cancelled or postponed," says Holder. "Elopement flowers are the only thing really going right now and they are much different. This year is much more relaxed, in that sense."
While everyone has had to step back from the usual during this pandemic, venues have had to deal with the inability to conduct their regular business. For Katya and Ken Riley, 2020 has changed everything they had planned for Brooklands Farm.
"All of our weddings were basically postponed to next year," shares Katya Riley. "We've had two that did go ahead; one as an elopement and one as a micro wedding."
In 2012, as one couple requested the barn to host their nuptials, Brooklands Farm began hosting weddings and have been solidly booked through each summer and fall season since 2014. While Brooklands has hosted big weddings of 140 people on weekends for many years, they were already beginning to offer micro weddings during the week. The pandemic simply pushed that plan forward.
"Small weddings will be the name of the game for the next little while," says Riley. "Don't wait for it. Relationships don't go anywhere. Life should go on. Grab life by the horns and get on with it."
"Small, intimate weddings seem a bit more normal these times because you don't have to worry about as many people," says photographer Hurst.
In addition to supporting her clients through the challenge of the pandemic, Hurst has the added pressure of her own wedding this September. A large, traditional wedding was planned with family and friends in Prince Edward Island. Now, they're hosting a much smaller gathering of 20 people at home in Muskoka and are planning for it to be just as special.
"We decided to go forth with our wedding because it's not about the location or the gifts," shares Hurst. "It's about us as a couple celebrating our love and we're ready for that."
Spencer Redman and Rebecca Malloch-Redman felt similarly about their wedding. What was supposed to be a celebration with 85 guests at Brooklands Farm in July 2020 became a much smaller gathering of 45 people under current regulations.
"It ended up being a lot easier than expected to reduce the guest list," explains Spencer Redman. "There were a lot of high-risk people that cancelled ahead of time. We didn't have to say no to anybody. Plus, they setup a Zoom video call, so anyone who didn't come could still see us get married."
While their original plans had included a barn wedding with a full day on site, the couple were pleased by how Brooklands accommodated the regulations and still met their wishes overall. The overall look and size of the wedding may have changed from their original plans, but Redman insists it's still the day they wanted.
"Honestly, for me, my favourite part of the day was watching Rebecca walk out of the cabin on time," says Redman. "We've been together for seven years now and it took me six years to propose. When there was a possibility we couldn't do it, we decided to go ahead no matter what. Even if it was just 10 people in our backyard. Life doesn't stop because of something like this; so, neither did we."
"I think you can often lose sight of why you're getting married, which is the person you love," explains Holder. "You spend so much time on the production that you lose sight of the purpose of the day. No matter the couple, you should be doing what makes you happy as a couple, not for everyone else involved."
People across Ontario and even across Canada have a Muskoka connection. Whether cottaging every year, one incredible vacation or summers spent at camps as a kid, Muskoka leaves an incredible mark in people's memories – one they often remember and want to include in their wedding.
"There's this magic surrounding Muskoka," says Holder. "There's something romantic about it. There are so many beautiful natural settings here. There's something about eloping that's this running away or escaping the norm, and Muskoka really lends itself to that idea."
Every season provides its own unique and beautiful canvas. Couples who choose to elope are often outdoorsy, adventurous souls. Their special day can be a true reflection of their own style as couple, without having to stick to the more traditional aspects of wedding.
"Muskoka has such a calming feeling," says Hurst. "When you get up here and open your truck door, you just get this feeling. Muskoka truly has it all. We're surrounded by so much beauty."
Family homes and cottages have always played a part in weddings but this year, even more so. These spaces are already sacred for those who live there and hosting a wedding, no matter the size, adds to the memories.
"It's a place of comfort and it's familiar, so it's a bit homier and more relaxing," says Hurst. "For years, the couple can return and relive their day. Different spots around the property will spark moments from their wedding day.

"It's important for people to do what makes sense for them," explains Armstrong. "It's important to follow your heart. The pandemic has been a reason for people to take a step back when they were dealing with big expectations. But don't let a pandemic dictate your wedding day."
"Remember to do what's right for you," says Holder. "Get married how you want to get married rather than getting married how society tells you."
A big wedding celebration to enjoy with family and friends can be the right plan for some. But for others, a small, simple, intimate gathering in the wilds of Muskoka can be a beautiful way to celebrate the love and union of two people.