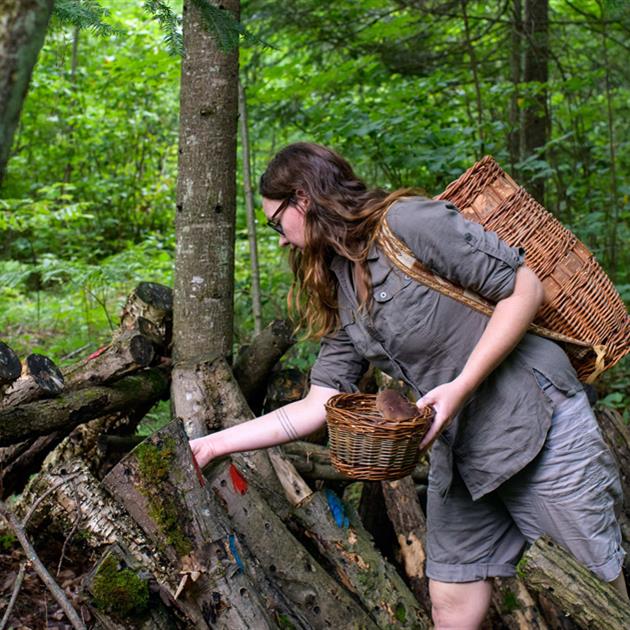 WILD MUSKOKA BOTANICALS– EDIBLES FROM THE BACKYARD
Article by Judy Vanclieaf / Photography by Kelly Holinshea
"Eat your weeds" is something we would not have ever heard our parents say. But then, we never had the likes of pickled cattails, white pine vinegar, strawberry and sumac shrubs or spruce tips with sweet gale salt sitting on the table. Just a nibble of any one of these Wild Muskoka Botanicals products will take your taste buds on an exquisite journey of flavours of Muskoka's wilderness.
Wild Muskoka Botanicals is the producer of artisanal wild foods, cocktail mixers and traditional botanical medicines. Company founder Laura Gilmour has been practicing Hippocrates' philosophy, "Let food be thy medicine," in her everyday living for the past 20 years. A lot of what she considers food, most of us would never imagine putting on our plates but that does not mean we should not.
Digging deep into the roots of utilizing all things edible from the backyard, Gilmour loves to experiment by developing her own original formulas and modifying traditional recipes that she has come across throughout the years. She personally hand picks her ingredients in a sustainable manner, usually from her own backyard.
It's a backyard that happens to be a forest full of trees, shrubs and plants. Take, for example, coniferous trees like pine, spruce and fir. All three are in abundance throughout Muskoka and each one is exceptionally high in Vitamin C. White pine has a medicinal value that can help with congestion, where spruce tips aid with coughs and sore throats.
Wild elderberry juice is Gilmour's most popular creation and is known for its immune boosting qualities.
"I take elderberry syrup when I have a sore throat coming on or feeling dragged down from being so busy," states Gilmour. "This usually happens when I am preparing for a trade show and I cannot afford the down time. The elderberry juice has helped save me from getting sick so many times."
Although it is the medicinal value of her product that is the main component of her business, she loves how effortless it is to slip wild ingredients into her cooking and baking.
"One of my favourite recipes is my white pine shortbread," reveals Gilmour. "I love using white pine in my baking, as it has a mild flavour and is very abundant." She also suggests using her spruce tip sugar in the recipe. Wouldn't these unique and tasty cookies be a huge hit in a holiday cookie exchange?
Another favourite of Gilmour's is her wild leek vinegar which she puts on every veggie dish she prepares. "It makes everything taste so good!"
Then there is the shrub and bitters line. These artisan drink mixers are in a league of their own. Just try putting a little strawberry and sumac shrub into your cocktail or mocktail.
"It is a flavour you will never forget. In fact, you may even become hooked," grins Gilmour.
Wild Muskoka Botanicals bitters have multiple uses as well. Not only do they aid in digestion, but you can also add these to your drinks. Another favourite creation is the company's Muskoka Old Fashioned. Gilmour adds a smidge of maple syrup and a couple of drops of forest fire bitters to her bourbon. "It's such a good flavour for our region and gives a nice distinction to the drink," she claims.
"In the cocktail world, bitters are becoming a staple ingredient and some of the small-scale distilleries across northern Ontario are starting to take them on to add flavour to their spirits," states Gilmour.
Happiest when she was in nature, Gilmour feels fortunate to have grown up under the influence of farmers and foragers throughout her life.
"Before moving to Muskoka at 10 years of age, I spent a lot of time with my Dad and on my grandparent's farm in Niagara. Hunting and fishing were a normal way of gathering food for us," says Gilmour. "My mother is a Metis nature photographer who always took me out in the wild where we would fish, hike and camp. She was the first one to open my eyes to nature, where as my Dad instilled in me a hard work ethic and entrepreneurial drive."
After graduating from high school, Gilmour left Muskoka for several years but moved back 13 years ago and worked as an ecologist for five years. During that time, she taught herbal medicine classes and foraging for a variety of organizations, alongside making wild food products and medicines for her own use.
"Wild Muskoka Botanicals came to life in 2014 because of the encouragement of many who wanted to buy my products that I was only making for fun, as well of those who wanted to take classes that I never had the time to teach on my own." Gilmour quit her job as an ecologist and has never looked back.
Gilmour, her husband Chris and their dog Marley live just outside of Dwight on what they call "Wild Spirit Permaculture Homestead." They have 26 acres of land which abuts thousands of acres of Crown land, surrounded by healthy wetlands.
"On our homestead, we have a vegetable garden (where I intentionally let the weeds grow), we have perennial crops, fruit bushes and vines, and lots of different medicinal herbs and mushrooms," says Gilmour. When she harvests, Gilmour picks everything in small batches which helps to maintain her focus on creating high quality products while keeping the integrity of the land in mind.
"We see our land, not only as a resource to extract from but a living ecosystem that supports an abundance of life. By working with the principles of nature we can grow plenty of healthy food while building the soil, supporting pollinators and increasing biodiversity." She continues, "I also have a responsibility to make sure that I do not introduce invasive species and to protect wildlife from harm."
In addition to the natural foods she harvests, Gilmour also has laying hens and breeds rabbits for meat.
Laura and Chris both share a deep-rooted enthusiasm for the great outdoors and spend a lot of time together doing the things they love. Both are experts in wildlife tracking, herbal medicine and ancient wilderness living skills. Their talents complement each other, especially when they run their educational nature programs.
Gilmour particularly enjoys her wild medicine program that she runs one day a month from May until September.
"Here, students get to see the plants in different stages throughout the summer with a hands-on class which lets students learn the basics of working with wild harvested plants, mushrooms and herbs, and when the last class is over, each student will have made a variety of both wild food products and herbal medicines to take home."
Chris helps with the foraging and farm aspects of the business and often Laura's students will come help at harvest time.
"I regularly have students who come to do work-trade for classes that I hold. They help me with foraging and in the kitchen when its time for the main harvest. This helps to support Wild Muskoka at extra busy times and provides my students with a unique learning opportunity.''
Laura is deeply passionate about connecting people to nature which she does through her products and classes.
"I want to help people to see our wild Muskoka with new eyes. Our goal is to not just train people about foraging from the land but help people deepen their relationship to the natural world through regenerative harvesting and land tending."
Gilmour adds, "I still have a lot to learn and it is not without challenges, but the feeling of satisfaction that comes from harvesting your own food and making your own medicine is worth the work."