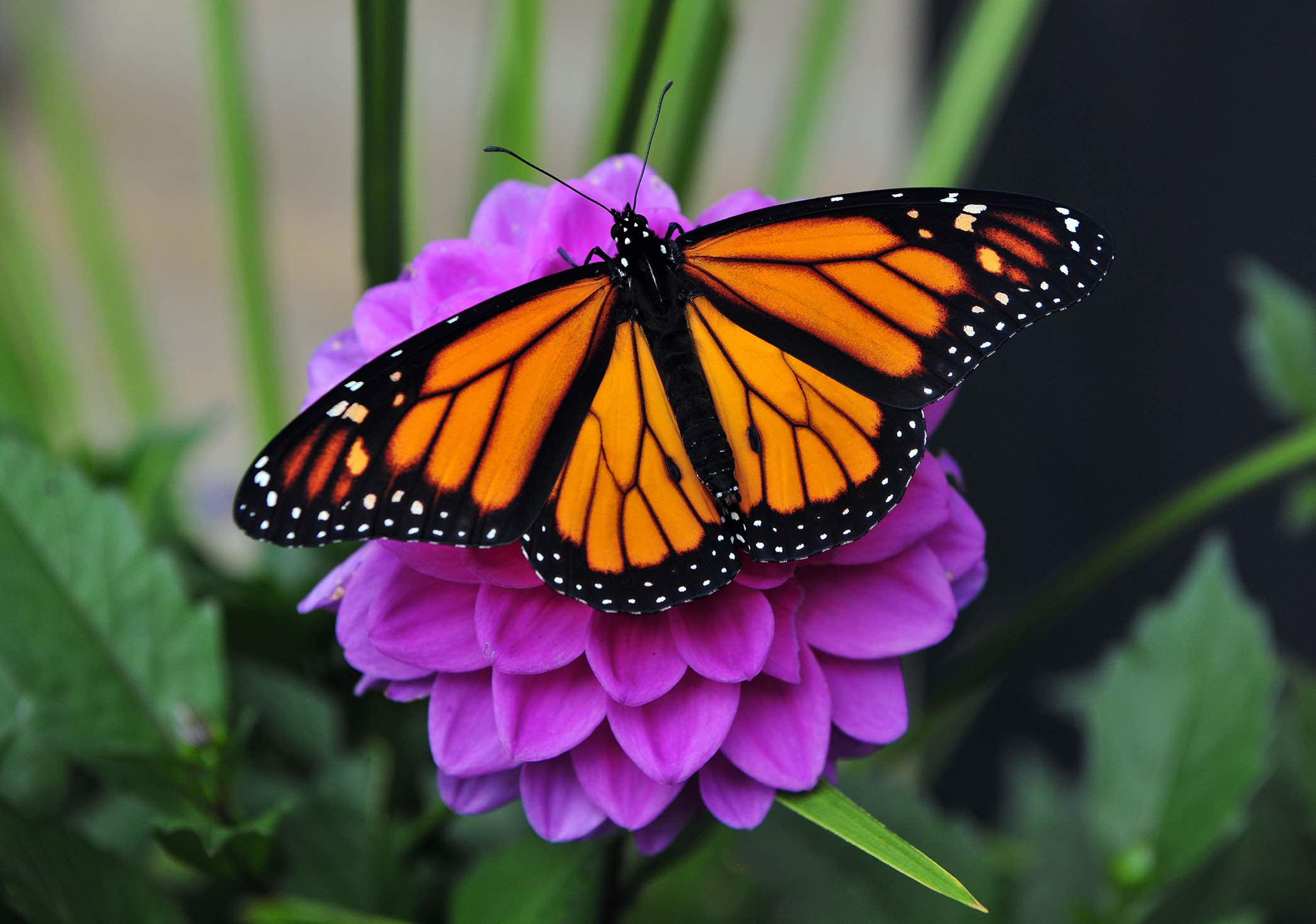 FROM MEXICO TO MUSKOKA - Monarchs - The Amazing Migration
Article by Doug Smith / Photography by Heather Douglas
A monarch butterfly clings to the leaf of an abandoned apple tree on an evening in late August. It's not just orienting itself to capture the first warm rays of the morning sun. It is on a journey.
Soon it will join other monarchs, all intent on the same purpose – to migrate south to Mexico for the winter. It's an amazing feat for an insect that weighs less than a gram and has a 10-centimetre wingspan. With the right weather conditions, it can cover the almost 3,000 kilometre distance in two months.  An arduous trip even by human standards, it is a lifetime for a monarch. Most adult monarchs don't even live that long, except the generation that migrates in the fall. 
"The adults normally live for only four to six weeks," says wildlife photographer Eleanor Kee Wellman. Fascinated by their intricate life cycle, she has been photographing monarchs at her west Muskoka home for over 10 years now. To make the area more attractive to these familiar and famous butterflies, Kee Wellman allows milkweed to proliferate in her backyard. Common milkweed is the monarchs' favoured host plant for their caterpillars. 
Kee Wellman looks for the single eggs, which the adults lay on the underside of milkweed leaves. She then takes them inside to raise them in a protected environment until they are butterflies. 
"I found monarch eggs in late May this year – on the 29th and 30th,"  Kee Wellman says, wondering if they arrived that early because she had raised some monarchs at her place the previous summer.  
Once the eggs hatch after four to five days (or sometimes a little longer), the two to five millimetre long caterpillars first eat their egg shell.  
"They then eat around themselves in a crescent shape," says Kee Wellman, pointing out this is a distinctive monarch caterpillar trait. She continues, explaining "the first frass – insect poop – is white from them eating their egg shell. Then it turns yellow because their next meal is the fuzzy filaments on the underside of the milkweed leaves." 
Kee Wellman keeps the caterpillars in a large container, which is cleaned out regularly. New leaves are added as needed. 
Eating almost constantly, it doesn't take long until the caterpillar outgrows its skin. When this happens the caterpillars go through a moult, also known as an instar, Kee Wellman explains. 
'It's really quite fascinating how they wriggle out of their old skin," she adds. "It's like they are changing their socks. They wriggle out of their old skin by moving their feet up and down."
Kee Wellman says photos don't do it justice. "You need to see it on video," she says, adding that she has a post on YouTube. 
"When they are moulting, it takes about 24 hours, and they crawl off of the plant to do this," she has observed. 
"They moult the skin and the head cap at each instar," she continues. "Immediately after each moult, they wait until their new head cap and their mouth parts solidify, then eat the old skin." 
The boldly striped white, yellow and black caterpillars go through a total of five instars, says Kee Wellman, before forming a chrysalis and entering pupation. By the time they are ready to pupate – 10 to 14 days after hatching – they are two to five centimetres long. 
"The pupation stage in the chrysalis is less than two weeks," states Kee Wellman, adding, "I think it is weather dependent." 
While it doesn't seem that much is happening during their pupation, a dramatic change takes place, one that transforms the slow-moving, earthbound caterpillar into a delicate and ethereal butterfly, capable of flying for many hours at a time. 
"The chrysalis changes, too, from a pale green with gold and black to clear by the time the butterfly emerges," says Kee Wellman, adding that it looks dark inside because of the monarch's wings. When they finally emerge, the newborn butterflies first rest on their chrysalis or other nearby perch to let their wings unfold and dry. 
Kee Wellman has raised a total of 11 caterpillars to butterflies this spring, losing only two. 
"One began to come out the top instead of the bottom. Eventually it came out the way it should but its legs were too soft to hold onto the pupa case," she notes. "I wait until they are flying and a little restless before I release them outside." 
Once out in the big world, it is not always easy for the monarchs.  
"This year, one of them was almost immediately captured by a dragonfly," she states.  "That was unusual, as they aren't usually predated because they are poisonous."  Toxins in the milkweed plant are what make the butterflies poisonous. 
While the prime host plant for the caterpillar is milkweed, they don't nectar on just milkweed. Monarch butterflies also visit daylily, clover, dogbane, thistle and, in the fall when they are migrating, asters and goldenrod.
Though not usually predated upon, there are other problems facing monarchs, not the least of which is habitat loss.  A tall and robust herb that grows in open fields and along roadsides in Muskoka, milkweed is considered a noxious weed, so it is often eradicated. It also falls victim when the annual roadside grass is cut in the region.  
"If there was a published schedule of when the cutting is taking place, then concerned individuals could move the caterpillars to other milkweed plants that are growing away from roadsides," Kee Wellman points out. 
"Roadside grass cutting is done for safety and sightline visibility for driveways and side roads," District road services supervisor Ryan Elbee explains, stating that he is willing to work out a way to communicate when and where this takes place in the summer.
Cutting of roadside vegetation destroys many milkweed plants, but it's not the monarch's biggest problem. The spraying of food crops such as corn with herbicides like glysophate and the resulting drift to the milkweed plants has been documented to adversely affect monarch caterpillars. The use of GMO seeds, spliced with Bacillus thuringiensis bacteria (Bt) for the purpose of deterring caterpillars, has also been proven to affect the caterpillars of monarchs.   
While these practices usually take place in large agricultural locations outside of Muskoka, particularly in the U.S. Midwest, they greatly affect the numbers of monarchs that finally make it north to Muskoka each spring. As a result, monarchs are now listed as a species of Special Concern under Ontario's Endangered Species Act.
Naturalist Al Sinclair, who co-ordinates the region's annual butterfly count, mentions, "the population is still quite low compared to a decade ago."
The generation of monarch that Kee Wellman raised from late spring into the early summer is the third generation for the year. Its parents arrived in Muskoka in late spring, having grown up further south. Its grandparents, emerging as butterflies in late March still further south, were the offspring of the generation that overwintered in Mexico.
The generation raised by Kee Wellman mate throughout their usual two to six week life as a butterfly. It's those offspring, emerging as butterflies in late summer, which are the generation that are somehow
equipped to live much longer. They are the ones that make the journey south to Mexico. 
Once they have survived that perilous journey and are resting in the high-altitude locations of Oyamel fir forests in the mountains of Mexico, the monarchs still have problems. Their wintering grounds in Mexico are under increasing pressure from development, particularly logging and the conversion of the forests for agricultural uses.
First discovered by Dr. Fred Urquhart of the University of Toronto, back in 1975 after some innovative tagging techniques and countless hours of dedicated research, the monarchs' wintering areas are fragile ecosystems. Fortunately the Mexican government has taken steps recently to protect these important sites. Tourism is also helping promote the monarchs' plight and reverse the development of these areas to some degree.
There are a number of ways to effectively help monarchs in Muskoka. Growing milkweed plants is one of them. Though not everyone is into letting the big plant become part of their flower garden, as is Kee Wellman. Setting aside a sunny corner for milkweeds works, as does having them as part of a larger butterfly garden. Several nurseries in the region sell milkweed plants for gardens. 
Using natural alternatives for insect pest control rather than glysophate and other harsh chemicals is another way to help monarchs, and all wildlife. 
As the monarchs make their way south each fall, many anticipate their return to Muskoka as a sign of spring. With awareness of their needs and support, they will continue to return.