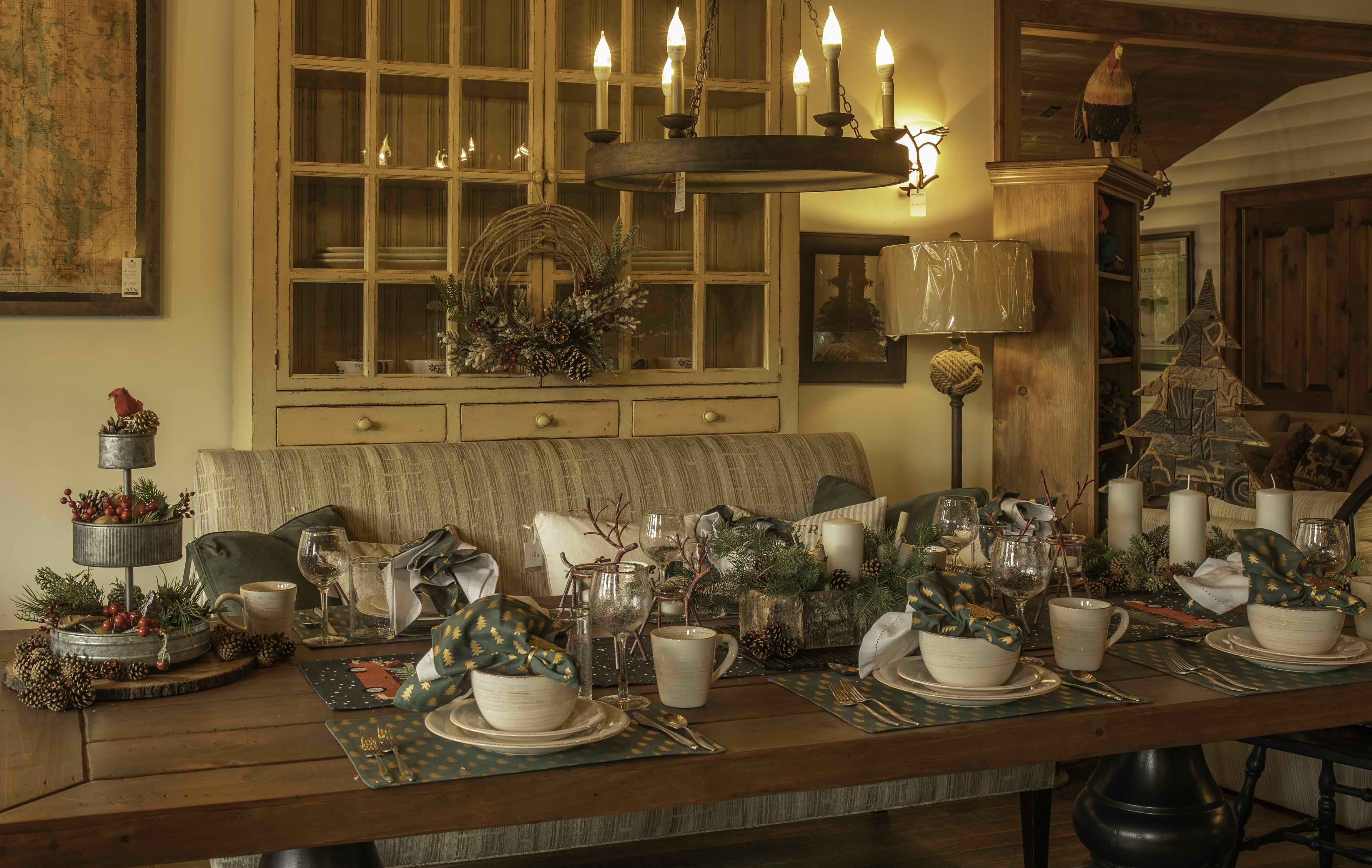 The art of the small gathering - Food and décor for Holiday Entertaining
 Article by Karen Wehrstein/ Photography by Tomasz Szumski
With the future of a world pandemic still uncertain, we all might have to scale back our Christmas entertaining plans this year, hosting more intimate groups of our nearest and dearest. But that doesn't mean they can't be memorable events. As part of planning Christmas events, we're going to go outside our purely culinary bubble to include setting and décor as part of this feature.
The setting can be at home, of course, or in your own private cottage at an establishment such as Patterson Kaye Resort, which is open year-round and offers the full range from a two-person hotel-style cabin to a five-bedroom cottage that has its own kitchen. 
Normally, the resort's restaurant, Seasons, offers a big Christmas buffet dinner, explains operations assistant Jessica Moseley – but not this year, for obvious reasons. 
"We're looking at a family-style buffet for their own table," she says. "You get the same vibe, it's more communal." Have it brought to your Patterson Kaye cottage as if it were take-out, which the resort is also doing this year – why not?

As it turned out Patterson Kaye and Seasons, did not close for the summer. "It was one of the busiest years for us," Moseley said. "People want to do something; they deserve to do something. You still have to be a family in these times."


So now, let's talk food, and the traditional turkey – nah, you already know how to do that. How about something a little different, like roast duck, as made by Seasons executive chef Don Hutchinson?


Hutchinson grew up in Richmond Hill, got his culinary education at George Brown College in Toronto and then apprenticed in CP Hotels from coast to coast, including the Chateau Frontenac, the Royal York, Deerhurst Resort, and inns in Banff and Lake Louise. After a stint in Ontario, he travelled to Australia and worked for a New Zealand caterer for a year, then returned to Toronto to work for other caterers. In 2000, he moved to Muskoka with his children, working first at Inn on the Falls in Bracebridge ("you hear footprints up the stairs, but never see the ghost"). After about eight years at Shamrock Lodge, he started his own food truck and catering business, Muskoka's Menu, and has worked at Seasons for three winters.


Four years ago in Barrie, he met, in his words, "the girl of my dreams," Debbie Urbanski. "I'm going to ask her to marry me," he says, "right about now." (Not to worry; Ms. Urbanski has been informed in a timely fashion.)


Hutchinson's duck recipe adds the flavours of three species of fruit plus thyme for a complex and delicious sweetening of the tender, juicy meat. "Duck has a lot of flavour to begin with," he advises, "so you don't want to overpower it with spices." Also, in keeping with his philosophy of sticking to basics and simplicity, the bird is accompanied with an assortment of al dente vegetables seasoned only lightly with salt and pepper, and melt-in-your-mouth potatoes.


Now let us take an interlude concerning décor, with the knowledgeable and delightful Lena Patten, owner of Hilltop Interiors in Rosseau, now celebrating its 20th anniversary.


"Christmas is my favourite time of year, and I love Christmas Eve," Patten enthuses. Of Lithuanian extraction, she recalls her family sharing a 12-course meal every Dec. 24, when celebrations officially began. Her father would place hay under the tablecloth as a reminder of the manger, a tradition she continues. "It's the reveal, it's just magical, and my family was all about that." They still are; her husband and two grown sons now revel in it as much as she does.


Patten grew up in Toronto and went to university in Guelph, from where she and a friend would prowl the interior-decorating shops of the region every other weekend, planning to open such a shop together someday. However, Patten went into marketing upon her return to the big city, before moving with her husband to Muskoka, where both had enjoyed their respective family cottages while growing up. After working for about four years in another shop, she decided to start her own business. In a moment of synchronicity, the antique building in central Rosseau became available, and Hilltop Interiors was born.


"A cherished Christmas is all about the tasty treats and the timeless décor," Patten says. "It's a sensory experience. The beautiful smells, the evergreens, the candles, having the fire going... great music, good wine and good friends." 


At the heart of it all is the table, making a beautiful table setting a must. "It doesn't have to be too elaborate," she says. "It's those little special pieces that create that warm and inviting atmosphere. And it's so much easier to do when you're doing smaller gatherings with a smaller table."
Nature is a reliable inspiration for Patten.
 
"We live in a great area where you can go outside and clip cedar boughs, hemlock branches, pinecones," she says. "Hemlock has a beautiful silvery green colour on the underside. I always like white birch branches to go with it." Here's a bit of twist you might not think of for Christmas: red roses. "There's nothing like deep red roses with pine boughs. My mother used to do that."


Another cool idea for the table: create a winter wilderness or Christmas scene on a charcuterie board for the initial party reveal. "Then you can easily remove it when you bring in the food," Patten explains. "Every year, change it around, change the colours, put a snowman on it: that's the beauty of the board, it's whatever."


Speaking of colours: "Traditionally people like to see the red and green, which is cheery and bright and fun. It's easy to pull from your own in-house items," Patten says. "But nothing is mandatory." Well, maybe one thing: "The underlying colour that you always have is some sort of green, whether light or dark. Green is what really pulls it all together, helps bridge all the colours." Perhaps in the dead of winter we want to be reminded of foliage, same as we want to be reminded of light during the longest nights.


Every late November, Patten and her staff decorate the store to the nines for its weekend-long Christmas Open House, and people come from all over for decorative inspiration, not to mention to buy frosted glasses, reindeer candle-holders, Christmas-themed placemats, napkins and rings, pinecone-themed cutlery, unscented candles ("they don't interfere with the lovely smells of the food") and much more. Because grey was trending last year, she featured Ellen DeGeneres dishware by Royal Doulton, in warm greys. Grey or taupe works well with metallic accents whether they be silver or gold-themed.


The key: be creative! Like plaid? Make it the theme. 


"Think about your favourite colour, and build your table around it. Or, what colour is trending? Blue seems to be popular this year. Watch for a blue-themed..." 


Lena Patten cuts herself off there, segueing deftly into an invitation to this year's Open House, happening Nov. 20-22. "We have a sale, we serve appetizers, we have a raffle for cool prizes donated by our suppliers." If you are one of her diehard Christmas followers, or at least like-minded, you'll start preparing right after Remembrance Day.


To add appetizers and dessert to our delicious entrée, let's consult with Randy Spencer, best known as the former owner, for 19 years, of Spencer's Tall Trees restaurant in Huntsville, and now owner of Spencer's Catering & Culinary Creations. Born near Noranda, Quebec, he grew up in Toronto, received his culinary education at George Brown College, worked at a restaurant in Hamilton for a while, then travelled the world including Europe, Jamaica and the Bahamas, where he met his wife Karen. In Muskoka, he worked at Hidden Valley Resort and Grandview before purchasing Tall Trees in 2000.


As a restauranteur rather than purely a chef, Spencer says, "you have to check your ego at the door; if something isn't working, don't kick a dead horse." Friendliness is crucial, too; clients of Tall Trees still greet him on the street.


Now, Spencer says, "We're in the next phase of our life. This year, we've done 10 per cent of what we normally do in catering." Often, he will go masked into a cottage kitchen, set up the food and leave. "Even in forced semi-retirement now, I cook every day anyway." 


One exercise of his craft he has resolutely not quit is volunteering one day at the Huntsville food bank, The Table, and providing quality food for Hospice Huntsville, after being deeply moved by the quality of treatment provided there for a dying friend. Just hearing, for instance, "My father smiled" is satisfaction enough for Spencer.


Hand-held pies are all the rage in Australia and New Zealand, he says, available everywhere in stores, food trucks, etc. Through use of sausage meat, the recipe becomes versatile, lending itself to spicy, farmers', Mennonite, or what-have-you. He ran the sausage and potato version past Keely Schierl, former owner of The Butcher's Daughter in Huntsville, to perfect it. It is a rich, juicy, meaty treat inside flaky pastry, combining the heartiest of tastes and textures.


Our bonus appetizer is – are you ready for this? – bacon-wrapped dates. Dates were on sale and Karen had bought too many. They had already tried bacon-wrapped water chestnuts, scallops and chicken livers, so why not? "Don't be afraid to try something different," is part of Spencer's food philosophy. I can't quite describe the combination of these flavours, though "rich as heck" goes without saying; you just have to try them.


Spencer's dessert, the chocolate bombe, is, well, the bomb. Right away I tasted the secret ingredient that tangs up the sweetness in both the crunchy edges and the deliciously gooey inside, wondered what it was and couldn't quite place it.


Some final wisdom from one of Huntsville's legendary restauranteurs: "Food isn't always about taste. It's about the company, the ambience, the thrill of the moment and where you are… you're there." Now that the Fall Winter issue of Unique Muskoka has arrived, it is time for Cottage Country Cuisine to go into hibernation until spring 2021. Have a wonderful holiday season, stay healthy and happy and, as always: 
bon appétit!
Roast Duck 
Don Hutchison, Patterson Kaye Resort and Seasons
Ingredients
1 duck, washed inside and out
3-4 tart apples (e.g, Empire or Granny 
    Smith), cored and quartered
1 medium-size onion, cut into 8 pieces
1 orange, peeled and cut into quarters
Salt and pepper
1 tsp minced garlic
Fresh thyme sprigs (about 5)
2 oz brandy
½ cup apricot jam
2 cups duck or chicken stock
2 Tbsp flour
Method
• Poke holes or score the skin of the duck to render the fat. Season well with salt and pepper inside and out.
• Mix the apples, orange, onion, garlic and thyme (except 1 tsp thyme leaves finely chopped) with ½ oz brandy. Stuff the duck's cavity with this mixture.
• Place in a preheated oven (350°F) in a roasting pan. After 20 minutes, reduce heat to 300°F and continue cooking for about an hour.
• Mix the rest of the brandy with the jam and baste the duck with it. Baste about every 20 minutes. Cook duck until its internal temperature reaches 165°F.
• Remove from the oven and set on a plate to rest for 10 minutes.
• Strain about 2 Tbsp of fat from the roasting pan into a pot. Add 2 Tbsp of flour and mix into a toothpaste-like consistency. Heat on the stove, stirring constantly until it starts to brown. Slowly and carefully start adding the stock until it reaches a velouté consistency: dip a wooden spoon in the sauce and run a finger across the back of it; if it slowly drips back together, it is the right consistency.
• Season velouté with salt and pepper. Add the leftover1 tsp of chopped thyme.
• Duck is ready to carve and your velouté is ready to serve and be enjoyed by your guests! 
Chef's tips
"Scoring or poking the duck's skin, especially around the legs, is very important because it renders out the fat," Hutchison advises. Pierce just through the skin, not into the meat.
For roasting, you may want to put some sliced apples under the duck to stop it from sticking to the pan.
If you haven't tried frying potatoes in duck fat with a little salt and pepper, you must. 
When ordering this dish from Seasons, provide 24 hours' notice.
Sausage & Potato 
Hand-Held Pie
Randy Spencer, Spencer's Catering & Culinary Creations
Ingredients
Use your favourite pie-dough recipe, or use store-bought 4" pie shells and homemade dough for pie top cover.
1 lb. ground pork
1 lb. sausage meat from butcher
1½ cup sliced onions
1 Tbsp finely-chopped garlic
1 lb. peeled potatoes thinly sliced and 
     lightly cooked in salted boiling water 
     (mini potatoes are perfect for 
     handheld pies)
1 tsp dry thyme leaves
2½ cups beef stock
3 Tbsp flour
1 Tbsp Worcestershire sauce
Salt and fresh-ground pepper to taste
1 egg, beaten
Method: 
• Cook meat in saucepan on medium heat. Drain all but a few tablespoons 
of fat
• Add sliced onions and garlic, brown 
for 5-6 minutes on high heat, stirring 
so onions do not burn. Turn heat to medium.
• Add thyme, Worcestershire sauce and flour, mix in.• Stir in beef stock. Cook for 5 minutes. Fold in potatoes, season with salt and pepper to taste.
• Let cool in fridge for 45 minutes.
• Fill pie shell and cover, crimp and brush with beaten egg.
• Bake for 20-30 minutes at 375°F till golden-brown.
Makes 20 four-inch or 32 muffin-sized handheld pies. 
Chef's tips:
Try them with HP Sauce. 
Enjoy reheated pie with fried eggs and HP Sauce at breakfast.
Chocolate Bombes with Eggnog Crème Anglaise
Bombes:
Ingredients:
¾ cup butter
9 oz. chocolate (good quality, e.g. 
    Coco Barry or Callebaut)
1 tsp orange zest*
1 cup brown sugar
3 eggs 
1 tsp vanilla
1 cup all-purpose flour
Method:
• Melt butter and chocolate in double 
boiler (so as not to scorch).
• Whisk in brown sugar.
• Remove from heat. Whisk in eggs, zest and vanilla. Fold in flour. 
• Portion into greased non-stick 6 x 4oz. muffin pan.
• Bake at 350° F convection for 10-12 minutes.
• Let cool 5 minutes, then turn out from pan gently onto wire rack.
*The secret ingredient - Crème Anglaise
Ingredients:
3 cups eggnog
10 egg yolks
1 cup white sugar
¼ tsp cinnamon 
1 tsp vanilla
2 Tbsp cornstarch 
Method:
• Heat eggnog (do not boil).
• Create cornstarch slurry by adding a maximum of 1 Tbsp water to the 2 Tbsp cornstarch until it liquefies.
• In a stainless-steel bowl, mix the sugar 
with yolks, vanilla and cinnamon.
• Place bowl over a pot of simmering water. Whisk the mixture as it slowly warms. Add the eggnog as you are whisking. When the mixture starts to thicken, whisk in the cornstarch slurry slowly. Once mixture thickens, remove from stove.
• Cool in fridge, lightly covered with plastic wrap, or serve warm. Both ways are great.
Chef's Tip:
You can add a bright red drizzle for holiday pizzazz by mixing and cooking macerated cranberries with sugar and cornstarch, or thinning some cranberry jelly. Apply artistically with a squeezebottle to crème anglaise spread on plate with chocolate bombes.