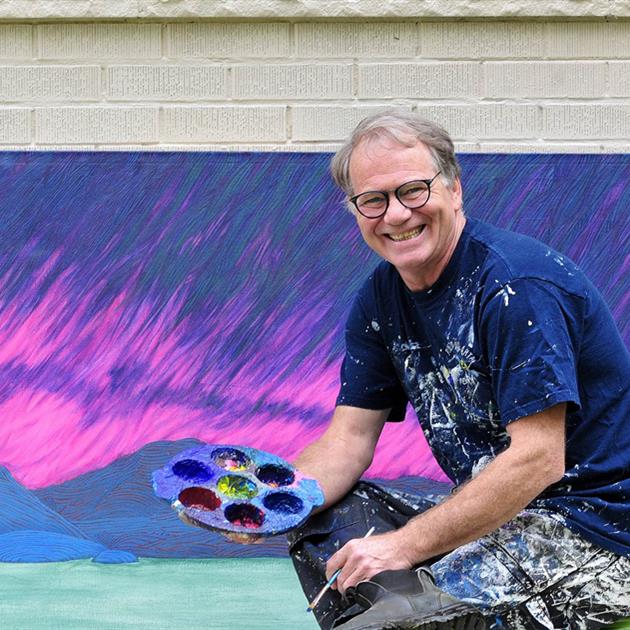 GERRY LANTAIGNE'S BIG PICTURE ARTWORK
Article by Karen Wehrstein/ Photography by Heather Douglas

Sent away from Huntsville Town Hall before he could even finish his presentation to town council in 1996, Gerry Lantaigne was certain it was the end of his idea for giant downtown murals.

"I was shocked," Lantaigne recalls. "I left with my tail between my legs. I was asking them for a lot of money... $114,000." But he had been confident, based on the experience of a small town on Vancouver Island where tourist traffic had jumped after it raised three murals, that the project would pay for itself.

In the municipalities of Huntsville and Lake of Bays, where Tom Thomson and Group of Seven reproduction murals now grace the walls of buildings all over, viewers may judge the success of the Group of Seven Outdoor Gallery for themselves.

This year, in honour of the 100th anniversary of the formation of the Group of Seven, the annual Outdoor Gallery event will feature seven canoes whose hulls will be painted with one reproduced work of each of the original Group of Seven members. Lantaigne is slated to do five canoe paintings and Gravenhurst muralist Tim Webb the other two. Paintings, dates, locations and the degree to which the public will be able to participate, as has been the tradition, are all undecided at time of writing (check the Huntsville Festival of the Arts website for updates).
What we do know from Lantaigne is the nature of these particular "canvasses" will require departure from the Gallery's usual policy of exact replication. "We're giving ourselves artistic license," says Lantaigne. "We'll probably take Harris's mountains and play with them on the canoe, one of Thomson's trees and play with it... we're definitely going to be ad-libbing." Look for the canoes to be displayed prominently in the town this summer and next, including at the 2021 edition of Nuit Blanche North, then auctioned off in September 2021 as part of the Algonquin Outfitters Charity Paddle Art Auction.
The original Group of Seven – Franklin Carmichael, Lawren S. Harris, Arthur Lismer, Frank Johnston, J. E.H. MacDonald, Fred Varley and A.Y. Jackson – formed in 1920 and had their first show on May 7 of that year at the Art Gallery of Toronto (which would become the Art Gallery of Ontario). But their story truly starts with Tom Thomson, who had died in 1917.
What people who derided Thomson's impressionism-on-steroids brushwork style couldn't argue with was that his colours could be hyperrealist.
"I think Tom Thomson had a mind like a digital camera," Lantaigne enthuses. "He saw pixels! His skies... meteorologists could tell what the weather would be in a few hours from them."
Upon first seeing Thomson's work, MacDonald and Harris subsidized him quitting his graphic design job for a year to devote all his time to painting.
"He spent the summer of 1912 in Algonquin Park," Lantaigne recounts. "When he brought his paintings back, it was a 'eureka' moment. That's when Harris and MacDonald said 'You have captured what Canada means in paint and modern art.' People didn't use colour like that. Nobody ever painted rocks and trees and lakes, it was all pastoral scenes. This was uniquely Canadian art painted in a uniquely Canadian style."
Thomson's work and the first Group of Seven show, like many unprecedented movements in art, hit the art world like a bomb. Some reactions were so negative that Johnston felt compelled to leave the group and change his first name to Franz to save his career. The remaining members didn't take it lying down, however.
"They didn't get a lot of support from major galleries, dealers and collectors," says Lantaigne, "so they took their work on the road, showed in small towns and schools and libraries. They brought the arts to the people, coast to coast. People liked their art, and that's how they became the icons they are."
Some decades later, another young artist began a career path somewhat similar to the Group of Seven in its commercial component.
"I always had an affinity with art," says Lantaigne, who grew up in Scarborough, went to an art-designated high school and then the Ontario College of Art (which would later add "and Design"). His thoughts were already on art of large stature: set design and scenic art. Landing a spot in an off-campus program in New York, he worked for an off-Broadway company, doing house-painting on the side.
"That's where I learned to paint big," he says.
On returning to Scarborough, he worked for his brother-in-law's sign company, painting big letters, and when that wound down, he was offered a job with Mur-Ad, a Toronto company specializing in mural advertising.
"I quickly learned how to paint sides of buildings to look like photographs, became a production manager within weeks," Lantaigne reminisces. "But they were put out of business overnight by the inkjet banner."
Like many GTA natives, Lantaigne was familiar with granite country from camp stays as a child and trips in his 20s to Algonquin Park.
"I always wished I could live up north but I was stuck in the city," he says. His first foray was an unsuccessful bid to rent advertising murals; all three Muskoka towns refused to support his idea. Lantaigne was in his late 20s when he had his own 'eureka' moment.
"This is where it all took place," he remembers thinking. "This is where Tom Thomson made his pictures!" The outdoor gallery idea was born, and he put together a 72-page report and slide presentation only to get the bum's rush out of Huntsville Town Hall.
A local business owner chased after him, apologized on behalf of the community, and offered to commission what he could afford: one mural. This mega-rendition of Thomson's The Jack Pine still hangs on the building, facing north into Kent Park. About three years later, the Huntsville BIA, whose leaders had kept the 72-page report on file, gave the Outdoor Gallery its real start.
The rest is art history. With more than 100 works – including 36 murals on Huntsville High School alone, and Brenda Wainman-Goulet's iconic bronze statue of Thomson near the town hall – the gallery has expanded to every town or village within the bounds of Huntsville and the Township of Lake of Bays. Mural creation was transformed into a festival, with anyone and everyone invited to make a brushstroke – including the world leaders at the 2010 G8 Summit, all eight of whom agreed. Lantaigne leads gallery tours and the gallery has its own website.
During the first festival, in the summer of 2006, Lantaigne was scheduled to paint three murals, so he rented a cabin in exchange for painting a cottage – and happened to fall in love with the owner's sister-in-law, Robyn Fortunato.
"It took three or four years to convince her to go out with me," Lantaigne recalls. "She finally conceded defeat and dated me, and we've been together ever since." Finally, he made his escape from the city to Huntsville.
Fortunato encouraged Lantaigne to enter the real estate business, a less physically-strenuous occupation now that he has reached middle age. He is in his second year selling real estate, and has just arranged with Hunter's Bay Radio to host a radio show, The State of Real Estate, Sunday mornings at 7 a.m., featuring a weekly market report, interviews with real estate-related pros and real estate tips. The first episode aired on June 7.
But in this hectic life, Lantaigne is still able to make time for his own art.
"The canvas I'm working on right now is a painting of the northern lights," he says. "I'm using some of the techniques I use to do murals, recreating what oils look like with acrylic. I've never done that before with my own art."
Gerry Lantaigne is a happy person.
"Fate brought me here," he says. "I feel blessed for sure. Painting is Zen. Life is peaceful."