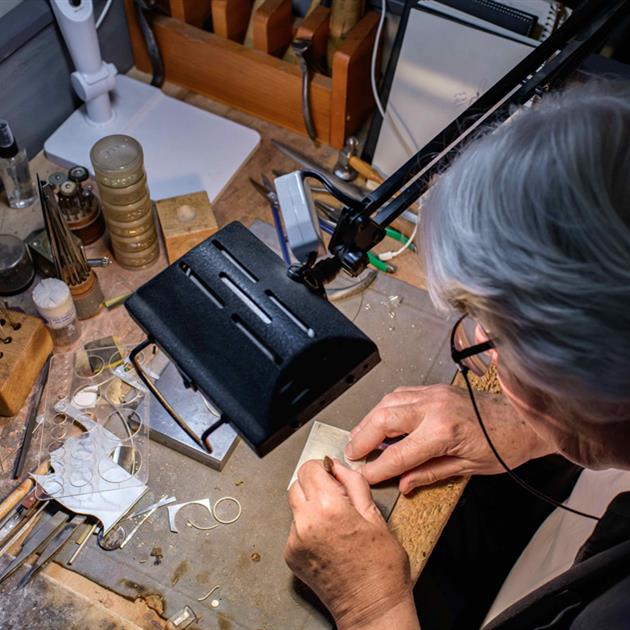 STAN TAIT – LIFE EXPERIENCES NURTURE CREATIVITY
Article by Meghan Smith / Photography by Kelly Holinshead

Muskoka's artistic community is a varied mosaic of talents and backgrounds. As a group, artists in Muskoka are eager to share their love of the natural surroundings and to support each other's growth and creativity. A self-proclaimed outsider, Stan Tait, artisan and musician, recognizes that his west coast roots have shaped his talent right along with his years of living and creating in Muskoka.
"People who are drawn to this landscape have exceptional standards and a rich appreciation for things of beauty," says Tait. "As an example, look at the history of wooden boats. Those are the epitome of gorgeous workmanship and beautiful sculpture, and they were a function of the cottagers and the resorts that were built here. The influx of world visitors we have just adds to the appreciation and the passion for Muskoka."
Tait's admiration for the landscape, the people and the community is strengthened by the local history. The long-standing, symbiotic relationship between locals and visitors, going back over a hundred years, is an integral part of what has made Muskoka what it now is.
In Muskoka, the artistic outlook is original and fresh, and Tait's own artistry has thrived in this environment. Honouring those values and the values of his fellows within the artistic community has kept his work far from being cookie cutter.
"I'm surrounded by beautifully gifted and deeply committed artists," says Tait. "This is the most inspiring group of artists, probably in Canada."
Born in White Rock, British Columbia, Tait learned of his family's early history as pioneers of the logging industry and developed an appreciation for hard work. Growing up, his first love was music and Tait worked in a recording studio in the early 1970s as a studio musician. Music and song writing helped to connect Tait to an emotional, creative space within himself.
As he began his journey into craftmanship and physical art, his artistic expression continued to well from a meaningful place. Musically-inclined Tait correlates his need to design from a purposeful place best expressed as the difference between the Beatles and the Monkees.
"The difference was the Beatles didn't plan on becoming the Beatles," shares Tait. "They just did what they did. The Monkees were manufactured. I like things that are created. There's a substantial difference in that."
Tait's entrance into designing and crafting jewelry began in 1974 when he was gifted a box of tools from an acquaintance who was leaving art school. In the mid to late 70s, there were many potters and artists, but not many artisans. Tait was inspired by world class artists from varying backgrounds.
"I taught myself by watching," he explains. "I watched an artist named Chan Sun for about an hour or more and then I went home, got out my tools and started making jewelry."
He knew he needed to sell his work in order to keep making it. The first outlet Tait approached to sell his work was a gallery called The Quest, a premier gallery with locations in Vancouver, Victoria and Banff.
"After three weeks of making jewelry from scratch, with primitive tools, I went to meet the manager of the Gastown location of The Quest," shares Tait. "She looked at my work and asked how long I'd been doing this and I said 'it feels like forever'."
That day, the manager made an order that paid his rent in full for the month.
"It wasn't until after that meeting was over that I realized how important that first meeting was," says Tait. "From there, I was selling to the aquarium, the planetarium, museums and art galleries."
Few places were selling artisan's work at the time and Tait found he was introducing many stores to the idea that there was a market for selling jewelry.
As the market shifted, after a productive eight years of wholesaling, Tait sold the houseboat he was living on in west Vancouver and decided to relocate to his partner's childhood home: Rosseau. In September 1984, Muskoka seemed as good a place as any to make a fresh start. Upon settling in Muskoka, Tait again used his initial approach from the west coast and looked through the Yellow Pages for places to sell his work.
"I went and met with the manager of the Ontario Craft Council's guild shop in 1985," explains Tait. "She had never heard of me but I took everything I had and I listed off everywhere I'd sold my work in the west coast."
The manager of the guild shop asked to have every item he'd brought and ordered more, requesting more variety and bigger pieces of jewelry. Tait knew he had made the right decision. In addition to the Ontario Craft Council, Tait began to discover events like the One of a Kind Craft Show and Art in the Park. On the west coast, he'd only ever participated in one craft show but Tait wanted to be more greatly involved in the local artistic community.
"Coming to Muskoka, I had no idea what I was coming to," shares Tait. "I very quickly discovered an organization called Muskoka Arts and Crafts."
Tait attended a Muskoka Arts and Crafts meeting. He wanted to get involved but did not want to be juried by a panel in order to participate.
"I was juried in Vancouver by a body there and I did well but I didn't like it," explains Tait.
Being juried is not a requirement of joining Muskoka Arts and Crafts. Only that a member lives in, owns property, works in Muskoka or has year-round gallery representation within the district and so Tait became a member. In doing so, he was introduced to other members, including Jon & Suzann Partridge, Beth Barry, Jamie Sherman and others. The vast array of artisans welcomed Tait.
"Those artists introduced me to everything about art in Muskoka," says Tait. "I was warmly accepted by members, patrons and the arts community as a whole."
His next goals were to join the Muskoka Autumn Studio Tour and attend the One of a Kind Craft Show as a vendor. Tait relocated from Rosseau to Port Carling, and built a studio so he had a space to welcome people to visit and be a part of the fall studio tour. He's had a working gallery since 1990.
"I've only missed the studio tour once but I've been on it since 1994," says Tait.
Tait's lifework has been designing jewelry. Although he has been a producer for many years delivering high volumes of product, he has also taken great care in producing individual commissions. By surrounding himself with inspiration and like-minded, talented people, Tait's own art and craftsmanship has continued to evolve.
"I've never done it for fashion," explains Tait of his jewelry. "Over the years, I've at times had a spiritual challenge with jewelry because it can seem frivolous. Approaching it from the perspective of making a piece of art has allowed me to manifest my designs."
With commissions, people are sharing a piece of their personal history, their emotions and their own story when they're requesting a piece of jewelry or a small collection. Wanting to encapsulate a feeling, like hope, or commemorate an achievement, like completing a marathon, are individual experiences that Tait has to understand and appreciate before conveying artistically.
"The entire nature of the work I've done all my life has shifted," comments Tait. "And, for me, it's landed in an almost sacred space."
Inspiration for designs can come from anywhere. The power of suggestion, formally or passively, has led to the development of some of Tait's most beloved pieces. A father looking for a gift for his daughter's graduation from The Juilliard School resulted in a simple treble clef.
For years, Tait wanted to design a tree but had never managed to settle on it. While living in Port Carling, every day he would walk from his house to the post office and he began working on his tree. He'd finished the design and was selling his tree when one day, while out for his walk to the post office, he stopped at the corner and looked up. The tree he walked by every day, and barely registered due to familiarity, was the tree he'd designed and was now selling.
"The trick is almost to not really know what you're doing, to allow it to unfold," muses Tait. "It gives respect to experiencing what's around you, rather than focussing on the idea. Sometimes it better to not even have an idea and just be open to a new design coming to you."
In December 1999, a customer called on the Monday morning following Tait's 14 days at the One of a Kind Craft Show. Exhausted, he took the call. The customer had been visiting a friend in the United States who was sick. She requested an angel, in 14K gold and needed it to be sent out by Wednesday. In two days, Tait designed the piece, ordered the materials, crafted the piece and shipped the necklace out. Since creating that one pendant over 20 years ago, Tait has been making and selling angel pendants and shipping them all over the globe.
"That piece just blew me away," shares Tait. "That piece said, 'I love you, I'm here for you and, even when I can't be there, I'm thinking of you.' I felt that was such a beautiful message."
Tait's intention, throughout his career, has been to design pieces of art, inspired by emotion. Having lived throughout Muskoka in his over 30 years here, Tait's appreciation for all the area has to offer has only deepened.

"The craftsmanship that's here, in every industry, makes this an incredibly special place on the planet," shares Tait. "Artists are an integral part of the group, just like contractors or the cottagers. These are the anchors within this community. To be welcomed into that, is just an absolute gift."
Painters, potters, jewelers, photographers, glass artists and countless other talented artisans all hold space as inspiration for Tait. Even more special is sharing his home gallery with his wife, Sue, and daughter, Mikaela, both artists in their own rights.
"I'm so happy to be part of the artistic community and the community in general here," shares Tait. "My utmost respect and gratitude to the other artists because the people here are incredible. I love this place."