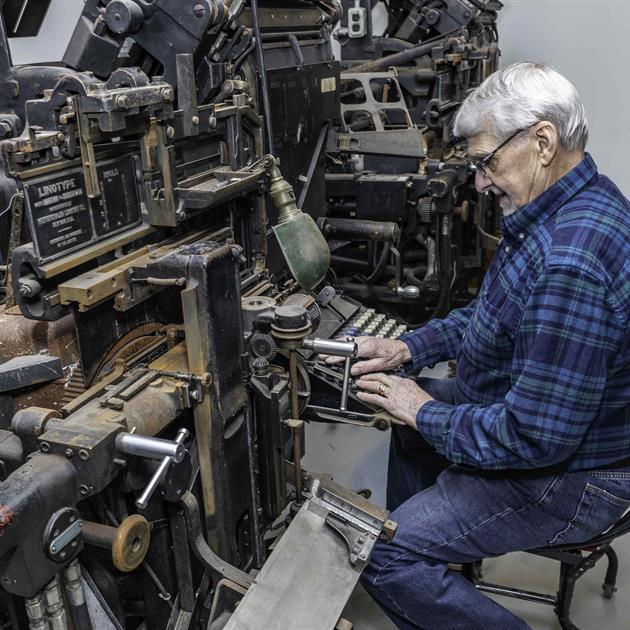 PRINTING MUSEUM REVIVES THE PROUD HISTORY OF A TRADITIONAL CRAFT
The Morgan Davis Printing Museum is the culmination of a lifelong love of printing that spans seven decades. For museum founder Morgan Davis, it's also the celebration of a family tradition that spans three generations.
Davis was born in Toronto, growing up in the Downsview area. At the age of 15, he began his career in printing, following in the footsteps of his father and his grandfather before him. While working as a truck driver for a consolidated printer, a foreman of the offset press department offered him a role in the shop. The foreman knew Davis' family background and thought he might be interested in moving from driver to printer. He never looked back.
"At 19, I sold my car to buy a printing press and put it in my mother's basement," explains Davis. "She wasn't too pleased at first."
For over 20 years, Davis ran a successful printing company, embracing his love of the design work and creativity built into the printing process. He grew his single printing press to a company of 15 employees with a workspace in Richmond Hill. However, following a heart attack at the age of 43, Davis sold his printing business from his hospital bed. He retained the building, with rent as a source of income, but moved away from printing for two decades. 
After purchasing a property on Muldrew Lake Road for development, Davis made the permanent move to Muskoka 20 years ago. Acting as the general contractor, Davis built a home and sold it. That meant he needed to find somewhere new to live, but he knew he would be staying in Muskoka.
"Muskoka is the place to be," shares Davis. "There's nowhere else like it."
Since that first home he built and sold upon moving to Muskoka, Davis has built and sold three others. Not quite as many as his father, who built and sold six homes throughout his life, but enough to be confident in both trades, construction and printing, like his father before him. After selling that first property, Davis began to re-discover his love of printing.
"I'm a lithographer by trade but I'm also a printer," explains Davis. "My grandfather worked as a lithographer, my father as a printer and as a builder. It's all in the family."
Davis' family ties and career have granted him an understanding and appreciation of printing and the steps involved in the processes. Both lithography and letter press printing manufacture a printed product. The actions and means used to generate the print are the difference.
Lithography evolved from the use of stone plates to various kinds of metal to reproduce type and images. First developed in 1798, the offset methods for printing on paper were refined in the early 1900s.
In the offset lithography, or offset printing, process the inked image is first printed on a rubber cylinder, which then offsets, or transfers, the image to paper or other materials. With the flexibility of the rubber cylinder, offset lithography can be used to print on many surfaces beyond just paper, such as wood, cloth and leather.
Since its creation, offset printing has been used to produce printed matter including newspapers, maps, books, magazines, stamps, packaging, cards, and more. However, artists in the 21st century also returned to using the offset process for non-commercial, artistic means.
In comparison, letterpress printing was founded in the 1500s. Letterpress is the direct, repeated impression of an inked surface against many sheets of paper. Engraved metal or wood were traditionally used to make the impressions, with the paper most commonly found in rolls. Printing by hand in the letterpress style was tedious. Letterpress printing evolved through first the industrial revolution, through steam-power and hydro-power and then to what we know today, through the technological revolution's electronic and computing advances.
"A number of years ago, I was called by a man in Liberty, Indiana, because he'd heard about me and got in contact," explains Davis. "He didn't want his family to send his collection to the dump, so I took a truck and loaded it all up. I use those presses to make cards and other things now."
Over the last 15 years, Davis has acquired printing presses from all over North America, such as Pennsylvania and Indiana, in addition to one from just north of Huntsville. The collection of items may be considered antique and useless to some, but several of the presses are in perfect working order. Davis has carefully curated the items in his museum and is well-versed in their history and use.
"I can and do print pretty much anything you can think of," says Davis. "Envelopes, letterhead, business cards, placemats for restaurants. I design greeting cards, over 30 designs, and we sell them in the gift shop."
Today, most graphic design for mass-produced cards, advertising and other printed materials is completed using computers and digital printing. Davis, however, has continued to work with offset lithography, along with collecting antique printing presses.
"Printing is a creative process, especially what I've been doing for the past little while," shares Davis. "I quite enjoy designing and making cards. You think on the designs for a while and make them your own."
Since his return to print making, Davis has drawn inspiration from his local surroundings, iconic images like the Muskoka chair or the wind-swept pine. He also flexes his creativity by taking on commissioned designs for everything from restaurant menus to letterhead.
"I've even done wedding invitations for couples that were from Turkey and Afghanistan," shares Davis. "One couple was planning to come to Muskoka to get married on the Segwun and they found my information online. It was incredible."
Davis opened the museum in September 2019, sharing space with Moose Feathers Gift Shop, located on Highway 118 West, between Port Carling and Glen Orchard. The museum showcases 58 cases of movable type and a complete printing shop including two Linotype machines and much more.
Now 86, Davis continues to reside in Muskoka Lakes with his wife, Barbara. He likely will not be building any more homes, but he does plan to continue printing and sharing his knowledge with locals and visitors alike.
"People are interested in the history of printing," shares Davis. "We've had a great response when people come in and hear about the process and the history. I'd be interested in having groups of students come in as well.
"I welcome everyone to come by," says Davis. "I take great pride in sharing my knowledge."
With modern technology, printing a document or an image can be the work of a few keystrokes and only a moment in time. Davis' printing museum, and his continued practice of the trade, transports his visitors back to a time when patience and artistry came together in the printing process.