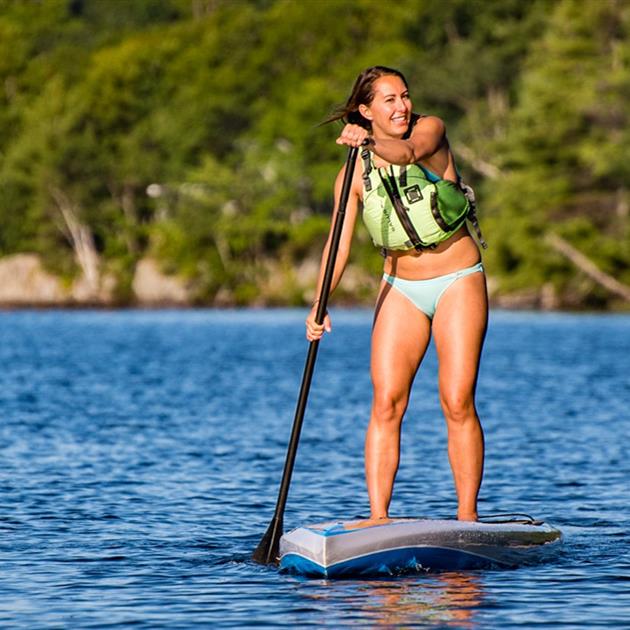 EXPLORING MUSKOKA BY PADDLEBOARD
Article by Sandy Lockhart / Photography by Andy Zeltkalns
It wasn't that long ago that a canoe, preferably red, was a staple for every cottage. Then a few decades ago, it was replaced by a yellow kayak. The kayak's heavy-duty plastic hull was great for cottage guests and younger family members.

But today, every true cottager has a stand-up paddleboard. Those who have had one since the early days remember boaters and people on docks staring at them.
"What are those things?" they were asked. "Is it hard to balance?"
"That must give a pretty good view of the lake, eh?" was commonly heard as the paddleboards became more prevalent on the lakes.
Luckily, it's not too hard to balance and "yes" the view from that height is incredible.

And Muskoka is made for paddleboarders, with hundreds of lakes and so much access. Just pull up to any boat launch, grab your board and gear, and carry it down to the lake or river.
"Muskoka's countless bodies of clean, sparkling water make it a great paddleboard destination," explains Katie Hearn, marketing manager at Muskoka Tourism. "From views of the Canadian Shield rocks to hidden beaches and stunning waterfalls, the paddleboard experience allows you to get up close to view Muskoka's beauty." 
According to the District of Muskoka, the area has 1,600 lakes. Muskoka has miles of river too, and when paddling, there is something to see around every corner.
Jordan Kupferschmidt had been paddleboarding at the family cottage for years. "Even before there were paddleboards, we took my Opa's old windsurfer board and ordinary paddles and made our way across the lake. I think I was about eight when I first did that," she says. "That board was very tippy."
When she grew up, with a career and responsibilities, she could no longer spend the entire summer at the cottage. "I bought a board and straps to attach it to my car," she says. "Now I can go paddleboarding anywhere there is water.
"I've always been a water baby," says Kupferschmidt. "I like anything to get me on the water. Even if it's too cold to swim, you can go out and be on the water."
She doesn't always need to go for a long trip, even half an hour is good if her time is limited. "Standing on the board, in the middle of the lake, your whole perspective changes," Kupferschmidt says. "It also feels less invasive, going along the shoreline quietly versus out in the lake in a big boat."
Kupferschmidt says every day on a board is different. "On a calm day, it is relaxing. On a windy rough day, it is a physically demanding workout. "
At the family cottage, Kupferschmidt leaves the board by the shore and goes out alone or with friends and family. "It's easy to paddle and talk when you go out with friends."
Other times, she straps the board on her SUV and explores different spots. "In Muskoka, there are so many places where I can park my car and carry my board a few metres to the water. "
Last summer, she and a couple of friends paddled to the far end of a small lake, climbed a small hill and crossed a bog to find a secluded little pond on Crown land. "You can get to places that you feel no one has ever been to before."
Kupferschmidt also enjoys doing yoga on her board. "It's fun to challenge yourself and do different poses . . . like standing on one foot or even a headstand," she says, adding all it takes is a couple of weights attached to the board to make sure you don't float away while doing yoga.
Mark Verbeek is a lifelong paddler who discovered paddleboarding, just four years ago. As a veteran of family canoe trips and a whitewater paddler who has experienced paddling all over the world, he originally thought paddleboards looked slow and cumbersome.
Then he saw some pretty cool looking boards for a good price and purchased a couple, thinking they would be good for the kids.
The first trip out changed his mind. "Wow, this is incredible. I clearly misinterpreted this," he says. "I kind of got hooked and now, by choice, I paddle my paddleboard more than anything else."
Like Kupferschmidt, he appreciates the ease and convenience. "I can pick it up, walk down to the river, throw it in." One of his favourite spots is heading down to Annie Williams Memorial Park on the Muskoka River. "I can paddle into town or out to Lake Muskoka. Up towards High Falls is also very scenic. It's a beautiful place to go."
Verbeek likes the calm of the early morning. "Around 6 or 6:30 a.m., there is no wind, the water is calm and sometimes there is a bit of mist or fog – it's so peaceful."
When travelling on the north branch of the Muskoka River, paddleboarders need to watch out for deadheads, he explains.However, he still likes to paddle that waterway, noting "It is generally very quiet and calm."
When he's travelling around Muskoka by car, he's always watching for scenic spots that might be a good next paddleboard excursion. "It's so easy to put my board on my car and take it to a lake or river somewhere."
"Zen, relaxing, very calm – it's not about going fast," says Verbeek. He adds that it's also about seeing everything in a new way. Because one is standing on the board, they can look down into the water. "I spend as much time looking down as around and ahead," he says. "Even if I've paddled the same route a hundred times in a canoe, I see something different when standing on my paddleboard."
Down from Annie Williams Memorial Park, there is a sunken boat that he estimates he's passed in his canoe about 100 times, but never saw it until he was on a paddleboard.
Verbeek doesn't have recommended routes but suggests paddleboarders just follow whatever interests them. "I go in at Muskoka Falls," he says. "I put in at the locks in Huntsville and paddle across Fairy Lake into Huntsville and have a coffee on a cold day or if its hot, ice cream and then come back."
The beauty of a paddleboard is that a boat launch is not required. "You just need a place to park and you can carry your board."
Verbeek recommends beginners stick with calmer waters and smaller water bodies. He's paddled Lake Muskoka a few times but warns out in the large open part of the lake, it can get challenging.
"It's not great with the wind and waves.
"Waves can come up quickly and it can take hours to come back." In the early morning, it is normally calm and the winds also settle down in the evening.
Verbeek always wears a lifejacket and insists others do the same. He explains that with paddleboarding, as opposed to canoeing and kayaking, you are more likely to end up in the water because you are standing up and can lose your balance. If you fall in, the lifejacket strapped to the board is not going to be any help, he says.
He paddles alone, with family and often with his medium-sized dog. "He's my paddleboarding buddy, but he falls off when he gets too excited."
Paddleboarding is a sport that is as easily enjoyed alone as with a group.
One can enjoy a short paddle as much as a long adventure. Both Verbeek and Kupferschmidt enjoy a short paddle when they have limited time.
"Sometimes I just go out for 20 minutes, just to get out on the water. It doesn't take a lot of prep," says Verbeek.
Paddleboards are appearing on more and more cottage docks for a reason. It doesn't take a lot of practice to become a competent paddler. With a paddleboard, there are many spots on Muskoka's lakes and rivers to be explored and some to yet be discovered.