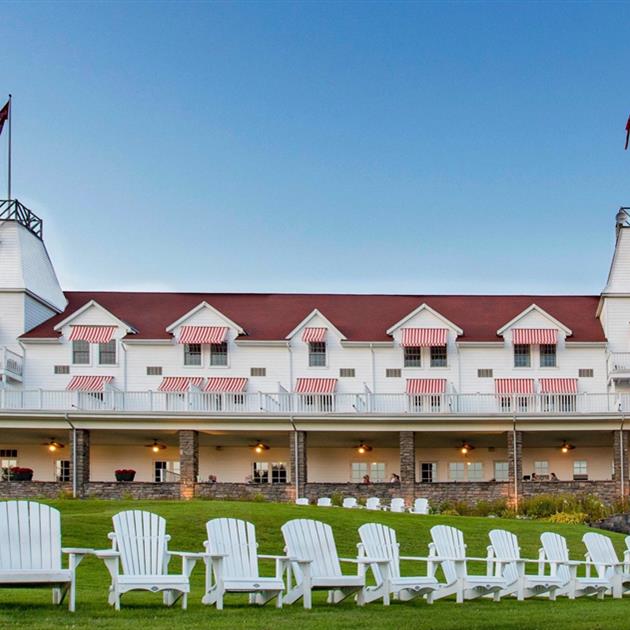 WINDERMERE HOUSE A SHOWCASE FOR MUSKOKA'S EVOLVING HOSPITALITY FOR 150 YEARS
By J. Patrick Boyer
In 1863 Thomas Aitken, a 31-year old Scottish immigrant farmer, trekked from Peterborough into Canadian Shield wilderness looking for farmland "flatter than a pancake" near Lake Rosseau where his brother-in-law David Fife had already begun homesteading.
Today, Aiken's Windermere House epitomizes Muskoka's vacation economy. It is a summer resort hotel which people themselves popularly christened "The Lady of the Lake." It's long been an economic and social pillar of its village, Windermere. It earned its pre-eminent status by a satisfying blend of style, tradition and service. Above all, the pioneering saga of Windermere House teaches that for a vacation economy, evolution is essential.
Evolving is complex and layered, but begins by first creating something to work with: in this case, a farm. Thomas located a gently sloping stretch of arable land and built a lonesome cabin at its height. The next year his brother-in-law persuaded him to build nearer his house by the lake. David Fife's wife Ellen, mother of their four children, was Thomas's sister.
These homesteaders were clearing farm acreage before the township had even been surveyed. They not only got proper lot numbers in 1865 when the township was surveyed but were proud it was named Watt for a fellow Scot. James Watt's advances in steam engine technology were then powering the world's Industrial Revolution.
In 1868, the vicinity's scattering of homesteads was named Windermere, after a resort village and lake in northern England, for a post office designation. The next year, in addition to farming, Thomas was Windermere's postmaster, sorting and delivering mail.
Meanwhile, his spinster sister Elizabeth Aitken had arrived to keep house, so he could tend to horses, cattle, sheep, chickens and crops. She was a companionable helpmate at the farm but no sister could fill Thomas's deeper void. In Scotland, he'd been overwhelmed by grief when his beloved wife Janet perished trying to birth their first child. Starting over in Canada at Peterborough in 1860, he'd met Mary Sanger Traill, a widow with two children, whose outgoing manner warmed him like sunshine. But the still-grieving Thomas could not yet remarry. After more than a decade, in 1872, he returned to court Mary Traill. Before long, the married couple, back in Windermere with her children John and Mary, would add two more children of their own, William and Minnie, to the family.
Out on the lake, things were picking up, too. Alex Cockburn's new steamer Waubamic, now able to sail the upper lakes thanks to locks built at Port Carling in 1871, began making calls along Rosseau's eastern shore, landing at Portage Bay. Aitken, fearing Windermere's demise, built a wharf so the steamship could land by his lakeside clearing. He sweetened the deal by proving a steady supply of cordwood to fuel Cockburn's steamships. Mail service would henceforth be direct to Aitken's post office home.
Windermere Landing was on its way to becoming a regional trans-shipment centre, the main place for freight and passenger connections to and from inland farms and thriving settlements like Dee Bank with its sawmill for lumber, grist mill for flour, shingle mill, two stores and leather tannery. In this wider community network of collaborative services, the Aitkens and Fifes were pivotal.
From the mid-1870s, once railway connections from the south reached Gravenhurst, Cockburn's waiting steamers would take American sportsmen to Windermere. They came to fish bountiful Lake Rosseau and hunt its nearby teeming woods.
Thomas and Mary Aitken started hosting anglers and hunters, grandly dubbing their modest abode Windermere House. In this first stage of evolution, they boarded and fed guests who paid with cash. In cash-strapped Muskoka's economy, which functioned extensively on barter, they began to envisage a more prosperous future.
This evolution from domesticity to hospitality spread to other lakefront farms. Next door, Ellen and David Fife opened Fife House, Charles and Fanny Minett's farm was reborn as Clevelands House, Francis and Ann Judd's cabin was reborn as Juddhaven and John Montieth upgraded his place to Montieth House. On Lake Joseph, Lambert Love turned his home into Elgin House, at Port Sandfield the Cox family opened Prospect House and in Port Carling, Richard Penson converted his Ferndale house into a small hotel.
This incremental evolution explains why 2020 was chosen to celebrate the 150th anniversary of Windermere House. Pegging a beginning date of circa 1870 is a reasonable choice from that time of transition. Who could have known it would align with COVID constraints? But, a pandemic is not the first hurdle this Muskoka resort has successfully weathered.
At first in the 1870s, sportsmen seeking a wilderness adventure were grateful for a square meal in a farmhouse and a straw tick to sleep on at night, while the family migrated to their barn.
A rising wave of city people wanted a vacation in the true meaning of the word. They were seeking wholesome extended leisure time around a lake, in clean air and sunshine, hiking woodland trails, swimming and boating Muskoka's clean waters. The second stage in resort evolution now required embracing this remarkable mix of hedonistic pleasure and spiritual regeneration. This did not displace Muskoka's lure as a sportsman's earthly paradise, but significantly broadened the vacationland economy's foundation.
Although Thomas Aitken was rigid and aloof in social settings, Mary's hospitable manner made her a natural hotelier. She not only gave Windermere House a welcoming character but her parlour charm was twined with backroom practicality: cooking tasty meals, making guests' beds and cleaning the premises. Besides creating a comforting venue for vacationers, Mary's refined breeding, which distinguished all the Traill sisters, contributed elegance of design to structures Thomas was adding to Windermere House as they upgraded their accommodations.
Even the décor changed. Walls of Muskoka's early resort houses, fostering the masculine ambiance relished by hunting party guests, featured stuffed heads of moose and deer. With Mary's attentiveness to city folks' sensibilities, dead animals yielded to oil paintings, a number featuring Cockburn's steamboats plying Muskoka's majestic waters.
In the push-pull of this reciprocating vacation economy, homesteaders and city dwellers merged hinterland values and metropolitan tastes. The prestigious class of visitors coming to Windermere House expected more and unstintingly paid more for it. The next evolution thus required adding new types of recreational activities. By the mid-1870s, the Aitken's future looked bright.
In fact, not only was their resort expanding, but Mary and Thomas were again going to add to their family. Thomas had started a new life in Canada after his wife and infant agonizingly perished in Scotland in 1859. Now, 17 years later at Windermere, his beloved second wife Mary died struggling to birth a daughter. The evolution of Windermere House seemed stalled without her. Seymour Penson of Port Carling, encountering Thomas at this time, described him as "dark."
Seven stubborn years later, Thomas went to Bracebridge to complete registry office paperwork for a property transfer to himself from David Fife with land conveyancer James Boyer. Work done, Thomas had supper at James and Hannah Boyer's Manitoba Street home and met Hannah's 34-year old sister, Elizabeth Boyer. A New York seamstress unable to find a marrying man, desperate "Lizzy" had accepted her sister's invitation to try out her prospects in Muskoka.
Thomas's acute need was for a wife to help him with Mary's four growing children and his ever-demanding hotel. They wed in Bracebridge on July 4, 1883, the bride acquiring at a single stroke – a husband, children and a prestigious Muskoka resort.
It was now Lizzy Aitken's turn to step forward, next woman up. From 1883 on, a new surge of expansion resumed at Windermere House. With continuous additions, more summer guests were accommodated each year. Capacity had jumped to 35, next 100, then over 200. Working with the next generation of Aitkens, who ranged considerably in age, Thomas and Lizzy continued to expand Windermere House facilities, as evolution dictated: a spacious ballroom, tennis courts, shuffle boards, bowling greens and swimming facilities. In the bargain, Lizzy gave Thomas two more children, without complication.
The Aitken's resort, like others sprouting from lakeside farms, had a convenient supply of garden-fresh vegetables and berries. Cows provided milk and chickens laid eggs. When called on for more dedicated commitment to the vacation economy, the animals contributed beef, poultry, mutton and pork.
The resort's evolution required rising above basic farm-kitchen fare. With creative attention to the menu and guests' dining pleasures, Windermere House's fertile soils were now also planted with spice and flower gardens, leading to enhanced flavour of chef-prepared meals and increased elegance of the dining room in which vacationers were served.
In the mid-1890s, when Thomas added telegraph service to his hotel, he dispatched son William and daughter Minnie to Owen Sound to learn telegraphy. All family members worked to advance Windermere House, too, including William's wife Annie Matilda Forge, Gertrude Aitkin's husband George Roper and Thomas's stepdaughter Mary Traill who confusingly carried her late mother's name. None got rich from the resort, because proceeds went to maintain facilities and expand amenities.
Pumps were installed to lift water from Lake Rosseau. New acetylene gas jet lights illuminated the wide corridors and gave the roomy place an enchanting appearance across the black waters of nighttime Lake Rosseau. Extensive wrap-around verandahs and upper balconies heightened the sense of the resort's rustic opulence. The posh "Lady of the Lake" had become a principal Lake Rosseau landmark.
Lizzy did much of the work running the place. She also set a moral tone in line with her Methodist beliefs to ensure Windermere House patrons avoided sin's slippery slope. Neither alcoholic drink nor card playing was allowed. Thomas listed strict rules, too, about paying bills, not drinking and advising the front desk in advance about check-out. However, the hotel library offered guests enjoyment and erudition, there were board games, and good music was ever welcome. Live orchestras played serenely for guests during dinner and continued with lively dance tunes as the evening progressed.
Summer resorts require support services and providing them meant considerable evolution in the community of which the hotel was an integral part. In 1912, William Aitken bought Windermere's general store, across the road from the hotel, which he and Annie made a sparkplug for progress, offering a wide range of goods for summer guests and Watt Township locals, alike. Their general store lived up to its branding, selling foodstuffs and clothing from biscuits to socks, dishes, paint and hardware. The Aitken's began cutting ice from Lake Rosseau in winter and selling it at the store in summer for peoples' kitchen ice boxes. William moved the post office and telegraph office from the hotel to the store and in 1920, officially became Windermere postmaster. Another resort community service at Aitken's general store was a barber shop, operated during summer's busy months by Thomas Edgar Fraser.
In the 1920s, their general store was the first place in the village selling gasoline, another transformative change as automobiles and gas-powered motorboats were increasing because of internal combustion engine improvements during the First World War.
In 1924, William and Annie's son Fred began Aitken Transport to haul hardware items, food, agricultural needs such as feed and seed, lumber, furniture, and other merchandize by truck between Windermere and Bracebridge, connecting with trains. Next, in the 1930s, when Ontario's Liberal government mandated that all milk be pasteurized to eradicate bovine tuberculosis, William established Windermere Dairy to pasteurize raw milk from the dairy herds of Watt Township and sell it to the public and other resorts.
The hotel's founder reached age 87 in 1919 and, two days before Christmas, died. In his final year, Thomas Aitken had seen the Great War end, the Spanish Flu kill many Muskokans and constrict resort business, and a golf course begun. With his death, ownership and operation of Windermere House passed to his 30-year old son Leslie, and his daughter Gertrude. Lizzy would remain a slightly haughty presence in the village, earning from locals the nickname "Queen Victoria," while around the hotel she hobnobbed with prestigious guests until dying in 1936, mid-way through the Great Depression.
Leslie Aitken had married a Windermere House guest, the talented Cleveland pianist Maude Dakar. Music was always valued at Windermere House. In 1920, Leslie oversaw completion of one of Muskoka's earliest resort golf courses, built for 9-hole play, with fees of $10 per season. The greens were square. Located on what had been Thomas Aitken's "back forty" fields, this symbolized Muskoka's shift from farming to a vacationland economy. In time, the course would evolve to 18-holes, expand to 124 acres, and boast innovative circular greens.
While running Windermere House, Leslie was as austere as his father had been. Once again, the more winning ways of a charming wife carried the day. Maude Aitken was an excellent hostess. She was especially at home with the hotel's many American guests, her fellow citizens. For several years she and Leslie kept current with latest methods in resort management, while enjoying warm weather, by spending their winters running a hotel in Florida.
When Leslie died in 1952, the hotel was inherited by their daughter Mary Elizabeth Aitken, the only child in his line. She'd grown up so entwined with the business that she seemingly knew every windowpane and fork in Windermere House. University educated and astute in business management, Mary Elizabeth blended the male Aitken's formal bearing with her attentive female engagement of hotel guests and staff. No one ever doubted who was in charge.
Mary Elizabeth changed the hotel's interior to provide larger suites and more bathrooms. She added condominium units as a new feature and built a series of housekeeping cottages and installed a swimming pool. Looking to expand opportunity and business, she booked spring and fall conventions at the hotel. Mindful of the resort and the community, she arranged for Dr. Fennell Archdekin of Port Carling to serve as physician for village residents and her hotel guests at an office she provided.
Mary Elizabeth strove to balance the exacting standards which three generations of Aitkens had bequeathed her against the changing requirements of Windermere House guests. The battle front in this tug-of-war ranged from formal versus casual, maintaining classic standards or anything-goes, and the "dry" versus "wet" conundrum. To offer liquor, she initially obtained special occasion permits for spring and fall shoulder-season conventions. She reluctantly concluded evolution demanded lounge service for alcoholic beverages on a regular basis. The wet-dry battlelines in Windermere were hard and hostile. One of Mary Elizabeth's own uncles led the prohibition attack against her for wanting liquor in the village and was bitter when the wet vote prevailed. Evolution in Muskoka, never automatic, is often painful.
For its first century, this pioneering project in vacation hospitality was an all-consuming project of the Aitken family. Classy Mary Elizabeth Aiken devoted her life to the resort hotel and ran it herself from 1952 to 1980. Robert Boyer, a publisher and Muskoka's MPP, said of his unwed cousin, "Mary Elizabeth was married to Windermere House."
Thirty-five years ago, the Aitken era of Windermere hoteliers ended when Mary Elizabeth "finally grew weary of trying to reconcile old-fashioned dignity with modern tastes," as historian Richard Tatley put it. In 1981, she sold the hotel to George Ember of Toronto. Ownership has cycled through several hands since, but most important was who owned it at the time of the single most important decision in the history of Windermere House.
Over the decades Windermere House and other Muskoka resorts have toughed out rough periods caused by events beyond local control – the Great War's dislocations of workers and reduction of services and guests, the Spanish Flu's deadly spread in 1918-19, the Prohibition Era's double standards during the Roaring Twenties, the Dirty Thirties economic collapse, a second world war, this year's Covid-19 pandemic. But none of these matched the hotel's complete destruction by fire in 1996.
To rebuild? If so, to replicate the same look, or try something completely different? Battle lines formed between those wanting a "brass and glass" structure which holds intrinsic attraction but is alien to traditional Muskoka structures and style. As usual, the tipping point was a contest between urban tastes and hinterland values. In the end, architect Joe Sibbald understood people wanted the Windermere House to look exactly the same and pledged "Snow White and the Seven Dormers." Those at the helm – especially Catherine Macnaughton, Jim Twiss, Bill Wakefield and Ann Green – entered Muskoka's history books as valiant upholders of a new vacation economy attribute: sustainable heritage.
Some 150 years ago, Thomas Aitken could not have imagined he'd create such an exemplary resort that in 1997 Ontario's premier would call it "a great Canadian institution." Windermere House's recon-struction in the hotel's heritage design with contemporary safety standards and upgrades for accessibility ensures this classic resort hotel can continue, as it does this year, marking a century and a-half of exceptional operation and balanced evolution, to serve and please generations to come.